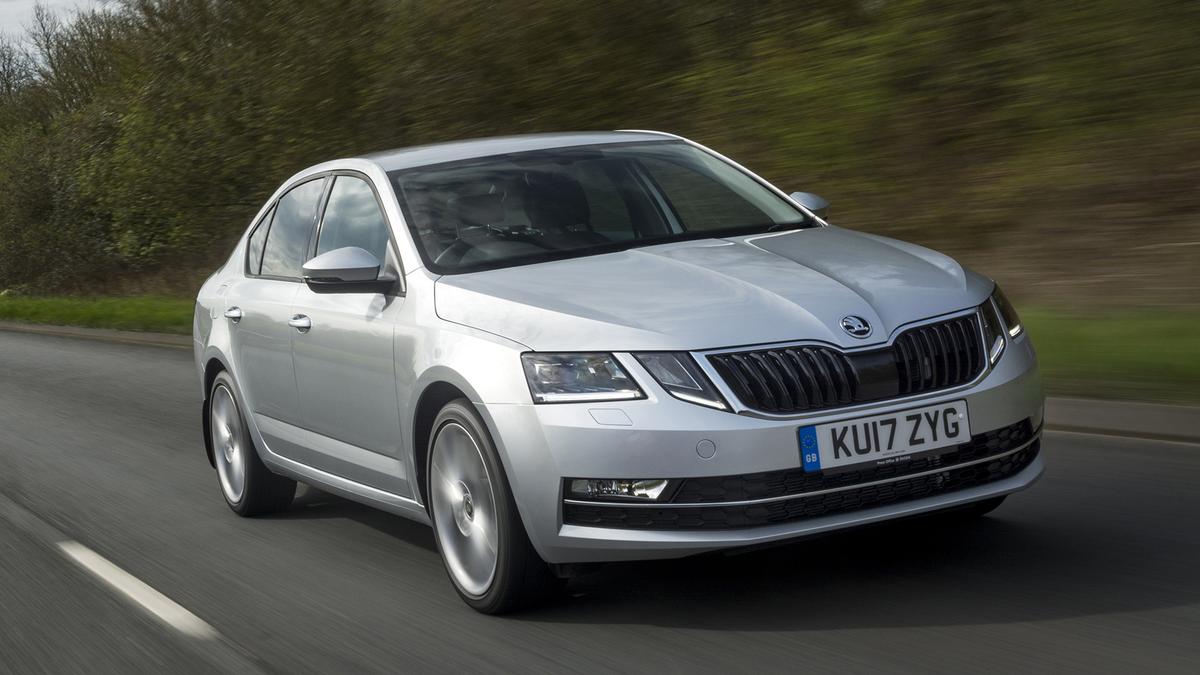 View gallery
The Auto Trader expert verdict: ★★★★★

★★★★★
4.0
The Skoda Octavia hatchback is a fantastic all-rounder. It might not appeal to everyone's heart, but it ticks every box that any head would want. It's spacious, well-equipped and priced keenly, and full of clever features to make everyday life easier. It all adds up to a very attractive package, and for our money, it's one of the very best cars of its type. And, with the quality of the opposition, that's some praise.
Reasons to buy
Masses of space

Generous equipment

Wide range of engine choices
Pick of the range
1.4 TSI 150 SE Technology
Plenty of kit and performance without costing the earth.
Most economical
Reasonable performance and an impressive fuel economy.
Best on a budget
The entry-level model still offers decent performance.
How good does it look?
This version of the Skoda Octavia is a facelifted version of the 2013 car, and it trades that car's conservative looks for rather more radical ones. The most notable change lies at the front, with a split headlight design and wider grille.

Full LED headlights are included on SE L models and above, and LED taillights are standard across the range. All models also get alloy wheels, starting with 16-inch wheels on the SE. Sportline has - as the name suggests - a sportier look, with 18-inch wheels. The performance-focused vRS model can be spotted by its more aggressive bodykit, lowered suspension and standout 18-inch alloys housing red brake callipers. The even-more focused vRS Challenge rides on 19-inch wheels and has a black sports exhaust.

Although technically a hatchback, its saloon-like shape means it's a legitimate alternative to the likes of the larger Volkswagen Passat or Ford Mondeo, as well as traditional hatches like the Volkswagen Golf and Honda Civic, both of which are shorter.
What's the interior like?
The Octavia's delivers a very comfortable driving position, with a seat that has a massive range of adjustment and a steering wheel that's adjustable for both height and reach. What's more, there's a real swishness to the quality of the materials and an impressive sense of solidity to the assembly. The touchscreen infotainment system – available in different sizes across the range – uses touch-sensitive black panels rather than traditional buttons to navigate between different menus. While it looks sleek and is pretty easy to use as touchscreen systems go (trying to pinch and swipe, smartphone-style, is no substitute for dials and buttons when you're driving), it does attract fingerprint marks rather easily.
How practical is it?
One of the Octavia's most attractive features is the space it provides for both passengers and luggage. Rear leg and headroom is super-generous and the 590-litre boot rivals much larger (and more expensive) cars. Fold the seats down with a couple of tugs on levers, and that space expands to 1,580 litres. Features on all cars include an ice scraper inside the fuel flap, two USB ports, a bottle holder that lets you open the bottle with just one hand, and a removable, magnetic LED light in the boot.
What's it like to drive?
On its standard suspension setup, the Octavia delivers an impressive blend of comfort and control. It soaks up bumps in the road effectively, and although you can occasionally hear the suspension going about its work through a series of knocking sounds, it's very rare that you feel it to a degree that'll annoy you. Yes, the suspension is less effective at lower speeds than it is on the motorway, but it never has you wincing. It's worth noting that specifying larger wheels - such as the 18-inch alloys included on the Sportline model - do have a slightly negative impact on ride quality. It's not major, but its worth considering if the extra visual pizzazz makes up for it.

Body control is well contained as well, and there's plenty of grip and responsive, predictable steering, and it all adds up to handling that's capable and assured. Cars fitted with optional adaptive dampers have a very similar character, and the differences between the various driving modes are very small, so we don't think it's an option worth bothering with.

If you're a keen driver, you might feel that the Octavia is lacking in thrills, but with a car like this, most buyers would take comfort over kicks any day. Besides, if it's kicks you're after, you can go for the vRS version, which provides it in spades. It has a lower, stiffer suspension than the others, which trades a little bit of ride comfort for added sharpness in bends. It's really effective, though, because the vRS is an absolute hoot when you're in the mood, but still civilised enough to keep you comfy when you're not. The vRS Challenge model adds adaptive suspension for even sharper performance, and strikes a great balance of driving enjoyment and everyday comfort.
How powerful is it?
The regular Octavia range is available with a choice of two petrol engines and two diesels, all of which are available with either a manual or dual-clutch automatic gearbox.

The diesels will suit those doing regular high mileage; the 115-horsepower 1.6-litre is sufficient for everyday motoring, with enough grunt to mean you won't have to stir the gearbox too much to achieve decent progress. But, if you're regularly carrying loads or passengers, the extra power and torque of the 150-horsepower 2.0-litre diesel might be more up your street.

As for the petrol models, the 115-horsepower 1.0-litre, three-cylinder turbocharged unit is surprisingly perky, with more than enough performance and flexibility for an easy life. But like with the diesels, if you regularly carry much in the way of people and luggage, though, you'll welcome the extra muscle provided by the 150-horsepower 1.4 turbo. And, when you're not weighed down with cargo, it provides seriously fizzy performance.

The sporty vRS models, available in both petrol and diesel forms (although only petrol in the vRS Challenge), kick things up a notch further on that score. The 184-horsepower diesel has a truly mighty mid-range, allowing you to build speed very quickly indeed, but because the grunt tails off towards the top of the rev counter, it's best to shift up before you get anywhere near the redline.

Earlier vRS models were available with a 230-horsepower petrol, which is a joy to rev out to its limits, giving you a proper hot hatch character as well as proper hot hatch pace. It also pulls hard from anywhere on the dial, making that scorching performance accessible and easy. Like many engines in the range, these vRS models are available with a twin-clutch automatic gearbox, but with all of them – particularly in the case of the petrol-powered vRS – the car is much better with the manual shifter you get as standard. Later petrol vRSs are only available with a more powerful 245-horsepower version of the engine, which we've yet to try.

On all versions we have sampled, none of the engines are noisy to a bothersome level, although the 1.0-litre petrol and smaller diesel can chug a bit if you work them hard. Road and wind noise are also impressively well contained, even at motorway speeds.
How much will it cost me?
The Octavia is well-priced compared with its rivals, especially considering how much car you get for the money. The engines are economical and have low CO2 figures, particularly in the smaller petrol and diesel units, which means lower benefit-in-kind bills for company car drivers and low fuel bills. Sure, you might find some of the rivals mentioned here for cheaper, depending on which versions you're comparing, but there will likely be trade offs in features or space that make the Octavia a very attractive proposition.
How reliable is it?
Skoda fares well in the Warranty Direct Reliability Index, sitting towards the top of the manufacturer rankings. The Octavia isn't quite as well regarded as an individual model, however, with engine, electrical and suspension problems accounting for a sizable chunk of warranty claims in the past. Having said that, our owner reviews for the pre-facelift Octavia show a largely positive experience with the car, and the 2019 JD Power Vehicle Dependability Study places Skoda as a brand in second place overall, which is excellent. As standard, Skoda offers a two-year, unlimited mileage warranty and will also cover new cars for a third year up to 60,000 miles. It also includes a 12-year body protection warranty.
How safe is it?
The pre-facelift Octavia was crash tested by safety organisation Euro NCAP in 2013 and scored a maximum five stars. All cars include a tyre-pressure monitoring system, front and knee airbags, as well as front side airbags. A driver alert system – which warns of fatigue – is included in SE models and above, but features like lane assist and blind spot monitoring are options. Automatic emergency braking is only included on some models, which is a shame at a time when manufacturers are increasingly including it as standard across many model ranges.
How much equipment do I get?
All Octavias have a decent level of equipment as standard, including an infotainment system with DAB radio and smartphone connectivity, controlled through an 8.0-inch touchscreen. SE models add cruise control and dual-zone air conditioning, while SE Drive cars have 17-inch alloys and an upgraded infotainment system. SE Technology adds adaptive cruise control and parking sensors both front and back, and Sportline has black headlining and sports seats. SE L models give you 17-inch alloy wheels, leather and Alcantara upholstery and full LED headlights, while the L&K variant includes a larger 9.2-inch infotainment screen, an upgraded sound system and 18-inch alloys. The vRS model has 18-inch wheels and red seams on the upholstery, while the vRS Challenge has Alcantara-covered sports seats and 19-inch wheels.
Why buy?
You'll buy an Octavia because you want a well-made, practical and economical car at a competitive price. It's a very sensible choice that gives you a lot of car and kit for your money, and comes in enough varieties to suit most tastes and needs. It's an exceptional all-rounder.