Expert Review
Alfa Romeo Stelvio (2017 - 2023) review
Read about the updated Alfa Romeo Stelvio, complete with comprehensively improved interior and revised model line-up

Words by: Phill Tromans

Additional words by: Auto Trader
Last updated on 16 December 2019 | 0 min read
The Auto Trader expert verdict:
Alfa Romeo definitively put an Italian twist on the SUV formula with its bold and distinctive Stelvio and it's always impressed with its combination of spirited driving dynamics and practicality. With this updated version and refreshed model line-up Alfa Romeo hopes complaints about interior quality and outdated technology will also have been answered, the new Veloce model providing a link between the regular range and the fire-breathing Quadrifoglio flagship.
Reasons to buy:
Strong, efficient engines
Superb handling
Deceptively spacious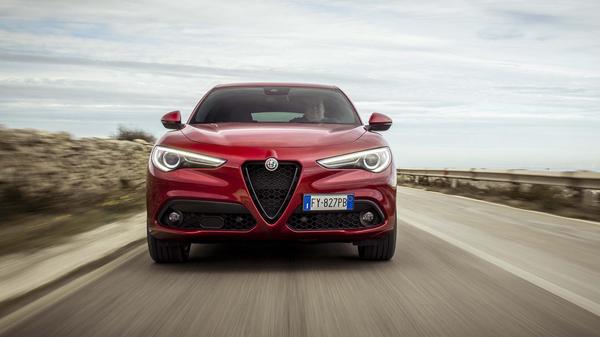 Running costs for a Alfa Romeo Stelvio
Setting aside the Quadrifoglio performance flagship that Alfa Romeo considers a separate model in its own right, the standard Stelvio range is a choice between 2.2-litre diesel or 2.0-litre petrol engines, both of which are available in two states of tune according to the trim level. All drive through an eight-speed automatic gearbox as standard, the entry-level diesel version rear-wheel drive while the rest of the range is all-wheel drive. If you're looking to enjoy the Stelvio's style but minimise your running costs that rear-wheel drive diesel version is the one to go for, given it's lighter, suffers less transmission drag and has noticeably better CO2 and economy figures than the all-wheel drive equivalents. Across the board the diesels are better for all running costs and, if you do insist on petrol, there's little penalty in going for the more powerful 280 horsepower version. There are no hybrids in the range. As previously noted depreciation remains high on the Stelvio compared with its rivals and this will likely be the main consideration when pricing it up against others in the sector.
Expert rating: 3/5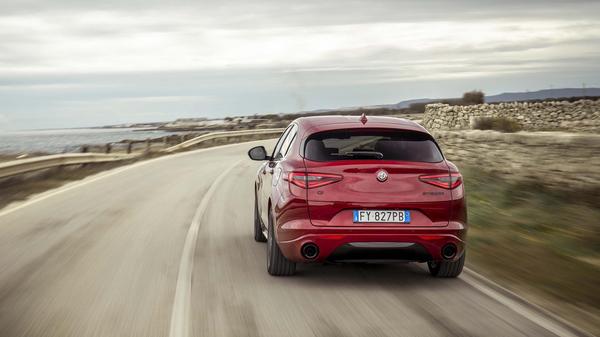 Reliability of a Alfa Romeo Stelvio
According to stereotypes about Italian build quality Alfa Romeos are flaky when it comes to reliability but both the Stelvio and the Giulia saloon on which it is based have done much to overturn that reputation. True, as a brand it sits towards the bottom of the table in Warranty Direct's reliability index but it's not far behind Mercedes-Benz or BMW and is actually ahead of Audi, Land Rover and Porsche. All new Alfa Romeos come with a 24-month warranty backed up with a further 12 months from the dealer, covering all manufacturing defects or faults. Paintwork is also covered against defects for three years and perforation for eight years. You're further protected with three years of roadside assistance and Alfa Romeo also offers Easy Care service plans for cars up to five years old.
Expert rating: 3/5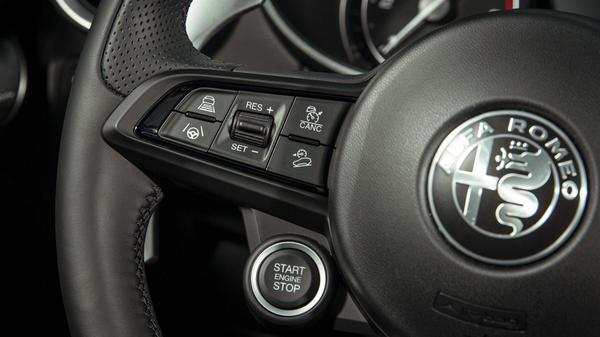 Safety for a Alfa Romeo Stelvio
The Alfa Romeo Stelvio previously received a top score for its safety and things have only improved with this update, although many of the new active driver support features are cost options. All Stelvios are fitted with Autonomous Emergency Braking, Forward Collision Warning, automatic wipers/lights, Hill Descent Control and lane departure warning while a rear-view camera is now standard where it was a cost option. Big news for this revised Stelvio is the introduction of level two autonomous support via the optional Driver Assistance Pack Plus. This expands on the existing passive safety features and augments them with active interventions should you drift out of your lane or fail to respond to an approaching hazard. In more general driving the combination of sensors, forward-facing radar and cameras works with the active cruise control to maintain speed and lane position according to the traffic around you, all easily controlled via steering wheel buttons.
Expert rating: 5/5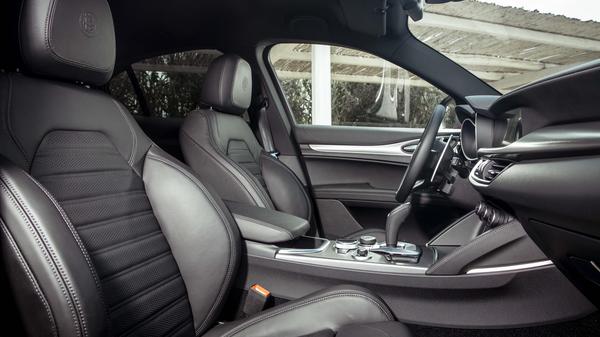 How comfortable is the Alfa Romeo Stelvio
Although it's based on the same platform as the Giulia saloon and shares much of that car's sporting character the Stelvio is a much more practical offering, thanks to its increased headroom and bigger boot. Although it follows current trends with thick pillars and shallow windows it also feels less claustrophobic, though, as with many SUVs, visibility isn't brilliant in any direction other than directly forwards. For this update Alfa Romeo has devoted a great deal of attention to criticisms the original car felt cheap compared with rivals, most noticeably premium ones like the Mercedes-Benz GLC. It still can't quite meet these standards but the improvements in materials for touchpoints like gear selector and infotainment controls are welcome and help the Stelvio's cause considerably. For such an overtly sporting SUV the Stelvio also rides with real comfort, helped by an impressively athletic kerbweight for cars of this type. This has benefits across the board, meaning the springs can be softer without sacrificing composure or body control to the benefit of both driver and passengers. Adaptive dampers are a desirable option and help further. Fundamentally though the Stelvio responds quickly to the fast-geared steering and delivers a drive on a par with its Giulia cousin. Only a Porsche Macan comes close to being so entertaining, albeit for far more money and with a firmer ride.
Expert rating: 4/5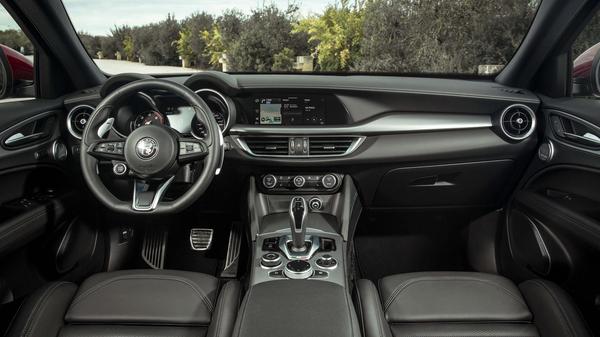 Features of the Alfa Romeo Stelvio
The Stelvio range progresses from entry-level Super through Sprint, luxury-oriented Lusso Ti and then to more overtly sporting Veloce, the latter replacing the previous Speciale version. In the usual way equipment levels improve as you progress through the range but standard features are already competitive, with bi-xenon lights now on all models, new touchscreen control for the standard 8.8-inch central infotainment display, TomTom-based navigation with improved graphics and expanded connectivity. Apple CarPlay and Android Auto are also supported as standard. Full details of the revised and expanded trims are yet to be confirmed by Alfa Romeo but, combined with the improved feel of the new cabin, the Stelvio is a considerably more attractive proposition than it was before.
Expert rating: 4/5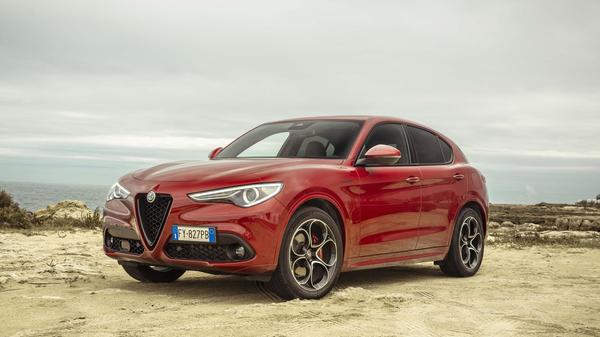 Power for a Alfa Romeo Stelvio
The lower-spec version of the 2.2-litre diesel engine delivers 190 horsepower to the rear wheels only on the Super and through all four on Sprint and Lusso Ti models. The petrol equivalent on these models is a 200 horsepower turbocharged 2.0-litre, the diesel's more muscular mid-range delivering much better performance across the board, albeit with slightly less refinement. If you can stretch to Veloce spec you get the 210 horsepower version of the diesel or the uprated 280 horsepower 2.0-litre petrol, both all-wheel drive. In this instance the balance tips more towards the petrol, thanks to its sportier character and more decisive performance. It's still a long stretch from here to the flagship Quadrifoglio with its Ferrari-derived engine but the Veloce inherits much of its spirit and is the undoubted peak of the 'regular' Stelvio range. The eight-speed automatic gearbox on all models is smooth in its default mode but also rewarding when shifted manually via the paddles, especially in 'Dynamic', the most sporting of the three driving modes available on the D.N.A. selector. Alfa Romeo's powertrain shares a similar, rear-biased delivery to the similarly sporty Jaguar F-Pace Jaguar F-Pace for handling more akin to a sporting saloon. The security and traction SUV drivers expect then seamlessly stabilises the car on slippery surfaces, making the Stelvio both fun and safe to drive in all weathers. The Italian sporting character of the Stelvio remains unique in this class though, this and the styling setting it apart in a crowded and fiercely competitive sector.
Expert rating: 3/5