Review
Vauxhall Insignia Grand Sport hatchback (2017 - ) review
Despite Vauxhall harbouring lofty ambitions to compete with Audi and BMW, the latest Insignia is still more of a competitor for the Ford Mondeo and Skoda Superb, but that's no bad thing.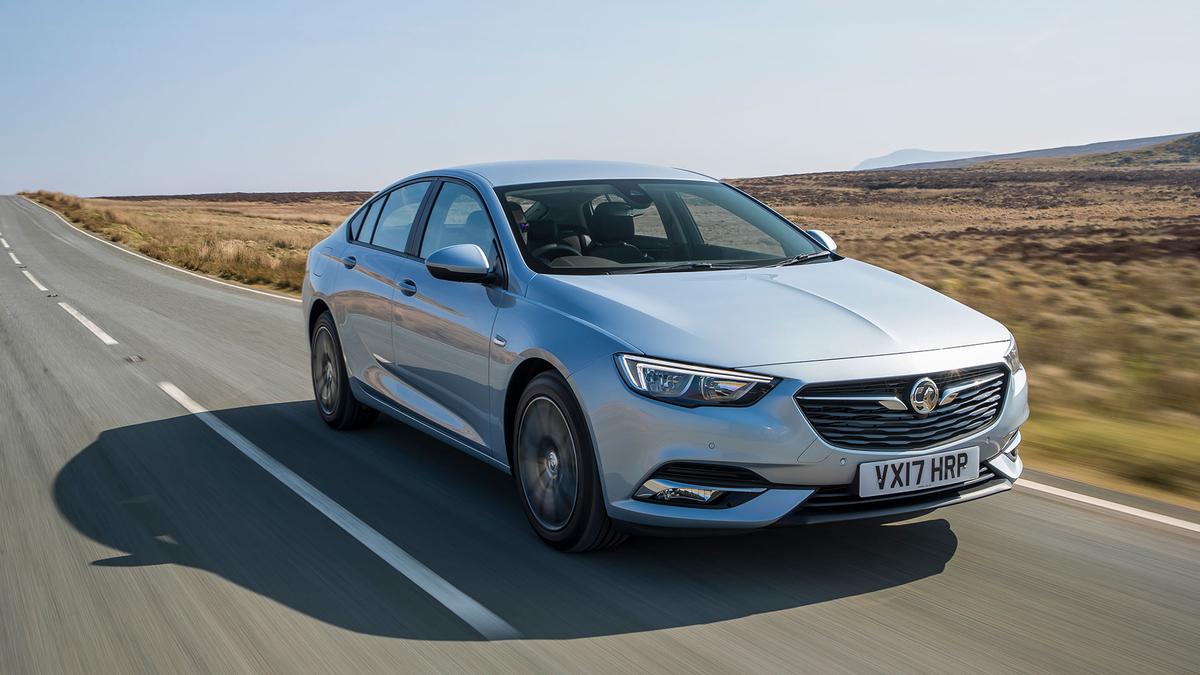 View gallery
The Auto Trader expert verdict: ★★★★★

★★★★★
3.8
Judged by the sheer real estate it brings to the party, its high levels of standard equipment, and affordable BIK implications, there's no denying the latest Insignia is an incredible amount of car for the money. Choose the right engine, the right wheel sizes and the correct trim level, and your Insignia will provide great comfort and refined long-distance credentials. As always, with these kind of cars, Vauxhall's Insignia makes far more sense as a business proposition than a private buy, but if your lease deal just happens to be up for renewal, the Insignia is well worth considering.
Pros
Immense interior space

Lots of standard kit even on entry level cars

Impressive ride quality
Cons
The engines are a bit of a weak point

Some panels don't fit as well as they should

Residual values seem destined to suffer
Pick of the range
Design Nav 1.6 Turbo D 136PS
Diesel still makes the most sense in terms of performance and economy, and it comes with sufficient kit.
Most economical
Your fleet manager will love it, and it will limit your outgoings, but you must put up with some pretty uninspiring performance.
Best avoided
Top dog billing, but it's not as sweet to drive as the more affordable models, and it will end up costing you an arm and a leg.
Interested in buying a Vauxhall Insignia?
How good does it look?
The Insignia's coupe-like styling is enhanced by a low slung aluminium bonnet, strong lines, and Vauxhall's signature 'blade' swoop impressed in the rear doors. While some pretty snazzy chrome highlights and alloy wheels on all but the base models set things off a treat, if you're prepared to fork out an extra grand, you can add Vauxhall's smart lighting system that uses a combination of Xenon and LED lights divided into 32 separate prisms to automatically adjust and swivel illumination. These are standard on the GSI.

The available trim levels are many – too many, in fact, to go into here – but that means there's an Insignia for most tastes and price ranges. Even the entry-level Design models have 17-inch alloy wheels and LED daytime running lights, while the top-of-the-range GSI model rides on 20-inch wheels and includes extra chrome bits and a spoiler.
What's the interior like?
The latest Insignia cabin employs a design feature know as a 'Riva hoop', which means the dashboard curves around the front of the cabin to give the occupants an encompassed, secure feel. It's generally an effective treatment, but if the fit of the doors panels where they join the dashboard is a millimetre or so out, the whole thing looks bad. This, and some annoying squeaks and rattles were certainly evident in our test cars, so it's something to bear in mind on a test drive. That said, the general appearance of the Insignia's dash is highly appealing, with a neat mix of virtual and hard instruments – there's even an old-style volt meter included – and the latest touch-screen infotainment is fast to react, and displays crystal clear graphics. There's also a little steadying platform for your left hand just below the screen, to help you hit the relevant icons more reliably when you're on the move.

The Insignia's front seat provides superb support to the spine and shoulders, while the elevated central arm rest and low slung position of the seats help you feel like you are sitting in, rather than on, the seats. The GSi model comes with extra-supportive sports seats. The amount of steering adjustment on offer is huge, so you should have no problem finding a comfortable driving position, but the wheel does need a good tug to move.
How practical is it?
Only stretched limos offer more interior space than motors competing at this end of the market, and the Insignia is no exception. With vast amounts of leg, elbow and head-room – unlike many so-called family cars, whose centre rear seat belts serve no other purpose than ornamental – the Insignia can be used to carry three adults in relative comfort. The 490-litre boot is very generous, and with a wide opening hatch lid you can literally just throw everything in without having to resort to military-style precision packing. If you want to keep your mountain bike safe from the slippery fingered brigade, simply tossing the rear seat backs down and removing the rear parcel shelf will free up sufficient space to accommodate your beloved bike.

The Insignia's rakish coupe styling does impact on visibility, however. The rear screen is extremely shallow, so it's not the easiest car to park, and those swooping windscreen pillars and big door mirrors can make it difficult to see across the cabin when pulling out of junctions. They also make it quite tricky to judge where the inside kerb is when circumnavigating roundabouts.
What's it like to drive?
The ride on most models is a wee bit jittery around town, and the nose of the car can be a bit reticent when asked to change direction – especially with the weight of a diesel engine under the bonnet – but overall the ride is compliant, there's plenty of grip, and the steering transmits some decent levels of information as to what the front wheels are getting up to. Things are better in the top-of-the-range GSi model, which is a little bit more taut and responsive. For all other models, we'd stick with the basic front-wheel-drive cars with standard suspension, as adding expensive items like four-wheel-drive, bigger alloy wheels, and adaptive suspension damping simply makes things worse not better. It's the same with road-noise, as the bigger alloys with lower profile tyres tend to generate more roar. At least the Insignia's slippery shape means wind-noise is reasonably well isolated at motorway speeds.
How powerful is it?
The 136 horsepower 1.6-litre diesel engine is likely to be the biggest seller because of its excellent economy and lowly CO2 emissions. True, it does struggle to motivate the Insignia away from the mark initially (first gear feels very low, and once the revs start soaring, which is almost immediately, the engine begins to sound a little noisy), but once you've snapped into second gear, it doesn't take long for the engine find its generous mid-range grunt, allowing you to roll along happily enough. Just as well, as the last thing you want when trundling along in slow-moving traffic is to be constantly jamming it into first gear.

Although not exactly a fireball, the 165 horsepower 1.5-litre turbo petrol engine is reasonably smooth and flexible, but it does flatter to deceive, something you'll notice the first time you come to overtake. It's simply not that quick, and it also suffers from quite a bit of stutter as you step on or release the accelerator pedal.

All the Insignia's engines we've driven have produced clearly audible levels of turbo whistle. The diesel engines are less prone to this than the petrols, but it's a trait always noticeable as you press the throttle. It's so pronounced with the most powerful 260 horsepower 2.0-litre petrol engine, you can almost play a tune by stepping on and off the gas.

Although not as slick as the manual gearbox found in a Ford Mondeo, the manual changes are decent, and an eight-speed automatic is also available. Although it's not particularly rapid when it comes to cog swapping, it is extremely smooth, so it's sure to be a hit with those who regularly endure congested traffic conditions.



How much will it cost me?
No car company is more savagely competitive than Vauxhall. To start with, the Insignia's official list price is exceptionally low. That's before you factor in the heavy discounting common among Vauxhall dealers, or the bargain basement leasing rates, or the lowly CO2 emissions, which ensures the Insignia remains one of the most compelling business propositions currently available in the UK. That's good news if you're an employee who gets no say in what car you're given, or even a business user chooser, but it's more of a mixed bag if you are a private buyer. Yes, everyone will be happy with the fuel returns and the low price of servicing, and the relatively low price of repairs, which brings low insurance premiums. However, residual values are quite another story. If you're buying with your own money, haggle hard then go back and haggle some more, and even when you think you've squeezed the pips out of the salesman, exact even more pressure, because values of used Insignias fall more dramatically than a South American striker.
How reliable is it?
According to the Warranty Direct Reliability Index, Vauxhall sits slap-bang in the middle of the table of manufacturer rankings, and well into the top half of the JD Power 2017 UK Vehicle Dependability Study, so the signs are positive that drivers of the Insignia are unlikely to face too many problems. The three-year/60,000-mile warranty cover you get is pretty common, but some rival manufacturers are a lot more generous, including Toyota, who offer a five-year/100,000-mile coverage, and Kia who provide a seven-year/100,000 mile warranty.
How safe is it?
The latest Insignia comes with plenty of the latest safety kit, including autonomous emergency braking, which will automatically stop the car if it detects a potential collision you fail to take account of. This system works at speeds under 25mph, which is arguably where it is most needed to help avoid contact with cyclists or pedestrians. Should you get into extreme difficulties, Vauxhall's OnStar system will automatically contact the emergency services for you. There's also a system that will alert you if you are getting too close to the car in front, and lane-departure assistance, which will help keep you in lane if you inadvertently pull out without indicating. Mandatory features like a tyre-pressure warning system and electronic stability control are complemented by an arsenal of six airbags, and it all helped to earn the car a maximum five-star safety rating from safety organisation Euro NCAP.
How much equipment do I get?
The Insignia range starts with Design trim and runs up through Design Nav, SRi, SRi Nav, SRi VX-Line Nav, Tech Line Nav and Elite Nav trim, topping out with the GSI Nav. Obviously, you don't need the deductive powers of Sherlock Holmes to guess which feature the Nav trims add. All cars come with cruise control, Vauxhall's OnStar concierge service, keyless entry and start, an infotainment touchscreen, Apple Carplay and automatic headlights. Moving up to SRi trim adds a rear spoiler, tinted rear windows, front foglights and automatic wipers, while SRi Nav adds sports seats and some extra interior lighting. Elite Nav includes leather seats and LED matrix headlights, while the GSi comes with a Bose premium sound system and a special sports steering wheel. Perhaps the pick of the options list is a head-up display (standard on the GSi), which projects information regarding speed, traffic signs, and navigation direction onto the windscreen.
Why buy?
Depending on which way you look at it, the Insignia is either a marginal three-star car, or a strong four-star contender. As a private buyer you'll need to purchase it way below its official list price to offset the spectre of heavy depreciation, but even then, we feel you'd be better off waiting and buying a low mileage used example and let someone else take the initial depreciation hit. As a business car, things start to look a whole lot rosier. Safe in the knowledge someone else is doing the behind the scenes bartering, you can simply enjoy running your Insignia thanks to its swish looks, spacious, comfortable cabin, vastly improved driving dynamics and affordable running costs. Put simply, as one very accomplished work station, the Insignia is hard to resist.
Interested in buying a Vauxhall Insignia?