Expert Review
Kia Stinger hatchback (2017 - ) review
Read about Kia's Stinger, the distinctive and stylish four-door coupe with ambitions to put the brand on equal terms with more premium alternatives from BMW, Jaguar, Audi and others
The Auto Trader expert verdict:
A sleek and sporty alternative to premium German models like the Audi A5 Sportback or BMW 4 Series Gran Coupe, the Stinger does an admirable job of pushing Kia into new premium territory. Badge snobs may not buy into that idea but the Stinger is an excellent car with distinctive looks, loads of kit and real driver appeal.
Reasons to buy:
Premium quality
Tons of standard equipment
Considerably cheaper than premium rivals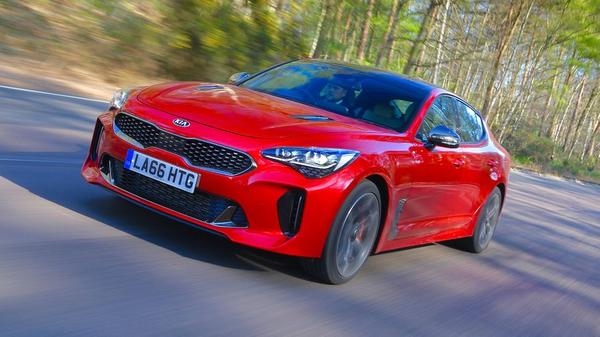 Running costs for a Kia Stinger
All versions of the Stinger undercut the equivalent Audi and BMW by many thousands on price (although some might expect prices to be even lower than they are), and the Kia's resale values aren't all that far off, either. However, both the
Audi A5 Sportback
and
BMW 4 Series Gran Coupe
have models with considerably better fuel consumption and CO2 than the Stinger, hitting
company drivers
especially hard in
Benefit In Kind
costs. In fact, the efficiency difference is so great that in many cases, it totally evens out the Kia's price advantage, so over a typical three-year ownership period, the Kia will still cost you a roughly similar amount to run overall.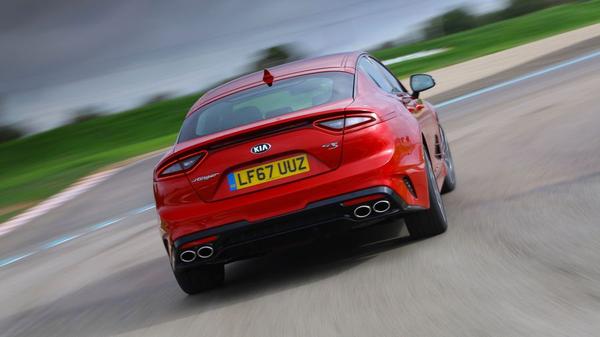 Reliability of a Kia Stinger
There aren't a huge number of Stingers on the road so it's hard to get specific information on reliability, but as a brand Kia has a solid reputation and a mid-field position in Warranty Direct's Reliability Index. Its position has slipped a little on the JD Power Vehicle Dependability Study but it's still comfortably in the top 10 and ahead of premium brands like Audi and BMW the Stinger is intended to compete with. Should anything go wrong, all new Kias have an impressive seven-year warranty.
Safety for a Kia Stinger
Safety kit is decent on the Stinger and, thankfully, Kia avoids its usual trick of reserving the more sophisticated tech for fancier models. Only the blind spot warning and an alert to warn you of traffic passing behind you when reversing out of a space is missing from the most basic model, this and the rest of the package standard across the range. This includes automatic braking if you don't respond to urban hazards, a system to steer you back into lane if you drift wide on the motorway, a driver attention warning and a pop-up bonnet to protect pedestrians should the worst happen.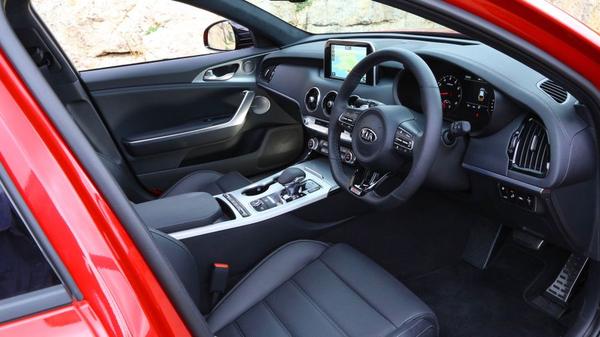 How comfortable is the Kia Stinger
Kia describes the Stinger as a 'gran turismo', or grand tourer, which means it needs to strike a good balance between comfort and excitement behind the wheel. That's a brief it absolutely nails. The ride is a fraction on the firm side, more so than in the Audis and BMWs that it competes with, so you do feel the nature of the surface beneath you. Importantly, however, it never feels too jittery and potholes are dealt with really effectively, so it's still a car that keeps you comfortable at all times. It handles really tidily as well. The firmness in the suspension keeps the body very level in bends, there's bags of grip and the rear-wheel-drive layout helps make it feel even more agile. The responsive steering helps on that score. This really is a very good car to drive, and can easily keeps up with its German rivals on both comfort and handling. The range-topping V6-powered GTS version comes on an even more sophisticated suspension which alters its behaviour according to which driving mode you select. It's effective, and it's a more engaging car to drive than the more humble versions, but that's more to do with the engine. The low front seating position is mirrored in the back, with plenty of head-room for two adults despite the sloping roofline. There's a third space in the middle, but taller passengers will struggle there, and the seat is also rather narrow. The boot is quite shallow, but the hatchback boot lid means it's easy to load stuff in, though it's not quite as roomy as a
Volkswagen Arteon
or A5 Sportback on this score.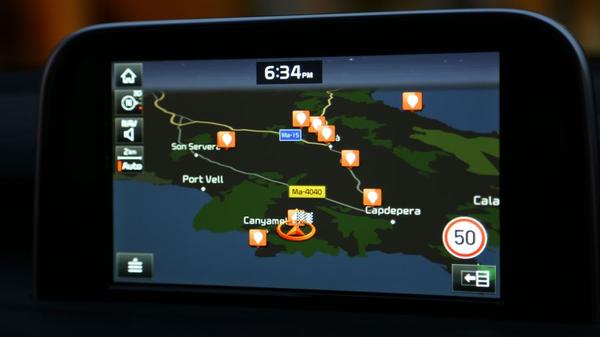 Features of the Kia Stinger
The Stinger puts Kia up against premium brand rivals with a burden of expectation the interior will compare favourably here. While the Stinger has a damn good stab at it – the cabin looks and feels very nice - it's not quite as rock solid or as sophisticated as Audi or BMW products. That said, it's still a country mile ahead of any other current Kia, and more than acceptable for the money you pay. All models have an 8.0-inch touch-screen infotainment system with satellite-navigation, which includes traffic information,
Apple CarPlay and Android Auto
for connecting your smartphone. You also get a head-up display as standard in all models, which displays speed and navigation instructions on the windscreen to save glancing down at the instrument panel. Said panel skips traditional analogue dials in favour of a digital 7.0-inch display. The higher-grade models have a fancy Harmon Kardon stereo and a 360-degree camera system to help you manoeuvre, as well as an electric boot lid, heated rear seats and ventilated front seats for extra hot days. The top model gets a nicer Nappa leather upholstery, and extra adjustability on the front seats.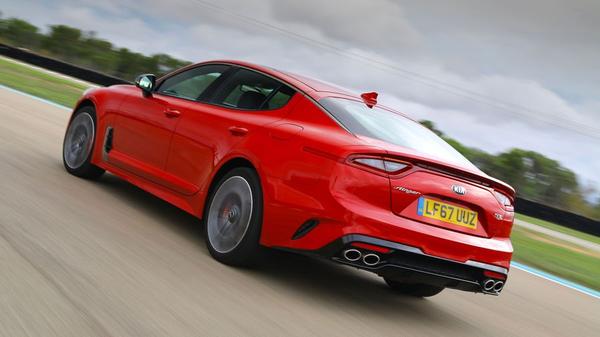 Power for a Kia Stinger
Standard Stingers are available with either a four-cylinder petrol turbo or equivalent diesel. Both are strong and flexible, giving decent acceleration when you need it and relaxed progress when you don't, and both work really well with the standard eight-speed automatic gearbox. There are manual paddles by the steering wheel if you want to shift cogs yourself, but even so, there's no proper manual mode; after a few seconds of manual shifting, it'll revert to full auto mode, which might annoy those wanting more control. The petrol is a shade quieter than the diesel, and for more of the time, but in fairness, the diesel only gets raucous when you work it hard, which you very rarely have to. The GT-S is more of a performance model and has a seriously potent 3.3-litre turbocharged V6 more than capable of keeping tabs with the faster versions of equivalent (but more expensive) BMW, Audi and Jaguar models. It's properly fast but understated in the way it delivers its performance, which suits the mature character of the car.