Long Term Review
Living with a... Vauxhall Combo Life XL
It's big, it's bold and it'll swallow a large family and all their stuff. We're spending a few months with Vauxhall's giant people carrier, to see how it lives with a hectic family lifestyle.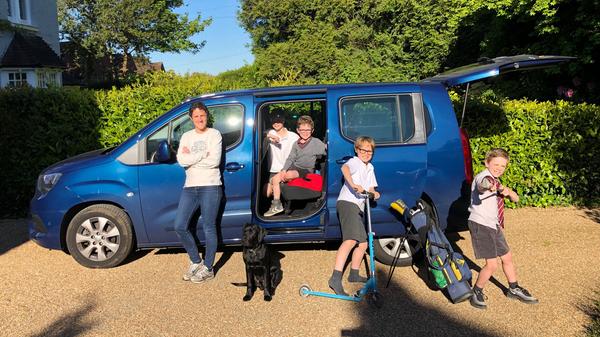 Words by: Erin Baker
Last updated on 8 November 2019 | 0 min read
Month 1: Welcome
Mileage: 100 miles
Cost: 0 Come on then, let's have it: yes, this is a super-ugly car. There's no two ways round it, no fudging it, no distraction techniques available. It's ugly because of those slab sides, that boxy silhouette, the unreconstructed cliff face at the rear, the gauche raised ride height. Glad we got that out of the way, because I'm now going to come on to nothing but positives, and imagine the next six months will stay that way (the first positive, obviously, is that once you're inside, you can no longer see the outside). As regular readers will know, I have a blended family of four boys, two adults and dog, so space and practicality are key. More than key, they're the difference between a happy home and divorce, for the second time. We have been through pretty much every
seven-seater
on the market so far:
Land Rover Discovery
and
Discovery Sport
,
Kia Sorento
,
Hyundai Santa Fe
,
Volvo XC90
,
Ford S-Max
,
Mercedes-Benz V-Class
,
Mercedes GL
… there's more. But boom, if this Vauxhall isn't the best yet, in terms of practicality and usable space. That third row of seats is something special: two individual seats, which you can tip forward or quite easily remove from the car entirely if you're not using them, giving a humungous space with a high ceiling and massive opening. Because the two seats are separate, there's a massive aisle between them where the dog sits quite happily, or we can bung bags/footballs/sports kit, and the kids can walk through to sit down, instead of clambering on the furniture. Each child has their own windowsill and cup holder in the third row, too, and because they sit higher than the other rows, they have a good view of the road in front which lessens the chance of travel sickness. The children in the second row get flip-up plastic trays mounted to the backs of the front seats (part of the child pack) which are handier than you might imagine on long journeys.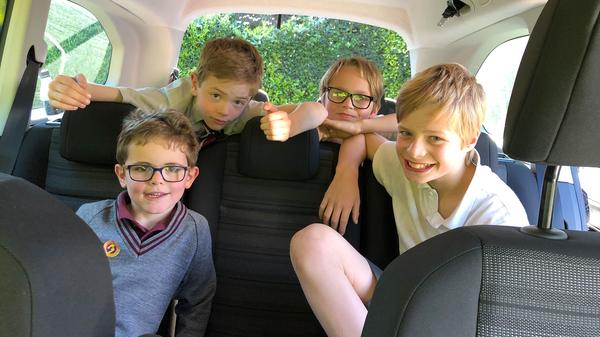 Up front, the car has van-like ergonomics, which means a slightly upturned steering wheel, arm rest and a gearstick that is positioned near the steering wheel. It's incredibly comfy.
While the touchscreen is fairly small and rudimentary, with sat-nav graphics which aren't up to industry standard these days, we do have wireless phone charging on a tray beneath the touchscreen, and it charges my iPhone faster than the equivalent tech in a
BMW
. We also have
Apple CarPlay
, which is what everyone uses for sat-nav these days anyway. The
Combo Life
comes in two sizes - standard, and XL, which means an extended length. You can have seven seats in either. At the time of choosing our Combo combination, the Life was offered with a 1.5-litre diesel engine, with 100 horsepower, or a 1.2-litre petrol engine with slightly more power (110), but the petrol unit wasn't available with the extended size, and for us, space is always the first consideration, so we've gone with the diesel, mated to a five-speed manual gearbox. It's a long time since I lived with something that has just 100 horsepower, and I've certainly never tried to pull six people and a dog along with that little pulling power. It's OK, as long as you think very carefully before deciding to overtake something. Don't, for example, attempt it on a hill at 60mph when fully loaded. The upsides are you are forced to relax as a driver, and the fuel economy is something to marvel at. In fact, it's the first car where my read-out is beating the quoted official figure. Vauxhall says 42mpg, and I'm getting nearly 50mpg. It's years since I got much past 30mpg, so I'll take the power hit for a bit. Final word on this car for the first month has to go to those sliding doors. Until you've had young children repeatedly not look before they open their doors straight into the car in the next bay, you don't realise what an blissful blessing sliding doors are. I parked the Combo Life at Gatwick's short-term car park last week, in a tight bay, and smugly slid back the door to retrieve my suitcase. Sometimes, it's the little things that count.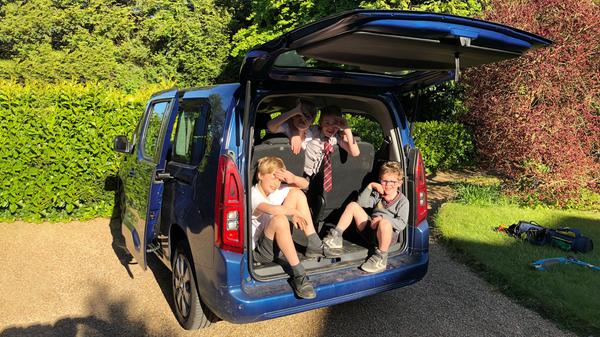 Month 3
Mileage: 3145
Cost: £0 The beady-eyed among you might notice a slight change to our Combo Life in this month's report. That's because it's a different vehicle. It's exactly the same as our previous one: the long-wheelbase, seven-seat version with the 1.5-litre diesel engine and the five-speed manual gearbox, and it's even the same colour. But this one is a slightly (by a matter of weeks) newer Combo, as it was still being built for us in the factory when this blog started, so we had a stand-in while we waited for our actual Combo Life to rock up. Which it has done, just in time for month 3. There are a couple of small changes inside: the storage bin behind the steering wheel has gone (sad times, as my kids say) to make way for the pop-up, heads-up display, the button to turn off the lane-departure warning system now actually works and the ventilation panel half way down the dash, which was a series of manual buttons, has been replaced by a glass screen with toggle switches, which looks more contemporary. So a net gain, but I do miss that large cubby hole on the dash and would sacrifice the head-up display, a glass panel showing your speed and the speed limit, to have it back. But our saga this month involves roof bars and top-boxes, which is no doubt a common tale of woe around this time of year. Each summer we go on a self-catering holiday to Cornwall, which involves duvets, food, wet suits, fishing rods, buckets, clothes, shows and a mountain of alcohol and cereal. Space is at a premium, and we're already loaded up with the six of us plus dog on board. So it is no slight against the Vauxhall that we needed a top box too. Roof rails for a Vauxhall Combo Life are not easy to find. Being of a van-based nature, the Vauxhall does not fit standard roof bars, and putting the numberplate into Halford's system results in blank stares and shakes of the head. We probably should have figured this more than 24 hours before kick-off. But there you go. In the end Vauxhall itself came to the rescue and couriered us the roof rails, on the eve of departure. I realise not every Vauxhall owner will get this service, although I was hugely impressed that, when I rang the nearest dealer to try there, and no one answered as it was 6pm, I got a call about an hour later to say that they were sorry to miss this terribly important anonymous call and could they be of any assistance, as whoever I was, I had obviously needed something from them. Nice one. By 8pm (we were leaving at 6am the next morning), we had only both just finished work, the kids needed feeding, and packing seemed a laughable dream. We opened the courier box to discover, instead of roof rails ready to rock and roll, strips of rubber that need cutting to size, several lengths of metal bars, some brackets and some screws. And a really, really long series of instructions involving a measuring tape we didn't have. My partner sighed heavily, and set to work, taking off the handsome roof rails which I presume are just for show as they're too thick to clamp anything to. At about midnight he was done. Impressive. Except then we realised our top box's underneath clamps weren't far enough apart to reach both roof rails - obviously, being a van, the rails are a long way apart on the roof, and, naturally, not adjustable. Which is how we ended up driving to Cornwall and back with ugly roof rails that whistled in the wind at speed, no topbox and four boys sitting on boxes of cereal. Excellent.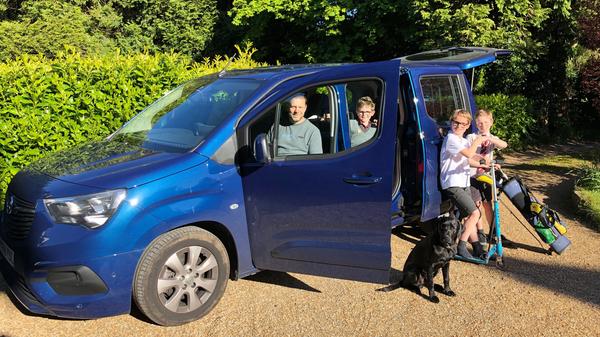 Month 4
Mileage: 4230
Cost: £0 Thank goodness for the Combo Life. We've moved home this month and couldn't have done it without the trusty Vauxhall. As the photos show, we used it as another removals van, loading it with desks, bedside tables, chests of drawers, potted plants, mirrors, wardrobes… We removed the third row of seats entirely (very easy - just pull a lever to fold them then pull another lever to untether them from the floor) and folded the second row of seats flat, which meant we could slide an entire wardrobe in. The other feature which makes the Combo so versatile is the van-like tailgate which lifts clean up (and acts like a porch, protecting you from the rain while you load - very handy), leaving a massive opening to load large, awkward items without having to worry about boot lips or bodywork. Luckily, the fabric seats and plastic surfaces are largely resistant to spills and stains: the move has thrown brick dust, mud and soil into the car and with a damp cloth every surface has recovered. We've been in and out of other cars this month, including a McLaren, a Bentley and a Rolls-Royce. All three luxury cars have been a delight to drive but there's undoubtedly a sigh of relief about getting into such a user-friendly family car again, with its forgiving interior, easy dimensions and still a few mod cons like Apple CarPlay and wireless phone charging, which some cars worth five times as much don't have. It's also a relief to be anonymous on the roads again, with other drivers happy to let you out of junctions instead of pretending you don't exist. And those sliding doors - we mention this feature every month but that's because the fact that we don't have to yell at the kids not to throw their doors open every time we park never ceases to please us. While we're not going to miss the looks of the Combo Life when it's gone, or the lack of power (100 horsepower simply isn't enough for a seven-seater), we're going to miss it in every other way.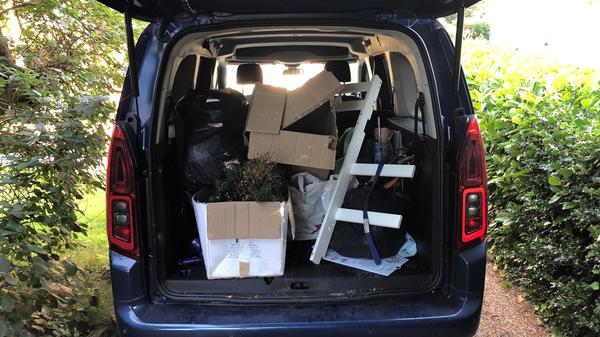 Month 5
Mileage: 6347
Costs: 0 The Combo Life is going to need a major valeting before Vauxhall sets eyes on it again. The various sediments of mud, dog saliva, dog hair, more mud, sticky sweets and crushed crisps adorn the large black dashboard and dark fabric seats of the car. Don't even mention the footwells. It's a good sign, however, of a car well used and loved by the family, for all activities. Our weekend routine goes: football, shopping, tutoring, horse-riding, rugby, church, playdate with other kids, long dog walk. And I know, from the past five months, that the dirt wipes off surprisingly well, leaving no trace of my six-year-old's school-shoe sole against the glove box. We like Vauxhall's safety warning systems, which work well but remain unobtrusive for the driver. For example, if the Combo thinks you are going to crash into the car in front (which it does every time we go down the school road which has parked cars on the left), it merely issues a loud warning beep, as opposed to slamming on the brakes, which in other new models we've tested recently has rendered the car pretty dangerous because the system brings the car to an abrupt halt for no reason. We have a skip outside our house which has made reversing out of our driveway an exercise in a meticulous 48-point turn for the past month, so the reversing camera, combined with front and rear parking sensors has proved invaluable. It's also handy on these frosty and wet mornings when the wing mirrors take too long to clear and you need to reverse pronto, because the rear camera is always unobscured. One downside, so minor I see forgetting to mention it, but annoying when my partner is dropping me at the station for work in the mornings: no vanity mirror in the passenger sun visor. I keep pulling it down to do my make-up in the mornings then huffing when I see there's nothing there. A hangover of the commercial application of the vehicle, presumably, but I sadly hadn't realised how vain I appear to be… We're still getting about 45-50mpg which is just brilliant for a seven-seater, but it does come at a cost, with 100 horsepower not enough to shift us all at speed uphill. Still, my partner and I recently ditched the kids and drove six hours to the Lake District in it, which was a very comfortable, relaxed and spacious journey.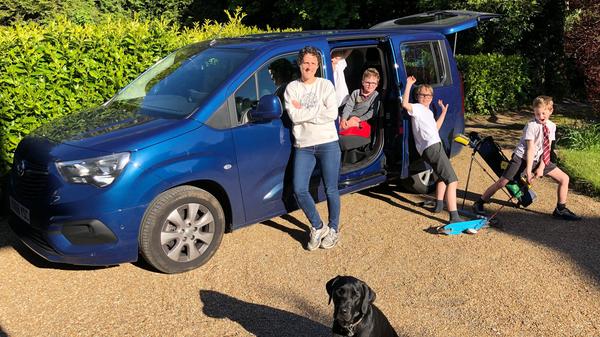 Key specs
Model: Vauxhall Combo Life Energy XL
List price: £23,765 Price as tested: £25,535 Engine/gearbox: 1.5 turbo diesel, five-speed manual Power: 100 horsepower Top speed: 106mph 0-60mph: 13 sec Economy: 42.4mpg CO2/BIK tax liability: 115g/km/28pc Boot space: 806 litres (3rd row up)/850 (3rd row down) Everything extra fitted to our car: Multimedia Navi Pro: £450 Wireless charging: £105 Child pack: £250 Parking pack: £400 Metallic paint: £565