Feature
New Car of the Year: Skoda Octavia
Find out why the Skoda Octavia is the overall winner of our 2018 New Car of the Year award.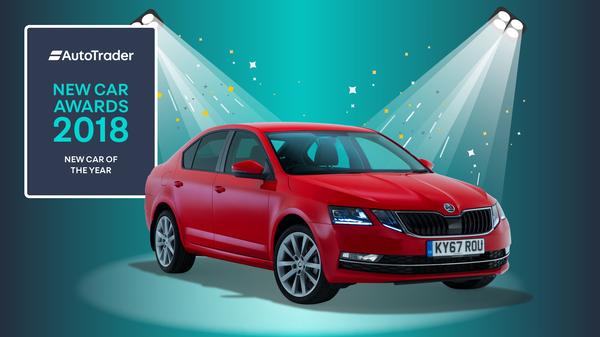 The overall Car of the Year award is our most coveted. Like most of our awards, it's decided by feedback collated from a survey of more than 40,000 car owners, all of whom rated their car in 16 key areas. We totted up all the scores in all of the 16 areas for each and every model featured in the survey, to calculate an overall score. This told us which model car buyers had found most satisfying to own, all-things-considered.
Both the
BMW 1 Series
and the
Peugeot 3008
came incredibly close to victory, but in the end, both were beaten by our eventual winner, the
Skoda
Octavia
. Owners rated the car as being the absolute best in two areas, those being durability and making use of space. It also ranked second out of all models for reliability and interior space. Here are just a few of the comments owners made about the Octavia…
"I love the speed and the car's aesthetics. It's all excellent to be quite honest."
"Feels solid and powerful, with the looks to match, and it's excellent value for money."
"I am completely relaxed when driving. The safety features are so many, too many to mention."
"I am once again smiling at the end of a long drive."
Our experts rate the Octavia as highly as the people that own it, as you can see in our
expert review
. What's more, the car has also made our shortlists for the
best diesel car
, and in
wagon
form, the
best estate car
, too.
Commenting on the Octavia's victory, Auto Trader's Road Test Editor, Ivan Aistrop, said: "It's easy to see why Britain's car owners have voted the Skoda Octavia as their overall New Car of the Year. The Octavia offers an incredibly appealing mix of practicality, quality and affordability, and it's also good to drive, well-equipped, and full of clever features to make everyday life easier. As all-rounders go, they don't get much better than this." Trouble is, it'll be even harder for the Octavia to retain its title than it was to win it in the first place. Not only does it have to beat all the same cars it did this year, but between now and then, there will also be a wide variety of all-new models it has to beat in addition. Will one of those have what it takes to win the 2019 crown? If you're looking for your next set of wheels and you fancy the most satisfying car it's possible to own, according to more than 40,000 owners, you can
start configuring your brand new Octavia on Auto Trader
right now.