Expert Review
Skoda Octavia Estate (2017 - 2020) review
The Skoda Octavia estate majors on luggage space and practicality but it's also a tough, well-built car that's comfortable to rack up the miles in – it's also superb value for money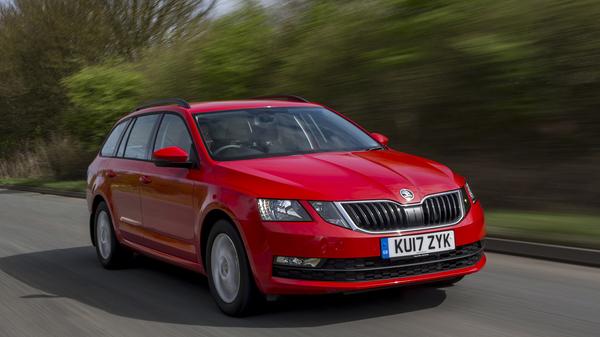 Words by: Phill Tromans

Additional words by: Auto Trader
Last updated on 28 June 2019 | 0 min read
The Auto Trader expert verdict:
The Skoda Octavia Estate is a fantastic all-rounder. It's hugely spacious, well-equipped and priced keenly, and full of clever features to make everyday life easier. It all adds up to a very attractive package, and for our money, it's one of the very best cars of its type, even with an all-new version on the way.
Reasons to buy:
Masses of space throughout
Generous equipment
Wide range of engine choices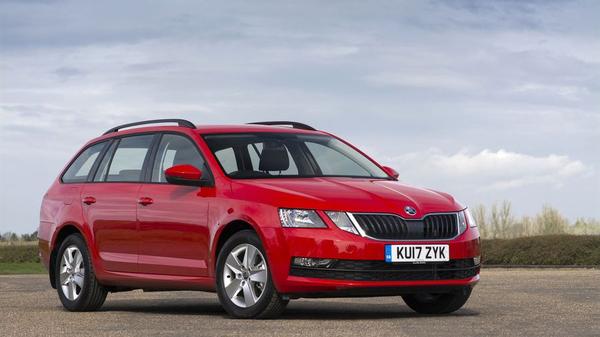 Running costs for a Skoda Octavia
The Octavia estate is well-priced compared with its rivals, especially considering how much car you get for the money. And with a new model on the way you can hope for some attractive deals as Skoda dealers clear existing stock to make room for the replacement. All the engines in the run-out range are within Band G or H on CO2 and both regular petrol options are particularly attractive on this score, though the sporty vRS does incur a Benefit In Kind hit. The 1.5-litre TSI petrol looks particularly attractive, having decent performance, the best numbers for company drivers and no penalty in fuel consumption either. Diesels will cost a little more in tax but will be better on fuel if you rack up big miles, so make a calculation based on how you're likely to use the car.
Expert rating: 4/5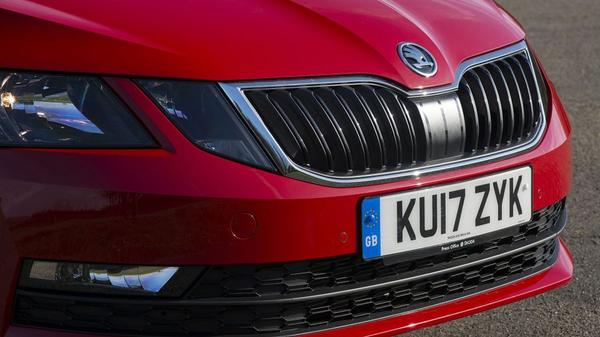 Reliability of a Skoda Octavia
Skoda fares well in the Warranty Direct Reliability Index, sitting towards the top of the manufacturer rankings. The Octavia estate isn't quite as well regarded as an individual model, however, with engine, electrical and suspension problems accounting for a sizable chunk of warranty claims in the past. Having said that, our owner reviews for the pre-facelift Octavia show a largely positive experience with the car, and the 2019 JD Power Vehicle Dependability Study places Skoda as a brand in second place overall, which is excellent. As standard, Skoda offers a two-year, unlimited mileage warranty and will also cover new cars for a third year up to 60,000 miles. You can extend the warranty to four or five years at extra cost if you choose.
Expert rating: 4/5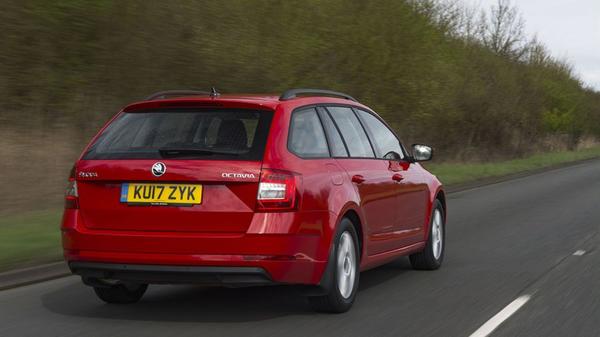 Safety for a Skoda Octavia
All Octavia estates include a tyre-pressure monitoring system, front and knee airbags, as well as front side airbags. A driver alert system – which warns of fatigue – is now standard too, but features like lane assist and blind spot monitoring are options. Automatic emergency braking is only included on some models, which is a shame at a time when manufacturers are increasingly including it as standard across many model ranges.
Expert rating: 3/5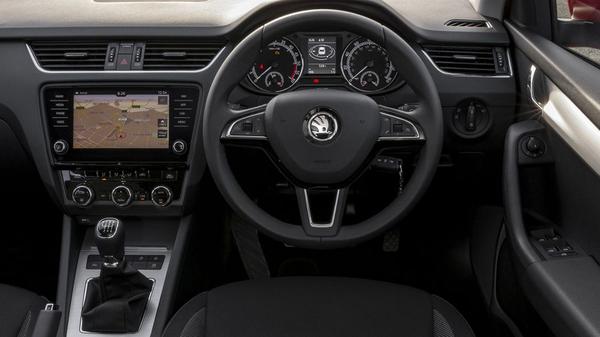 How comfortable is the Skoda Octavia
The Octavia delivers a very comfortable driving position, with lots of adjustment in the seat and steering wheel to suit drivers of all shapes and sizes. Forget the stereotype of Skodas being cheaply built too because there's a real swishness to the quality of the materials and an impressive sense of solidity to the assembly. And on its standard suspension the Octavia estate delivers an impressive blend of comfort and control, though it's more settled at motorway speeds than it is around town. It's worth noting the low-speed harshness is more pronounced on the bigger wheel options. Options in the run-out range have been slimmed down but you may find stock cars with the multi-mode dampers. If it's bundled in the price anyway then it's worth having but we'd say it's not worth spending extra for. Keen drivers will meanwhile appreciate the appreciate the significantly sportier character and improved handling of the vRS version, which is sharper to drive but still comfy. The main reason for choosing the Octavia estate is, of course, the practicality offered by its huge boot. Remember, this is technically a Golf-sized car but the space here is from a class above and offers tons of carrying space for families or those who need space for sporting equipment, work kit or similar. Rear leg and headroom is also super-generous and rivals much larger (and more expensive) cars. Features on all cars include an ice scraper inside the fuel flap, two USB ports, a bottle holder that lets you open the bottle with just one hand, and a removable, magnetic LED light in the boot.
Expert rating: 4/5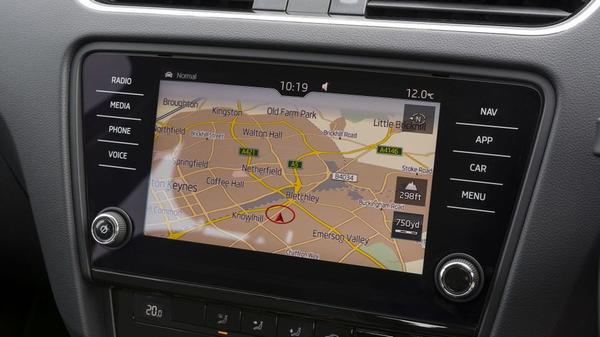 Features of the Skoda Octavia
At the time of writing the Octavia estate range has been reduced to just three options as dealers gear up for the new one, though you may find other trims available from stock. So, it pays to look carefully at the spec of the car you're considering to see exactly what you're getting. As it stands all models get cruise control, rear parking sensors, 'Amundsen' touchscreen controlled navigation (you can connect your phone via the Smartlink+ system to use your apps if you prefer) and dual-zone air conditioning. The next level up gets full adaptive LED headlights, privacy glass and the Front Assist automatic braking function while vRS throws in sporty trimmings, bigger wheels and lane-keeping assistance.
Expert rating: 4/5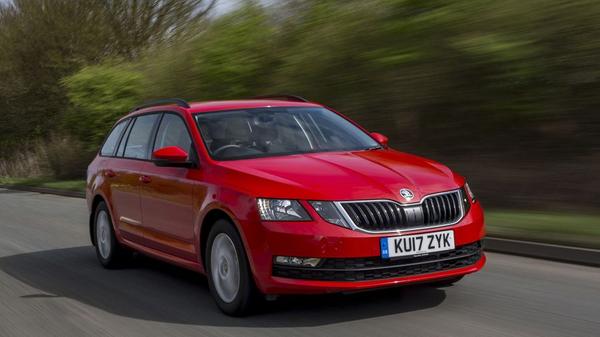 Power for a Skoda Octavia
The regular Octavia range is available with a choice of two petrol engines and two diesels, all of which are available with either a manual or dual-clutch automatic gearbox. The diesels will suit those doing regular high mileage; the 115-horsepower 1.6-litre is sufficient for everyday motoring, with enough grunt to mean you won't have to stir the gearbox too much to achieve decent progress. But, if you're regularly making use of that load space or carrying passengers, the extra power and torque of the 150-horsepower 2.0-litre diesel might be more up your street. As for the petrol models, the 115-horsepower 1.0-litre, three-cylinder turbocharged unit is surprisingly perky, with more than enough performance and flexibility. But, like with the diesels, if you regularly load the car up you'll welcome the extra muscle provided by the 150-horsepower 1.5-litre turbo. For the estate only there's also a 2.0-litre petrol, exclusively with four-wheel drive and the DSG automatic gearbox. For country-dwellers or those who need to get about in all weathers it's an attractive option, though it'll cost you in fuel and tax. The sporty vRS models, available in both petrol and diesel forms kick things up another notch. The diesel also comes with four-wheel drive and feels very strong in the mid-range while the petrol is seriously and features a fancy traction-boosting system lifted from the superlative Golf GTI to put its power down come rain or shine. Both are DSG automatic only.
Expert rating: 4/5