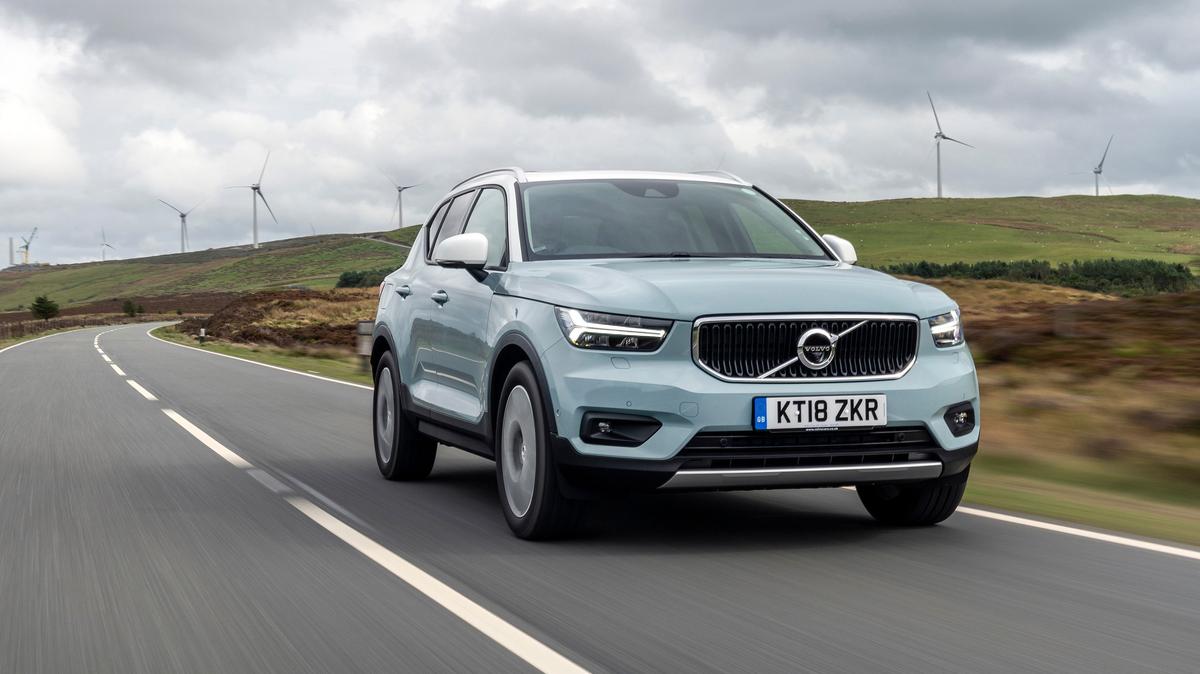 View gallery
The Auto Trader expert verdict: ★★★★★

★★★★★
4.0
The XC40 continues the work of Volvo's larger cars – the XC60 and XC90 – in providing an alternative to premium SUVs from brands like BMW and Audi. It's a stylish, well-thought out and comfortable machine with plenty of equipment, and it deserves to do well.
Reasons to buy
Standout looks

Comfortable interior

Plenty of features
How good does it look?
Volvo has tried to make the XC40 look like its larger SUVs – the XC60 and XC90 – but still have its own identity. The result is a chunky, solid and futuristic looking machine that's on the large side for this type of car. Three trim levels are available, starting with the Momentum and upgrading to the luxurious Inscription and the sportier R-Design. All cars come with super-bright LED headlights and 18-inch alloy wheels, with larger wheels – up to 21-inches – available as options. The R-Design gets a pair of beefy exhaust pipes at the back, as well as a black roof and door mirrors, while the Inscription has chrome trim around the windows.
What's the interior like?
It's a strong compliment to say the XC40 doesn't look like anything else when you're sat inside it, with some unusual and clever design elements that make it stand out from the competition. If we were to criticise though, some plastics feel a bit cheap, such as the general area around the gearstick and cupholders. This is a shame, as most of the materials used are of a high quality, and overall the XC40 is a classy place in which to sit.

The seating position adjusts in plenty of ways, although some might wish the adjustable steering column extended outwards a bit more than it does. Sat-nav and entertainment functions are controlled by a portrait-oriented touch-screen in the centre of the dashboard, most functions of which are also shown on a screen that replaces traditional analogue dials in front of the driver. It looks great, although we've found it slightly awkward to use compared to some rival systems, with lots of menus and screens to swipe through. However, this may prove easier once you've got used to it and customised it to your own preferences.
How practical is it?
There's plenty of space in the XC40 for four adults, and a fifth will fit in the middle back seat but will find leg space lacking. Still, short journeys for a full car of five won't be too uncomfortable. The styling of the rear doors means smaller children might not be able to see out of the windows.

However, the XC40 is full of thoughtful touches to make life easier, from a hook that folds out of the glovebox lid to hold bags, to the removable rubbish bin next to the armrest, which many will find perfect to stop the cabin getting cluttered with chocolate wrappers and receipts. The front door pockets are big enough to hold a laptop, and there's a big storage area in front of the gearstick to hold odds and sods.

The boot, at 460 litres in volume, is small compared to some rivals, like the BMW X1, but larger than the Audi Q3. But the space is well thought out. All models feature a folding false boot floor, fitted with hooks to hang shopping bags, which will keep them in place while driving. It also means there's no lip to lift stuff over into the boot, and the rear seats fold down to create a completely flat load area for larger items.
What's it like to drive?
The XC40 has been designed with city driving in mind, as well as the open road, and the steering is nicely weighted, which means low speed manoeuvres aren't too hard on the shoulders. You can adjust the steering weight by changing the driving modes between Dynamic and Comfort, but even in R-Design guise, this isn't a sports car, and it's fine to leave in Comfort.

The XC40 comes in three trim levels, and one – the R Design – has a sportier suspension set-up for improved cornering. For us, this is the better option, as it offers nippier handling and a feeling of confidence through the bends, without making for an overly harsh ride. The other suspension, found on the Momentum and Inscription, also gives a comfortable ride, but feels a bit wallowy through the corners in comparison. Overall, the XC40 is focused on comfort over thrills, so if you're after adrenaline then it might not be for you. But if you're not bothered about setting the pulse racing, it hits the mark very nicely.
How powerful is it?
There are five engine choices in the XC40, of which we've tried three. There are two diesels – the D3 and D4 – and three petrols, called the T3, T4 and T5.

The D4 is perfectly serviceable, if slightly lacking in urgency should you demand extra grunt from it. Considering the quality of interior of the XC40, the chugging diesel sound at higher revs is also a bit of a shame, but if you keep the pace sedate then it does the job nicely.

For petrol fans, the T3 is the entry-level option, a 1.5-litre, three-cylinder engine that develops a reasonable 156 horsepower. That's just about enough for it not to feel slow and sluggish, but if you've got a full car and are trying to get up a hill, it'll get a bit wheezy, as it lacks the low-down pull compared to the diesels and more powerful petrols. However, 90% of the time, it's smooth and quiet.

The T5 petrol is the most powerful option, and is certainly a better performer, especially if you like to add a bit of zip to your driving. It's quieter than the diesel, and has more muscle, but it's also the most expensive engine in the line-up. The eight-speed automatic gearbox does a solid job, and a six-speed manual gearbox is also offered on D3 and T3 models.

Volvo plans to introduce hybrid and full electric versions of the XC40 in the future, as well as a smaller, more efficient petrol option.

How much will it cost me?
We compared a D3 Momentum to several equivalent models, including the BMW X1, Range Rover Evoque and Audi Q3. The Volvo sits pretty squarely in the middle when it comes to overall cost. Its purchase price is broadly in line with the competition, and while its fuel economy is disappointing, its resale value is strong, especially when compared with the Audi. However, high servicing and repair costs mean it's outperformed in pure costs terms compared to the Evoque and BMW.

On the petrol side, a T3 R-Design compares very well to the equivalent X1 and Q3, being slightly cheaper to run overall than the BMW, again thanks to its strong resale value, and considerably more cost-efficient than the Audi.

Generally, the Volvo performs well, if not spectacularly, when it comes to cost, but it depends on which version you choose.

How reliable is it?
Volvo has had a strong reputation for reliability, sitting joint top of the 2017 JD Power Vehicle Dependability Study, which ranks manufacturers according to reported performance. However, the brand plummeted down the rankings in the 2018 edition of the study, and scored below the industry average, which is rather concerning and suggests issues with newer cars.

The brand fares less well on Warranty Direct's Reliability Index too, sitting mid-table of all the carmakers, but as this data comes from older, out-of-factory-warranty cars, we're inclined to look to JD Power's info as more current. Should anything go wrong with your XC40, Volvo offers a three-year, 60,000-mile warranty.
How safe is it?
Volvo has long been a byword for vehicle safety, and the XC40 is accordingly jam-packed with safety features, most of them as standard across the range. The list is too long to go into in detail, but it includes a full complement of airbags, two Isofix child seat attachment points in the back, and automatic emergency braking, which will hit the brakes if you don't respond to an impending accident ahead.

Spend a bit of extra cash and you can get a package called Intellisafe Pro, which includes a blind spot warning system, cross traffic alert – which will let you know if cars are coming while you're reversing out of a space – and Pilot Assist, which is a limited self-driving function that steers and changes speeds for you in slower traffic. The XC40 hasn't yet been crash tested by safety organisation Euro NCAP, but we'd be staggered if it doesn't score a maximum five stars when the test takes place.

How much equipment do I get?
The XC40 is available with plenty of features, a good number of which are available as standard across the range. The entry-level Momentum has a sat-nav and a 9.0-inch touch-screen, cloth and vinyl upholstery, and a dual zone air conditioning system that lets you set different temperatures in different parts of the car. R-Design cars gets leather and nubuck upholstery, and some smart aluminium bits around the interior. Inscription changes the focus from sportiness to luxury with leather upholstery, an electrically operated boot lid, front parking sensors and 'driftwood' inlays around the interior, which are classier than they sound. Automatic cars get a crystal gear lever from Swedish glassware manufacturer Orrefors.

Each of the three trim levels is also available in Pro version, which up the features list even further. The Momentum Pro adds heated front seats, an electrically adjusted driver's seat, and clever headlights that sense oncoming traffic and block out part of the beam to avoid dazzling other drivers. The R-Design Pro has all this plus larger 20-inch alloy wheels, while the Inscription Pro adds 19-inch wheels and an electrically-adjusted passenger seat.

Options come in various packages and include a panoramic sunroof, an automatic driving feature called Pilot Assist and an excellent Harmon Kardon sound system.
Early adopters can get hold of a First Edition XC40, which is based on a fully-loaded R-Design Pro car.
Why buy?
Potential customers of the XC40 will be fully on board with the concept of a small SUV, but want the full premium experience. Volvo has created a worthy, stand-out alternative to similar cars from Audi and BMW, and one that mixes comfort and quality with plenty of high-tech and practical features. Those after a really sharp driving experience may want to look instead at the BMW X1 or the Range Rover Evoque, but if comfort, luxury and a need for something a bit different are bigger priorities, the XC40 is well worth investigating.