Audi Q3
New from £31,995 / £557 p/m
Overview
Petrol, diesel or petrol plug-in hybrid
Is the Audi Q3 SUV a good car?
Read our expert review

Words by: Auto Trader

Additional words by: Phill Tromans
"The Audi Q3 is a small premium SUV with an eye-catching design, backed up by a high-quality interior, making it a desirable and well-rounded machine. Good passenger space and a generous boot add to its appeal, as does its wide range of engines."
Read the review by category
Running costs for a Audi Q3
The Audi Q3 does come with a premium price tag, but it is very well-equipped as standard, and that - combined with the premium image and high quality - does go some way towards justifying the cost. Buyers can choose several of the engines with front-wheel drive, which helps to keep purchase prices and running costs down if you don't particularly need the extra traction of four-wheel drive. Resale values for Audi's cars are generally high, but industry predictions suggest the Q3 might not hold onto its value as well as rivals like the BMW X2 or Volvo XC40.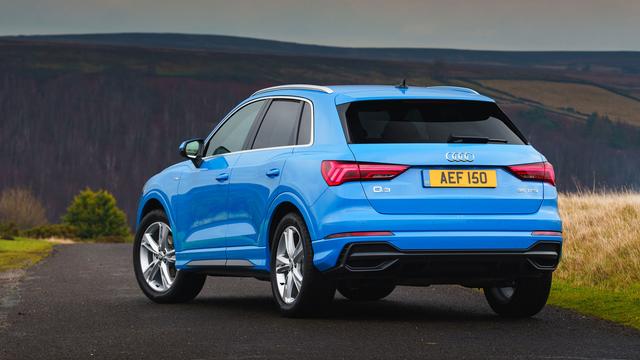 Reliability of a Audi Q3
According to the Warranty Direct Reliability Index, Audi languishes in the lower half of the manufacturer table. The story is worse in the JD Power 2019 Vehicle Dependability Study, which sees Audi third from bottom overall, although it is ahead of BMW. Whatever the case, it may be worth considering the extended warranty options. All new Audi models come with a three-year/60,000-mile warranty, with further options to add a fourth or fifth year, or a higher mileage limit, at an additional cost. Owners can also spread servicing costs into monthly payments.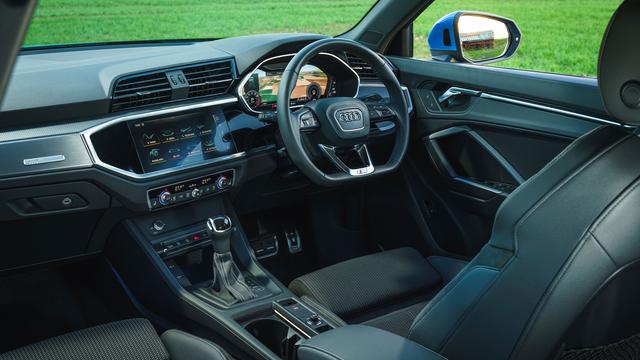 Safety for a Audi Q3
The Audi Q3 comes with a good level of safety equipment as standard. There are several driver assistance systems to help with the day-to-day driving, including lane departure warning that alerts you when you veer out of your lane, along with side assist, which provides a visual warning when another vehicle is in your blind spot and alerts you should you attempt to signal and move out. Front-facing sensors can sense pedestrians and cyclists and, if it detects the risk of a collision, it will provide acoustic, haptic and visual warnings and, if necessary, perform braking assistance or an emergency braking action in certain circumstances. The car scored the maximum five stars in crash tests by safety organisation Euro NCAP.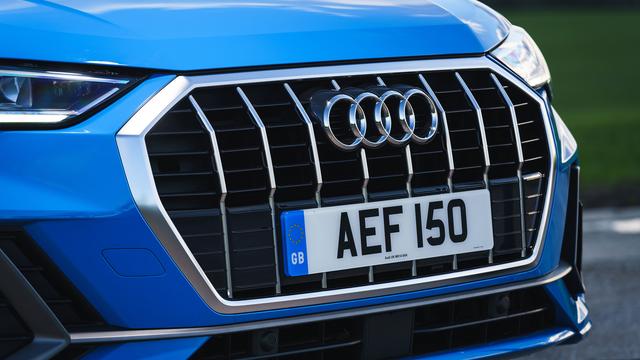 How comfortable is the Audi Q3
As soon as you get into the Audi Q3, you know you're in a premium car. The materials used throughout are a real step up from more mainstream SUVs like the Ford Kuga and Nissan Qashqai. The digital instrument cluster looks impressive, as does the infotainment system. Apart from the climate controls, there aren't many physical buttons, and the switches and column stalks all have a solid, expensive feel. The cabin isn't short of storage areas, either. From the driver's seat, the view is largely unobstructed, and the rear-view mirror offers a good view out of the back window. For a small five-seat SUV, the Q3 offers generous amounts of passenger space, especially for those in the rear. Having said that, the middle seat in the back does lose out on a bit of foot space because of the transmission tunnel in the floor, and the Sportback models lose a bit of rear headroom thanks to that sloping roof. All versions feature rear seats that can slide forward or back, which is really useful. The 40/20/40 split folding rear seat backs add to the versatility and are easy to fold down. The boot measures 530 litres, which is below average for the segment. However, when the rear seat backs are down, the Audi can swallow up to 1,525 litres (1,400 in the Sportback), giving it one of the largest capacities among its main rivals. All Q3 models also feature a power-operated boot lid as standard. Even though this is a raised SUV, the Q3 drives with a lot of composure, meaning it doesn't lean too much when driving through a series of bends, for example. It soaks up large and small bumps well, too. It's got a clever steering system, called variable ratio steering, which means it requires less steering lock when driving in town and through tight corners, though remains stable on the motorway. This type of steering is especially useful when parking, as it needs fewer turns of the wheel from side-to-side. All S line models get what Audi calls its 'Sport' suspension, which is a touch firmer than the standard setup. There is the option to upgrade to more elaborate adaptive suspension, which is standard on range-topping versions, but unless you frequently travel on poorly surfaced roads, we think the standard suspension is more than adequate. RS Q3 models get even more hardcore suspension, but we haven't tried it yet.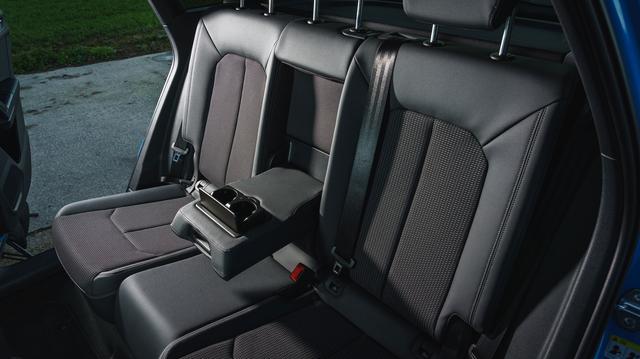 Features of the Audi Q3
You can have your Q3 in two broad flavours. The standard car, known simply as the Q3, has five doors and is a fairly typical SUV in shape, while the Q3 Sportback takes some sporty, coupe-inspired design cues to create what Audi says is a more stylish alternative, with a lower roofline and longer body. You'll pay a premium of a few thousand for the Sportback. There are four versions of both Q3s to choose from. The Sport model features 18-inch alloy wheels and sharp looking LED lights on the front and rear, the latter including indicators that appear to swipe in motion. Also included is a fully digital Virtual Cockpit instrument display, windscreen with acoustic glazing, selectable drive modes, rear parking sensors, cruise control with a speed limiter function, aluminium roof rails and an electric boot lid. The S line specification is styled more aggressively with different bumpers, side sills and larger 19-inch alloy wheels. You'll also get firmer suspension, ambient interior lighting, rear privacy glass, brushed aluminium interior inlays, black cloth headlining and front seats finished in part-leather with embossed S logos. The Edition 1 models have 20-inch wheels and clever Matrix LED headlights that can maintain high beam without dazzling oncoming traffic. There are two types of leather on the electrically adjustable, heated front seats and an upgraded version of the Virtual Cockpit. Topping off the Q3 range is the fully-loaded Vorsprung model. Visually it's differentiated by a black styling pack that covers the window trims, front grille and mirror housings. Other standard features include 20-inch alloy wheels, adaptive suspension, heated and electrically adjustable front seats in Alcantara and leather, panoramic glass sunroof, 360-degree cameras to aid parking, a wireless charging pad for compatible mobile devices and a Bang & Olufsen 3D sound system. If you opt for the very powerful and fast RS Q3 model, you can choose from the standard RS Q3, with RS Sport suspension and sports seats, or upgrade to the Audi Sport Edition, with tinted headlights and 21-inch wheels. Or for the full shebang, there's the Vorsprung, which has upgraded suspension and brakes.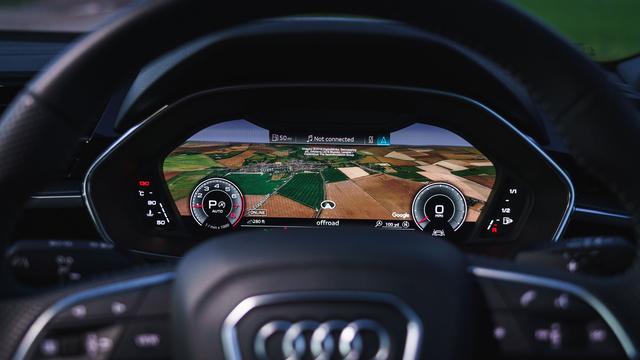 Power for a Audi Q3
The Q3 has a wide range of diesel and petrol engines that are available with automatic and manual gearboxes. The 1.5-litre petrol engine, badged 35 TFSI, produces 150 horsepower and delivers adequate performance for urban and city commutes. However, it can start to feel a bit breathless when you're fully laden or facing steep inclines. A mild hybrid system, which adds some electrical assistance to power delivery, is coming soon to Q3 Sportback 35 TFSI models with an automatic gearbox, and should help boost the amount of oomph. The 40 TFSI pushes the power to 190 horsepower, but we've not tried it yet. It's not available in the Q3 Sportback. Should you typically drive longer distances or carry heavy loads, then the 2.0-litre diesel in the 35 TDI will suit you better. Like the petrol engine, it has an output of 150 horsepower, but has more pulling power. This extra shove means that you don't have to work it particularly hard, and it's pretty quiet and smooth, too. Versions of this engine with the manual gearbox also feature all-wheel drive. The 45 TDI ups the power to 190 horsepower, and feels even more muscular and quick, so would be worth looking at if you'll regularly have a full car, or just want a bit more go. If you're looking for more performance still, then there's the 45 TFSI, with its 230-horsepower 2.0-litre four-cylinder petrol engine, fitted with a seven-speed automatic gearbox. It becomes more urgent as you work it harder, and it's unobtrusive when you're pottering about at lower speeds. For full bonkers power, the RS Q3 Sportback comes with a 400-horsepower, 2.5-litre, five-cylinder petrol engine, but we haven't had a chance to try it yet.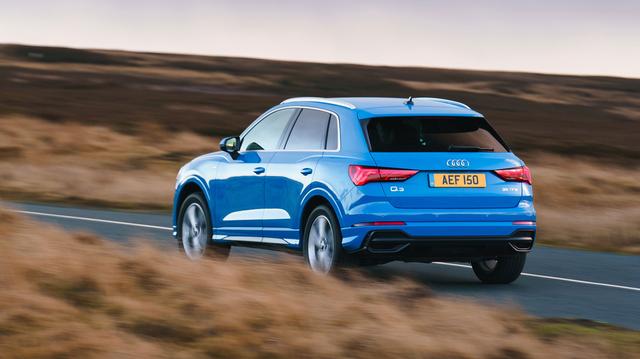 Lease deals
These deals are based on terms of 8,000 miles, for a 36 month lease with a 6 months initial payment.
Standard equipment
Expect the following equipment on your Audi Q3 SUV. This may vary between trim levels.
Other vehicles in the Q3 family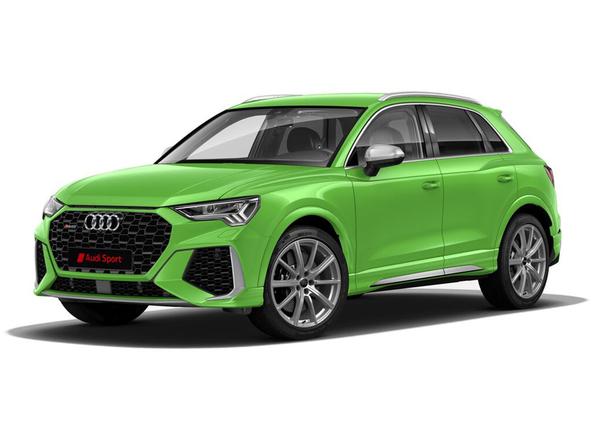 Related articles and reviews
Audi Q3 SUV (2018 - ) review
The Audi Q3 is a practical family SUV. Read our review to find out about its wide range of engines, tech and generous space.
Audi Q3 SUV (2014 - ) review
The Audi Q3 is a compact SUV that majors on style and has a smart interior, but it's more for on-road driving as an alternative to a family hatch back than a proper 4x4.
Audi Q3 SUV (2011 - ) review
Read the Audi Q3 4x4 (2011 - ) car review by Auto Trader's motoring experts, covering price, specification, running costs, practicality, safety and how it drives.