Expert Review
Mercedes-Benz A Class Hatchback (2023 - ) review
Find out everything you need to know about the Mercedes A-Class, one of the most popular upmarket hatchbacks in the UK
The Auto Trader expert verdict:
Available new from £30,705
The Mercedes A-Class has become one of the most desirable small family cars in Britain. And with sharp looks and a beautiful interior, this latest version is giving rivals like the BMW 1 Series and Audi A3 plenty to think about. But is there more to this flash hatch than simply a sharp suit?
Reasons to buy:
High quality interior
Crammed full of cutting-edge technology
Decent space inside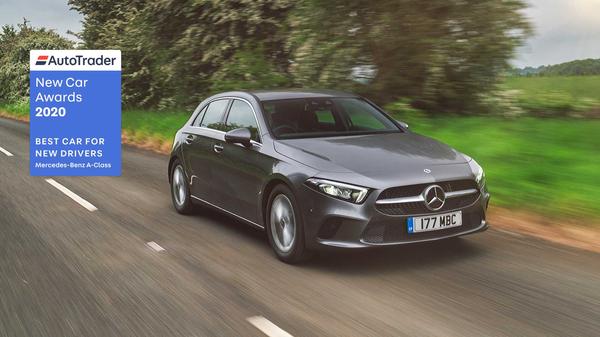 Running costs for a Mercedes-Benz A Class
Mercedes' cars have a reputation for being quite pricey, but line an A-Class up against its biggest competitors and it actually looks like rather good value. What's more, when you compare each version like-for-like, the Merc tends to be more efficient than either the Audi or the BMW. And while you'll find it more expensive to service, maintain and repair, the amount of money you'll recoup when selling it on more than makes up for that. In short, you should find the A-Class is cheaper to own and run than either of its arch-rivals.
Expert rating: 5/5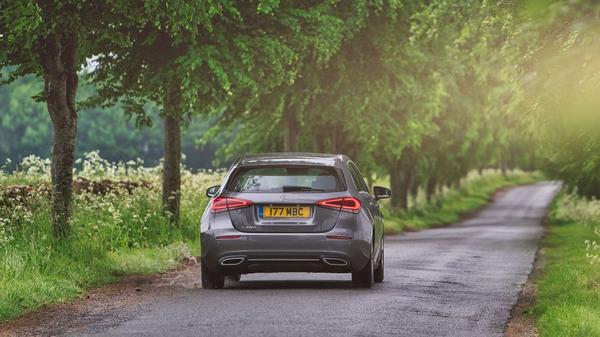 Reliability of a Mercedes-Benz A Class
Mercedes-Benz has a mixed reputation for reliability. Warranty Direct's Reliability Index, which ranks manufacturers by past performance, places the company in the lower half of the table, albeit above BMW and Audi. Furthermore, JD Power's 2019 Vehicle Dependability Survey places the brand below the industry average, although again, it finishes above either of the other two German premium manufacturers. What's more, have a scan of our owner reviews of the A-Class, and you won't find many horror stories.
Expert rating: 3/5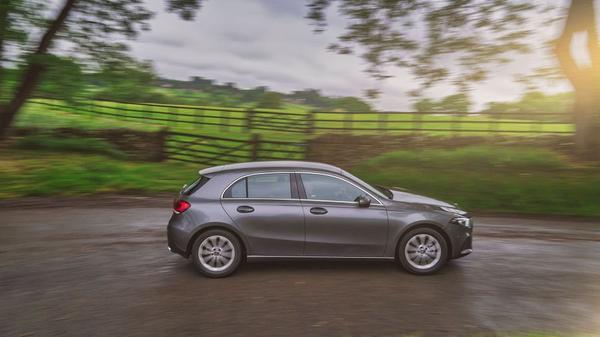 Safety for a Mercedes-Benz A Class
Standard safety equipment on all models includes active lane-keeping assist – which, as the name suggests, stops you veering inadvertently out of your lane – and Mercedes Me, a high-tech package that will automatically call the emergency services should you have an accident. Automatic emergency braking – which will intervene should you fail to react to an impending accident – is also standard, as are seven airbags and two Isofix child seat fixing points. Basically, everything you need and more is included on every version. Excellent.
Expert rating: 5/5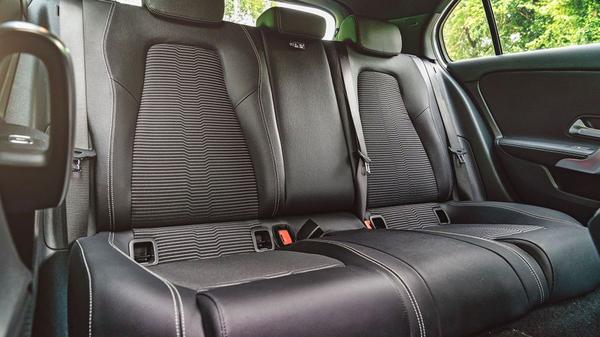 How comfortable is the Mercedes-Benz A Class
The A-Class' interior mirrors those of Merc's more expensive models in terms of design. Most folk will operate the classy central display primarily through its touchscreen functionality, but you can also move through the menus using a touchpad on the centre console and thumb pads on the steering wheel. It's a very in-depth and very customisable system that will undoubtedly require some time to get your head around, but once you're up to speed with it, it's reasonably intuitive to use, so long as you stick to the touchscreen interface. That said, it's still less precise and more distracting to use on the move than using a traditional scrolling wheel. Technology aside, while we wish the seats adjusted lower, as the driving position might feel a bit high for taller drivers, they're very comfortable, and the sports seats included in the AMG-powered A35 are even better. Visibility is good, too, and the quality of the cabin materials is truly excellent, making it feel very nearly as plush as Merc's bigger, more expensive models. And importantly, the A-Class is for the most part a match for any of its rivals on quality. As is often the case with Mercedes, different versions of the A-Class come with different suspension setups, which will influence how your car drives. The more powerful versions, and cars with four-wheel drive, have more sophisticated rear suspension, while less powerful models make do with a simpler twist-beam setup. So far, in the regular, non-AMG A-Class, we've only tried the latter. You feel too much of the surface beneath you, so unless the road you're on is smooth enough to play an undisturbed game of billiards on, you'll find the car fidgeting and hopping along in a restless, unsettled way. Sharp ridges and potholes can be felt thudding into the cabin, too, so if comfort is important to you, you might want to look at spending a little extra on a model with the upgraded suspension. The handling is far less problematic. There's a decent amount of grip to call upon, and the steering has a satisfyingly meaty weighting. However, the car could be quicker to react to a turn of the wheel, and while the body slops over in a slightly untidy fashion at first, it becomes more controlled once the suspension settles to its task. There's a fair amount of road noise on the move though, so you might want to turn the radio up to compensate. The A35 hot hatch has a stiffened body and, on the cars we've tried, optional adaptive suspension which thankfully isn't too much extra cash. It's impressive, with fantastic poise and grip through corners, although some might wish it felt a bit more playful. It's clinically fast, rather than laugh-out-loud fun. The A-Class' cabin is roomy in the front and the back, with decent space for four tall adults, and five if they don't mind getting a bit cosy. There's a storage box under the centre armrest in the front, as well as two cupholders and a cubbyhole, and door pockets big enough for a bottle and assorted odds and ends. The boot, is virtually the same size as the BMW 1 Series and the Audi A3, and the seats fold down flat.
Expert rating: 3/5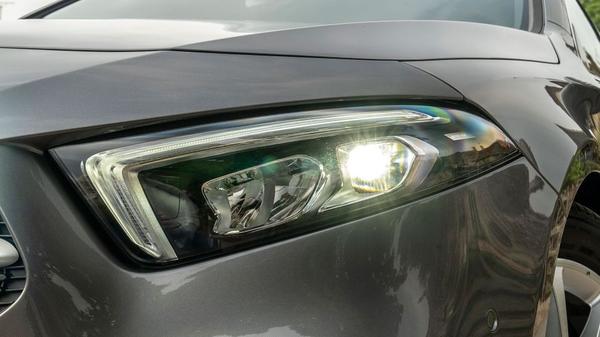 Features of the Mercedes-Benz A Class
The A-Class's headline feature is a pair of twin screens that stretches from behind the steering wheel to the centre of the car, much like two iPads merged together under a single piece of glass. A version of this system – called MBUX – is standard in all cars, although the screen sizes vary in different models. Half serves as your "normal" infotainment screen, while the other serves as a replacement for the traditional instrument binnacle. In addition to the smallest version of this system, the entry-level SE comes with 16-inch alloy wheels, air-conditioning and faux-leather upholstery, as well as Mercedes' advanced voice control system. The Sport model adds 17-inch alloy wheels, LED headlights and dual-zone climate-control, in case you and your passenger like the air to be different temperatures, and the AMG Line model brings you some funkier upholstery and a sporty bodykit. And if you go for the Mercedes-AMG A35 hot hatch, it comes with a lower stance, 18-inch wheels and even more aggressive bits on the body for that motorsport look, as well as a reversing camera, keyless entry and start, and an upgraded braking system. Instead of a long list of options, you get three different option packs that bundle things together. The Executive pack upgrades the media display to a larger 10.25-inch version, and adds heated front seats and a self-parking function; the Premium pack (available only on Sport and AMG Line models) also increases the size of the instrument display to 10.25 inches, but in addition, also lets you lock and unlock the doors without using a key and gives you a better sound system. Premium Plus gets you all of the above, plus a panoramic sunroof and some extra clever headlights that can switch full beam on while keeping oncoming cars in shadow, to avoid dazzling them. All these features are impressive, but you'll need deep pockets if you want to add them on. And the same goes if you want the cleverest navigation features – including the natty augmented reality function – or if you want Apple CarPlay and Android Auto, to connect up your smartphone, functionality you can find as standard elsewhere.
Expert rating: 3/5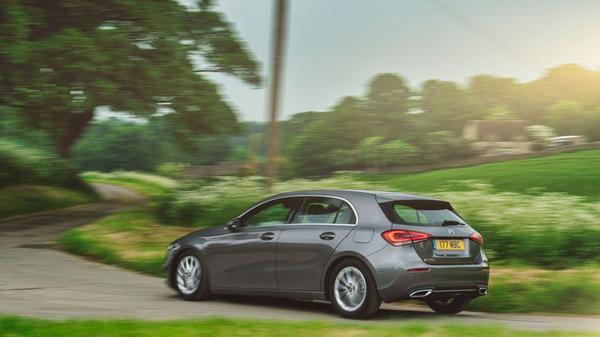 Power for a Mercedes-Benz A Class
The diesel A180d option is likely to be the most popular, and it has a 1.5-litre engine with 116 horsepower. It's perky to react, which gives it a peppy character, although if you really put your foot down, you won't get quite the performance that your initial prod of the pedal promises. Still, it'll be more than brisk enough for most drivers. If you're after a bit more performance, then the petrol options might be more up your street. The A180 uses a turbocharged 1.3-litre engine that produces 136 horsepower, but we haven't tried it yet. The A200 has a 163 horsepower version of the same engine, which we have had a shot in. It starts to sound a little bit thrashy and strained if you push it hard, but because it feels pretty fizzy and responsive from low down on the rev range, you can maintain decent progress without doing so. We'd advise against combining this engine with the optional seven-speed twin-clutch automatic gearbox. In all of the various driving modes you can select, it's a little hesitant to shift up and a little too keen to shift down, which means the engine is worked needlessly hard for too much of the time, making life rowdier than it should be. The gearbox is also a tad slow to engage when you're pulling away, and you find that after an initial period of nothing happening, you then lurch forward more than you meant to. The six-speed manual is a much better bet. For extra performance without going full AMG-spec, you might want to look at the A250, which has a 2.0-litre turbocharged engine with 224 horsepower. We've not had a chance to try it yet, but on paper, at least, the performance figures look fairly impressive. The A35 hot hatch has a cracking 306 horsepower, turbocharged engine that means very rapid 0-62mph time of 4.7 seconds.
Expert rating: 3/5