Long Term Review
Living with a... Ford Focus
Senior road tester Phill Tromans swaps an SUV and a pick-up truck for one of Britain's favourite hatchbacks.
Month One: Welcome
Mileage: 2,250
Costs: £0 The latest addition to the Auto Trader fleet is a common sight on UK roads, and with good reason. The
Ford Focus
has been one of the country's best and most popular hatchbacks since it was first introduced way back in 1998. I have a loose history with it, having run a Focus ST for six months back in the mid-2000s. And my very first car was its predecessor, the Escort, back in my youth. But that was then. These days, the SUV is king, and I've come from a background of much bigger cars. My previous long-termer was
the Volkswagen Amarok
pick-up truck, and before that
I ran a Kia Sportage
SUV. So the question is, can a regular hatchback still cut it against the bigger cars? Will I miss the space? Or will I find that small can still be beautiful? This fourth-generation Focus is an all-new model, launch in mid-2018. Mine is lightly used, with just over 2,000 miles on the clock when it arrived. It's coated in Race Red paint, and under the bonnet is a 1.5-litre diesel engine, which promises an official combined fuel economy of 80.7mpg (although I'm not expecting to get anywhere near that in the real world). The trim level is ST-Line, named after the ST badge that adorns several performance
Fords
. Combined with the Race Red paint name, there's a definite promise of sportiness, even though this isn't a hot hatch. The engine develops 120 horsepower, which isn't likely to blow any socks off, although it should be enough to not feel sluggish. However, the ST-Line package does include stiffer, "sports-tuned" suspension, which should add a bit of zip to the handling and hopefully won't come at the expense of ride comfort. The ST-Line trim also means 17-inch alloy wheels and a rear spoiler, as well as a flat-bottomed steering wheel inside, finished in red stitching (which, for some reason, is meant to be sportier).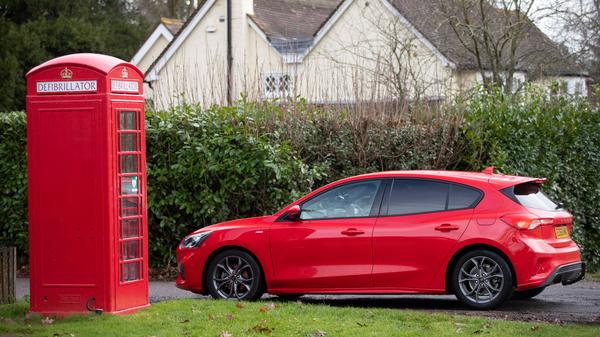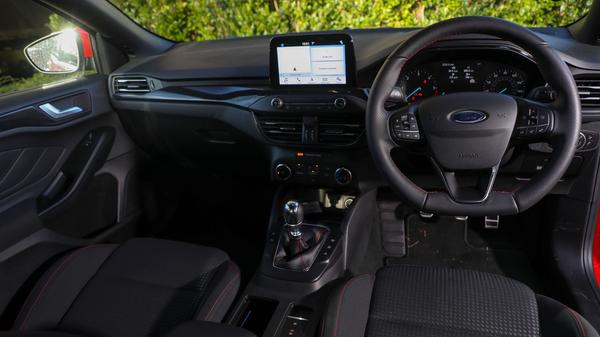 Other standard features include LED daytime running lights and LED fog lamps, which also act as cornering lights. Turn the wheel past a certain angle and the fog lamp will come on to help light your path around the corner. I've also got Ford's Sync 3 infotainment and navigation system, which features an (optional, for £350) 8.0-inch touchscreen in the centre of the dashboard, and comes with DAB digital radio, Bluetooth and
Apple CarPlay
for hooking up with my phone. The standard system has a 6.5-inch screen.
There are a few options added on, including rear privacy glass (£250) and the Driver Assistance Pack (£500). This gives me several extra hi-tech systems, including auto high beam and adaptive cruise control, which should prove useful in slow traffic. I've also got the Convenience Pack (£750), which gives me a rear-view camera and door edge protectors that fold out of the doors when you open them and stop you dinking the paintwork on a wall that you hadn't noticed. It also features Active Park Assist, which will take over the steering when parallel parking (if you want it to). The final option is something called FordPass Connect (£250), which I've yet to try. It involves downloading an app and connecting to the car. More on what that is, and how it works, in a future update. In addition to the options added to the car when it was built, I've added a detachable towbar as well, so that I can fix on the Uebler bike rack (£750). As the Focus' boot is too small to store a bike easily, I need a way of transporting mine around when I'm not riding it. I picked up the Focus just before Christmas. Soon afterwards, my wife and I went away to see relatives for ten days, loaded with clothes, food and presents. When presented with the Focus and the alternative of my own
Skoda Octavia
Estate, we chose the Skoda for the extra space. I suspect the real test of how practical the Focus is will come when I have no choice but to use it for ferrying things around.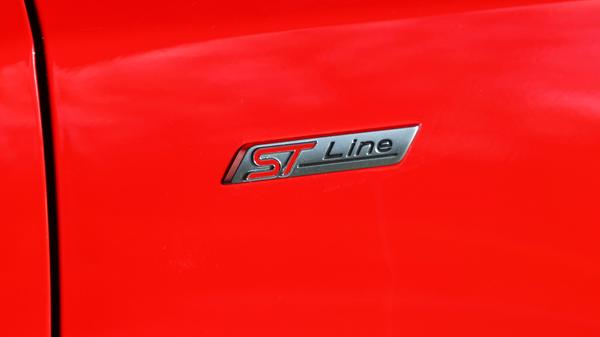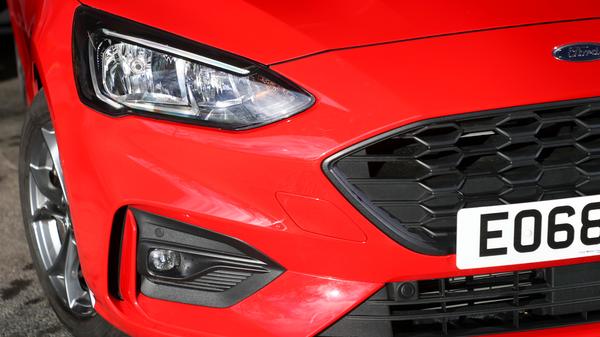 Month Two: Smiles and woes
Mileage: 3,957
Costs: £0 It's been a mixed month with the Focus as I get to know it. Most of what I have to report is positive, so let's get into that first. Although this isn't a sporty car, the handling really is first rate. The ST-Line trim comes with slightly stiffened, sportier suspension, but the way the Focus has been put together makes for an agile, nimble and sharp-feeling car that feels great in the bends. If you value a fun experience behind the wheel, short of a proper hot hatch, I'm not sure there's much that can match it. What's particularly impressive is this composure and assured behaviour through the bends doesn't come at the expense of ride comfort. The suspension is pliable enough to cope with the worst British B-roads can throw at it, never feeling jarring even over rutted surfaces. After some 1,500 miles, I've been really impressed with the overall experience.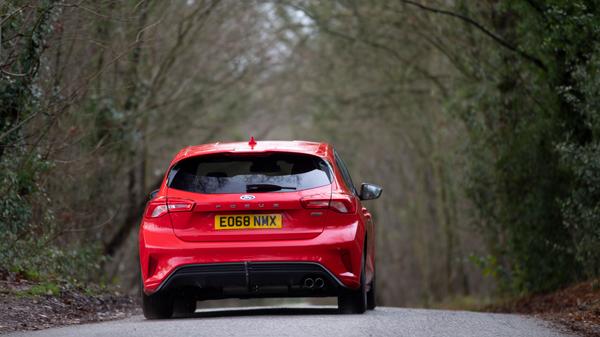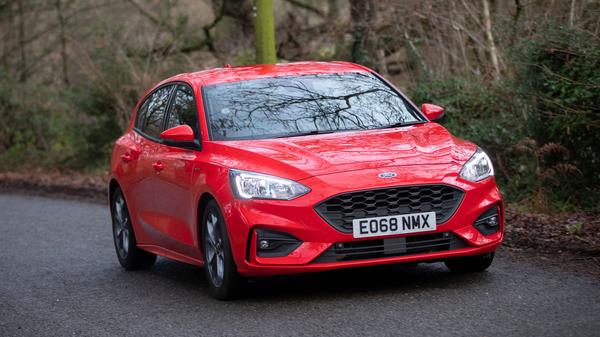 Less fun have been a few electrical peculiarities. On three occasions so far – including one around three minutes into my first ever journey in the car – the infotainment system has completely frozen, leaving it inoperable. Turning the car on and off, getting out and locking and unlocking it and holding down the on/off button failed to remedy the situation each time, although leaving the car overnight seemed to have sorted it out. It was a bit frustrating to have to spend the remaining journey with no navigation or entertainment.
I've also had a couple of issues with the collision warning system – called Pre-Collision Assist – which is a little over sensitive. The idea of it is if sensors in the car detect an impending collision ahead, an alarm sounds and the dashboard flashes red. If you don't respond, it'll slam on the brakes automatically. Which is great in an actual emergency. However, on several occasions the system has reacted in circumstances where no accident was imminent. Once it was an oncoming car on the other side of the road, once it was a parked car I was preparing to drive past. Once was for no discernible reason I could fathom. Thankfully I only got the alarm rather than an unplanned emergency stop. I guess it's better to err on the side of caution when it comes to safety, but it's still annoying. Here's hoping there aren't any more unexpected surprises with the Focus to spoil what has generally been a really positive experience so far.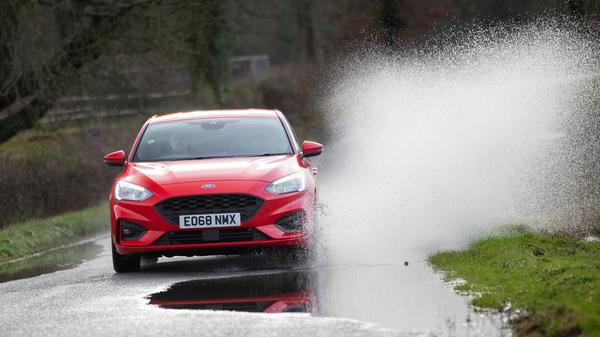 Month Three: Towing the line
Mileage: 4,376
Costs: £0 With the weather improving somewhat, it's been time to indulge in some outdoor pursuits. Out has come the bicycle, and so out also has come the bike rack. This is the second time I've used a towbar-mounted bike rack after my experience with
the Volkswagen Amarok
, and it's very quickly become my preferred way of transporting bikes around. Not only does it mean I don't have to remove wheels and sacrifice rear space to get the bike in the car, it's also far more secure than the universal boot-mounted rack I use on my own cars. I've not yet used a roof-mounted rack, but I fear I'd forget about it and promptly smack my rather expensive carbon bike into a multistorey carpark entrance by mistake. No such worries with the Uebler rack, which mounts to the detachable towbar fitted to the Focus. The idea of a detachable bar is that you can remove it if, for example, it interferes with rear parking sensors. But I've had no such issues, so I've left it on there. The electric hook up fold up behind the bumper, which I eventually realised after trying in vain to squeeze the connector for the rack's light bar behind plastic and feeling perplexed. After 20 minutes I realised that it just swings down, and is then simple to attach.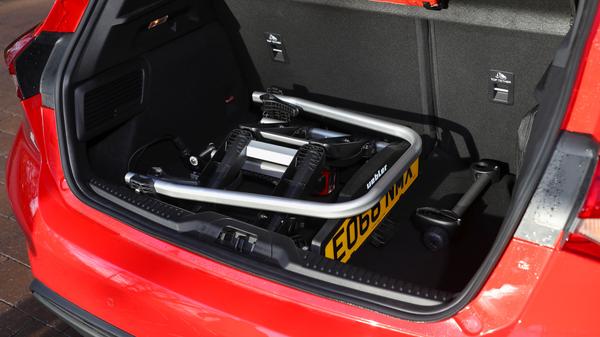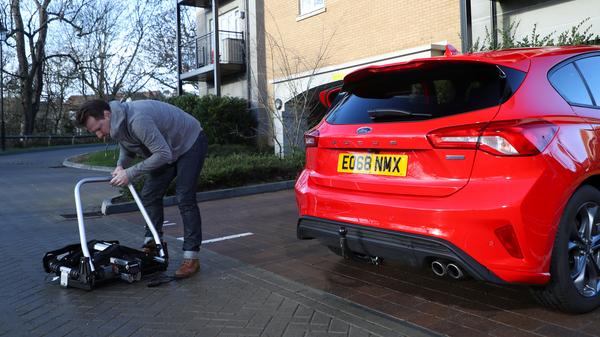 The rack itself folds down into a bag that I keep in the boot, and the various components, included the lights, swing out and click into place. Then there's a large bar that tightens the rack's fastening to the towbar and keeps it in place. The rack I've got will carry two bike, and they're held in place by plastic ratchet straps on the wheels, and then lockable bars that grabs onto the bike's tubes. The fact that they're lockable is a big plus, and means you don't have to worry about some ne'er-do-well swiping the bikes while parked up at a service station.
Once in place, the rack feels like part of the car and doesn't bounce up and down like the boot-mounted rack. From the driver's seat everything seems super secure, and having used it for several trips to different parts of the country, I've never worried about the bikes flying off into traffic. With them visible in all the mirrors, and in the reversing camera, I haven't forgotten they're there either. In other news, the Pre-Collision Assist system continues to be a hypochondriac, convinced I'm about to have an accident when nothing is in front of me. It probably sounds a false alarm about once a week, but while it's annoying I'd rather it react to nothing than fail to react to an actual incident. So it's no more than a niggle, really.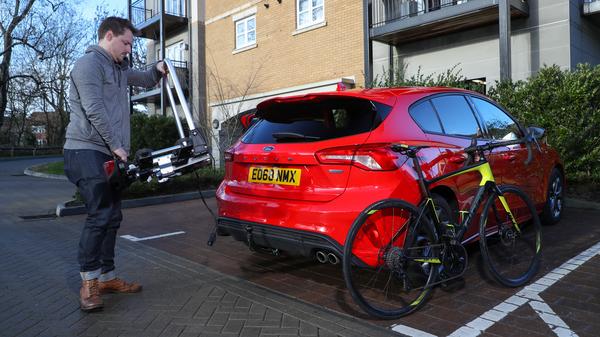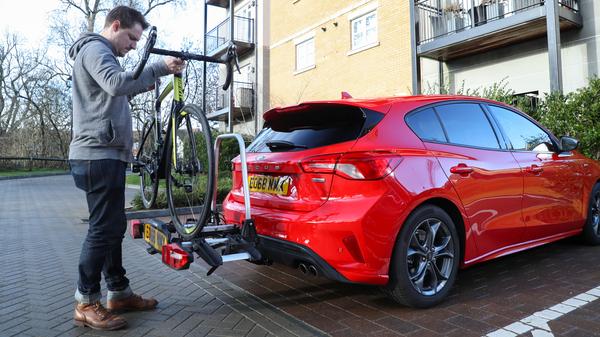 Month Four: Feeling flat
Mileage: 4,689
Costs: £0 In my day job as Auto Trader's senior road tester, I drive quite a few other cars as well as the Focus, and this month was particularly busy, which means the Ford spent three weeks parked up while I gallivanted around in other things. I didn't think that was a particularly long time, but when I came back to the Focus and blipped the key fob, nothing happened. The battery was dead. No issue, I thought, I'll just jump start it with a colleague's car. I prised the top of the fob off to find a physical key, which opened the driver's door. In order to open the bonnet to get to the battery, you need to double pull a handle in the passenger footwell, but in order to access the handle you need to open the passenger door. I pulled the interior passenger door handle. Nothing. With no power, I couldn't unlock it. But I couldn't get power without opening the bonnet. Hmmm.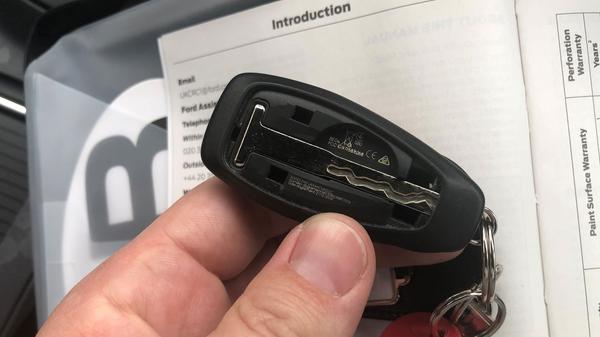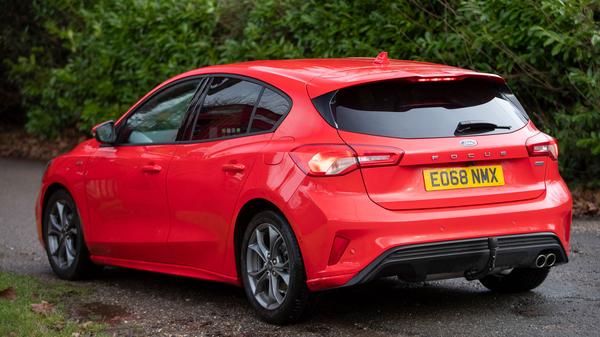 Befuddled, I called the Ford Assist service, which every Ford owner gets for the first year of new car ownership, and which continues if you get the car serviced at a Ford dealer. After finding the number in the handbook, I spoke to a lady in a call centre who took my details, and within ten minutes an AA van pulled into the car park. Using what looked, from the outside, like some judicious brute force, the AA man managed to open the bonnet and used his portable charger to give the battery a boost, and the Focus sprang into life. After leaving it running for an hour or so, it was charged up again, good as new.
The time from realising there was a problem to having it fixed was less than an hour. As far as I'm aware neither Ford Assist nor the AA knew I was a journalist or that this was a press car, so I'm pretty sure I didn't get preferential service. All-in-all, it was a very positive experience to know that if something went wrong with my new Ford, I could get it fixed very quickly.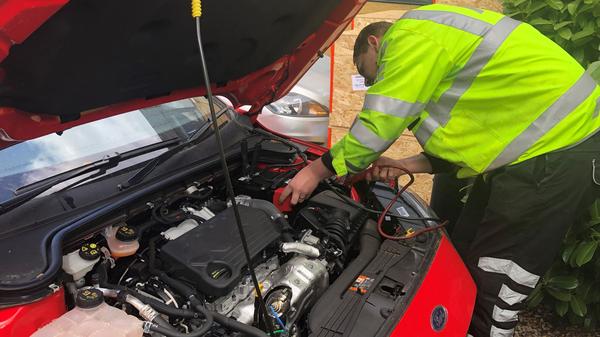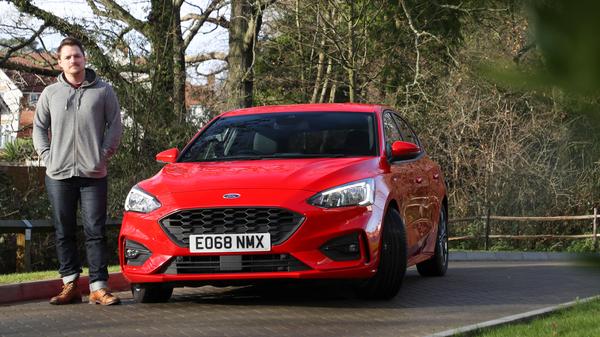 Month five: unexpected windows
Mileage: 5,273
Costs: £0 Last month, my Focus had a flat battery and had to be given automotive CPR to get it up and running again. Since then it's been running well, apart from one strange side effect. Normally, the Focus has a one-touch electric window system, where you can raise or lower the windows by pulling or pushing the switch once and letting go. But after the flat battery, I've had to hold it while the window travels upwards. The problem is, you have to let go at the exact right moment. Stop too early and the window isn't properly closed, and wind whistles right next to your ear. But stop too late, and the window reaches the top, bounces back and completely opens again, which on several occasions has resulted in a wide open window at 70mph, on the motorway, in the rain. Not pleasant. I tried initially to get the car booked in to a local Ford dealer to look at the issue, but all the dealers I called were fully booked for several weeks. So I cheated slightly and called Ford's press fleet manager, who had loaned us the car. He said that he'd come across this issue before, and that I needed to do a reset. A skim through the car's manual brought me to a section about the window's bounce-back function, which is designed to stop people getting fingers or any other appendage caught in a closing window. To fix it, I had to perform a series of window switch pulls and holds, and within five minutes, the windows were working again. Hooray. I'm not sure how many people would know about this, or know what it was called to look it up in the manual, but it saved me a three-week wait and a trip to a dealer.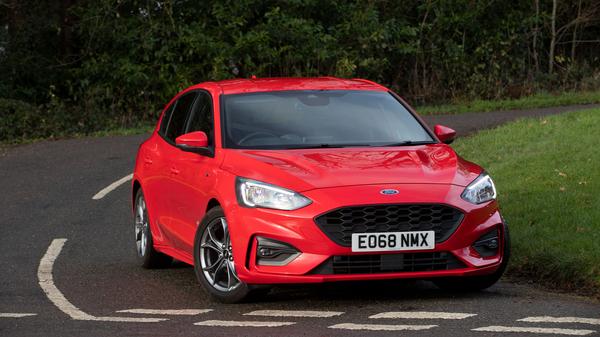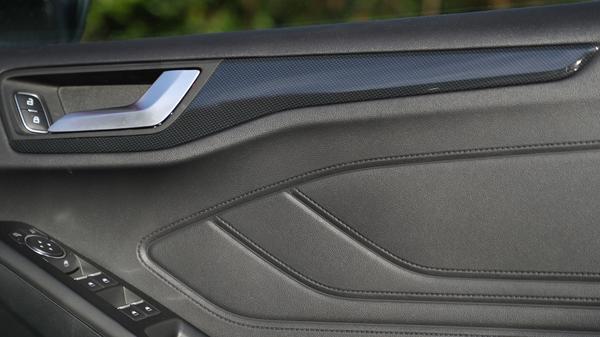 In other news, the infotainment system froze again. After first going on strike just minutes into my custodianship of the car, it had actually behaved itself perfectly for several months. But about an hour into a three-hour journey up to the Midlands, with seemingly no cause, my music stopped, the sat-nav froze, and that was that. The screen wouldn't respond, leaving me listening to music through a tinny phone speaker for the rest of the journey. Four hours later, when it was time to head back, it had sorted itself out. Most vexing.
My time with the Focus is almost up, and while this update has been focusing on negatives, I feel like I need to stress they've been overwhelmingly outweighed by the positives. I'll go into more detail about the overall experience next month.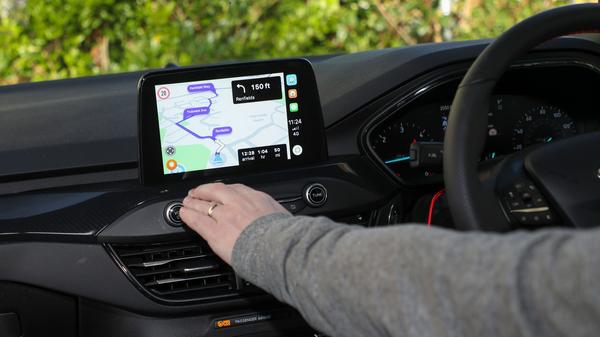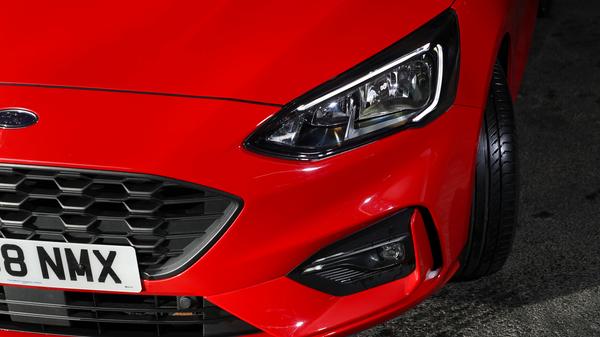 Month Six: The end
Mileage: 5,759
Costs: £0 And so my time with one of Britain's most popular cars is up. I'd be lying if I was particularly excited when it arrived, but I've really enjoyed my time with the Focus, and I'll miss it now it's gone. My concern with a smaller car – especially having had a pick-up truck beforehand – was that it wouldn't be that practical, but actually it's coped very well with everything I've needed it for. Only once, at Christmas, did I decide to take the family estate instead, as we had a huge amount of stuff to lug across country. But that turned out to be a one-off. I should note, however, that I don't have kids, and based on how much stuff my parent-friends seem to haul around for their offspring, I may have appreciated a larger boot if I did. Although my boy racer days are far behind me, I enjoyed the slightly sporty edge that the ST-Line trim bestowed on the car. Although the standard Focus is an excellent handler, the revised suspension gave it a bit more zip through the corners. It was genuinely fun to pilot down a country road, with great tactile feedback and a feeling of being agile and up on its toes. As far as I'm concerned, this is the best-handling volume hatchback you can buy. The engine's been a solid choice, too. The 1.5-litre diesel, with 120 horsepower, might not on paper seem brimming with performance, but it's gutsy and strong at low revs, which makes it seem much more muscular than its stats suggest. The six-speed gearbox has been more than sharp enough, too. My average fuel economy was just over 52mpg, driving mostly on busy motorways, which isn't too bad, albeit a long way from the official (but unrealistic) combined economy of 80mpg. Now, a few reflections on the options. The first of the ticked boxes was the £500 Driver Assistance Pack, which included automatic high beam for the headlights. This was quite nice to have, automatically switching to full beam if no cars were in front of me or coming the other way, but not essential. It also featured traffic sign recognition, which used a camera to memorise road signs and keep them displayed on the dash. I guess if you've not been paying attention then it could be useful to ensure you're not speeding, but… well, pay attention.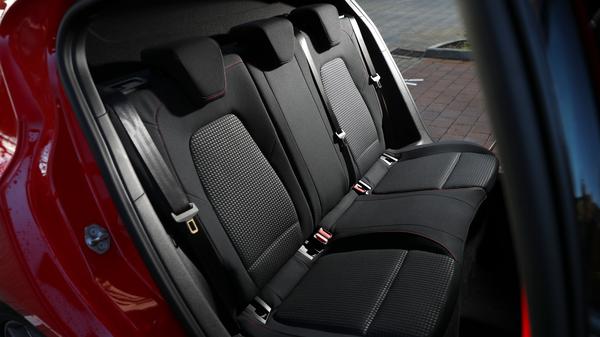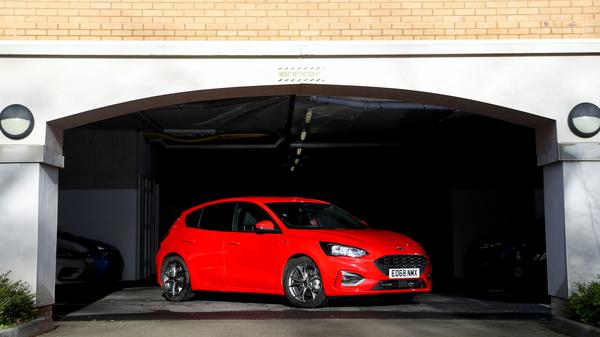 The best feature of this pack, though, was adaptive cruise control. If you're unfamiliar with this tech, you programme in a maximum speed – say 70mph for the motorway – and a radar system at the front of the car scans for vehicles in front of you. If you come up behind a slower moving vehicle, the Focus will automatically slow down to match its speed and keep a constant gap. Once the vehicle in front moves out of the way, the Focus accelerates back up to the preset velocity. For someone that spends a lot of time on busy motorways, with fluctuating speeds, this takes a lot of stress out of proceedings. The only gripe is that the system isn't quite as effortless with a manual gearbox as with an auto, as you still need to change gear to match the speed, and it won't work below about 20mph. Still, it's very handy. And as with a lot of these options, if you're paying by finance, a few hundred quid spread over a few years isn't much extra.
The other options pack was the Convenience Pack, which includes automatic parking. This isn't a feature I've felt I've needed, and on the one time I tried it, it really struggled with bay parking, but if you're not confident at manoeuvring it might be of interest. You also get a rear-view camera, which was useful, and fold-out door protectors, which were again nice to have, but I'm not sure they're all worth the £750 for the pack. As for the £250 FordPass Connect system, which in theory lets you monitor things like fuel levels and service intervals from your phone? Try as I might, I couldn't get it to work, and didn't feel like I was missing anything. I did love the towbar-mounted Uebler bike rack, though, and would like to reiterate that, while it's the most expensive way of transporting bicycles on your car (the towbar is £479 plus fitting, the rack is £750), it's also the best. So, any negatives? Well, only a couple. The infotainment system (£350) had an annoying habit of freezing and not rebooting for hours, which on several occasions left me without navigation and entertainment on long journeys. Also, the Pre-Collision Assist system has been overly paranoid that I'm about to have a crash, prepping the brakes and sounding an alarm when nothing's been anywhere near me. I'm sure it's a great feature if I was genuinely about to have an accident, but it's been a bit boy-who-cried-wolf over the past six months. The battery also went flat in only about three weeks of the car sitting stationary, but that gave me an excuse to use the excellent Ford Assist service, which is standard with new cars. Everything was back up and running within an hour, save for a weird window glitch that turned out to be simple to fix, once I understood what the issue was. So would I recommend those looking at mid-size hatchbacks check out a Focus? Heck yes I would. It doesn't have the premium feel of a Volkswagen Golf, but then it's not as expensive, and it's more fun to drive. If this is the type and size of car that you're interested in, then you should view the Focus as the benchmark against which all others are measured.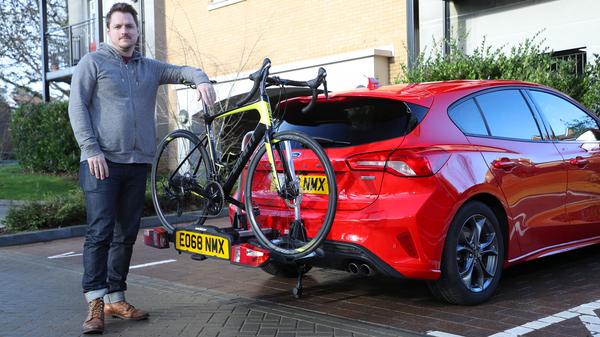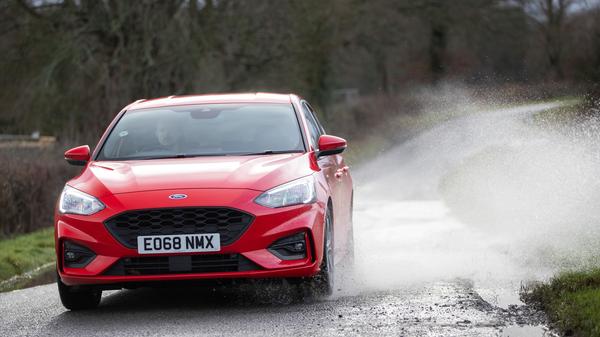 Key specs:
-Model: Ford Focus ST-Line 1.5 TDCI EcoBlue -List price: £22,850 OTR inc. VAT -Price as tested: £24,950 OTR inc. VAT -Engine/gearbox: 1.5-litre turbodiesel, six-speed manual -Power: 120 horsepower -Torque: 300Nm -Top speed: 122mph -0-62mph: 10.0 seconds -Economy: 80.7mpg combined (claimed) -CO2: 93g/km Everything extra fitted to our long-termer: -Rear privacy glass (£250) -Ford Sync3 DAB Navigation System with 8.0-inch touchscreen (£350) -FordPass Connect (£250) -Driver Assistance Pack* (£500) -Convenience Pack** (£750) -Detachable towbar £TBC *(Traffic Sign Recognition, Auto High Beam, Adaptive Cruise Control) **(Rear wide-view camera, door edge protectors, Active Park Assist)