Expert Review
Audi A6 saloon (2018 - ) review
The Audi A6 is an executive saloon. Read our review to see how sets out its stall with sharp design, a well-rounded driving experience and cutting-edge technology.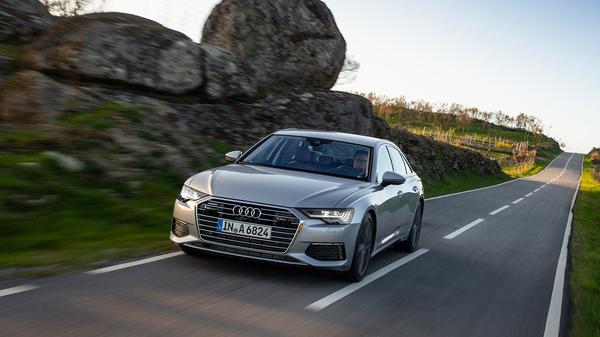 The Auto Trader expert verdict:
Available new from £39,950
The Audi A6 is a real contender in the fiercely fought executive saloon market. It shows its rivals the way for quality and technology, and it's as good as anything else in the class for practicality, desirability and running costs. The sophisticated driving manners will also appeal to buyers, but the A6's real USP is the innovative technology it carries on board. Few cars at any price feel as technologically advanced as this.
Reasons to buy:
Feels effortlessly cutting-edge
Flawless cabin quality
Good to drive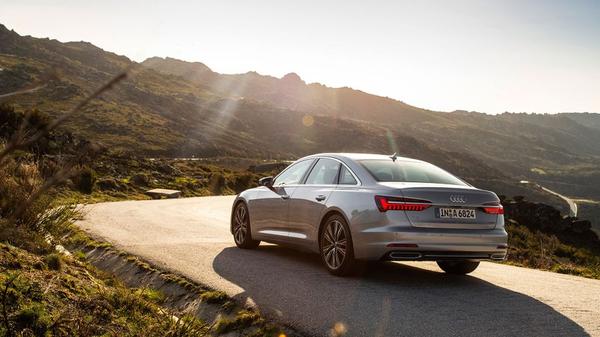 Running costs for a Audi A6 Saloon
The
Audi A6
will likely be considered alongside other big German premium machines, such as the
Mercedes-Benz E-Class
and the
BMW 5 Series
, as well as other rivals like the
Jaguar XF
and
Volvo S90
. A look at the purchase prices suggests very little between them, with the Jaguar being slightly cheaper and the Audi sitting towards the top of a very small range. Delve into the running costs and again, there's very little difference. The Jag, BMW and Audi all look to cost virtually the same over several years when you factor in fuel economy, resale values and servicing, the Merc and Volvo slightly more, but not by much. Ultimately this is a decision based on which car you like the best, rather than the lure of financial savings.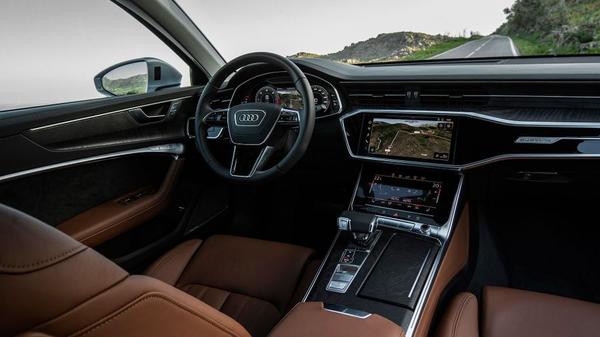 Reliability of a Audi A6 Saloon
Audi
may have a reputation for high quality, but that's not necessarily borne out by the evidence. In fact, the company sits low down in Warranty Direct's Reliability Index, and almost bottom of JD Power's Vehicle Dependability Study for several years in a row. Previous versions of the Audi A6 are well below average for reliability, with repairs being particularly costly. On the other hand, if you scan through the reviews from owners of the most recent A6 on this very website, they report excellent reliability.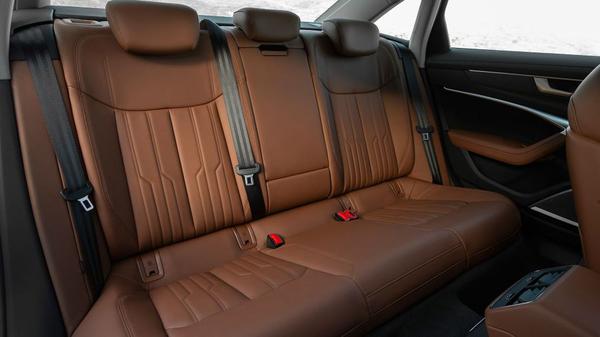 Safety for a Audi A6 Saloon
The A6 comes with an impressive amount of safety kit as standard. It'll include a shedload of airbags, automatic emergency braking, lane departure warning and cruise control with a speed limiter function. The standard four-wheel drive will also give you better on-road security, and the advanced headlights will give you a better view of the road in gloomy conditions. The options list will give you access to even more clever driving aids, like one that'll steer you back into your lane if you start to wander out of it, and one that'll park the car for you while you're not even in it.
How comfortable is the Audi A6 Saloon
Audi is a manufacturer that really knows a thing or two about making a swanky-feeling cabin, and with the Audi A6, the interior designers really have outdone themselves. Every single surface you encounter is tactile, plush and sophisticated, and even if you go hunting around for a panel or a switch that doesn't quite match up, you'll draw a complete blank. For our money, the A6 has the measure of everything else in the class for quality. The sophisticated atmosphere is helped by the cutting-edge feel you get from the all-digital central console, with a pair of touchscreens that look the absolute business thanks to graphics that are super-sharp and super-slick. The same goes for the digital instruments that sit behind the steering wheel, and the combined effect means that few cars at any price feel this advanced. True, the sheer amount of information and functionality these screens show you is a little daunting at first, but when you start delving into the nuts and bolts of how it works, the operating system is actually pretty intuitive. The driving position has bags of adjustment, helping you to get comfy easily. The A6 is easily a match for anything else in the class on legroom, no matter which seat you wind up sitting in, enough room for even your gangliest co-workers in the back. A wide middle seat and plenty of shoulder room means carrying three across the rear bench isn't out of the question, either, though whoever's in the middle will have to straddle a bulky transmission tunnel and sit on a seat that's a little bit harder and higher than those either side. The boot, at 530 litres, is about the same as you get from pretty much every car in the class. Split-folding rear seats also come as standard, (they don't always with some of the A6's rivals) and the extended load bay this gives you is pretty flat. The A6 is available with no less than four different suspension arrangements. Entry-level Sport cars come on regular steel suspension, which is impressively comfortable, isolating you from most of what a scruffy road surfaces can throw at you. The standard four-wheel drive ensures there's bags of grip and traction through corners, and the steering is nicely weighted and consistent in its responses. The only slight black mark against this setup is that there's a shade more body roll that some people will like, but for everyone else, it'll be absolutely fine. The S line has a suspension that's lowered by 10mm, but we haven't had the opportunity to try it yet. If you raid the options list, you can have an adaptive setup that varies its behaviour according to the driving mode you select. In truth, you can't really tell much difference between the sportier modes and the more cosseting ones, but it still enhances both the ride and handling, striking a really nice balance between comfort and control, so it's definitely worth considering. The options list also contains a more expensive air suspension setup, which gives greater differentiation between the modes. Despite the more complex hardware, we reckon it's actually not as good as the adaptive setup; it sharpens up the handling to a similar degree, but the ride doesn't feel quite as plush.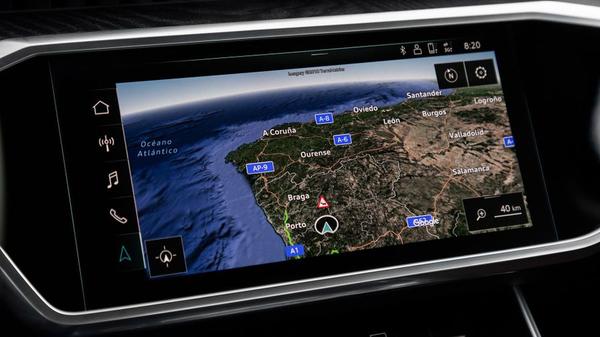 Features of the Audi A6 Saloon
The Audi A6's design is sharp and modern, sharing plenty with the flagship Audi A8. Entry-level Sport versions look smart with details like aluminium roof rails and LED lights as standard, as well as 18-inch wheels and an electric boot lid. Inside, the dual-screen layout comes in all models, with the standard setup being an 8.8-inch top screen and 8.6-inch lower screen. That infotainment system includes sat-nav, DAB radio, ten speakers, smartphone connectivity and a 36-month subscription to Audi's connected online services – all very worthwhile. Heated front seats include four-way electric lumbar support while a two-zone climate control system adds to cabin comfort. The S line spec is sportier looking. As well as larger alloy wheels, it sits 20mm lower and gets more advanced LED Matrix headlights and scrolling indicators to help it stand out. Chunkier sills and bumpers add to its presence, although the aluminium-look fake exhausts won't be to everyone's taste. The front seats are upgraded to a more figure-hugging design in leather and Alcantara (faux suede) with the S logo embossed. On top of that, the three-spoke multifunction steering wheel is also covered with perforated leather and contrast stitching, while flashes of brushed aluminium adorn the inside and the door sills feature illuminated S logos. The Black Edition model – as the name suggests – adds a plethora of gloss black elements to the exterior trim, but is otherwise virtually identical to the S line. But the top-of-the-range Vorsprung model adds big 21-inch wheels, adaptive air suspension and all-wheel steering, as well as full leather upholstery, heated seats front and back and as much infotainment kit as you can think of, including a Bang & Olufsen sound system.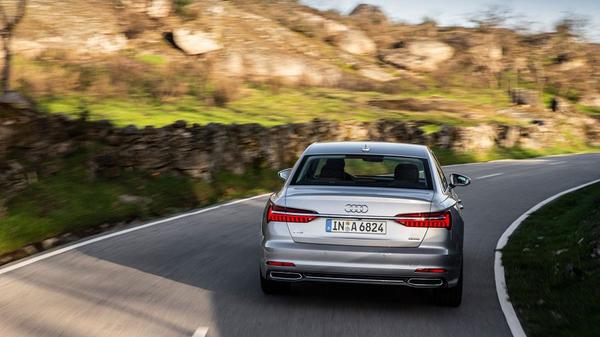 Power for a Audi A6 Saloon
There's a choice of two diesel engines, a 2.0-litre four-cylinder with 204 horsepower and a 3.0-litre V6 with 286 horsepower. The first thing you notice is that both are impressively smooth and quiet, more so than the equivalent engines found in
BMW
and
Merc
products, and that'll be very important to buyers. The smaller engine feels pretty muscular and keen to respond, making it capable of some very serious pace, but unfortunately, the reactions from its twin-clutch automatic gearbox can't always quite keep up with the engine's. The V6 works rather better with its automatic gearbox, and it also helps that the V6's extra muscle is always there on tap ready to go, so the gearbox doesn't have to downshift quite as often. That said, the V6 will be considerably more expensive to buy and run than the smaller option, and we reckon that'll be fine for most buyers. We've also had a shot in a 3.0-litre V6 petrol – badged 55 TFSI - with 340 horsepower. It's predictably brisk, both to pull away and when picking up speed on the move, and it sounds fairly lush as well. However, it'll be very expensive to run in the UK, so it'll only ever be of niche appeal. There's a 245-horsepower petrol engine too, called the 45 TFSI, but we haven't tried it yet.