Review
BMW i8 Roadster convertible (2018 - ) review
The i8 Roadster is the convertible version of the i8 Coupe. As a high-end, drop-top hybrid sports car, it doesn't really have any direct rivals, although alternatives include Honda's NSX and Audi's R8.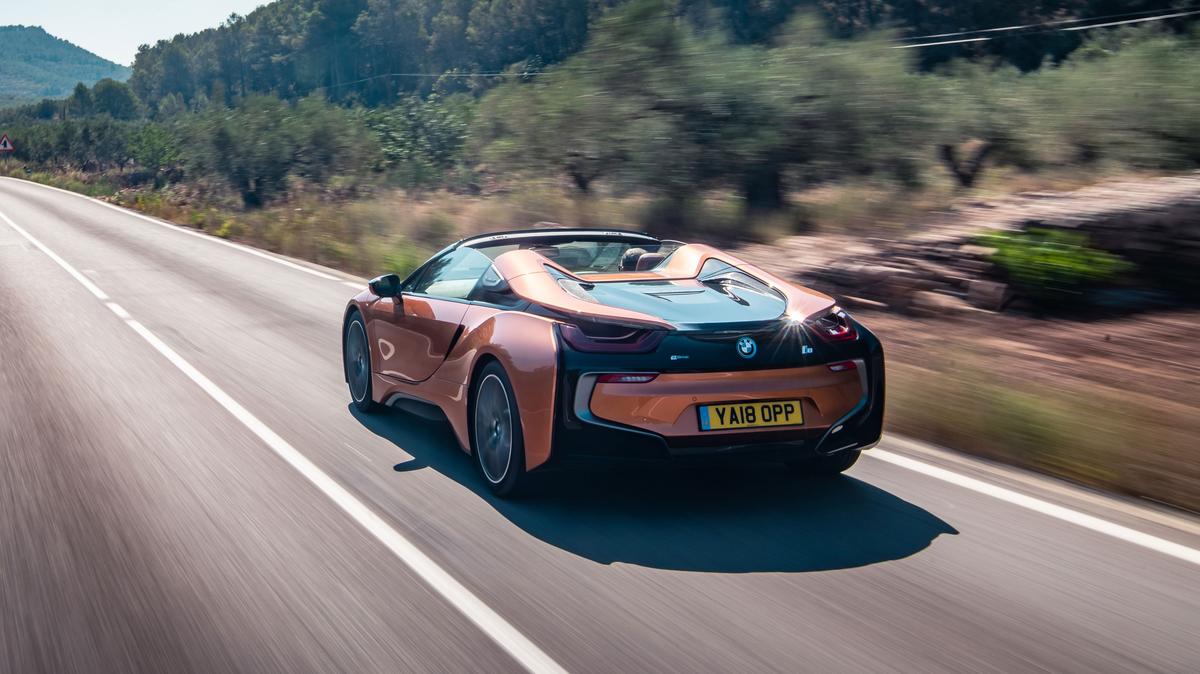 View gallery
The Auto Trader expert verdict: ★★★★★

★★★★★
3.7
The i8 Roadster is a striking car to look at. It's well made and comfortable, and the hybrid system works nicely and makes it stand out from the competition. It'll definitely turn heads, too, but if you're looking for a full-on sports car driving experience, there are more exciting options.
Pros
Striking looks

Potentially very economical

Well-equipped as standard
Cons
Interior quality could be better

Not as exciting as rivals

Only two seats
Interested in buying a BMW i8?
How good does it look?
Although it was launched back in 2014, the i8 Coupe is one of the most striking cars on the market to look at, and the Roadster version hasn't changed that. The body is made mainly from carbon fibre-reinforced plastic, which is both lightweight and very stiff, and that allowed the designers to go a bit crazy with shapes compared to the limitations of metal. The Roadster has a folding soft top roof that folds away electrically in three sections, taking around 15 seconds, and can work at speeds of up to 31mph. It manages to keep an almost identical profile to the coupe, and also keeps the hard-top's eye-catching doors, which swing up and out to add more theatre to the visuals. It rides on 20-inch alloy wheels as standard, and also comes with LED headlights.
What's the interior like?
When a car is this futuristic, it makes a few things stand out as a little bit dated. The i8 first came out in 2014, and some of the interactions between driver and the various systems aren't quite as slick or glossy as some newer cars. It's far from terrible though, with an intuitive infotainment interface with the central screen through a dial in the centre of the car. There's also a screen in place of traditional instruments in front of the driver, although it's not as big as those found in some rival cars. Remarkably, in a vehicle costing this much, Apple CarPlay is only an option (and not a cheap one), and Android Auto isn't available at all, which is a big shame when most cars these days include both as standard. You can connect your smartphone up through BMW's Connected App, but that's much more of a faff.

Build quality is ok, but maybe not quite as premium as you'd expect in a car of this price. Compare it to an Audi R8, for example, and the quality of the switches and dials leaves a bit to be desired. Still, the seats are comfortable and the leather upholstery is plush, so it's still a pleasant environment in which to sit.
How practical is it?
The i8 Roadster loses a cup-holder compared to the Coupe, and the rear seats have gone as well, meaning that unlike the hard-top car, this is a strict two-seater. You do, however, get a shelf behind the seats that will cope with a decent amount of luggage. There's a small storage space in the back, too. If you're used to non-sports cars then you'll find it a bit cramped, but for a car of this type, it's not too bad. In fact, it's actually more spacious than the coupe, thanks to the removal of the rear seats, and should let you pack enough luggage for a couple of days.
What's it like to drive?
Any supercar – even an efficient one – should feel exhilarating in the bends. Now don't get us wrong, the i8 Roadster is very competent. The light weight makes it agile, and the steering has plenty of precision. It's just that that final level of excitement isn't really there. There's no one area that really lets it down, particularly, but the steering and the throttle responses just lack a bit of response and feel. When the i8 Coupe came out in 2014 it sat in a class on its own, but the game has moved on since then, and when you look at sports cars like the Audi R8 and Honda NSX, they're another level above. Still, it rides very well thanks to adaptive suspension, which means it's usable everyday as a car in which to pootle around town. And despite the above reservations, it's still the best (and only) hybrid convertible sports car at this price.

The question of noise will be subjective, but if you're a person for whom a tasty exhaust note is integral to the enjoyment of a sports car, then you might find the i8 Roadster lacking. In fairness, it's hard to get the same emotion from a small, three-cylinder engine, as from a big V8, but it's something to bear in mind.
How powerful is it?
The i8 Roadster is powered by the combination of a three-cylinder, 1.5-litre petrol engine and an electric motor, which combined give 374 horsepower. This might not sound much in an era where 500 horsepower supercars barely raise an eyebrow, but because the i8 is so light, it makes for rapid progress. The Roadster can go from standstill to 62mph in 4.6 seconds. Compared to some rivals of similar prices, however, it starts to look less impressive. The Porsche 911 Turbo Cabriolet, for example, will do the same in around three seconds, and the Audi R8 Spyder in 3.7 seconds.

The time reflects the character of the i8; it's sporty, but it's not really an outright sports car. Think of it more as a fast GT (grand tourer), with a decent lick of pace but not quite the savagery or exhilaration of some of its rivals. In Sport mode it's a bit more feisty, but in normal mode it's fairly benign.

What it does have – which none of its rivals do – is its hybrid engine-and-electric-motor combo, which means it can do around 30 miles of zero-emission, fully electric driving. You can switch between the car's modes using a switch on the centre console, and plug the car into a charger or normal wall socket to bring the battery up to full charge.
How much will it cost me?
It's quite hard to make direct comparisons to any direct rivals, for the reasons outlined above. But Audi's R8 Spyder RWS seems a logical car to line up alongside the i8, as it's pretty close in price, and a convertible. When you look at the running costs for both, the R8 promises to hold its value a lot better, but it's also likely to cost considerably more than the BMW to service, maintain and repair. The i8 also has the advantage of its hybrid drivetrain to keep fuel costs down.

However, it's important to note here that how you use your i8 Roadster will have a big impact on fuel price. If you do a lot of shorter journeys, and keep the battery charged, your costs will be almost nothing. But if you're using the petrol engine and depleting the battery, that will quickly rise.
How reliable is it?
There aren't that many i8s in existence, so it's hard to get proper data on how they've been performing on this front. But the omens aren't good, as BMW has a very poor record for reliability as a brand. It sits in last place in JD Power's 2018 Vehicle Dependability Study, which ranks manufacturers overall. It was also last in 2017, and only fourth from bottom in 2016. Should anything go wrong with your i8 Roadster, BMW offers a three-year, unlimited mileage warranty.
How safe is it?
The i8 has six airbags and a sophisticated stability control system, as you'd expect, but it also has a few other standard safety gadgets that you might not. The adaptive LED headlamps have a clever high-beam assist function, there's a speed-limit information system, and there's a forward collision warning that incorporates autonomous braking and pedestrian detection. A head-up display and tyre-pressure monitoring are also standard fit. The i8 hasn't been crash tested by Euro NCAP, and due to the small numbers in which it'll be sold, we don't expect that to change.
How much equipment do I get?
Many cars this expensive are rather disappointing when it comes to the amount of standard equipment you get for your money, but the BMW i8 Roadster is not one of those. Included in the price are items like climate control, automatic lights and wipers, cruise control, wireless phone charging and electrically-adjusting seats that are leather-bound and heated. The infotainment system also features DAB radio, Bluetooth and sat-nav, as well as a 20GB hard drive, head-up display and all-round parking sensors and cameras.

Options include a range of interior trim upgrades that feature leather, carbon fibre or a combination of both, and an external aerodynamics package that includes a front splitter and rear spoiler. One notable omission is adaptive cruise control, which these days is available on most newer cars and often as standard.
Why buy?
Because you want a hybrid, open-top sports car and one of the most unique-looking vehicles on the market. There are better sports cars to drive than the i8 Roadster, but there aren't many that can match its visual presence, and there aren't any eco-friendly, drop-top rivals, either. If you're sold by that proposition, and you don't mind a few compromises when it comes to ultimate excitement, then it's likely to be very attractive.
Interested in buying a BMW i8?