Expert Review
Audi A6 Avant estate (2018 - ) review
The Audi A6 Avant features smart driver assistance features, mild hybrid technology and a range of engines. Read our review to find out how it compares to other premium estate cars.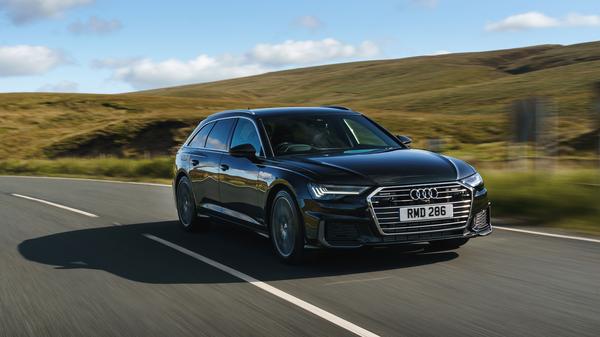 The Auto Trader expert verdict:
Competition in this segment is fierce, often with little to separate rivals. When it comes to image and quality, the Audi is a strong contender. What sets the A6 Avant apart is its high levels of refinement when driving and the suite of advanced technology available, much of which has trickled down from more expensive models. If you're looking to buy a car from the current crop of executive estates that's future-proofed, the A6 Avant has to be on your shortlist.
Reasons to buy:
Refinement at speed
Interior quality
Hybrid tech helps improve economy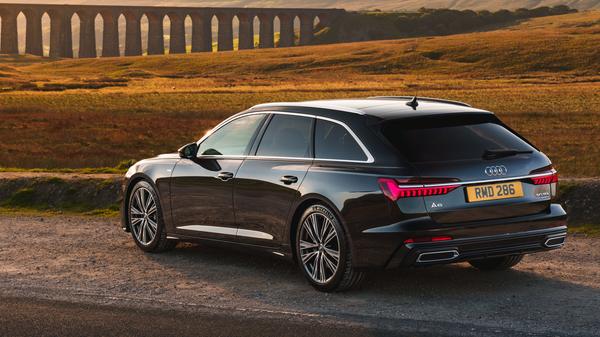 Running costs for a Audi A6 Avant
Of the two engines available in the
Audi A6 Avant
, it's the 2.0-litre diesel most people will choose to buy because of its low running costs. Owning the V6 diesel will cost a bit more to run. Nonetheless, both engines compare well with equivalents from other premium car makers. On top of that, as with most cars in the sector, the Audi A6 enjoys good resale values across its range, which keeps the cost of depreciation down.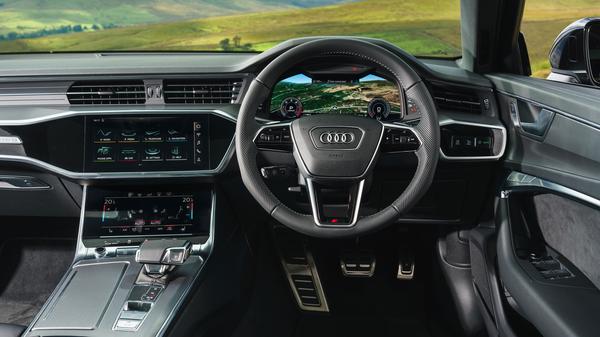 Reliability of a Audi A6 Avant
While the Audi A6 Avant feels well put together and the quality of the finish throughout is among the best in the segment, in Warranty Direct's Reliability Index, just two Audi models feature in the top 100, and the brand is listed almost at the bottom of the JD Power Vehicle Dependability Study for several years running. In contrast though, owner reviews of the A6 Avant on this website score the car highly for reliability.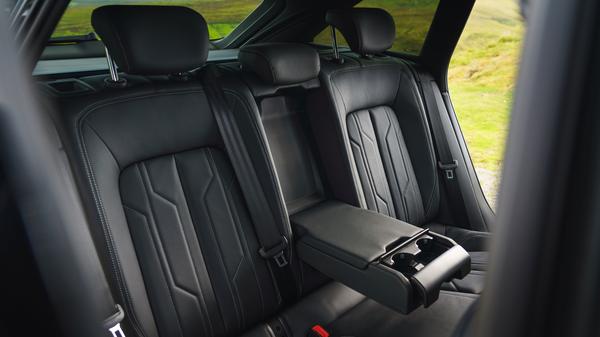 Safety for a Audi A6 Avant
The Audi A6 Avant features a good level of standard safety equipment. This includes front, rear and side airbags, automatic emergency braking, lane departure warning and cruise control that features a speed limiter setting. Choosing the models with four-wheel drive will add to the car's ability in slippery conditions and there are several driver assistance aids you can choose to add. Matrix LED headlights improve illumination, particularly in darker rural areas, without dazzling other road users, but even more advanced is a night vision camera system that can detect body heat from animals as well as people and highlight their presence in the dashboard for the driver to see. More useful options to consider are the adaptive cruise control for motorway driving, and the cross-traffic system that alerts you to any potential hazards from passing traffic when reversing out of a parking space.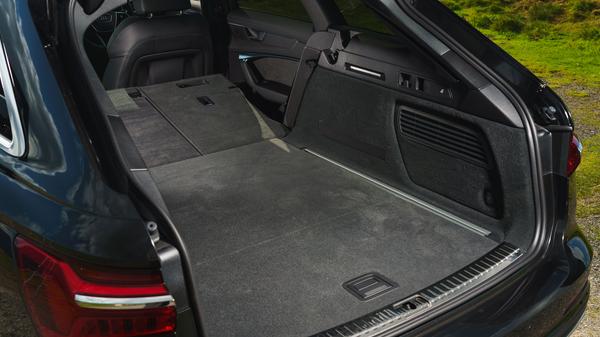 How comfortable is the Audi A6 Avant
If there's one thing Audi consistently does very well, it's interior ambience. From the choice of materials to the level of fit and finish, it sets the bar very high. There are plenty of aluminium flashes on the inner door pulls, surrounding the main dashboard, and centre console. Buyers can choose from more traditional wood finish inlays, or pick something more contemporary. The driving position has lots of adjustment in all directions, as does the steering wheel, so most drivers will find a good setup easily. The standard seats are also very comfortable, with plenty of support. As with the larger
Audi A7
and
A8
, the centre console features two touchscreen displays, resulting in a clean cabin design with few physical buttons. Not everyone is going to like the lack of buttons or physical controls, but there is haptic feedback from some functions, so you can feel your way around a bit more if you're concentrating on the road. Optionally, there's a 12.3-inch digital instrument display, too. The combination of this and the dual screens in the centre makes the A6 feel particularly futuristic inside. The A6 Avant comfortably seats four adults, but like many cars designed for all-wheel-drive systems, the rear middle passenger draws the short straw for legroom due to a substantial rise in the floor. Otherwise, in the rear, room for heads, elbows and legs is as good as anything else in the class. Although the A6 Avant has a stylishly sloping rear window, it still holds enough in the large boot (from 565 litres) to compete on a more or less equal with the biggest cars in the class, if not outdoing them. With the 40/20/40 split folding seats tumbled forward, the Audi can swallow 1,680 litres of stuff, which is a lot, if bettered by the biggest cars in the sector. If you frequently carry heavier loads, or plan on towing with the A6 Avant, you may want to consider the optional air suspension as it has a self-levelling function. There's a choice of four different suspension setups for the Audi A6 Avant. Conventional steel springs come on the base Sport model, and these deliver the most consistent ride comfort. In bends, there isn't much body lean to speak of, and on the motorway, it feels composed, too. Keener drivers are likely to be drawn to the S line version, as the suspension sits lower, which helps with cornering. Buyers can specify adaptive suspension that changes with the chosen drive mode, too. The differences are quite subtle, but you can tailor an individual setting. Alternatively, and at a higher cost, there is an air suspension that can automatically self-level and raise the car up when on poor road surfaces. At higher speeds, such as on a motorway, it lowers the car's ride height to improve aerodynamics and stability. For the most part, this provides a soft and comfortable experience, though it isn't quite the magic carpet ride you may expect. Sharper potholes and edges still catch it out, and at times it feels fidgety. The good news is that the standard suspension makes for the best option in the A6 Avant.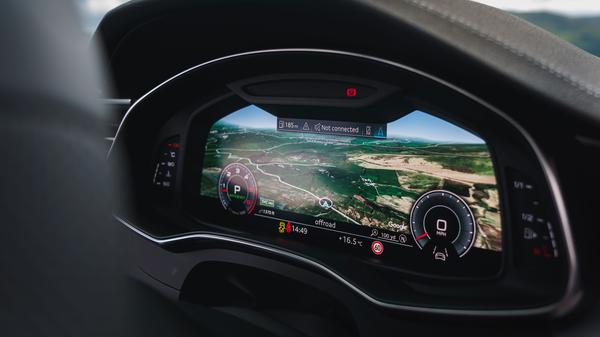 Features of the Audi A6 Avant
The Audi A6 Avant's design is sharp and modern, sharing plenty with the flagship Audi A8. Entry-level Sport versions look smart with details like aluminium roof rails and LED lights as standard, as well as 18-inch wheels and an electric boot lid. Inside, the dual-screen layout comes in all models, with the standard setup being an 8.8-inch top screen and 8.6-inch lower screen. That infotainment system includes sat-nav, DAB radio, ten speakers, smartphone connectivity and a 36-month subscription to Audi's connected online services – all very worthwhile. Heated front seats include four-way electric lumbar support while a two-zone climate control system adds to cabin comfort. The S line spec is sportier looking. As well as larger alloy wheels, it sits 20mm lower and gets more advanced LED Matrix headlights and scrolling indicators to help it stand out. Chunkier sills and bumpers add to its presence, although the aluminium-look fake exhausts won't be to everyone's taste. The front seats are upgraded to a more figure-hugging design in leather and Alcantara (faux suede) with the S logo embossed. On top of that, the three-spoke multifunction steering wheel is also covered with perforated leather and contrast stitching, while flashes of brushed aluminium adorn the inside and the door sills feature illuminated S logos. The Black Edition model – as the name suggests – adds a plethora of gloss black elements to the exterior trim, from grille to roof rails, but is otherwise virtually identical to the S line. But the top-of-the-range Vorsprung model adds big 21-inch wheels, adaptive air suspension and all-wheel steering, as well as full leather upholstery, heated seats front and back and as much infotainment kit as you can think of, including a Bang & Olufsen sound system.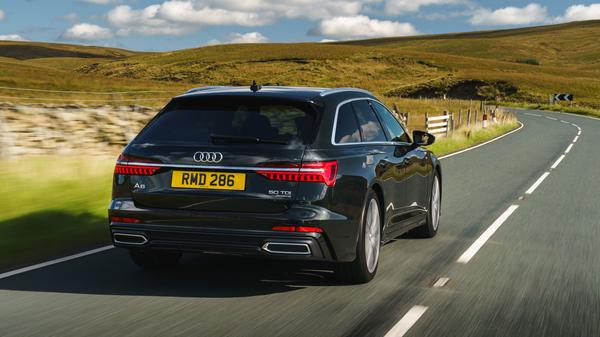 Power for a Audi A6 Avant
There is a choice of two diesel engines in the Audi A6 Avant, both of which use a 'mild hybrid' system to improve fuel economy. The 2.0-litre four-cylinder option (badged '40 TDI') is an impressive engine that produces 204 horsepower and uses a seven-speed automatic gearbox to drive the front wheels. The dual-clutch gearbox changes gear smoothly and is quick to drop down a ratio when you need a burst of acceleration. A mild hybrid system utilises a second battery to enable engine shut-off when coasting at higher speeds for short periods of time. The 3.0-litre V6 diesel doesn't have to work as hard thanks to its 286 horsepower, yet it often sounds gruffer than the 2.0-litre. Oddly, it feels slower to react to throttle inputs.
Audi
equips the V6 with a bigger mild hybrid system. That consists of a larger battery that can power the car's systems, allowing the engine to shut off for up to 40 seconds to save fuel. It mostly does this on the motorway without you noticing. If you prefer petrol power then you've again got a choice of two engines, although we've not had a chance to try them yet. The 45 TFSI has 245 horsepower, while the 55 TFSI has 340.