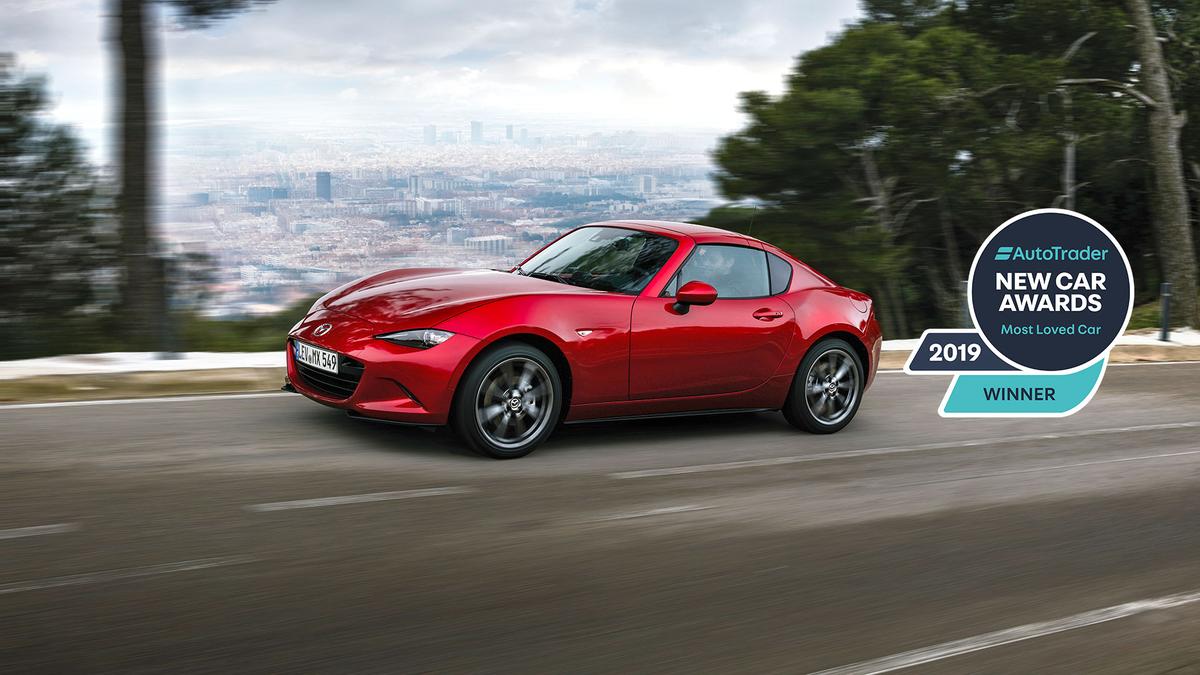 View gallery
The Auto Trader expert verdict: ★★★★★

★★★★★
4.0
The Mazda MX-5 RF delivers all the thrills of the regular MX-5, but with a bit more style. What's more, the Targa-like roof arrangement doesn't mean you lose a lot in the way of open-air thrills. Wind noise with the roof up is much improved over the soft-top convertible, although there's still quite a lot of it, even at moderate speeds. But it's still a very appealing car in a number of other areas.
Reasons to buy
Sportscar looks and genuine open-air thrills

Fabulous to drive

Strong on quality and kit
Pick of the range
2.0 184PS Sport Nav+ manual
The extra poke and handling prowess turn this into the car the MX-5 RF should be.
Most economical
Best official figures, but probably won't prove much cleaner than the 2.0-litre in the real world.
Best avoided
2.0 184PS Sport Nav+ auto
Makes your fuel economy worse and you lose the lovely gearbox.
How good does it look?
This is one of the areas buyers of the RF will be most interested in, and not just because it's a handsome little devil. A hard-top version of the MX-5 is nothing new, but the previous version (known as the RC or Roadster Coupe) looked much like the soft-top, just with metal panels where the fabric should be. The RF (or Retractable Fastback), meanwhile, has a look all of its own. The curvy buttresses that protrude upwards from behind the cabin give the RF much more of a Targa-like look, rather than that of the classic roadster, but don't worry, the more enclosed cockpit doesn't mean that you lose too much in the way of open-air thrills. To our eye, the RF looks more purposeful than the roadster whether the roof is up or down, and that really suits the jagged, aggressive details common to all MX-5s. Cars with the smaller engine come with 16-inch alloy wheels, which can look a little bit lost in the gaping wheelarches. The 17-inchers you get on the more powerful models are much more like it.
What's the interior like?
It's no surprise the RF's cabin is virtually indistinguishable from that of the Roadster. The dashboard surfaces and switches feel satisfyingly robust, although there are cars out there with more premium-feeling plastics and the infotainment system feels a bit dated, with no Apple CarPlay or Android Auto as standard (although you can have it fitted at the dealer, for a price). The driving position is spot-on, placing the driver low down to the ground, feet straight out on the pedals, right in the centre of the car. Early cars saw the steering wheel adjust only for height, not reach, but an update in mid-2018 changed that to give more adjustability, which is most welcome. Taller drivers though should make sure they can comfortably fit inside though. The MX-5 is many things, but roomy it is not.

Visibility is excellent towards the front of the car, with the steep windscreen angle giving you a fantastic view down the road, making the car easy to place accurately. Things aren't so hot to the rear, though, with those bulky buttresses causing more blind spots than in the Roadster, but it's still easy enough to live with. However, there is an alarming amount of wind-noise with the roof up. OK, it's much better than in the convertible, but even at moderate speeds, you hear an annoying whistle from the seal between the roof and side windows, and it only gets louder and more annoying as you go faster. The large amount of roof-down wind-noise is more forgivable, but you might still be startled by the volume. The wind doesn't just whistle past those buttresses, it properly crashes into them.
How practical is it?
Practicality is not an area of deal-breaking importance for a car like this, but the RF does a half-decent job. Although the narrow cabin and bulky central partition between the driver and passenger do make you feel a little snug, you're not so hemmed-in that you start to feel claustrophobic. The boot doesn't sound very big at 127 litres, but you'll still fit a surprising amount under the bootlid – a couple of large weekend bags can be crammed in – and the luggage capacity remains the same whether the roof is up or down. The cabin has a few storage solutions, like cubbies concealed in the bulkhead behind the seats, and a pair of pop-out cupholders in the centre console, but they're very much an afterthought, which might get annoying if you're more used to the door pockets and glove box of a hatchback.
What's it like to drive?
Compared with the Convertible, Mazda has fettled the RF's suspension to account for its extra weight (which is marginal, in case you were wondering), and the position of that weight in the car. To further confuse matters, the standard suspension setup you get depends on which version you pick. The 1.5s have the most basic setup, and these provide a decent amount of cornering precision and a surprisingly supple ride. You might not get on so well with the steering, though, which feels a little too remote.

Cars with the 2.0-litre engine also get a limited slip differential which helps you carry more speeds through the bends, and that makes the car feel a good bit sharper, giving more confidence to push harder. Combine the 2.0-litre engine with Sport Nav+ or GT Sport Nav + trim, and you also get a sports suspension with upgraded parts and more hardcore tuning, and that's where the MX-5 is really at its best. It makes the car wonderfully agile and involving, and although it does reduce the ride comfort slightly, it is only slightly.
How powerful is it?
Two four-cylinder petrol engines are available: a 1.5 with 132 horsepower, and a 2.0-litre that put out 160 horsepower when the car was introduced in 2015, and boosted to 184 horsepower mid-way through 2018. The 1.5 will be okay for buyers wanting nothing more than a very gentle open-air potter from their MX-5, but if you want anything more than that, we'd recommend the upgrade to the bigger unit. It's not so much the shortage of outright pace that's the problem, more the shortage of in-gear flexibility that'll have you constantly chopping and changing on the (albeit sweet-shifting) manual gearbox.

The 2.0-litre copes much better with the RF's extra bulk due to its more generous torque, and not only is it an easier and more relaxing car to drive normally, but it also delivers a good bit more fizz when the mood takes you, especially in the later models, with more power and a higher rev limit. The 2018 power increase really lifts the MX-5's character. Most hot hatches are faster, but there's enough pace there to let you make the most of the MX-5's sweet handling. A six-speed automatic gearbox is also available with the 2.0-litre, but we're yet to try it.
How much will it cost me?
There aren't too many rivals for the MX-5 at this point, which means it's a lot of fun for the cash and there aren't too many alternatives. Compare what we think is the version to go for - the Sport Nav+ model with the 2.0-litre engine - to Fiat's 124 Spider and you'll find the Mazda will depreciate less and cost less to service, repair and maintain, and also boasts considerably more performance. Toyota's GT86 won't hold onto its value as well as the MX-5, and it'll use more fuel too. Compared to a hot hatch like Hyundai's i30 N, the Mazda will again hold its value better, which means it's a financially wiser move over several years of ownership.
How reliable is it?
The Mazda MX-5 has always had an exceptional reliability record for any kind of car, let alone compared to other sportscars. The amount of first generation cars you still see rolling around today should go some way towards backing up that reputation. So should previous models' performance in Warranty Direct's Reliability Index, which is about as strong as it's possible to get. Mazda also ranks extremely highly in the league table of manufacturers, which should top up your confidence even further.

However, there's less rosy news in JD Power's Vehicle Dependability Study, which looks at more recent overall manufacturer performance. From 2017 to 2018, Mazda has slid down the overall table and while it still sits solidly mid-table, with better that average performance, it's not the stellar report we were once used to. Should anything go wrong with your MX-5 RF, Mazda offers a three-year, 60,000-mile warranty.
How safe is it?
Front and side airbags are provided – which is similar to what you'll get with other small convertibles – as are tyre pressure monitoring, stability control and a pop-up bonnet to give pedestrians better protection. Sport Nav+ models, from mid-2018, also have Lane Departure Warning on top, Front Smart City Brake Support (a type of automatic emergency braking), Traffic Sign Recognition and Driver Attention Alert, which will warn you if you're getting tired. You'll have to pay extra for the Safety Pack if you want a blind spot monitoring system, although this is included on the top-end GT Sport Nav+ models. The MX-5 hasn't been crash-tested by Euro NCAP, but there is an Isofix child seat mounting point on the passenger seat.
How much equipment do I get?
Three main trims are available: SE-L Nav+, Sport Nav+ and GT Sport Nav+, all of which come well-stocked. The most basic car has cruise control, electric windows, climate control, a leather steering wheel with audio controls, and a touch-screen infotainment system that includes Bluetooth, DAB and (obviously) navigation. Sport trim adds – as well as the suspension upgrades – rear parking sensors, automatic lights and wipers, heated leather seats and keyless entry. The GT Sport model adds clever, ultra-bright LED headlights, a reversing camera and leather heated seats.
Why buy?
If you're anything like previous buyers of hard-top MX-5s, you'll be looking at the RF because you want a shade more high-speed refinement than the soft-topped MX-5 can muster. The RF is better for those that will want to cruise without having their eardrums assaulted. Many will prefer the looks to those of the fabric-roofed MX-5, and it's still fabulous to drive.