Feature
Most Loved Car 2019 – Mazda MX-5
Find out why the Mazda MX-5 is the 2019 winner of our Most Loved Car award.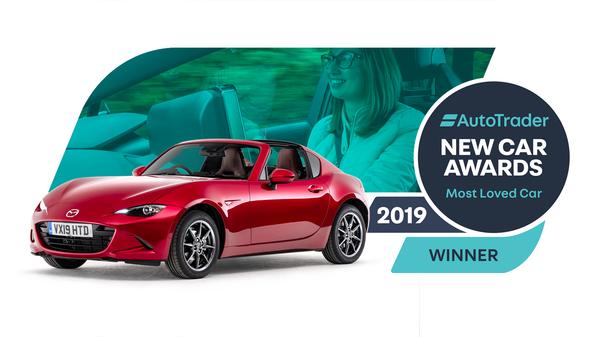 For a lot of people, cars are more than just a tool or a machine; they're something with which you form an emotional connection. The
Mazda MX-5
is just such a car, and no further proof is needed than the fact that owners have voted it as the 2019 winner of our Most Loved Car award.
Like all our
awards
, this category was decided by feedback collated from a survey of more than 60,000 car owners, all of whom rated their car in 16 key areas. That means an Auto Trader New Car Award is a real stamp of approval from people that live with the car day-in, day-out, and it makes each winner a true consumer champion. Here are just a few of the comments owners made about the MX-5…
"It's immense fun to drive yet very economical. Makes you feel good every trip."
"It's beautiful, stylish, fun to drive, beautifully built, well-supported by its supplier network, astonishingly reliable and generally completely fulfils every one of the criteria that everyone should have for buying a car."
"The car is the complete affordable sports car package that I can use every day."
Our experts are also impressed by the Mazda MX-5, and you can see why in our
expert review
. And while our experts haven't put together a list of most loved cars (hard one to quantify, after all), the MX-5 has made our shortlist of the
best sports cars
.
Commenting on the MX-5's victory in this category, Auto Trader's road test editor, Ivan Aistrop, said: "It should come as no surprise to anyone that the Mazda MX-5 is Britain's most loved car. Sports cars are always going to be more likely to occupy a special place in people's hearts, and the MX-5 is Britain's best-selling sports car. Buyers love its style, its quality and its reliability, and that's before you even factor in the playful driving manners you get from its low weight and rear-wheel-drive layout." Will the MX-5 have the tools to take the honours once again in 2020? Or will one of this year's runners-up – the
Ford Mustang
and
BMW M2
– be able to go one better? If you're looking for a new car and want to be guided by your heart as well as your head, you can
find or configure your brand new Mazda MX-5 on Auto Trader
right now.