Expert Review
Kia Sorento PHEV SUV (2020 - ) review
The addition of a plug-in hybrid adds further appeal to the already impressive Kia Sorento seven-seater SUV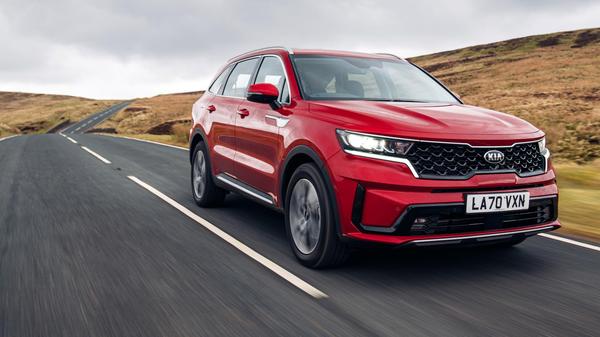 The Auto Trader expert verdict:
Available new from £40,060
We were already impressed with the Kia Sorento's combination of style, keen pricing, seven-seater practicality and technology, this new plug-in hybrid (PHEV) version offering tax-friendly running costs with improved efficiency from its ability to run for longer periods on electric power. Kia is to be commended for making the Sorento available as a full plug-in while keeping the seven seats as standard, something rivals like the Land Rover Discovery Sport, Mercedes-Benz GLB and Peugeot 5008 can't match, all the while feeling much more modern and desirable than the Mitsubishi Outlander. Its closest rival is the related Hyundai Santa Fe Plug-in Hybrid, which is based on the same platform and shares much of the Sorento's technology.
Reasons to buy:
Slick hybrid system
Value pricing, premium quality
Seven-seater practicality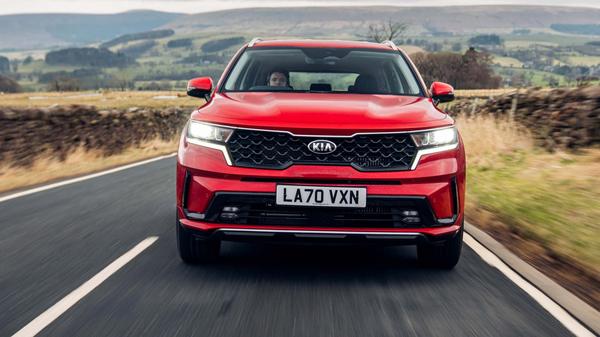 Running costs for a Kia Sorento PHEV SUV
Plug-in hybrids
are currently very attractive, both for manufacturers looking to reduce average CO2 figures across their fleets and company buyers able to save a packet on monthly
Benefit In Kind
tax costs. In theory private owners also stand to benefit, especially for those with the facility to plug in at home and do their regular journeys on electric power without using a drop of petrol. That doesn't always stand scrutiny in the real world, where plug-ins often prove no more efficient than
non-hybrid
models once the battery has been exhausted, especially on longer journeys. Credit to Kia – the system in the Sorento seems smarter than most at balancing the mix between electric and petrol engine power to make the most of efficiency gains over longer journeys too. Pricing is also keen, though the comparison you'll really want to keep an eye on is that with the closely related Hyundai Santa Fe Plug-in Hybrid. The Kia is a fraction cheaper but not by enough to make it a deal breaker, while the Sorento PHEV costs about £5,000 more like-for-like when compared with the non-PHEV version. Whether you make that money back will depend heavily on the kind of driving you do.
Click here
for our review of the regular Sorento.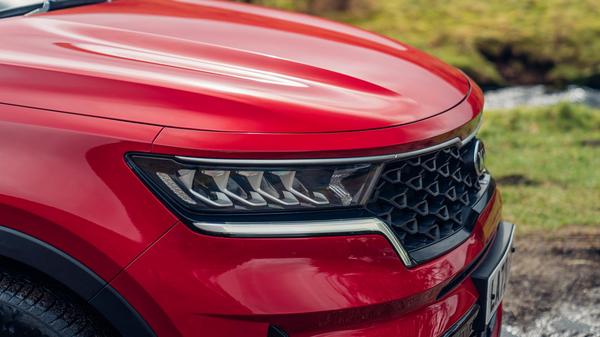 Reliability of a Kia Sorento PHEV SUV
Kia's signature seven-year warranty remains a stand-out feature, and perhaps one clear reason why you'd choose the Sorento over its Hyundai Santa Fe brother with its five-year cover. Kia could only offer this if it were satisfied its products were reliable, so you can take some confidence in that. There was a recall for selected Sorento models to fix a fault with the emergency 'eCall' system that would transmit the vehicle's details in the case of an accident but this has now been fixed so shouldn't prove an issue going forward.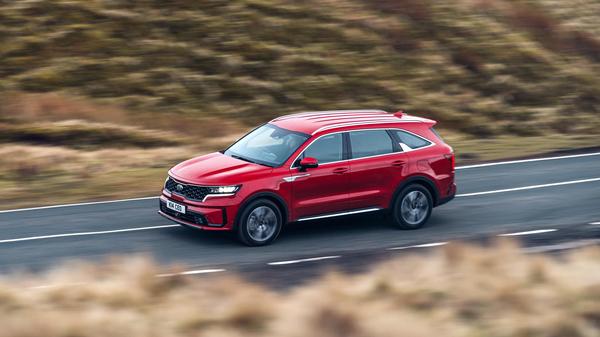 Safety for a Kia Sorento PHEV SUV
The Sorento comes with tons of driver-assistance technology to keep you safe, this combined with a variety of all-wheel drive functions designed to keep you moving in snow, mud and sand. If not built for hardcore off-roading it's good to know it will get you out of the kind of situations most SUV drivers might find themselves in, be that wintry weather, a slippery field at a festival or perhaps a sandy beach. Nearly all the driver aid systems are standard, though sensors to warn you of unseen vehicles in your blind spot or when reversing out of a parking space or driveway are only included on the top model. This includes a camera-generated blind spot view system appearing in the instrument cluster when you use the indicator to change lane, which is a neat feature.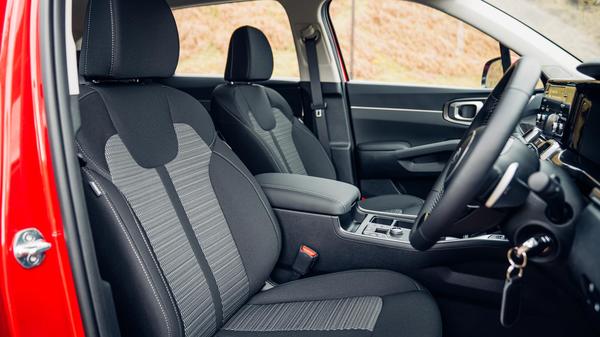 How comfortable is the Kia Sorento PHEV SUV
The Sorento is a big, heavy vehicle and that means it rides the road with a degree of authority and does a decent job of dealing with the lumps and bumps you'll encounter in most driving situations. Some still shudder through the structure, especially at town speeds, but it's generally configured to be more comfortable than sporty, which is appropriate for its purpose. With a standard automatic gearbox, light steering and the confidence of that high seating position it's an easy, and stress-free vehicle to drive once you get used to its size, which is as much as family drivers could wish for. The fact Kia has been able to maintain the seven-seat layout on the plug-in hybrid version is impressive too. Some seven-seater rivals – the Land Rover Discovery Sport included – are reduced to five-seaters only in their hybrid versions while others, like the Peugeot 5008 and Mercedes-Benz GLB, don't offer a plug-in option. This is due to the challenges of making room for the extra seats and the bigger batteries plug-ins need but Kia has obviously thought this through and there is no apparent compromise in practicality. The middle row slides back and forth to adjust the space, with power operation to make access to the third row easy. These extra seats are big enough for kids but lack head space for adults. Boot space is massive in five-seat form, adequate in the seven-seat layout.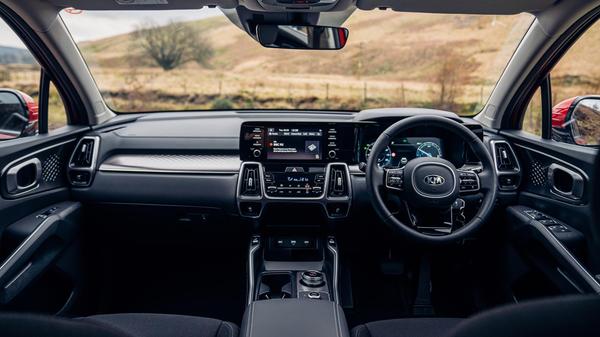 Features of the Kia Sorento PHEV SUV
Forget Kia's image as a 'budget' brand because the interior of the Sorento feels more like that of a premium player. The design is confident, the materials feel of decent quality and the whole thing feels well screwed together. Kit is also generous, with configurable digital instruments, heated seats/steering wheel and a reversing camera all standard. We'd be tempted to go up one level from the basic model to get more luxurious features like leather upholstery and the more appealing 10.25-inch central touch-screen, which is worth the money in itself compared with the 8-inch one on the entry-level version. The top trim gets fancier leather, a panoramic roof and a head-up display with driving information projected into your line of sight on the windscreen but the mid-level one seems the best balance of features and price.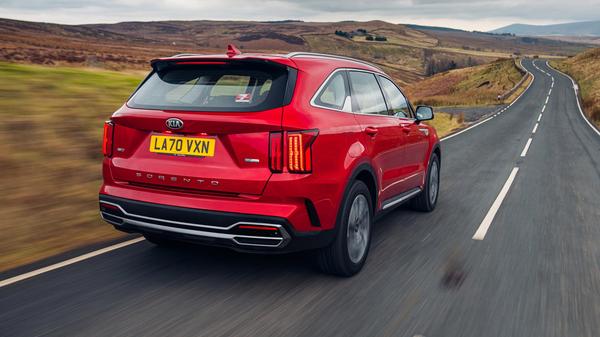 Power for a Kia Sorento PHEV SUV
There are regular Sorento models with petrol-hybrid and diesel engines as well –
click here
for our review of those. In the case of the plug-in hybrid we were impressed with how capable it felt while operating in pure electric mode, which it will do for around 35 miles by official figures. This will be enough for many regular daily journeys and mean you can pretty much run your Sorento as an electric vehicle, albeit with the reassurance you have the petrol engine when you need to go further. Such is the promise of plug-in hybrids but Kia has done a better job than most and the way the electric motors and petrol engine interact is very slick and, even after covering over 50 miles, we still had a decent amount of battery left while recording double the mpg of a regular petrol or diesel. We'd like to do some more miles to make a decisive verdict on its efficiency but, based on experience of other plug-in models, this is an impressive performance and suggests Kia is ahead of the game.