Expert Review
Kia Sorento SUV (2020 - ) review
Meet the new Kia Sorento 2020: a handsome, seven-seat SUV that includes a new design, all-new platform, and an optional hybrid powertrain.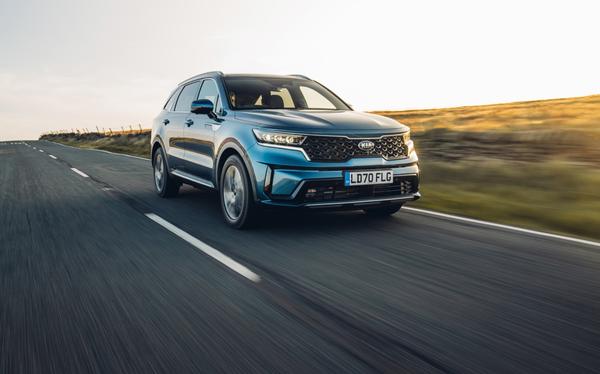 The Auto Trader expert verdict:
Available new from £40,590
Now on its fourth version, and with the option of a hybrid powertrain, the Kia Sorento is a large, seven-seat SUV, offering handsome looks, good value for money, excellent towing capability and Kia's famous seven-year warranty. The 2020 model introduces a new design, new cabin and all-new platform. Click here for our standalone review of the plug-in hybrid Sorento.
Reasons to buy:
Seven-year warranty
Generous space
Excellent value for money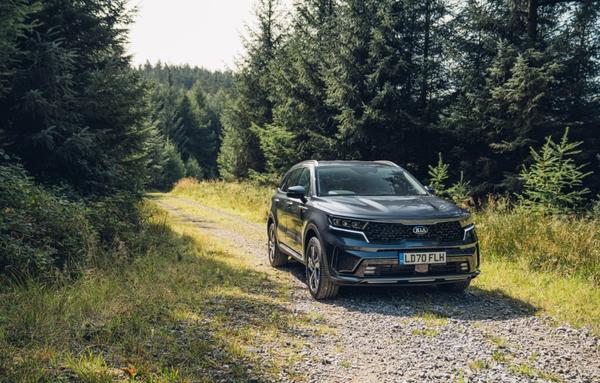 Running costs for a Kia Sorento
The Kia Sorento has always been one of the most reasonably priced seven-seat, large SUVs. The new one comes in three trim levels (2, 3 and 4), rising in price from £38,845 to £46,945. The good reliability track record of Kia (see "How reliable is the Kia Sorento", below) keeps running costs low, and the new petrol hybrid powertrain, "HEV", lowers fuel consumption and VED rates which are based on the emissions. Insurance groups range from 30 to 32 as you rise up the trim levels. If it fits your driving patterns the new plug-in hybrid version might save you more money -
click here for our review of that model
.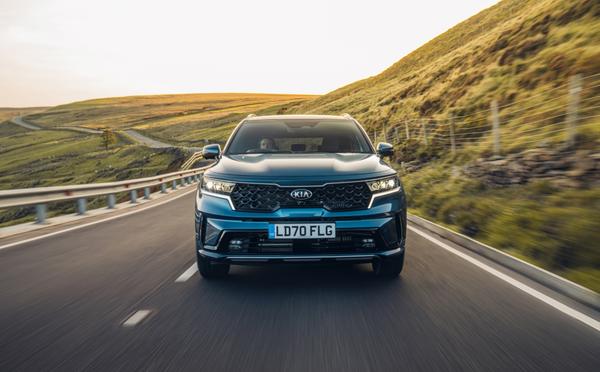 Reliability of a Kia Sorento
Kia has a great record for reliability, which is why it is confident in offering a seven-year/100,000-mile warranty to its customers - the offer has been in place since 2007, and is transferrable to new owners at no extra charge. There's also a 12-year anti-perforation warranty and five-year paint warranty. Servicing intervals are 20,000 miles, or 10,000 miles if you buy the hybrid version. There's a wide range of service plan options under the umbrella label of "Kia Care". Should stuff go wrong, servicing and parts remain relatively cheap compared with those relating to the seven-seat SUVs out there.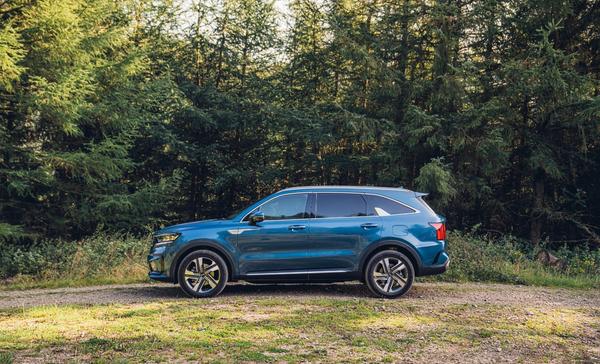 Safety for a Kia Sorento
The large mass of this vehicle offers some initial protection, as well as great forward visibility, and all versions, including the base model, come with all-wheel drive for added traction in slippery conditions. All models also get daytime running lights, front and rear fog lights, seven airbags, and "front collision avoidance assist" which incorporates city, pedestrian, cyclist and junction detection. Every car also gets lane-follow assist, trailer stability assist for towers and hill-start assist and smart cruise control. There's an advanced anti-theft alarm system and "Ecall" which summons the emergency services if you have an accident.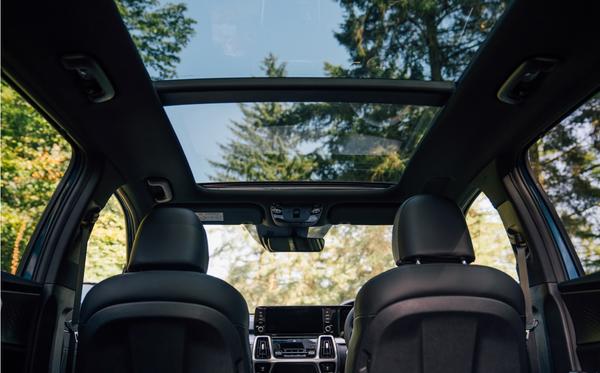 How comfortable is the Kia Sorento
As Kia's flagship SUV, the Sorento starts life with a host of equipment on the standard models. While the fabric seats look as smart as the leather option, we did note that the panoramic sunroof adds a level of luxury to the interior that makes it well worth the extra cost. Disappointingly, you have to be at trim level 3 or 4 to get the large digital display (a measly 8in display is given at the base 2 trim level). You also have to upgrade to a 3 or 4 trim for ambient mood lighting and the wireless phone charging, and audiophiles will have to buy the top trim for the immersive Bose sound system, or for the head-up display. On the other hand, a reversing camera, front and rear parking sensors and smartphone integration for iPhone and Android are included from base level.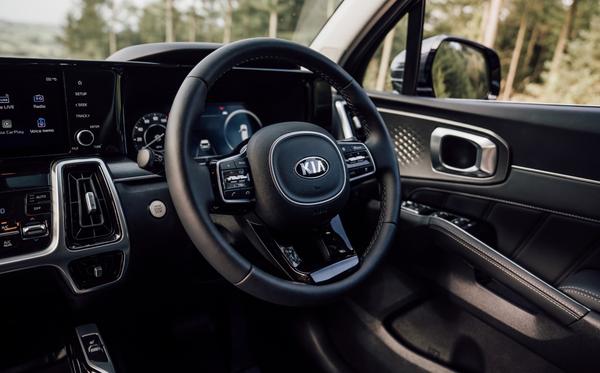 Features of the Kia Sorento
The Kia Sorento is a supremely comfortable seven-seat SUV. It may not quite have the sound deadening of a Bentley Bentayga, but you're paying £38,000 instead of £138,000, so swings and roundabouts. What you do get is an awful lot of leg and head space, cup holders, storage pockets, light and visibility. With the third row of seats down, the boot will swallow family luggage, dogs and bikes. With the last pair of seats up, there's room for two children on a long journey or two adults on a short one. That's the same for pretty much every seven-seat SUV out there. It's also a very comfy car for the driver, which is often overlooked, but the set-up is just right for restful posture.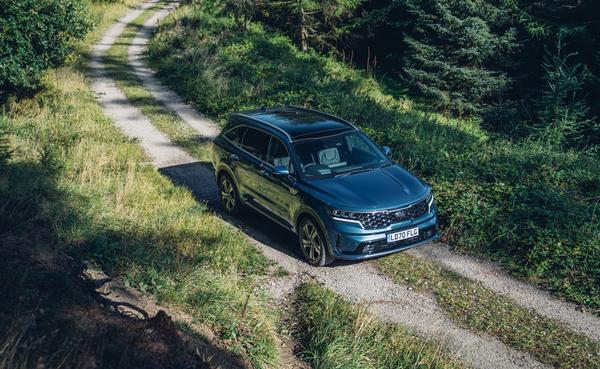 Power for a Kia Sorento
At launch, customers can choose from two powertrains: a hybrid which consists of a 1.6-litre petrol engine with an electric motor, which is called the HEV 1.6 T-GDi (just call it the hybrid at the dealership - they'll know what our talking about), or a 2.2-litre diesel, which is badged "2.2 CRDi DCT" The diesel comes only in the mid-range 3 trim, the hybrid in 2, 3 or 4. There will be a plug-in hybrid in time. We've always been sceptical of the benefits of a built-in hybrid, preferring a plug-in hybrid with its longer electric-only range. But actually, the motor and engine work smoothly together in the Sorento, the car setting off in electric-only power which gives it a surprising surge of acceleration, before the petrol engine creeps softly in. It's definitely the version to go for, unless you do long motorway mileages every day, in which case plump for the diesel.