Expert Review
Jaguar E-PACE SUV (2020 - ) review
A plug-in hybrid option and improved infotainment give the updated E-Pace a boost but Jaguar's compact SUV still struggles to make its voice heard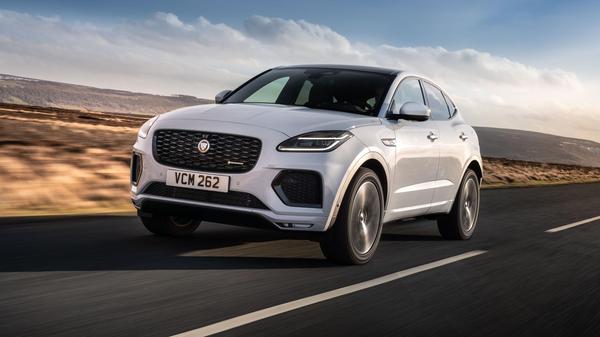 Words by: Dan Trent
Published on 12 March 2021 | 0 min read
The Auto Trader expert verdict:
Available new from £43,185
The E-Pace is Jaguar's player in the fiercely competitive small SUV sector and comes with some fresh updates for the 2021 model year, comprising subtle tweaks to the looks (including new lights and grille) along with more extensive tech updates inside. These include Jaguar's much-improved Pivi Pro infotainment system, with a bigger screen and increased functionality. The engine range has also been revised and now includes a P300e plug-in hybrid with tax-friendly CO2 rates and the option of short distance travel on electric power alone. The E-Pace is a little cheaper than the closely related Range Rover Evoque but arguably doesn't look as stylish or desirable and is pushed hard by rivals like the Mercedes-Benz GLA, BMW X1, Audi Q3 and Volvo XC40. It's much improved but still found wanting in this company.
Reasons to buy:
New hybrid version
Much improved infotainment
Sporty driving manners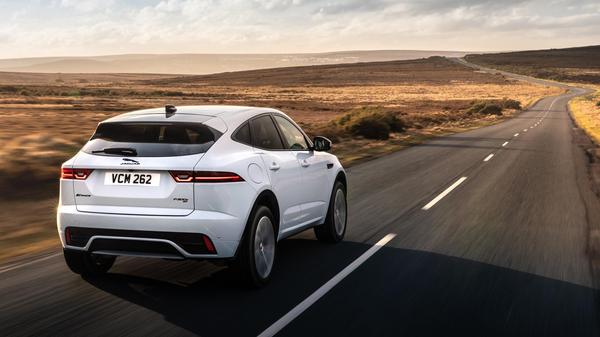 Running costs for a Jaguar E-PACE
The arrival of a plug-in hybrid (or PHEV) option earns an extra point here compared with the previous E-Pace generation, this version the only one in the range to duck out of the worst Benefit In Kind band and therefore making an E-Pace a viable pick for company drivers at last. All but the cheapest diesel version – which is the only front-wheel drive and manual option in the range – now get efficiency boosting mild hybrid technology (MHEV) too but only the plug-in will really save you significant amounts of money in monthly running costs, and only then if your driving patterns play to its strengths. Click here to learn about the differences between different types of hybrid. Jaguar is, of course, partnered with Land Rover and uses the same foundations and engines as the Discovery Sport and Evoque – handily all share a similar range structure so price comparisons are relatively straightforward. Like for like the E-Pace tends to be the cheapest of the three, but not by a huge amount. Given it's not that much more expensive we'd pick the Evoque for style and all-round desirability over the E-Pace any day of the week.
Expert rating: 4/5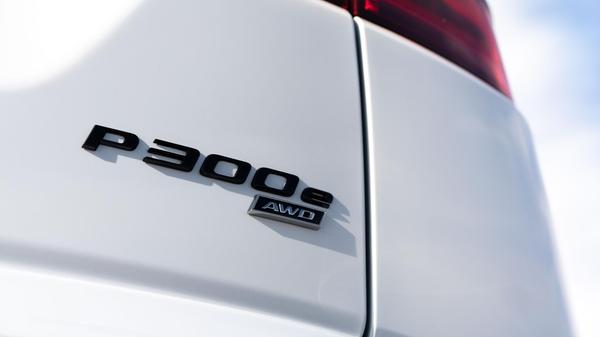 Reliability of a Jaguar E-PACE
Jaguar and Land Rover don't have an overwhelming reputation for reliability overall, but then neither do their German premium rivals so it's not like they are lagging behind here. Economies of scale from sharing engines, infotainment systems and more with the Discovery Sport and Evoque should mean problems will flag up quickly when they do occur so Jaguar and Land Rover can address them in one hit. Our owner reviews of the previous model seem generally positive, the troublesome infotainment system reported by one now replaced in this updated model so hopefully addressed.
Expert rating: 3/5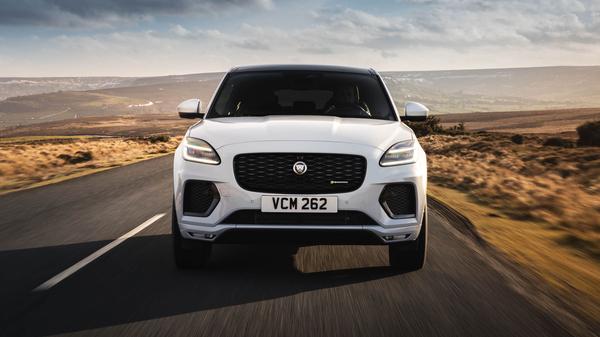 Safety for a Jaguar E-PACE
The E-Pace was already a safe car and packed with tech, the only real addition in this updated version being a driver monitoring system that can apparently judge if your attention is wandering and tip you off it's time to stop for a coffee. Automated emergency braking, traffic sign recognition, front and rear parking sensors and a 3D all-round camera system are standard, while blind-spot assistance, rear traffic alerts and adaptive cruise control are either bundled into option packs or standard only on higher trim levels.
Expert rating: 4/5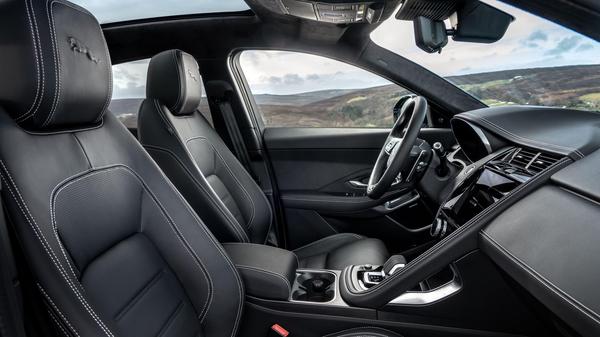 How comfortable is the Jaguar E-PACE
The E-Pace attempts to combine the high-riding stance of an SUV with the driving environment of sporting Jaguars like the F-Type, an effort rewarded with mixed success. It certainly has the sporty driving position and vibe you'd expect of a Jaguar but any advantage from being sat up high is immediately wiped out by the huge blind spots created by the thick pillars and slim windows – it's especially bad at junctions and roundabouts looking anything but dead ahead and the over-the-shoulder and rear view is just as poor. You'll be living on those sensors and warning bleepers, for sure. Attempts at translating that sporty Jaguar driving style to the SUV stance are also mixed. It handles keenly, with responsive steering and surprising agility but the weight of the E-Pace is an issue and means it needs stiff springs to maintain body control. We tried the P300e plug-in hybrid and often the extra weight of these models actually helps the ride but it was still a bit brittle at town speeds. Adaptive dampers are an option (standard on the P300 Sport) but we've yet to try them. Those small windows also make the interior feel somewhat claustrophobic, especially for rear-seat passengers. Legroom isn't great back there, either, and the rear bench is only really suited to two passengers, with anyone sitting in the middle finding it a squeeze. The boot is a decent size, though, and thankfully the addition of batteries for the PHEV version doesn't seem to have intruded on carrying space, as it does in some rivals. For a supposedly premium model some of the materials feel a little cheaper than you might like, though.
Expert rating: 3/5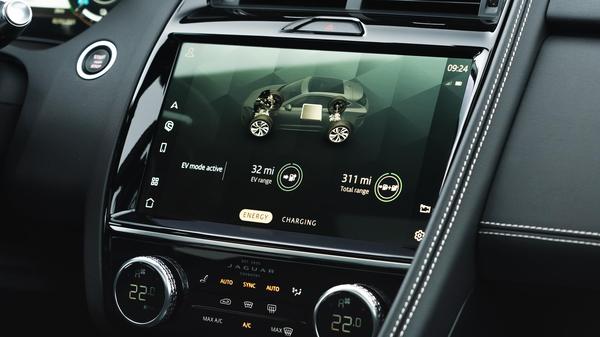 Features of the Jaguar E-PACE
Jaguar and Land Rover share the same Pivi Pro infotainment system and have been busy introducing it across both their model ranges of late. It's standard on all E-Paces and boasts a much larger screen than the previous set-up, with all-new software powering it and much improved graphics and functionality. The swipe and select menu system is easy to navigate and you are never too far away from features you use a lot, which simplifies common tasks and helps keep your attention on the road. It's fully compatible with CarPlay and Android Auto and a one-year data plan and online pack is standard on all but the entry-level models. A full wi-fi enabled subscription is, however, a cost extra you will likely have to bear on all versions. Digital instruments are standard on higher trim levels and optional on others, a head-up display an option on all but the 300 Sport where it's standard.
Expert rating: 5/5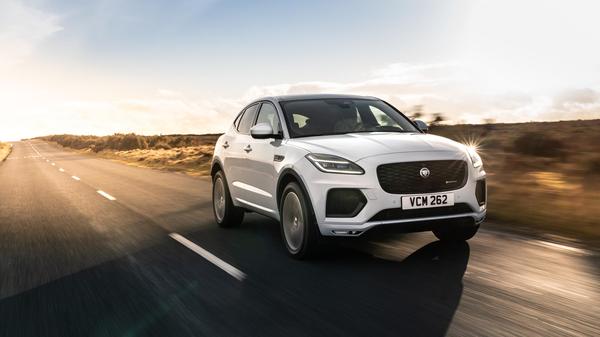 Power for a Jaguar E-PACE
The shift away from diesel is evident in the new engine line-up, which now has just two power options here. All petrol and diesel engines get mild hybrid assistance (branded MHEV), bar the entry level version of the diesel. This is the only E-Pace available with a manual gearbox and front-wheel drive, too, but doesn't seem to score any notable benefits in efficiency or associated running costs so is likely there to bring the entry price down. The mild hybrid technology and other improvements have boosted power a little across the board, which is welcome because we found the weight of the E-Pace had the previous ones struggling a little. So far we've only driven the P300e PHEV, which is an interesting comparison with the most powerful P300 Sport from the regular petrol range. While they share the same horsepower figure the P300e has a lot more torque than the P300 and shows better performance figures. It can also cover just over 30 miles on electric power alone, though you have to really nurse the throttle to avoid waking the petrol engine. While our short test route flattered the hybrid system experience shows that once you've exhausted the battery on these cars efficiency plummets and official claims of over 100mpg become a distant dream. This isn't to single Jaguar out here – it's the same with all plug-in hybrids – but make sure you buy with your eyes open if saving fuel is your primary goal.
Expert rating: 3/5