Expert Review
BMW 4 Series Coupe (2017 - 2020) review
Read about the BMW 4 Series Coupe, the stylish, luxurious two-door with sleek looks and sparkling handling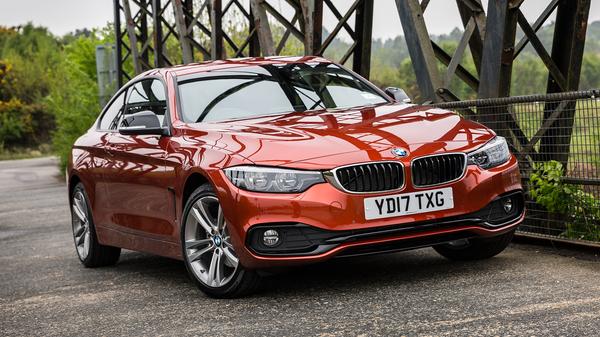 The Auto Trader expert verdict:
BMW has a long tradition of building stylish, sporting coupes that look good and drive brilliantly, the 4 Series honouring this legacy in typical style. Classic rear-wheel drive balance, sleek lines and decent equipment are complemented with decent standard equipment, though the car has been on sale for a while now and not all the features are as up to date as some rivals.
Reasons to buy:
Great blend of ride and handling
Economical engines
Four-wheel drive versions available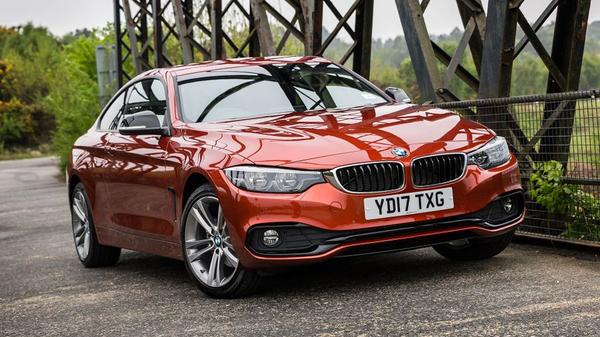 Running costs for a BMW 4 Series
Cars like a 4 Series Coupe are best described as a discretionary purchase and cost more to buy and run than the saloons on which they are typically based. But these are premium products and owners will accept looking good comes at a cost. Compared with rivals like the
Audi A5
and
Mercedes-Benz C-Class Coupe
the 4 Series costs a similar amount upfront and costs like depreciation, servicing, C02 band and fuel consumption are all pretty much on a level across comparable 2.0 diesel versions. Meaning you can basically choose by the style and brand you like best, likely to be the main buying decision in this sector. It's not all frivolity though, BMW offering the 4 Series with economical and efficient four-cylinder petrol engines and – in the 420d – offering a perfect blend of economy, punch and running costs.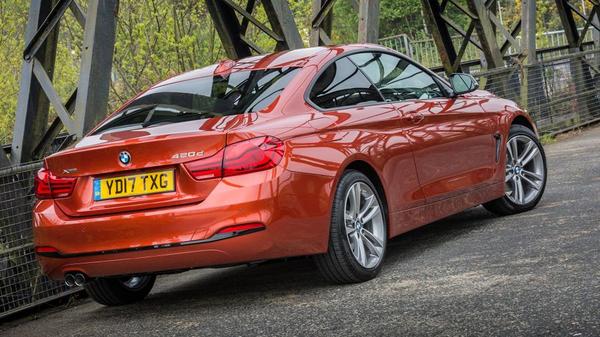 Reliability of a BMW 4 Series
The quality and attention to detail with which the 4 Series is assembled should give you plenty of confidence in how well it'll last. If you scan our Owner Reviews of the previous-generation Coupe from 2013 onwards, all you'll find are happy customers. However, you can find a slightly different picture if you look elsewhere: BMW has for too long languished towards the bottom of Warranty Direct's manufacturer standings. However, that seems to be a reflection of high repair costs, rather than inherently unreliable cars.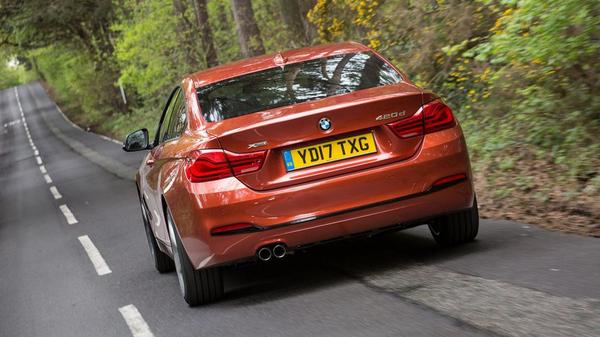 Safety for a BMW 4 Series
Based on the previous generation of 3 Series, the 4 Series Coupe is effectively a generation out of date in BMW terms, and safety equipment is one area in which that shows. Fundamentally it's a sound car, with all the air bags, stability control and suchlike you'd expect in a modern luxury car. But features like alerts when you drift out of lane, automatic emergency braking if you're closing on something too quickly and additional pedestrian protection are all on the options list and cost extra where rivals like the C-Class Coupe have them as standard. And the more active and semi-autonomous assistance functions now offered on the 3 Series saloon aren't available at all. Rear-wheel drive BMWs aren't always at their best when the going is slippery and for increased confidence in poor driving conditions there is the option of xDrive branded four-wheel drive on some models, the pay-off being increased weight and reduced efficiency. Prioritise accordingly!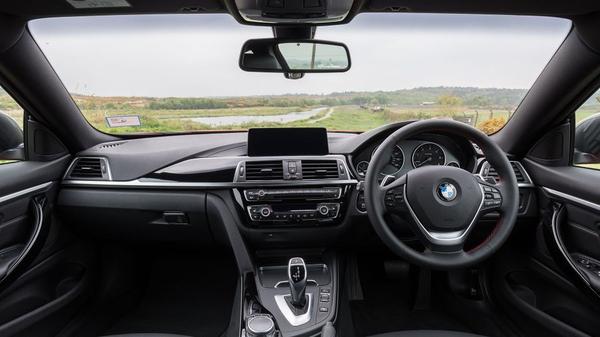 How comfortable is the BMW 4 Series
This is where you pay the price for the 4 Series' sleek lines and two-door body: the relatively low roofline and lack of rear doors mean access into the back is tricky for taller passengers, although the space once you're in there is reasonably good. Only those over six feet tall will feel cramped, so it's on a par with the Audi A5 Coupe. Everything is well built, too, and other than the pedals, which are slightly offset to the right, there are no complaints about the driving position, with plenty of adjustment on the seat and steering wheel. If there is a criticism, it's that BMW trails both Audi and Mercedes for cabin quality in this sector. The BMW's 445-litre boot capacity is marginally smaller than that in the Audi, while the small opening makes it hard to load larger items, and to reach to the very back of boot. However, the standard 60/40 split-folding rear seats make it easy to extend. If that all sounds a bit of a turn-off, and you want something with a bit more practicality, your friendly local BMW dealer will happily point you in the direction of the
four-door Gran Coupe version
. Every model in the 3 and 4 Series ranges is superb to drive, and the Coupe is no exception. There's just something about the balance between ride and handling, and between comfort and control, that BMW does better than anyone else in this area of the market. Although the ride is a little firm at low speeds, the 4 Series is fun in the bends, but still quiet and comfortable on the motorway. In other words, the 4 Series is a really enjoyable car to drive, no matter where and how you're driving it. Our one word of caution is that this isn't quite as sharp as a genuine sportscar, but the overwhelmingly sure-footed feel and the way this car can just flow through bends means it's very easy to keep up sports car pace across country. Treat it as a Grand Tourer and you'll be playing to its strengths.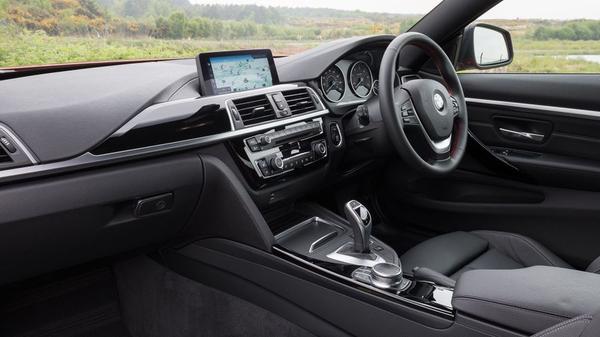 Features of the BMW 4 Series
As on every 4 Series model, standard equipment levels are very good on the Coupe, which is perhaps no more than you would expect when there are just two trim levels available. Every model comes with front and rear parking sensors, heated front seats with part-electric adjustment, leather upholstery, dual-zone climate control, cruise control, sat-nav, Bluetooth, and a DAB radio as standard. A slick shifting eight-speed automatic is standard on all but the most basic engines and suits the car perfectly; most buyers at this level will opt for it either way and a 4 Series with a manual transmission will be a rare beast indeed. The biggest differences if you step up to M Sport trim are aesthetic – different trim inside and out, primarily – but you do get the upgraded 'Professional' infotainment system as well. Given a car like the 4 Series Coupe is bought as a style statement and luxury product we'd be tempted to pay the extra for M Sport on the basis it looks and feels that bit more special. Beyond that, there are also plenty of options to tempt you, covering everything from the way the car looks to its technology, connectivity and comfort.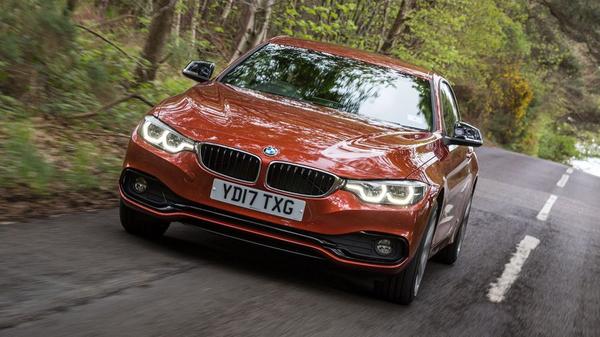 Power for a BMW 4 Series
There's a wide range of engines in the 4 Series Coupe range, but so far we've only driven what is expected to be the most popular, the 420d. While it's one of the least powerful models in the range, it's certainly no slouch. Our only disappointment is that the engine isn't as refined as its counterpart from Audi. You can feel vibrations through the gear lever, and the engine is noisy when you work it hard something that is particularly noticeable around town. Meanwhile, if you wish to live up to the sporty looks of the 4 Series BMW offers an impressive range of options at the upper reaches of the range. The 430i is a more powerful version of the four-cylinder petrol while true enthusiasts will appreciate the serious performance of the 440i, and its silky six-cylinder refinement. The fastest of all, however, is actually from the diesel line-up, the four-wheel drive 435d xDrive the quickest accelerating 4 Series in the range and effortlessly powerful at all speeds.