Review
BMW 4 Series Coupe (2017 - ) review
The BMW 4 Series Coupe is effectively a sleeker, sportier version of the 3 Series saloon, and a rival for other prestige coupes like the Audi A5 and Mercedes C-Class.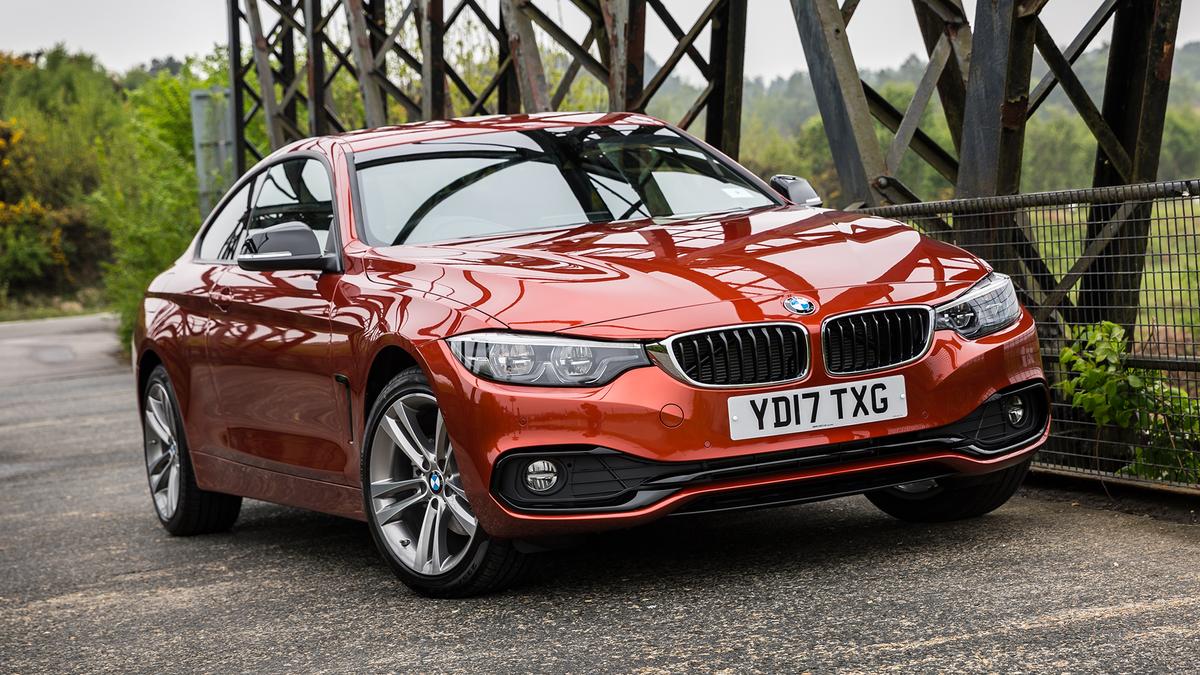 View gallery
The Auto Trader expert verdict: ★★★★★

★★★★★
3.7
With its great drive, decent cabin and economical engines, the 4 Series is one of the very best coupes in its class. Just remember it's more of a grand tourer than an out-and-out sportscar, and you won't go wrong.
Pros
Great blend of ride and handling

Economical engines

Four-wheel drive versions available
Cons
Not as sharp to drive as you might expect

Interior quality not class-leading

Offset driving position
Interested in buying a BMW 4 Series?
How good does it look?
To all intents and purposes, the 4 Series Coupe is a two-door version of the 3 Series saloon, and that's obvious as soon as you clap eyes on it. However, that's no criticism. Yes, the grille, the lights, the air intakes, they're all BMW through and through, but that means they carry the appropriate amount of prestige as a result. We would understand if some buyers wished the 4 Series was a little more distinct from the 3 Series, but there's no denying this is certainly a very smart car, with alloy wheels and LED headlights standard across the range. The only difference between the trim levels is that M Sport models get a little more bling than the cheaper Sport-trimmed cars, including standard metallic paint on some of the most powerful cars.
What's the interior like?
Step inside, and it's all familiar fare from other BMW models, but that's no bad thing. The classy materials, finished with metal and high-gloss black details, along with the deftly damped switches, give the interior a sense of sophistication, and the simple-to-use iDrive infotainment system lends a high-tech feel as well. You can add to this by specifying the optional fully digital dashboard. Everything is well built, too, and other than the pedals, which are slightly offset to the right, there are no complaints about the driving position, with plenty of adjustment on the seat and steering wheel. If there is a criticism, it's that BMW takes second place to Audi for outright cabin quality these days.
How practical is it?
This is where you pay the price for the 4 Series' sleek lines and two-door body: the relatively low roofline and lack of rear doors mean access into the back is tricky for taller passengers, although the space once you're in there is reasonably good. Only those over six feet tall will feel cramped, so it's on a par with the Audi A5 Coupe. The BMW's 445-litre boot capacity is marginally smaller than that in the Audi, while the small opening makes it hard to load larger items, and to reach to the very back of boot. However, the standard 60/40 split-folding rear seats make it easy to extend. If that all sounds a bit of a turn-off, and you want something with a bit more practicality, your friendly local BMW dealer will happily point you in the direction of the identically priced Gran Coupe.
What's it like to drive?
Every model in the 3 and 4 Series ranges is superb to drive, and the Coupe is no exception. There's just something about the balance between ride and handling, and between comfort and control, that BMW does better than anyone else in this area of the market. Although the ride is a little firm at low speeds, the 4 Series is fun in the bends, but still quiet and comfortable on the motorway. In other words, the 4 Series Gran Coupe is a really enjoyable car to drive, no matter where and how you're driving it. Our one word of caution is that this isn't quite as sharp as a genuine sportscar, but the overwhelmingly sure-footed feel and the way this car can just flow through bends means it's very easy to keep up a sportscar-like pace across country. Treat it as a Grand Tourer and you'll be playing to its strengths.
How powerful is it?
There's a wide range of engines in the Gran Coupe range, but so far we've only driven what is expected to be the most popular, the 420d. While it's one of the least powerful models in the range, it's certainly no slouch. On the contrary, it's capable of getting the car to 62mph in not much more than seven seconds, even with four-wheel drive. And, with peak pulling power coming in at less than 2000rpm, it responds keenly whenever you put your foot down. Our only disappointment is that the engine isn't as refined as its counterpart from Audi. You can feel vibrations through the gear lever, and the engine is noisy when you work it hard something that is particularly noticeable around town.
How much will it cost me?
You may be surprised to hear the Coupe costs the same as the (larger and more practical) 4 Series Gran Coupe. Across the range, you'll find economy and emissions that compare favourably with the equivalent engines in its rivals, while the car's exclusive nature should ensure strong residual values, keeping whole-life costs down.
How reliable is it?
The quality and attention to detail with which the 4 Series is assembled should give you plenty of confidence in how well it'll last. If you scan our Owner Reviews of the previous-generation Coupe from 2013 onwards, all you'll find are happy customers. However, you can find a slightly different picture if you look elsewhere: BMW currently languishes well down in the bottom half of Warranty Direct's manufacturer standings. However, that seems to be a reflection of high repair costs, rather than inherently unreliable cars.
How safe is it?
The 4 Series – in any form – has not been crash-tested by the experts at Euro NCAP. However, the 3 Series saloon, with which the 4 Series shares most of its mechanicals, has achieved the full five-star rating, albeit under regulations that are less stringent than today's. Standard specification on the Coupe brings a stability control system and six airbags, and there are many more safety measures available on the options list. These include a Lane Change Warning system (warning of traffic in a blind spot when changing lane), adaptive cruise control, and the Driving Assistant Pack, which gathers together Lane Departure Warning, Forward Collision Warning and City Collision Mitigation (autonomous braking).
How much equipment do I get?
As on every 4 Series model, standard equipment levels are very good on the Coupe, which is perhaps no more than you would expect when there are just two trim levels available. Every model comes with front and rear parking sensors, heated front seats with part-electric adjustment, leather upholstery, dual-zone climate control, cruise control, sat-nav, Bluetooth, and a DAB radio as standard. The biggest differences if you step up to M Sport trim are aesthetic – different trim inside and out, primarily – but you do get the upgraded 'Professional' infotainment system as well. Beyond that, there are also plenty of options to tempt you, covering everything from the way the car looks to its technology, connectivity and comfort.
Why buy?
Essentially this is a sleeker and sportier version of the 3 Series, and at the risk of sounding flippant, those are the two biggest reasons for why you would buy this. You get all that's good about a 3 Series – prestige image and a fine drive, for a start – but with a slightly more stylish and sporty twist, if you're happy to sacrifice some practicality.
Interested in buying a BMW 4 Series?