Expert Review
Audi A5 Coupe (2019 - ) review
The A5 is a sleek alternative to Audi's more traditional saloon, with fewer doors and rakish looks. But can it match similar machines from rival manufacturers? Read our review to find out.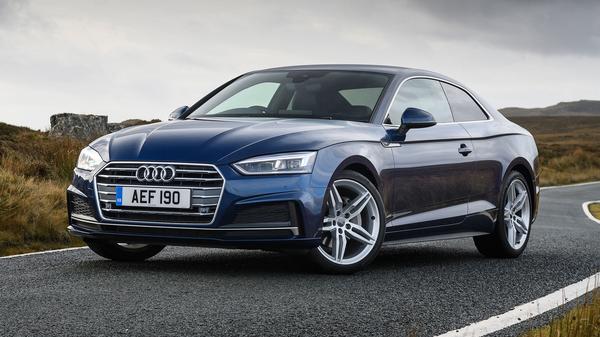 Words by: Pete Tullin

Additional words by: Ivan Aistrop
Last updated on 9 December 2019 | 0 min read
The Auto Trader expert verdict:
Available new from £41,870
Audi's A5 coupe certainly looks the business, but it's far more than just a pretty face. A spacious, stylish and beautifully built interior is augmented by reassuring handling, excellent refinement and impressive comfort. Choose one of the brilliant front-wheel drive 2.0-litre diesels, and you'll reap the benefits of low running costs, attractive company car tax rates and smooth, muscular performance. At its best, the A5 is a consummate all rounder; relaxed and content as a long-legged motorway express, but equally adept at putting a smile on your face when tackling the road less travelled.
Reasons to buy:
Powerful, efficient engines
Special interior quality
Impressive refinement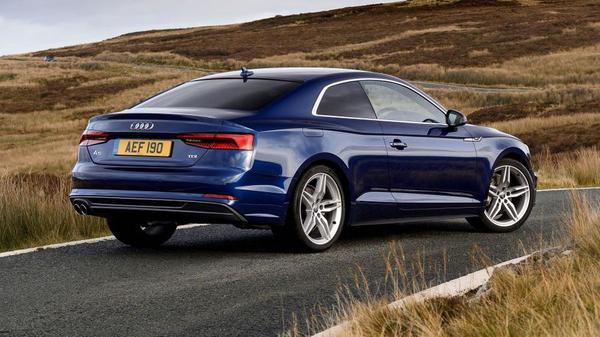 Running costs for a Audi A5
Obvious rivals to the Audi A5 Coupe include the BMW 4 Series, Mercedes-Benz C-Class Coupe and the Lexus RC, as well as the Ford Mustang as a left-field choice. All of these are fairly close to each other when it comes to purchase price, although there's variety in terms of power and equipment for each. A look at depreciation estimates suggests the 4 Series and the Mustang will fare the best when it comes to resale value, although the Ford's relatively high purchase price and surprisingly high service and maintenance costs means it's unlikely to be a smart financial buy. The A5 sits somewhere in the middle of them all, with reasonable but not spectacular costs all round. Between the big German three, there's unlikely to be a huge difference in running costs once everything's been taking into account. This suggests that it's better to buy the car you like the best, rather than the one that's the best financial option.
Expert rating: 3/5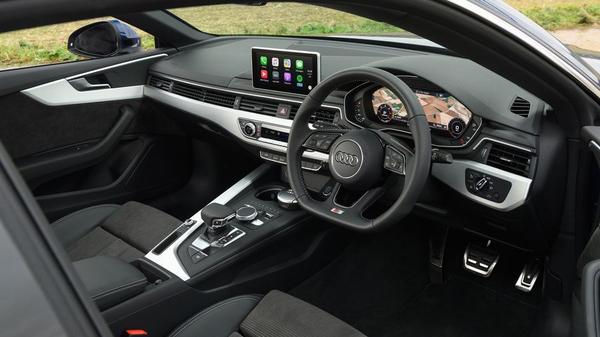 Reliability of a Audi A5
It seems like a bizarre state of affairs – especially given the solid look and feel of its products – but as a brand, Audi has never fared particularly well in customer satisfaction or owner reliability surveys. Buyers often complain about the frequency of repairs, and at the cost of them, and as a result the brand sits well down the manufacturer rankings in the Warranty Direct Reliability Index. It's not much better news in the JD Power Vehicle Dependability Study either, with Audi sitting in the bottom three manufacturers for several years in a row. Like almost every other brand in this class, Audi offers a standard three-year/60,000-mile warranty for the A5.
Expert rating: 2/5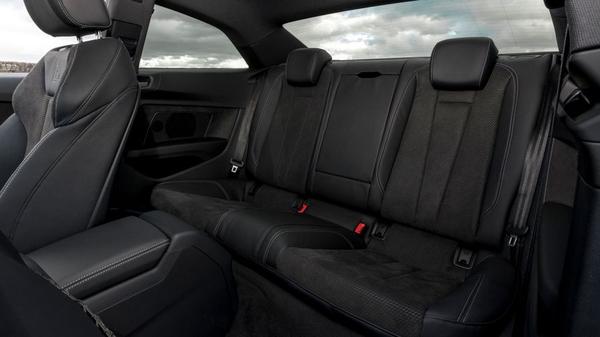 Safety for a Audi A5
The Audi A5 provides an extensive suite of technology to enhance safety and comfort, including a city safe system that autonomously brakes the car if it detects an impending collision. The car also comes with six airbags, anti-lock brakes, traction and stability control and a pop-up bonnet to help reduce the impact suffered by pedestrians or cyclists if a collision occurs. Reversing sensors are also fitted as standard to help reduce the likelihood of bumper-to-bumper parking scrapes. If you want to go the extra mile, there's also the option of stop and go traffic assist, which uses radar to stop and start the car in heavy traffic conditions while maintaining a safe distance from the vehicle in front. Traffic sign recognition, cross traffic assist and a head-up display are also options.
Expert rating: 4/5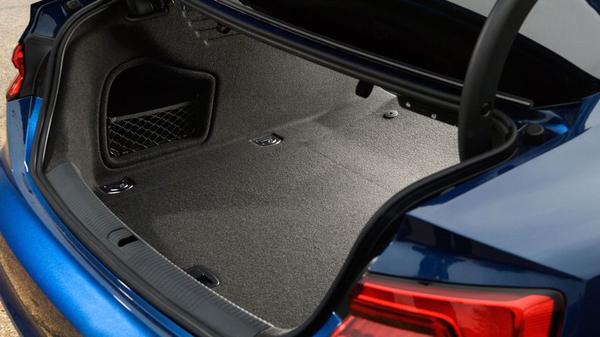 How comfortable is the Audi A5
The A5's interior is typically Audi: in other words, typically immaculate. Adorned with impeccable materials and assembled with zealous attention to detail, there are few – if any – mainstream coupes that can match the A5's air of substance and quality. While the interior panels all match their counterpoints with millimetre precision, each switch and every control, including the MMI rotary controller, are weighted and balanced to communicate a sense of silky precision. Additionally, all the usual touch points are thickly padded and trimmed with plush materials, while the four-ringed embossed steering wheel and stubby gearstick look and feel reassuringly expensive. All of this is before you add in the option of Audi's 'virtual cockpit', which replaces the conventional dials with a full-LED display, ultra-high definition screen quality and iPhone-like configurability, to give a highly effective blend of technology and sophistication. The Audi A5's relatively long wheelbase translates into plenty of leg and elbow room for four adults, but that plunging roofline means rear headroom isn't quite so generous. Most passengers should be okay, but there's every chance folk who are six-foot-plus will feel their hair brushing against the roof lining. A high transmission tunnel running down the centre of the car also eats into the amount of foot space for those travelling in the back. That said, getting in and out of the rear quarters is a simple enough exercise, and thankfully, the boot is capable of swallowing a very useful 465 litres of luggage. Unlike many rivals that charge extra for the added convenience, the A5 comes with a 40/20/40 split/fold rear seat as standard. The A5's ride isn't perfect – there's slightly too much body shake detectable when encountering sharper low speed abrasions – but it's far from intolerable and things get much better once you're going a little faster. Even though Audi's svelte coupe is more of a cultured motorway express than an out and out B-road bruiser, it can still be encouraged to pick up its skirts and devour the odd twisty road at a fair old lick. Even the front-wheel drive diesel cars feel like they have unimpeachable levels of grip on dry roads. All versions constrain body roll pretty effectively, too, but there's definitely room for improvement with the steering. It's so devoid of feel that you'd swear it only communicates through lawyers.
Expert rating: 5/5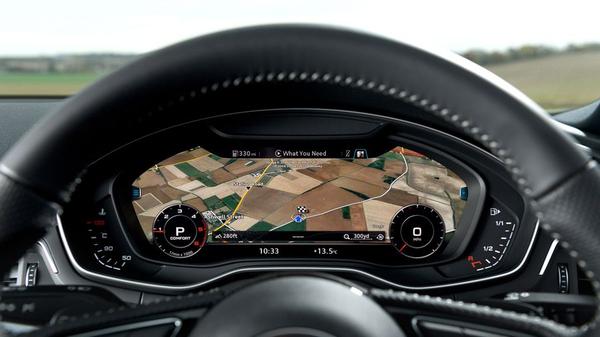 Features of the Audi A5
Alloy wheels are standard across the range, and all A5s come reasonably well equipped, but they're no more generous than major rivals from BMW and Mercedes. Three-zone climate-control, cruise control, keyless go and xenon headlights and LED running lights are standard on all models from the entry-level Sport, as is a 7.0-inch infotainment screen, a three-spoke steering wheel and sports seats. S line adds leather and Alcantara-trimmed pews, complete with embossed S line signature and four-way lumbar adjustment. S line models also feature bigger 19-inch wheels and lowered sports suspension. Consequently, you'll be well advised to take a test drive, to see if you are comfortable with the firmer set up before being seduced by the lowered, more aggressive stance. The Black Edition adds 20-inch wheels and black elements on the exterior, while the top-of-the-range Vorsprung model has adaptive suspension and Matrix LED headlights that can maintain full beam without dazzling oncoming drivers.
Expert rating: 4/5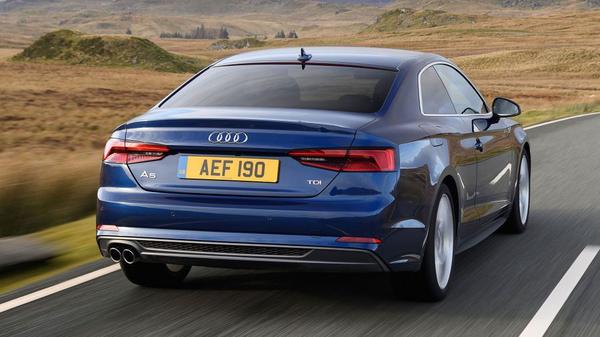 Power for a Audi A5
Those with one eye on their tax bills will be encouraged to know that the Audi A5's economy-focused 190-horsespower diesel engine – called the 40 TDI - has more than enough thrust to cut it with the big boys. Supplementing its effortless punch, it's also extremely smooth and refined, easily outshining similarly sized power units from BMW and Mercedes. It's the only diesel available now, as the big V6 diesels that were introduced when the A5 was launched have not been discontinued. The 190-horsepower turbocharged petrol engine – the 40 TFSI – is also pretty immaculate, being smooth and free revving. It may lack a wee bit of the mid-range flexibility that you get from the diesels, but it counters with superior outright performance and enhanced mechanical refinement. There's also a 150-horsepower petrol – the 35 TFSI – and a 245-horsepower petrol as well – the 45 TFSI – but we haven't tried them yet.
Expert rating: 5/5