Expert Review
BMW 4 Series Convertible (2017 - 2020) review
Read about the BMW 4 Series Convertible, a luxurious four-seater drop-top with a clever folding metal roof for the best of both worlds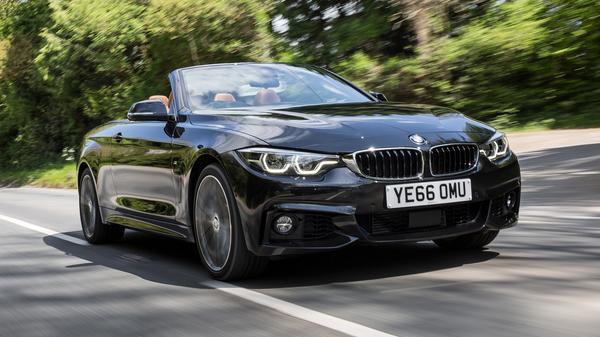 The Auto Trader expert verdict:
With its folding metal hardtop, the BMW 4 Series Convertible carries a trump card over its Mercedes and Audi rivals with their conventional cloth hoods. This means the 4 Series Convertible is pretty much as stylish and refined as the coupe with the roof up but just as exciting and fun when you drop it for sunny days. While it's getting a little long in the tooth now this remains a stylish car, with great handling, generous equipment and a wide range of both diesel and petrol engines.
Reasons to buy:
Looks great inside and out
Decent practicality for a four-seat convertible
Impressively efficient engines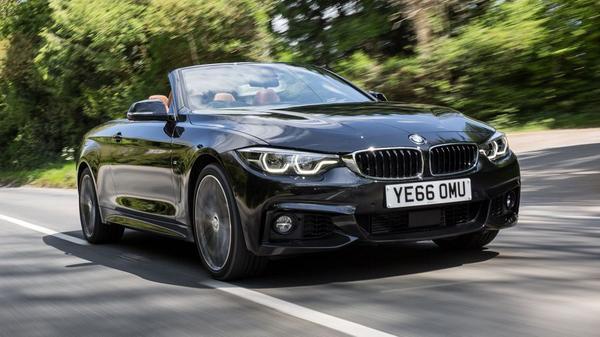 Running costs for a BMW 4 Series
A 4 Series Convertible is an undeniably indulgent purchase but it helps that BMW is competing with very similar products in the shape of the
Audi A5 Cabriolet
and
Mercedes-Benz C-Class Cabriolet
, meaning it needs to remain competitive. Comparing the 420d with equivalent 2.0-litre diesel versions of the Audi and Mercedes they are all very closely matched on performance, purchase price, fuel consumption and emissions, so you can buy with your head but also follow your heart and choose the one you like the most. Which is important for cars like this where style and brand are key motivations for buying. That 420d remains the most sensible choice if running costs are your priority, though some may question the desirability of a diesel convertible. So it's good to know the petrol engines are also commendably efficient and are more refined when driving with the roof down.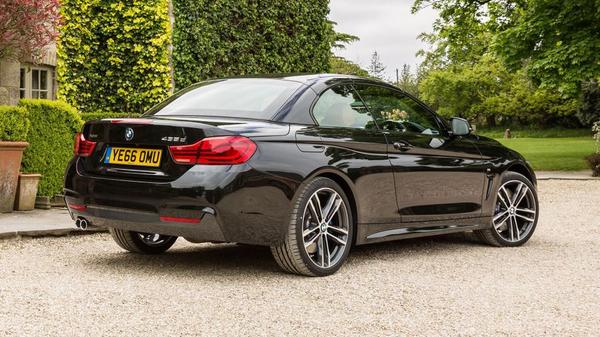 Reliability of a BMW 4 Series
The quality and attention to detail with which the 4 Series is assembled should give you plenty of confidence in how well it'll last, but some reports paint a slightly different picture. BMW currently languishes in the bottom quarter of Warranty Direct's manufacturer standings, for instance, and
some owners
of the pre-facelift 4 Series have reported problems.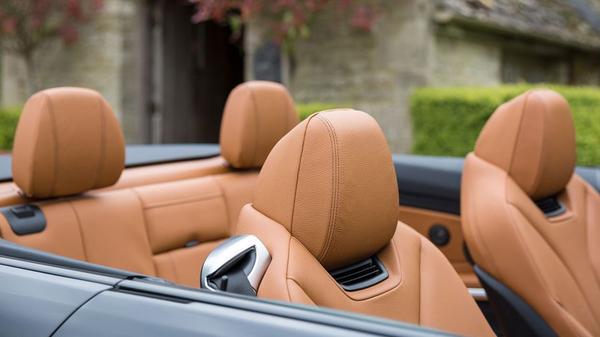 Safety for a BMW 4 Series
Based on the previous generation of
3 Series
, the 4 Series Convertible is effectively a generation out of date in BMW terms, and safety equipment is one area in which that shows. Fundamentally it's a sound car, with all the air bags, stability control and suchlike you'd expect in a modern luxury car, plus pop-up roll hoops that maintain the clean design and only deploy in an emergency situation. But features like alerts when you drift out of lane, automatic emergency braking and additional pedestrian protection are all on the options list where rivals like the C-Class Convertible have them as standard. And the more sophisticated, semi-autonomous assistance functions now offered on the
3 Series saloon
aren't available at all. Rear-wheel drive BMWs aren't always at their best when the going is slippery and, for increased confidence in poor driving conditions, the closely related
Coupe version of the 4 Series
has a selection of four-wheel drive versions. However, on the Convertible this option is restricted to just one model – the flagship 435d xDrive.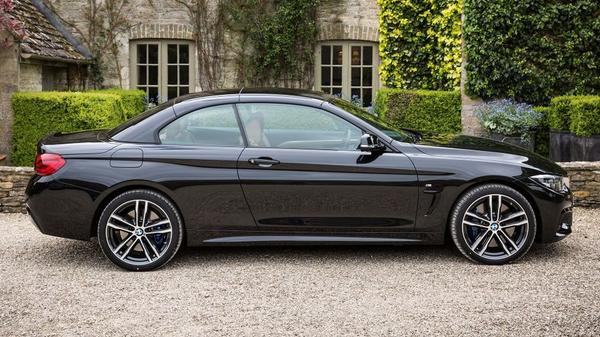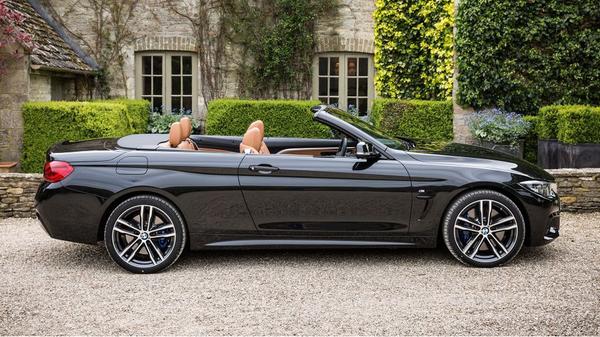 How comfortable is the BMW 4 Series
So far, we've only sampled this latest 4 Series Convertible with four-wheel drive and the optional adjustable suspension, which uses adaptive dampers to alter the car's characteristics, depending on which of the settings you choose via the driver mode switch. That said, no matter which you go for, the suspension delivers a pretty comfortable ride most of the time. Things don't tighten up quite as much as you might expect in the sportier modes, and you still feel a fair amount of roll in corners. However, that roll is well controlled, and thanks to the responsive, accurate steering, and a tremendously balanced and composed feel through the bends, this is a properly enjoyable car to drive. When you find yourself on a less demanding main road, it all feels beautifully smooth, and more than capable of traveling long distances in complete comfort. Unlike many four-seat convertibles, the 4 Series' cabin has enough room for four adults to travel in reasonable comfort. Leg-room is adequate in the back, and with the roof up, so is head-room. The boot is fairly tiny with the roof down (just 220 litres, and there's a very narrow gap to load items through), but it's an impressive 370 litres with the top in place. General refinement is pretty good, too: road-noise is well suppressed; there's very little buffeting in the cabin with roof down and the optional wind blocker in place and, when you raise the metal roof, there's not much more wind-noise than in your average saloon car.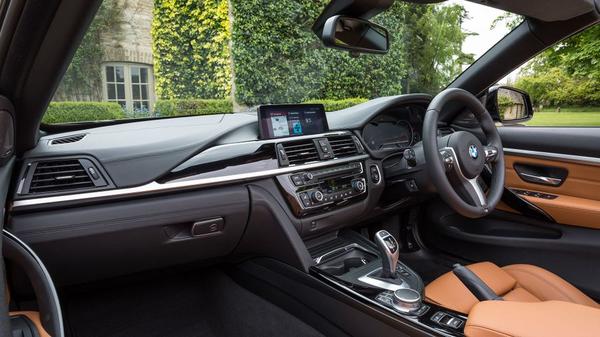 Features of the BMW 4 Series
There are just two trim levels to choose from – Sport and M Sport – and all are well equipped, with front and rear parking sensors, heated front seats with part-electric adjustment, leather upholstery, dual-zone climate control, cruise control, sat-nav, Bluetooth, and DAB radio as standard. The biggest differences if you opt for M Sport are aesthetic – different trim inside and out, primarily – but you do also get the upgraded 'Professional' infotainment system. Beyond that, there are plenty of options, covering everything from the way the car looks, to its connectivity, technology and comfort.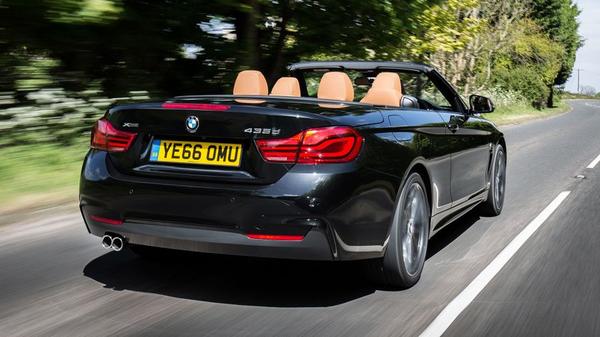 Power for a BMW 4 Series
Whether you're seeking to soak up the sunshine at a more relaxed rate or enjoy a more spirited drive the 4 Series Convertible has a range of engines to suit every need. There are three petrol engines, the 420i and 430i based on the same four-cylinder motor with increasing power outputs as you go up the range. Both are respectably efficient, though the car is heavy and at the pumps the 430i may actually prove more effective. The six-cylinder 440i is a very different proposition, with power to spare, a lovely exhaust note and a properly sporting character. Whether you'd want to hear a diesel engine with the roof down is a moot point but if CO2 is a consideration in your running costs the 420d has a good blend of performance and efficiency. And the range-topping 435d is actually the fastest of the whole line-up. All 4 Series Convertibles feature the eight-speed automatic transmission seen on many BMWs and consistently praised for its smooth-shifting when left to its own devices and crisp response to manual overrides when you want them.