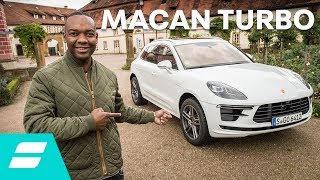 Discover the
Porsche Macan
New from £50,855 / £722 p/m
5 doors

5 seats

Automatic

Petrol
Is the Porsche Macan SUV a good car?
Read our expert review

Words by: Phill Tromans
"The updates to the Macan have made an already great car even better. It's beautifully made, has cracking performance and handling, and will also keep the family comfortable. Some will bemoan the lack of diesel options, but it's the most fun you can have in an small SUV."
Read the review by category
Running costs for a Porsche Macan
Porsches aren't renowned for being cheap, and the Macan is no exception. Although the entry-level car starts at less than £50,000, it'll soon go north of that once you start adding options (and you'll almost definitely want to). When you look at rivals, such as the Jaguar F-Pace and the Audi SQ5, it starts to look very expensive for what you get, although the flipside is that the Porsche will likely hang onto its value very well in comparison, and that's likely to dramatically reduce the overall running costs.
Lease deals
These deals are based on terms of 8,000 miles, for a 36 month lease with a 6 months initial payment.
Standard equipment
Expect the following equipment on your Porsche Macan SUV. This may vary between trim levels.
Related articles and reviews
Porsche Macan SUV (2018 - 2021) review
This Macan is Porsche's small SUV, aiming to mix practicality with the driving excellent that you'd expect from a sports car brand. Read all about it in our review.