Expert Review
Mercedes-Benz GLC Class SUV (2019 - ) review
Prestigious, luxurious and comfortable the Mercedes-Benz GLC is a strong player in the competitive mid-size prestige SUV market with a wide range of engine options
The Auto Trader expert verdict:
There's no shortage of choice in the prestige mid-size SUV market so it's a measure of how good the GLC is that it stands as one of the best. It's not cheap but the combination of a premium badge, impressive onboard technology, excellent engines and a real sense of luxury mean it's worth the money. With engines ranging from frugal diesels to plug-in hybrids and even high-performance V8s there's a GLC to suit all tastes too.
Reasons to buy:
Interior is spacious and smart
Generous on luxury and safety kit
Good to drive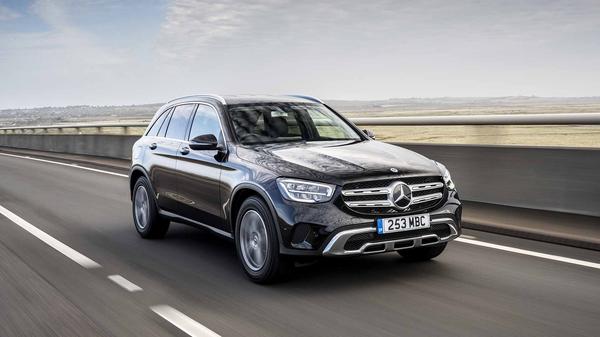 Running costs for a Mercedes-Benz GLC Class
Look at the purchase prices, and the GLC isn't the cheapest option compared with an
Audi Q5
or
BMW X3
, but it is competitive on price once you factor in the standard automatic gearbox and four-wheel-drive system. It's also generously equipped for the money you pay. Resale values should be as solid as those of its main premium competitors', too, which will be an important factor in reducing whole-life running costs. The GLC's published efficiency figures look to roughly be on a par with those of rivals, although if you're nit-picking, its fuel economy looks to be a fraction behind. In terms of overall running costs, them, the GLC looks to be there-or-thereabouts with its main competitors. We've not tried it yet but Mercedes has added a new
plug-in hybrid
variant to the range, with a 29-mile official electric only range and low CO2 rates to offset the higher purchase price, especially for
company drivers
looking at
Benefit In Kind
.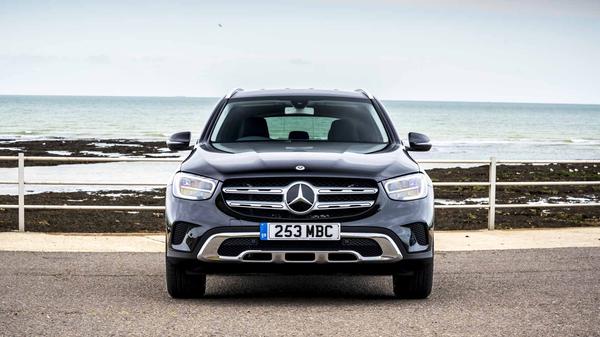 Reliability of a Mercedes-Benz GLC Class
Mercedes sits near the bottom of the JD Power Vehicle Dependability Study in the manufacturer rankings, which could be cause for some concern. That said, the brand still placed higher than its main rivals in Audi, BMW and Jaguar, and the same has also been true in the same study over the last few years. Like other Mercedes models, the GLC comes with a three-year/unlimited mileage warranty, which is a bit more generous than the industry average.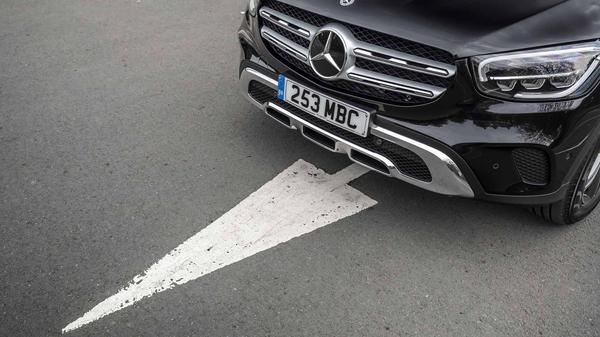 Safety for a Mercedes-Benz GLC Class
Every GLC comes with seven airbags and stability control, but the standard safety roster also includes a system to detect drowsiness at the wheel and advise you when it's time to take a break, as well as another that applies the brakes automatically if an impending collision is detected and the driver takes no action. A whole host of other clever driver aids are also available from the options list. These include a head-up display, 360-degree parking camera, and a pack of bundled driver assistance systems that allow the car to pretty much drive itself given the right circumstances.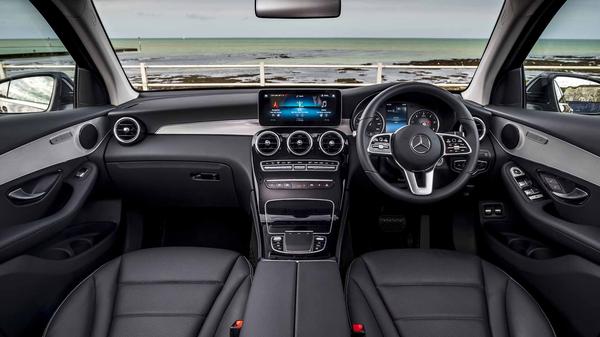 How comfortable is the Mercedes-Benz GLC Class
The ride comfort on your GLC will depend on which trim you choose, the base model getting a more comfort oriented set-up while AMG Line versions have a stiffer Sport suspension. The flagship model gets adjustable air suspension, in theory offering the best of both via selectable modes. If the situation is the same as on the pre-facelift version (which it more-than-likely is), the lowered Sport set-up will jiggle and jostle you around in your seat more than some buyers would like. If you can stretch to a model that features it the air suspension really good, altering the firmness according to whether you select a sporty driving mode or a more sedate one. Exterior noises are also really well isolated, helping even further towards a relaxed, peaceful atmosphere inside the car. The GLC handles really tidily, too. You can feel the height of the car when you're changing direction, and it does feel rather heavy when you're braking, but overall, it still delivers a very polished driving experience. Inside you'll find a cabin that's every bit as appealing as a big Mercedes should be. It's trimmed with high-quality materials and thoughtfully finished surfaces. Practicality is strong, with a big boot and plenty of space for two rear-seat passengers. The third will find their legroom compromised but headroom is good. There's no seven-seat option.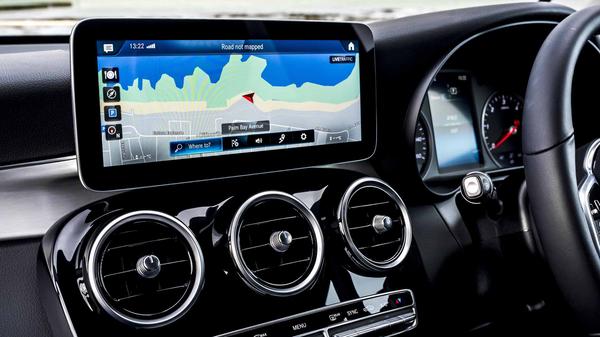 Features of the Mercedes-Benz GLC Class
The GLC is a premium vehicle from a premium brand and feels suitably expensive. Even the entry-level version includes an automated parking system with reversing camera and sensors, a powered tailgate, LED headlights, heated front seats and a large
touch-screen
controlling the built-in navigation and voice-activated MBUX infotainment. So long as you don't mind controlling your car by shouting 'Hey Mercedes!' you'll get along fine, though
Apple CarPlay and Android Auto
are only included on fancier trim levels. The various AMG Line models get a sportier looking bodykit on the outside, bigger wheels, sportier trimmings and artificial leather seats while fancier ones get proper leather, a bigger screen and upgraded infotainment. Full AMG versions get an even sportier spec, befitting their performance credentials. Getting used to how everything works takes some getting used to (not least because there are seven different methods by which you can operate the infotainment system, including touch-screen, steering wheel controls, touchpad controller and aforementioned voice control), but once you're familiar with it all, it works reasonably intuitively.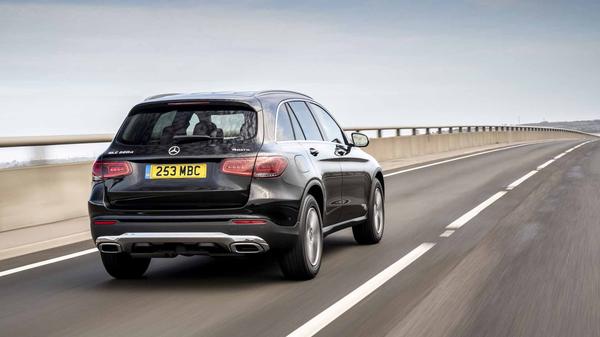 Power for a Mercedes-Benz GLC Class
All GLCs feature
four-wheel drive
and a nine-speed automatic gearbox, with effectively two tiers of performance between regular models and the flagship AMG versions. The standard engines comprise two diesels – 250d and 300d – and a 300 petrol. These have now been joined by a 300e hybrid, power outputs ranging between 194 horsepower and 258 horsepower. We tried the 245 horsepower 300d diesel and were impressed with the power and refinement, especially in combination with that slick automatic gearbox. The AMG models are pure performance versions with power outputs of varying lunacy. The GLC43 is a vaguely sensible combination of 390hp petrol V6 while the V8-powered GLC63 is available in two power levels, the S version of which has 510 horsepower to out-muscle even the Porsche Macan Turbo and put it on equal terms with the Alfa Romeo Stelvio Quadrifoglio and
Jaguar F-Pace SVR
. If you can afford the suitably outrageous running costs it's a thrilling machine and every bit as capable, while maintaining traditional Mercedes levels of luxury.