Expert Review
Toyota Hilux Pickup (2020 - ) review
A bigger, more powerful engine and improved refinement help the updated Toyota Hilux compete for lifestyle buyers as well as the core commercial users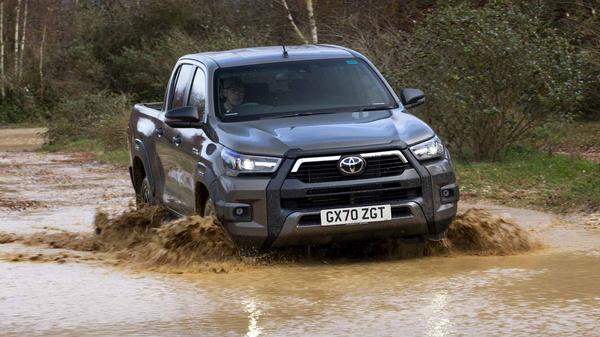 Words by: Dan Trent
Published on 8 December 2020 | 0 min read
The Auto Trader expert verdict:
Available new from £33,403
The Toyota Hilux has a rock-solid reputation for reliability and dependability and is a previous winner of the 'best pick-up' prize in the Auto Trader awards, qualities that make it one of the most popular vehicles in markets where driving and working conditions are tough. Conditions here may be less demanding but for commercial users and a growing number of 'lifestyle' owners pick-up trucks are increasingly popular, Toyota catering to the latter with wide-ranging updates for the 2020 model year to improve on-road refinement and a bigger 2.8-litre engine to keep pace with rivals like the Volkswagen Amarok and Ford Ranger.
Reasons to buy:
More civilised on the road
New engine improves performance
Feels built to last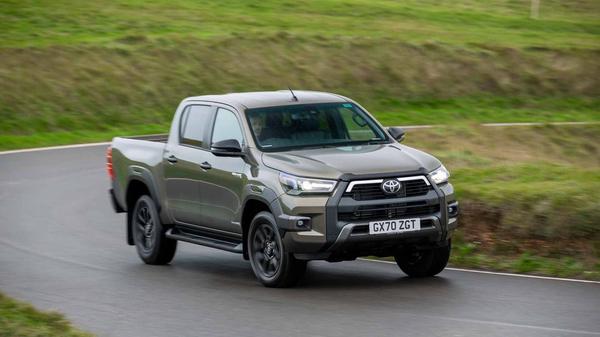 Running costs for a Toyota Hilux
Given its heavyweight reputation the starting price for more basic, utility versions of the Hilux are impressively keen and only a fraction more than the likes of the Isuzu D-Max, Mitsubishi L200, Nissan Navara and Ford Ranger. This is good news for commercial operators, who value affordability as well as reliability. CO2 emissions and fuel economy have never been a Hilux strong point and the 2.4-litre doesn't compare well with the smaller motors most rivals at this level use, though. The new 2.8-litre engine is available in the higher trim levels only and costs about £1,000 more like for like. With 204 horsepower it finally gives Toyota a foothold in the lucrative over 175 horsepower market that accounts for nearly three-quarters of pick-up sales but the Hilux hasn't had a presence in until now. These higher output trucks are popular with lifestyle users attracted to pick-ups as a 'statement' purchase and alternative to a regular family SUV . Cheaper fixed-rate Benefit In Kind is another attraction of running a commercial vehicle as a company car compared with those designated passenger cars – just remember if you're comparing costs that pick-up prices are often listed before VAT so private buyers need to account for that.
Expert rating: 2/5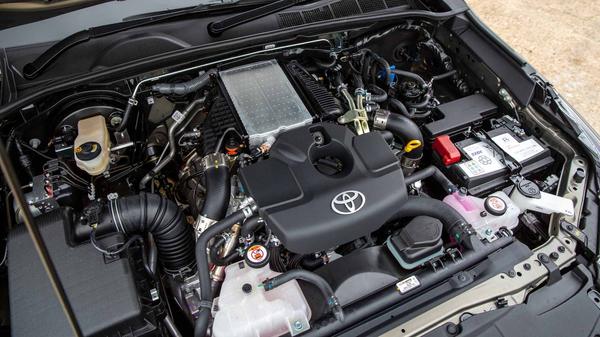 Reliability of a Toyota Hilux
The Hilux is the backbone on which Toyota has built its reputation for reliability and solidity and is one reason those living in more remote markets love it so much. And if you drive somewhere a breakdown could be a matter of life and death, rather than a mere inconvenience, this is obviously important. Certainly the Hilux feels reassuringly solid, the big engine is relatively simple and understressed and you're supported with a generous five-year warranty in the unlikely event it should let you down.
Expert rating: 5/5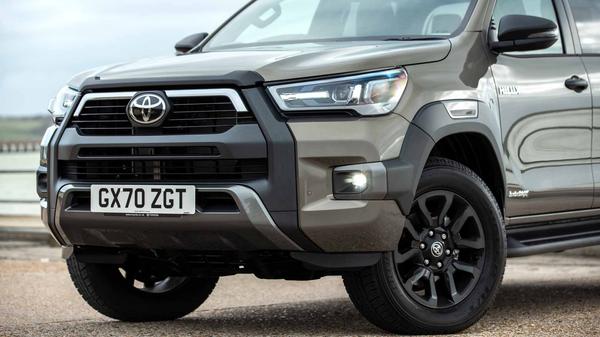 Safety for a Toyota Hilux
Toyota has loaded the updated Hilux with all the safety gear and assistance features you'd expect from its passenger car range and the extensive Safety Sense package is now standard on all models, not just the more expensive ones as it was before. This means a pedestrian and cyclist detection system with automatic emergency braking, radar-monitored cruise control, lane departure alerts and speed limit displays on the dash. There's also 'sway control' as part of the stability system so you can tow with confidence, airbags aplenty and – on double cab versions – Isofix points for two child seats in the rear. The only thing missing from the entry-level Active versions is the off-roading Downhill Assist Control and new rear automatic locking differential – everything else is standard across the range.
Expert rating: 5/5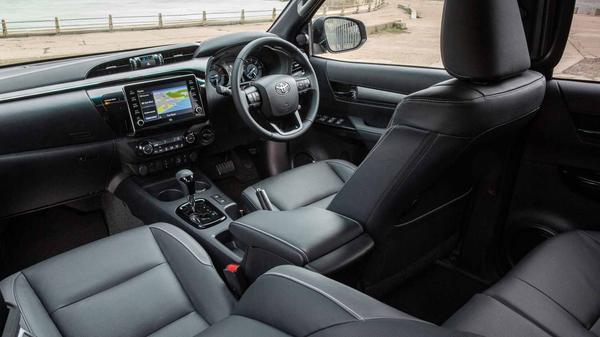 How comfortable is the Toyota Hilux
We'd previously criticised the Hilux for having a harsh ride on the road, which is a common problem on pick-ups because the springs are typically configured for when you're carrying a tonne or more on the rear load bed. Accepting a lot of the new customers to the pick-up market – especially those likely going for the new 2.8-litre version in the higher trims – are buying for style and rarely use this payload capacity Toyota has retuned the suspension to be more compliant, without compromising its ability to carry loads. It's also changed the steering to feel a little more positive and weighty, without increasing the effort. Largely these efforts are successful. A truck will never ride with the compliance of a family SUV but that unsettled, bouncy feeling you can get from the rear axle in many pick-ups has been successfully contained and the Hilux feels much more tied down to the road and more comfortable to drive. It's also impressively comfortable off-road, with excellent compliance over lumpy terrain and no nasty wobbles or squeaks through the structure. This is one solid truck! Elsewhere it's as before, with the option of Single, Extra and Double Cab versions according to whether you need space for cargo or passengers. For those lifestyle users the Double Cab has plenty of space for four adults, the centre seat adequate if you need to squeeze five in.
Expert rating: 4/5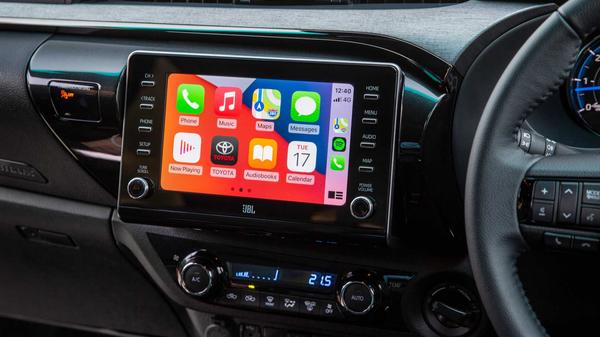 Features of the Toyota Hilux
While the Hilux has always been popular at the working end of the pick-up market the new, more powerful engine means it can now compete with the VW Amarok and fancier versions of the Ford Ranger, like the popular Wildtrak. Accordingly the Invincible and Invincible X versions are generously equipped to meet expectations of those coming from passenger cars and used to their creature comforts. Looking at the range in its entirety all but the most basic versions get an 8.0-inch touch-screen with DAB and Bluetooth through which you can pair your phone and use your apps via CarPlay or Android Auto if required. Invincible X also gets built-in nav and a premium JBL sound system, leather upholstery, heated front seats with power adjustment and more. There are a lot of buttons and the plastics are harder than you'd find in an SUV of similar price so it feels a little old-school in comparison but it's got the toys you need. While most of the kit you want is standard Toyota also offers a wide range of accessories like load bed liners, roll-back aluminium covers, hardtops, tow bars of various types and all the extras you need to support you in work and play.
Expert rating: 4/5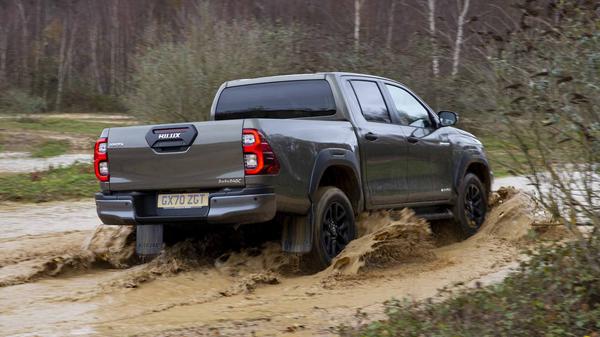 Power for a Toyota Hilux
The Hilux's big 2.4-litre engine is commendably tough and its 150 horsepower is enough to get the job done for commercial users. But with most rivals offering 200 horsepower or more the Toyota urgently needed more grunt, especially with these higher-powered versions accounting for the majority of sales among the competition. The new 2.8 has 204 horsepower and 500Nm of torque (the automatic version is reduced to 420Nm) which is much healthier, though still some way behind the 258 horsepower of the VW Amarok, which overtook the Hilux as the favourite utility vehicle for Auto Trader readers. Performance is obviously much improved with the new engine but its extra muscle also means it doesn't have to work so hard on the road, which has the added benefit of making it feel more refined. It still sounds pretty commercial from the outside but, from behind the wheel, it's impressively smooth and no longer feels laboured. Nor is there a huge penalty in terms of fuel consumption or CO2, at least by the official numbers. Off the road the Hilux feels suitably unstoppable, with ground clearance and wading ability at the very top of the class. The new automatic limited-slip differential works in two-wheel drive mode and reduces wheelspin on slippery surfaces to the extent we were able to complete nearly all of the off-road course Toyota laid on without even switching to four-wheel drive, let alone low-range. Certainly with the bigger engine the Hilux does indeed feel Invincible by name and invincible by nature.
Expert rating: 3/5