Expert Review
Toyota Hilux pickup (2019) review
Pick-ups appeal to style-conscious buyers wanting SUV alternative, and cost-conscious company car users. So how does the Toyota Hilux compare to its rivals? Read our review to find out.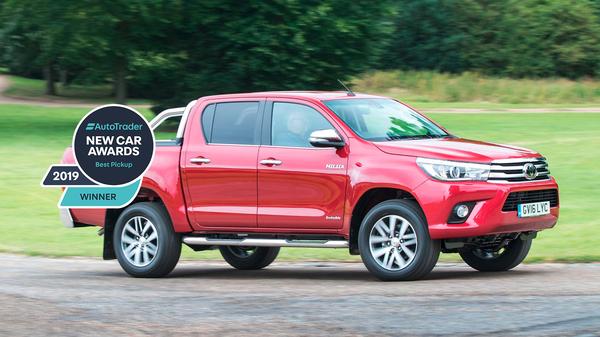 The Auto Trader expert verdict:
The Hilux was voted Best Pickup in the 2019 Auto Trader New Car Awards, and has plenty of hard-won fans. It's a rough-and-ready truck that can tackle road and off-road well, and boasts excellent reliability. It's a proven workhorse, but it could be of interest as an SUV alternative too.
Reasons to buy:
Good range of abilities on- and off-road
Double Cab version is very roomy for passengers
You can expect excellent reliability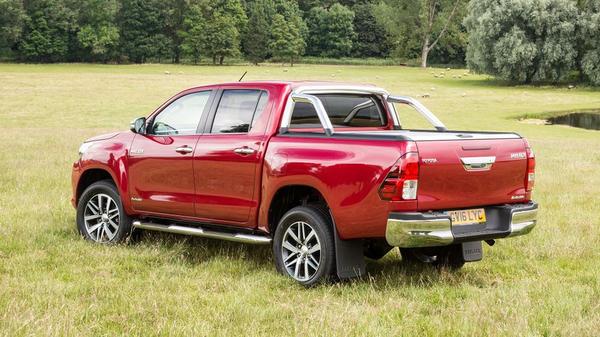 Running costs for a Toyota Hilux
The
Toyota Hilux's
strengths don't include brilliant fuel economy, especially in the Double Cab with the automatic gearbox. It'll return a fuel economy worse than the V6-engined
Volkswagen Amarok
, which is also considerably quicker and smoother. On the other hand, company car drivers may well be tempted by the Hilux as an alternative to an SUV, because they can take advantage of the flat tax rate on pick-ups, which can make them considerably cheaper to run than a more conventional vehicle.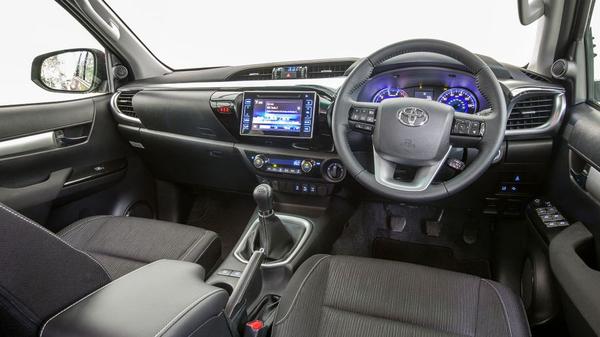 Reliability of a Toyota Hilux
The Hilux has an enviable reputation for reliability, and we have every confidence that this latest Hilux will follow in the wheel tracks of its predecessors. It's tough enough to use as a working vehicle, so you can use and abuse it without worrying about costly repair bills. What's more, if you want any extra peace of mind, this Hilux is the first Toyota pick-up to come with the same five-year warranty coverage that you get with any of Toyota's passenger cars - which is longer than almost all of its rivals.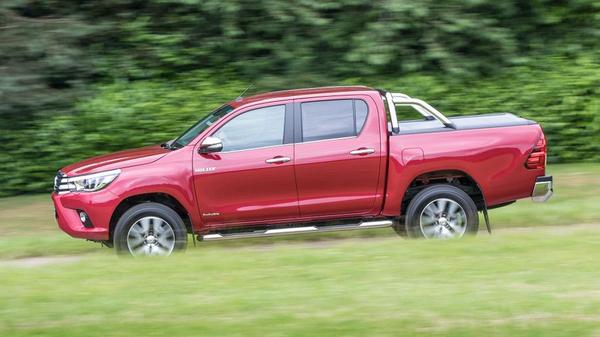 Safety for a Toyota Hilux
This is one of the areas where you can see most obviously how Toyota has tried to make its iconic pick-up much more car-like. Every model comes with seven airbags (one protecting the driver's knees), ABS and Stability Control, as well as Trailer Sway Control and Hill-start Assist Control. At the bottom of the range, Active models don't come with the Downhill Assist Control that is standard across the rest of the range, while only top Invincible and Invincible X models get the Safety Sense pack that includes Toyota's Pre-collision system, Lane Departure Warning and Road Sign Assist.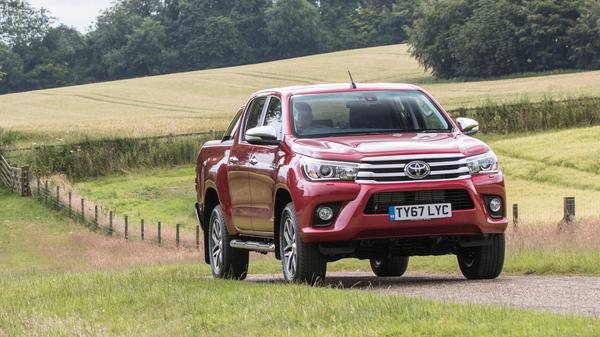 How comfortable is the Toyota Hilux
Inside, it's clear that Toyota has gone to great lengths to make this generation of Hilux more car-like than its predecessors. Choose Icon or Invincible trim, for example, and you get a touchscreen infotainment system like you'd find in passenger cars like the Prius or RAV4 – with sat-nav, too, on the top Invincible X models. That means it's all nice and easy to use, too. Admittedly, there's no getting away from some of the more 'durable' materials that betray the Hilux's role as a commercial vehicle, but there's enough upmarket trim (a bit of chrome here, a dash of piano black there; even leather upholstery on the Invincible X) to give the cabin a feel more akin to what you'd find in a similarly priced SUV - it's not as car-like as a Volkswagen Amarok, mind you. The Hilux comes with a choice of three bodies – two-seat Single Cab, four-seat Extra Cab and five-seat Double Cab – but so far, we've only tested what is expected to be the biggest-selling model, the Double Cab. You certainly sit very high off the ground, but even so, there's plenty of space inside: not only will a couple of six-foot adults fit in the front seats in complete comfort, another pair will be equally well catered for in the back. It wouldn't be too hard to fit a third adult in the centre seat, either, as the transmission tunnel is low and doesn't rob too much floor space. The wide-opening doors make for easy access, too, but with the rear seats set noticeably higher than those in the front, you might need to think about packing the crampons to help the kids clamber up into them. If you're more worried about packets and pallets than passengers, the good news is that there are lots of stowage compartments dotted around the cabin; the load bed is a class-leading 1645mm wide; and, the Hilux has a towing capacity of up to 3.5 tonnes. The ride is something of a bugbear, as the Hilux makes much too much of ruts and ridges for our liking, and feels quite agricultural, particularly at low speed. Happily, things smooth out once you get a bit of speed through the wheels. That, combined with reasonable refinement and an engine that's strong in the mid-range, means that you can tackle long-distance, high-speed drives without any fear, and without the need for ear-defenders. In other respects, the Hilux is a perfectly easy thing to drive. Thanks to the light steering, you don't need to work too hard to manoeuvre the car (space permitting), while it sits securely on the road. Naturally, there's a lot of body roll around corners in an unladen Hilux, but the movements are well controlled, and only a swift succession of fast, tight corners will have your passengers reaching for the sea-sick pills. To cap it all, that reasonable on-road performance is backed up by excellent ability away from tarmac. We drove a version without all-terrain tyres and were very impressed with the way it coped with rutted tracks, slippery climbs, fords and wet grass.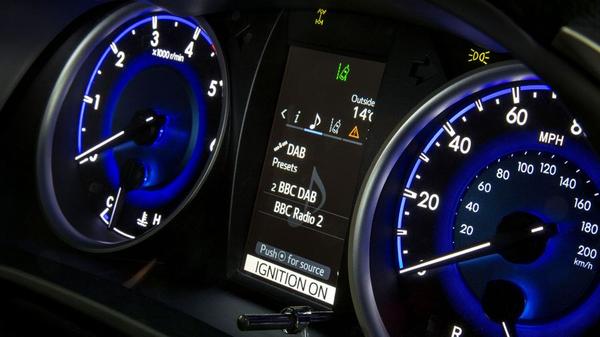 Features of the Toyota Hilux
Your first impression of the Hilux is that this is one big old beast. In fact, it's longer and taller than a Range Rover. It's the kind of vehicle that'll overshadow your house when left on the driveway. And it's all the more imposing if you avoid the rather plain-looking Active models: go for Icon, Invincible or Invincible X trim, and your Hilux will come with a big chrome grille, colour-coded front bumpers, side steps, foglamps and alloy wheels. On top of the three body styles, the Hilux is also available in four trim levels, although (in keeping with their intended role as working vehicles) the Single Cab and Extra cab models come only in the most basic – and we mean 'basic' – Active trim. This does come air-conditioning, Bluetooth and the full safety package, but unless all you want is a tool to do a job, we recommend going for one of the plusher trims. One step up from Active is Icon, and this adds DAB radio, cruise control and the touch-screen infotainment system. Invincible ups the comfort count, adding climate control, automatic lights and keyless entry and start, while Invincible X at the top of the range brings the ultimate in Hilux luxury: leather upholstery, heated front seats, sat-nav, and front and rear parking sensors.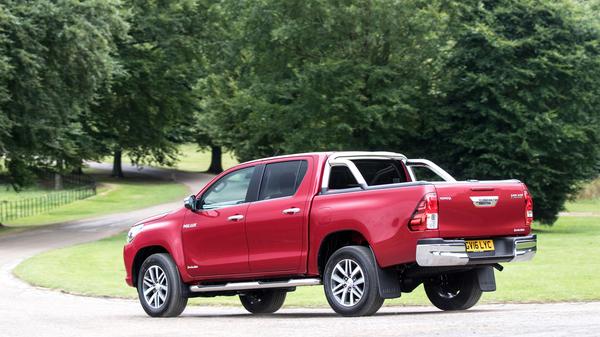 Power for a Toyota Hilux
The impression of a semi-SUV doesn't last when you fire up the 150-horsepower 2.4-litre diesel engine. It's nowhere near as refined as what you'll find in a similarly priced SUV, with vibrations felt through the pedals and steering wheel. Then, once you pull away, that noise just gets louder and more unpleasant. It's nothing worse than what pick up-owners have put up with for years, but for someone more used to a refined diesel SUV, all that churning away will be really unwelcome. To make matters worse, it's not as if the Hilux can compensate with excellent performance or economy. In fact, not only is the Toyota slower to 62mph than rivals from
Nissan
and
Volkswagen
, it's also less economical. We'll be the first to admit that this benchmark sprint is probably not very relevant to pick-up buyers, but even in everyday use, the Hilux feels too laboured, too often. We've only driven the Hilux with the optional automatic gearbox – which, on paper, is quicker than the manual – but it gathers momentum at a pretty pedestrian pace, with the engine slow to pick up revs and hampered by the slow gearbox.