Review
Tesla Model 3 Saloon (2019 - ) review
The Tesla Model 3 is an electric saloon car that's about the same size as a BMW 3 Series or Audi A4. It ranges from sensible and affordable at the bottom of the range, to fast and frivolous at the top. Whichever one you pick, though, it's still a Tesla at heart.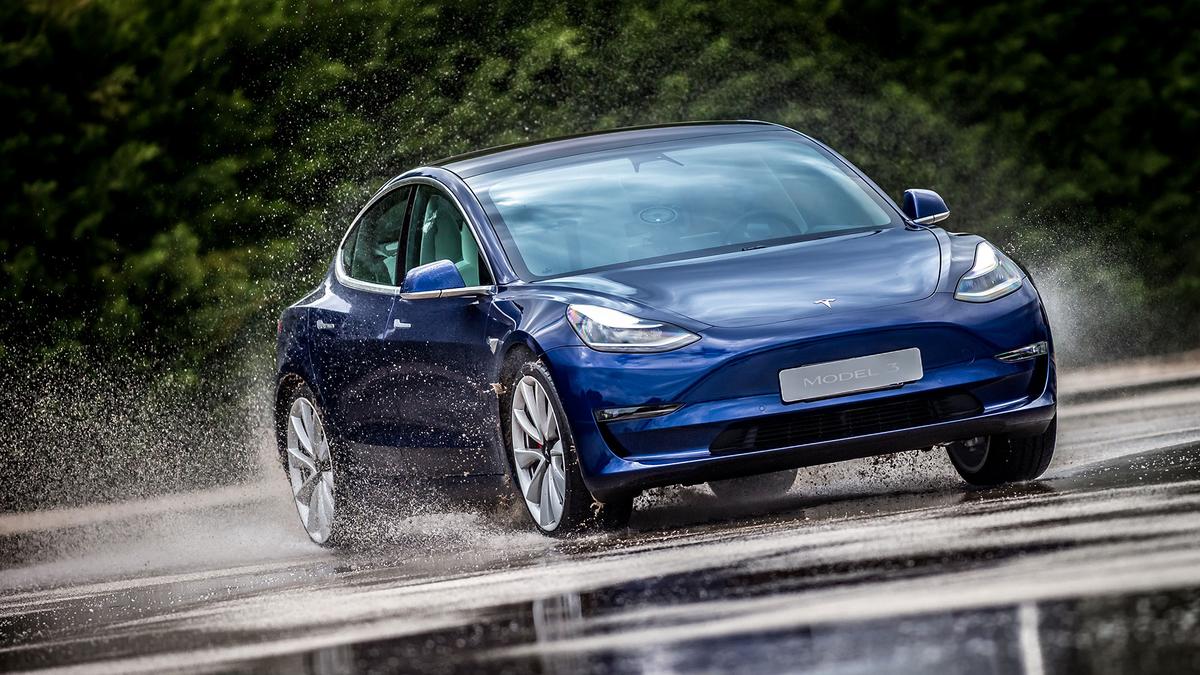 View gallery
The Auto Trader expert verdict: ★★★★★

★★★★★
4.2
The Model 3 is the affordable Tesla, but not only is it the Tesla more people will be able to buy, it's also the one more people will want to buy. That's because, technologically speaking, it's actually a step up from the Model S and Model X cars that'll cost you a whole lot more. Fast, fabulous to drive and financially sensible, yet it's also practical enough for a family, and still has an image that's hugely desirable. It's the Tesla for the masses, and be prepared to see masses of them.
Pros
Fabulous to drive in every respect

Impressively practical

Affordable, with a long range
Cons
Some might find the looks a little awkward

Interior quality could be swankier

Prices climb steeply as you progress up the range
Interested in buying a Tesla Model 3?
How good does it look?
Listen to Tesla's evangelical customer base, and you'll be told that driving a Tesla is like driving the future. However, that's not necessarily reflected in the brand's very conventional, run-of-the-mill (some might say even borderline derivative) styling. The Model 3 carries on that theme, with a look that's reminiscent of a scaled-down Model S, but with a slightly more top-heavy appearance. It's reasonably smart as a result, but it's also true looks hardly any different to anything else on the road, although that's probably going to be a positive thing or a negative thing depending on your outlook. Even the super-fast Performance version, which has enough pace to seriously embarrass a BMW M3, doesn't look any different to the rest of the range save for a small bootlid spoiler, so that one really is what the kids might call a 'sleeper' or a 'Q-car'.
What's the interior like?
You might have heard the term 'minimalist' used when talking about a car's interior design, but the Model 3 takes that idea further than any other car we've encountered. The dashboard doesn't house a single switch or button (buttons for the hazard lights and SOS system are legal requirements, but these are set into the ceiling above your head), and there's no instrument panel behind the steering wheel, either. So, all you have in front of you is the large 15.0-inch touchscreen system, mounted in the middle, which takes care of pretty much everything. Considering the complexity of the functionality it has to deal with, the system is impressively easy to use, with slick, fast-acting graphics and menus that are logical and intuitive, but despite that, it can still be a little distracting to use on the move. You might also wish the rear visibility was a little clearer, because it's hampered by the thick rear pillars and the narrowness of the rear window.

At first glance, the cabin materials look a tiny bit drab (especially those on the steering wheel), but on further inspection, most have a fairly squishy, tactile finish, so they feel a lot better than they initially look. You shouldn't feel short-changed if you've bought the entry-level car, but if you've gone for the most expensive one and you're used to an Audi or BMW, you might be left a little less dazzled. Having said that, the assembly feels generally very solid, and none of the cars we've encountered were blighted by squeaks or rattles.
How practical is it?
Electric cars don't have so many big, bulky bits of hardware – things like engines and gearboxes – to accommodate within their bodywork, meaning the designers are able to use much more of the space available for people. As such, both the front and the rear seats have quite a bit more legroom than conventionally-powered cars of a similar size, meaning four tall adults will sit comfortably. Even a fifth will be reasonably comfy because the middle seat in the back isn't too hard or raised compared with those either side, and the rear footwell is completely flat. If you're really nit-picking, rear headroom might prove a wee bit tight if you're much over six feet tall, but there's so much legroom that tall folk can just scooch down in their seat and still be comfy. The boot is a really impressive size at 542 litres, and the rear seats drop – not quite flat, but not far off – to boost that further. The saloon body style means that the aperture you get to access the space is pretty shallow, though.
What's it like to drive?
There are three distinct flavours of Model 3; the 'Standard Plus' car (rear-wheel drive), the 'Long-Range' (four-wheel drive) and the 'Performance' car (also four-wheel drive). For the most part, all three have exactly the same suspension settings, but the Performance model – the only one we've driven so far - is a little different in that it's slightly lowered. The ride has a correspondingly firm edge, but it's still supple enough to keep you impressively comfortable on most surfaces. This comfort becomes even more remarkable when you factor in how polished the handling is. The body stays flat and upright when changing direction, and with bags of grip and very even weight distribution, the car changes direction quickly, crisply and accurately. The steering is the best bit, though; it's super-fast, beautifully weighted and packed with detailed feedback, making the car feel nimble and confidence-inspiring in equal measure. Electric cars are usually quite heavy, and the Model 3 is no exception, but it certainly doesn't feel it. This really is a fabulous car to drive, not just by the standards of other electric cars, but by any standard.

And that's on the public highway. For when you're feeling a little more hardcore, the Performance version also comes with something called Track Mode. This does a range of things, such as backing off the car's electric stability systems, dialling up the regenerative braking to enhance stopping power, altering the response of some of the controls, and using the car's motors and brakes to help turn the car, getting you around bends more cleanly and smoothly and helping to reduce lap times. It's all very clever, and makes an appreciable and fundamental difference when you're driving on the limit, but it's still debatable how often you'll want to use your Model 3 on a track.
How powerful is it?
No version of the Model 3 is slow. Even the entry-level Standard Plus car can cover the 0-62mph sprint in just 5.3 seconds, while the Long-Range version cuts that by a further second or so. But, as we're yet to sample either, we can't tell you what that acceleration feels like. We have tried the performance version, though, and that one's properly blow-your-socks-off fast. And it's not just the 0-62mph time of 3.2 seconds that impresses. It's the fact that electric motors can deliver their full fury the millisecond that the motor starts spinning. So, even when you're already going at a fair old rate, the smallest flex of your right ankle sends you surging forwards with fearsome force.

There's very little noise as you're hurled towards the horizon, too, just a purposeful whirr from the motors and a crinkle from the upholstery as you're pushed back in your seat. Cruising isn't exactly silent, mind you – there's too much road noise for that – but the Model 3 is still a pretty quiet car at speed.
How much will it cost me?
In this regard, the Model 3 sits in its own little area of the electric car market. Most electric cars are either massively expensive (Tesla's other models, for example), or just a bit expensive compared with conventionally powered alternatives (like the Nissan Leaf, BMW i3, Hyundai Ioniq and Volkswagen e-Golf). The main appeal of the Model 3 is that it's 'the affordable Tesla', so starting prices sit a lot closer to the latter group than the former. And, it should also be noted that you'll need to opt for the most expensive versions of the Nissan and BMW in order to get close to the impressive range figures posted by the Tesla (and even then you're still behind), which evens up the prices to the extent that they actually cost about the same anyway.

Be warned that every time you take a step up in the Model 3's trim structure, you add several thousand pounds to the price, but your money does earn you even more impressive gains in range and performance, as well as a bit of extra kit, so the upgrades are easily justifiable. And then you obviously get all the same financial benefits as any other electric car (cheaper to recharge than refuel, tax breaks, etc). Range figures stand at 258 miles for the Standard Plus, 348 miles for the Long-Range and 329 miles for the Performance, figures that significantly better those of most other electric cars. Recharge times will vary according to a variety of factors, but getting a wallbox charger installed will allow you to easily recharge overnight, at a rate of around 27 miles for every hour it's plugged in (charging from a three-pin domestic socket will take way longer than an overnight stint). Meanwhile, using Tesla's high-output supercharger network (this costs you per use) can replenish most of your charge in less than an hour.
How reliable is it?
The Model 3 – along with all Tesla's other cars, not to mention Tesla as a company – is too new for there to be much meaningful reliability data available. Take our owner reviews as a guide, though, and you won't find a bad word said about how reliable the brand's cars has been. What's more, the fact that many upgrades can be applied through software updates issued via the internet – rather than by a mechanic with spanners – means that some issues can be remedied quickly and without any inconvenience to the owner. The battery and drive unit are protected by an eight-year/100,000-mile warranty (this is boosted to 120,000 miles for the higher capacity battery in the Long-Range and Performance models), while the rest of the car has a four-year/50,000-mile warranty.
How safe is it?
The Autopilot function is one of the technological features that Tesla is most famous for, and the basic version comes as standard on all versions of the Model 3. This includes the ability of your car to steer, accelerate and brake for itself depending on what's going on around it, and the system also includes functionality including emergency braking, collision warning and blind spot monitoring.

Pay (quite a lot) more, and it's possible to enhance the functionality of the system even further. The car becomes able to navigate and drive itself on the motorway, and change lanes automatically, while also being able to park itself. When you return, it'll even come and find you wherever you are in the car park when you summon it.

The car scored the maximum five stars in crash tests by safety organisation Euro NCAP.
How much equipment do I get?
Other than the amount of power and range you get from your car, the only difference between the three versions is whether they come with the 'Partial Premium Interior', or the 'Premium Interior'. The Standard Range Plus gets the partial one, which comes with kit including air-conditioning, power folding mirrors, the glass roof, heated and powered front seats in cloth upholstery, sat-nav, a Bluetooth phone connection, 360-degree camera, four USB ports and docking for two smartphones. The other two versions get the premium setup, which gains a more powerful audio system, swankier sat-nav mapping, and an internet browser with streaming for music and media. We can envisage most tech-hungry Tesla buyers wanting all this extra stuff, but be warned that upgrading your trim adds a very hefty amount to the price of the car at every stage.
Why buy?
The Tesla Model 3 may be the smaller, more affordable Tesla, but it's still very much a Tesla at heart. This all-electric compact saloon majors on technology, performance and driving fun, making it every bit as desirable as Tesla's more expensive models, yet it also marries compact car dimensions and manoeuvrability with family-friendly practicality and comfort. Excellent on a number of levels, and nothing short of brilliant on others.
Interested in buying a Tesla Model 3?