Expert Review
Mercedes-Benz E-Class Coupe (2017 - ) review
Read our expert review to find out whether the Mercedes E-Class Coupe distils the comfort and quality of the excellent saloon version into its sharp suit
The Auto Trader expert verdict:
If you want the stylish looks of a sleek coupe, but need the space and comfort of a four-seater, you could do a lot worse than take a look at the Mercedes E-Class Coupe. With its flowing lines it has all the glamour you could hope for, and with space for the kids in the back, a good deal of practicality to boot. But is that reason enough for it to be on your list – or is there more to it than that?
Reasons to buy:
Stylish and well made, both inside and out
Decent room in the back
Good boot space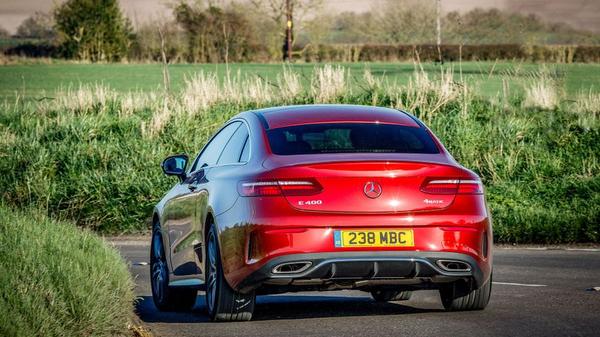 Running costs for a Mercedes-Benz E Class
The E-Class Coupe rather sits between two sets of rivals, which means it doesn't really have any direct competitors. It's priced well below the BMW 8 Series, but on the other hand, it's slightly more expensive than an Audi A5 Coupe. Then again, it's also bigger than the latter car; what's more, it comes with an automatic gearbox as standard and is well equipped before you reach for the options list. The E220d's low CO2 output of 106g/km make it attractive to company car drivers, putting it in a low benefit-in-kind tax bracket. Mercedes drivers can expect a more-expensive-than-average time at the dealer for servicing, but on the other hand, residual values are likely to be strong.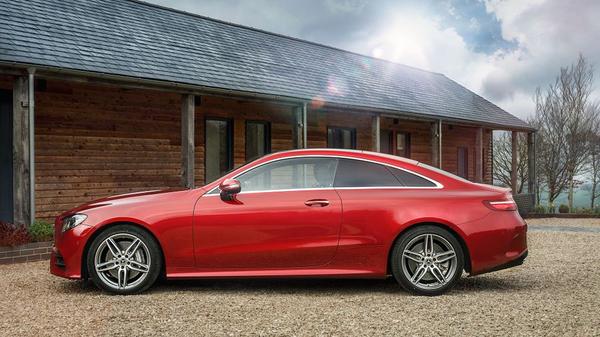 Reliability of a Mercedes-Benz E Class
The latest generation E-Class is too new for detailed reliability data, but its predecessor had a good reputation. However, Mercedes as a brand has fared less well, sitting near the bottom of the Warranty Direct Reliability Index. It also finished below the average mark in the 2019 JD Power Vehicle Dependability Study, although here at least it beat most other premium marques, including Audi and BMW. Any repairs or attention are likely to be on the pricey side, although Mercedes offers a three-year, unlimited mileage warranty for new cars, matching BMW and bettering Audi. Our fingers are crossed that the latest E-Class range, including the Coupe, goes towards restoring the company's reputation.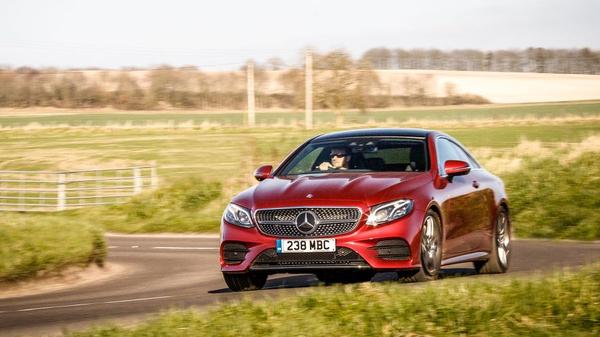 Safety for a Mercedes-Benz E Class
The E-Class Coupe comes with an impressive level of standard safety equipment, including Active Safety Assist, which will warn the driver and apply the brakes automatically to avoid a collision with the car in front. Other standard systems include Attention Assist – which watches out for a sleepy driver – and Crosswind Assist, which helps vehicle stability when winds are high. Optional equipment includes a blind spot monitoring system and the clever Drive Pilot, which combines a speed limit monitoring system, adaptive cruise control and a steering assistance system to essentially drive the car automatically, staying in lane and keeping distance from other cars while adapting to changing speed limits.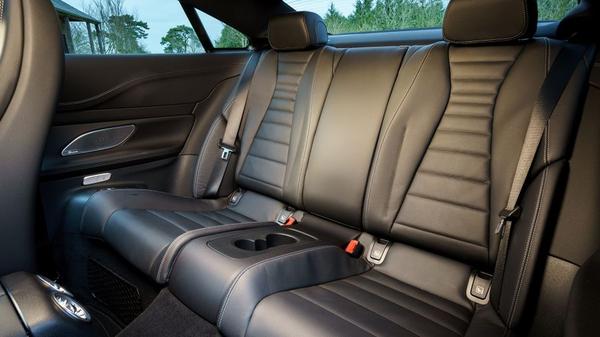 How comfortable is the Mercedes-Benz E Class
Just as you'll find in any other version of the latest E-Class, the Coupe has a level of interior quality that not many cars at any price can rival. The materials are dense, glossy and high-grade, with a wide range of textures and finishes to keep things interesting. And, combined with an exemplary standard of fit and finish, the feeling of sophistication is cranked up even further. As with most cars these days, most functions are controlled by scrolling through on-screen menus. There are various ways of doing this in the E-Class (depending on how you specify your car), including touch-sensitive thumb pads on the steering wheel and another touchpad on the centre console. Neither is particularly easy to use, though, especially on the move, so you're best off making do with the more conventional scrolling wheel and buttons, also located on the centre console. The electric seat adjustment makes finding your desired driving position easy. By its nature, a coupe will be less practical than a saloon, if only because it has fewer doors. Taller occupants may find their hair getting messed up by the sloping roofline, but for the most part there's a decent amount of space in the back for rear seat passengers, and longer trips shouldn't be a problem. This is, however, a strict four-seater; there's no middle seat at all, just a pair of cupholders. Boot space is good for the segment; bigger than a BMW 6 Series and easily enough for one, and maybe two, sets of golf clubs. The rear seats fold in a 50:50 split to transport longer items, a neat feature that some rivals can't offer at all. All the examples we've driven so far have been fitted with air suspension, which only comes as standard on the most powerful versions. It allows you to vary the driving characteristics of your car according to which driving mode you select, but whichever mode you choose the car stays impressively comfortable. On motorways and A-roads it wafts along beautifully, dispatching potholes and uneven surfaces with barely a ripple. It also allows the body to stay really well controlled in bends, so it changes direction in a clean, crisp manner. That said, if you have any expectations of sportiness from your coupe, then you might want to look elsewhere; the E-Class Coupe much better being used as a motorway cruiser than a back-road blaster.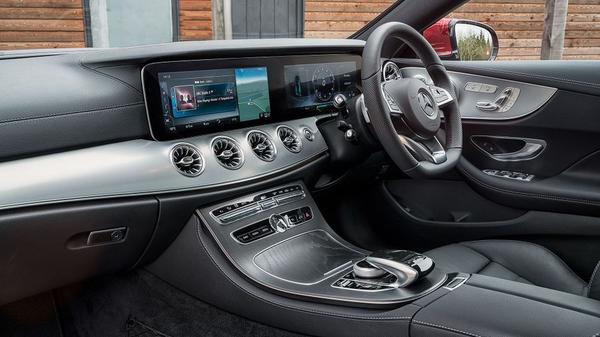 Features of the Mercedes-Benz E Class
The range kicks off with the high-end AMG Line Premium trim, and that means that all versions of the E-Class Coupe are very well equipped. The standard kit includes climate control, heated front seats, leather-effect upholstery, cruise control and an infotainment system that brings together sat-nav, digital radio, Bluetooth and a reversing camera, and comes with a 12.3-inch screen. It's worth noting, though, that this trim is only available with the E220d, E300d and E300 variants. Upgrading to the rather long-winded AMG Line Night Edition Premium Plus model gains you access to the more powerful engines; it also gives you larger alloy wheels, an upgraded sound system fettled by hi-fi specialists Burmester, keyless entry and starting, and a panoramic glass sunroof. Choose your E-Class Coupe in hot AMG E53 form, meanwhile, and you can have it in either Premium or Premium Plus form. The former gets you that excellent air suspension system, as well as multi-beam adaptive LED lights that adjust their beams to leave other cars in shadow, a top-down parking camera, and a smattering of performance upgrades to cope with the extra power. Premium Plus, meanwhile, adds larger alloy wheels, keyless entry and starting, and that Burmester sound system.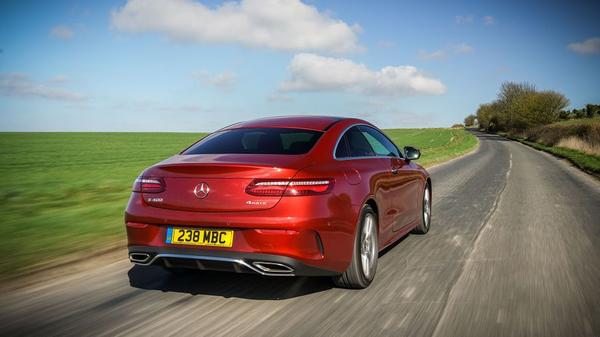 Power for a Mercedes-Benz E Class
The E-Class Coupe is available with seven engines – four petrol and three diesel – and to be fair, we can't see much of a reason to look past the entry-level options. The most popular engine is the E220d, which has a 2.0-litre diesel with 194 horsepower. It has enough grunt to cope with any everyday driving situation without you having to work it particularly hard, and the impressive mid-range pull makes overtakes on single-lane roads nice and straightforward. You don't have too much to complain about on the noise and vibration, front, either. It's not worth working the engine to its limits, though, because you don't ultimately get that much more speed out of it. If it's a more potent diesel you're after, you can choose between the four-cylinder E300d, or the six-cylinder E400d. Both of these are quite a bit more potent, but also quite a bit more expensive – so make sure you really need the extra power. It's worth noting that the E400d comes with four-wheel drive, too, which is great if you want extra traction in slippery conditions, but it's important to keep in mind the extra toll this will take on your fuel bill. For those that prefer petrol power, the E300 has a turbocharged 2.0-litre engine with 245 horsepower. It delivers a decent spread of power across most of the rev range, so neither acceleration nor flexibility are ever in short supply, but it can sound a little wheezy when you really rev it. The E400, meanwhile, has a 3.0-litre V6 that's smoother and sounds much nicer, and with 333 horsepower, it feels muscular and effortless when picking up the pace. There's also the E350, which we haven't tried yet; this comes with a 2.0-litre four-cylinder petrol engine mated to a small electric motor that, while not powerful enough to turn the car into a proper hybrid, still gives it an extra hit of performance. If real performance is what you're after, however, you should look at the AMG E53. This model gets a similar electric boost to the E350, but with a 435 horsepower 3.0-litre six-cylinder base engine instead. It's certainly fast, though it doesn't quite have the rip-snorting pace you'll find in other AMG models. All engines are mated to a nine-speed automatic gearbox, which – as it should – blends nicely into the background. Although manual shifter paddles are mounted behind the steering wheel, there's little incentive to use them as the auto mode does a more-than-adequate job.