Expert Review
Land Rover Defender 110 SUV (2019 - ) review
This is the all-new Land Rover Defender, the long-awaited successor to one of the most iconic 4x4s in the world that combines traditional outdoorsy spirit with modern SUV trimmings
The Auto Trader expert verdict:
Available new from £53,470
As a replacement for arguably one of the most iconic British cars of all time the new Defender has huge boots to fill and a vast range of expectation to satisfy, from traditional 4x4 fans steeped in Land Rover heritage to modern SUV buyers craving the latest tech. Its distinctive looks, undoubted off-road credibility and arch combination of style and practicality are a promising start in its all-out attempt to pluck buyers' heartstrings
Reasons to buy:
Bold reinvention of a British classic
True muddy wellies appeal
Spacious, practical and tough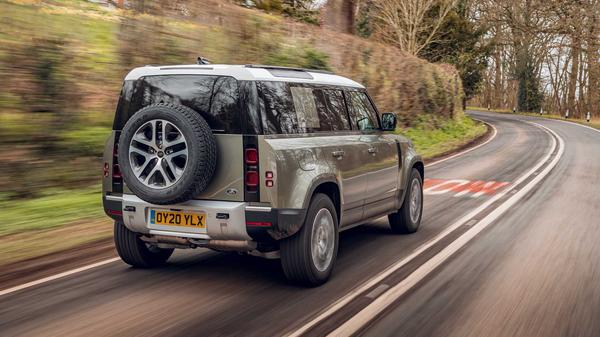 Running costs for a Land Rover Defender 110
The starting price for the new Defender looks more reasonable than you might expect, and seemingly positions the new model between the
Discovery Sport
and the
Discovery
. In reality, and with the encouragement to personalise and equip your Defender according to your tastes and needs, you'll see that purchase price rise quickly. That makes it considerably more expensive than its most obvious rival, the
Jeep Wrangler
but, at the other end, quite a bit cheaper than the
Mercedes-Benz G-Class
. All three trade heavily on their
4x4 credentials
, Land Rover clearly seeing the middle ground between the two as its opportunity. The other serious off-road option in this class is the
Toyota Land Cruiser
, which isn't as trendy or cool as the Defender but is arguably as credible in the rough stuff. Pricing here is on a par. For private buyers running costs are going to be in line with expectations for a vehicle of this type, the four-cylinder diesels offering acceptable fuel consumption figures. CO2 will, however, mean crippling costs for
company drivers
who are best off waiting for the plug-in hybrid version. A pared back commercial version will also be offered in due course, intended to draw back farmers and other business users from the Japanese pick-ups they abandoned their original Defenders for.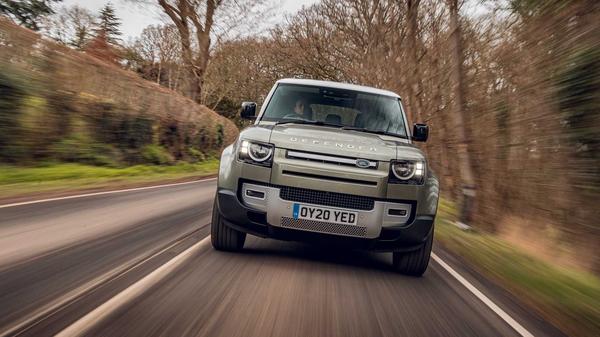 Reliability of a Land Rover Defender 110
There's an old joke in 4x4 circles that if you want to go anywhere you choose a Land Rover Defender, but if you want to come back you're better off with a Toyota Land Cruiser. It's too early to say if the new Defender has done enough to shake off its illustrious predecessor's somewhat cantankerous reputation, or Land Rover's wider reliability issues in its more modern vehicles. Certainly, a huge amount of effort has gone into making sure the new Defender is tough enough to live up to its billing as a go-anywhere machine and we'll have to hope it does that. It's worth noting that while Land Rover offers a typical three-year, unlimited mileage warranty both the Wrangler and Land Cruiser have five-year cover as standard.
Safety for a Land Rover Defender 110
Much as everyone loved the old Defender it was old-school in the extreme in terms of its safety. No such issue with the new one, which is every inch the modern SUV in terms of its safety equipment and tech. This includes automated emergency braking that kicks in if you don't react to warnings of a hazard ahead, tweaks to the steering if the car thinks you're drifting out of lane and a system to detect if you're in danger of nodding off at the wheel. An optional pack adds adaptive cruise control, steers you back into lane if it thinks you're about to pull out into a vehicle in your blind spot and sensors to detect passing traffic when you're reversing out of a parking space or driveway. Which is handy, given the size of the car and its restricted rear visibility. Oh, and should you encounter any flooded roads on your travels you can rest assured your Defender 110 can wade through water 900mm deep with sensors in the door mirrors to warn you if you're getting close to that limit. Good to know!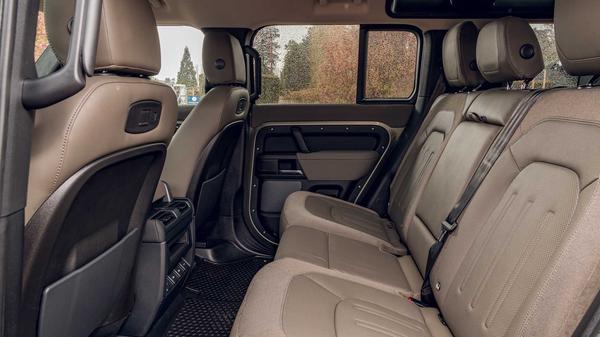 How comfortable is the Land Rover Defender 110
There are more luxurious vehicles in the Land Rover and Range Rover line-ups if that's what you want, leaving the Defender free to offer a more honest, green wellies vibe. That's reflected in everything from the vast, boxy space on the inside to the materials of fixtures and fittings. The ones we drove had rubber mats and a properly outdoorsy feel, but you can have carpet mats and a slightly more luxurious atmosphere with wood trim and leather if you prefer. In keeping with tradition there are two wheelbase options – 90 and 110, with the latter offering five doors and a cleverly variable combination of seating. This can go from a conventional five-seat layout to a seven-seater option with a third row of seats. In a nod to Defender traditions you can also specify a folding 'jump seat' between the driver and front-seat passenger for a six-seater layout, though this is best considered a temporary option for short distances. Suffice to say, though, the Defender is hugely practical and the tall roof and width of the cabin mean it feels incredibly spacious. There's tons of storage space too, with handy rubberised shelves running across the dash to hold your phone and wallet, a huge centre console for bigger stuff and all manner of practical touches. It's carried off with a neat, functional style too and makes a virtue of exposed screw heads and a structural metal beam behind the dash to hammer home its tough image. If you buy into this kind of thing you'll love it. Thankfully the excruciating driving position, heavy steering and bone-shaking ride Defender diehards probably consider traditional 'character features' haven't been reinterpreted for the modern version. Indeed, the sophisticated air suspension (standard on the 110) is fabulously comfortable and refined over all surfaces, jacking itself up to increase ride height for serious off-roading but also civilised on the road, even on the bigger wheel options. Land Rover has, however, maintained a degree of traditional 4x4 character in the steering, which is light but low geared and means you have to twirl your arms more than you would in more road-optimised rivals. That's fine, though, and appropriate to the Defender's purpose and character. If you prefer a more conventional, road car feel stick with the Discovery.
Features of the Land Rover Defender 110
There are endless ways to customise your Defender and Land Rover will be giving you every encouragement to do so. Starting with the base model, though, you get LED headlights, power mirrors, cruise control, 360-degree parking aid system and the new Pivi Pro infotainment system controlled through a 10-inch touch-screen. It's a bit of a stretch to operate from the driver's seat but includes built-in navigation, an online pack with data plan and full
smartphone integration
for two handsets at a time if you prefer. There are four main trim levels from there, materials, features and functionality getting fancier as you go. The real fun starts with the themed packs, though. Explorer adds an expedition roof rack, external air intake, classic mud flaps and the option of a roof ladder and additional underbody protection. Adventure is the one for outdoor sports types, with a pressurised water reservoir for hosing off muddy kit, an air compressor and an integrated backpack you can take with you to carry your stuff. Country adds some extra body protection, load space partitioning and mud flaps while the Urban Pack is more about the look, with big wheels, side steps and snazzier looking external metal trim parts. Whether you want a winch, a contrast roof or a full, expedition spec tent to sit atop it, the options for further personalisation beyond that are pretty much endless.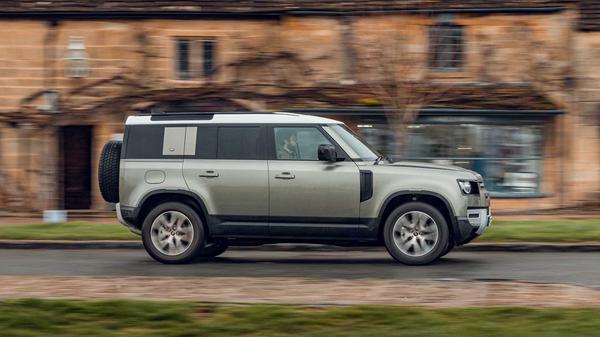 Power for a Land Rover Defender 110
At launch the Defender is available with two versions of the same 2.0-litre, four-cylinder diesel engine, badged D200 or D240. We drove the latter, which has 240 horsepower and drives all four wheels (naturally!) through an eight-speed automatic gearbox, a 'low range' transfer box effectively doubling the number of gears to cope with serious off-roading. Various terrain modes configure the vehicle's clever systems to cope with anything you can throw at it, Land Rover offering three tyre options according to how serious you are about your off-roading. We tried the mid one, which was fine on the road and unstoppable off it. In any other vehicle the diesel engine's gruff noise would be a turn-off but it suits the Defender's no-nonsense image and does a better job of shifting the vehicle's bulk than you'd credit for its modest capacity. There are faster SUVs out there but, for its intended purpose and character, in D240 form this engine is well up to the job. Petrol options comprise the four-cylinder P300 and six-cylinder P400, the latter described as a MHEV or
'mild hybrid'
signifying support from a small electric motor. This isn't enough to power the Defender on electric power alone but provides a subtle extra boost and expands the range of the start-stop system to improve efficiency and emissions. This combination delivers 400 horsepower and will offer the best performance in the range, though if that's your priority you may be better served with other Land Rover or Range Rover vehicles. A full plug-in hybrid – or PHEV – option will join the range in due course.