Expert Review
Ford Fiesta hatchback (2017 - ) review
The Ford Fiesta is the UK's best-selling car, and the reason it's so popular is because it's one of the best cars of its type. Find out why in our review.
The Auto Trader expert verdict:
The Ford Fiesta needs very little introduction, being the UK's best-selling car. That mantle didn't happen by accident, either, because not only is the Fiesta one of the most popular small cars there is, it's also one of the best. It has to be to fend off competition from exceptionally good rivals like the Seat Ibiza and Volkswagen Polo among many, many others. Click here for our impressions of life with the Ford Fiesta in our long-term review.
Reasons to buy:
Attractively priced with good equipment
Economical engines bring low running costs
Brilliant to drive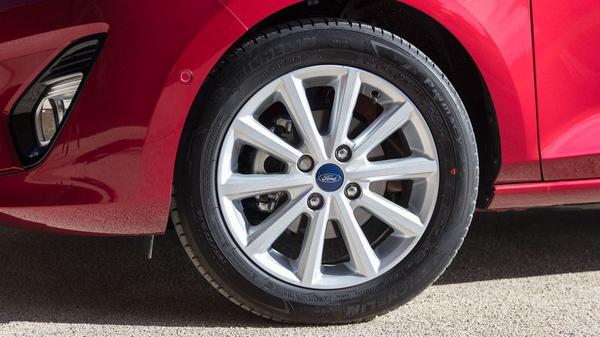 Running costs for a Ford Fiesta
The
Fiesta
is more expensive to buy than you might expect, although it does have pretty strong resale values which help to offset that. Fuel economy is broadly in line with rivals like the
VW Polo
and
Seat Ibiza
, as are expected service, maintenance and repair costs. We expect the Polo and Fiesta to perform in a very similar manner when it comes to overall long-term running costs, and the strong resale values help to elevate both of those over other rivals. The Polo might slightly edge it when it comes to overall costs, but there's unlikely to be much in it.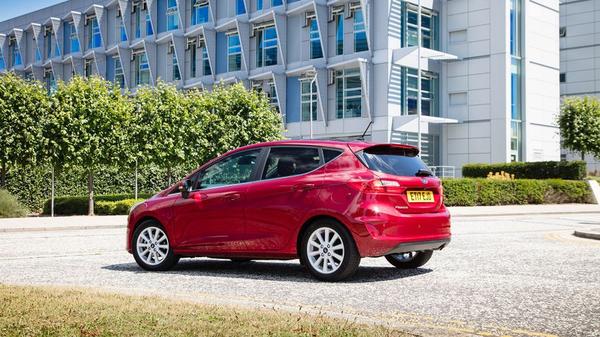 Reliability of a Ford Fiesta
If you had any thoughts along the lines that the Fiesta is a cheap little car, so it's probably unreliable, then forget them. We certainly haven't heard any horror stories from Fiesta buyers concerning common faults, and the previous car has always performed well in customer satisfaction surveys and reliability studies. For example, Warranty Direct's Reliability Index places the Fiesta near the top of the scale for dependability, with Ford also performing very well as a brand overall. It also has an above average score in JD Power's 2018 and 2019 Vehicle Dependability Studies. That sort of performance should provide buyers with plenty of confidence.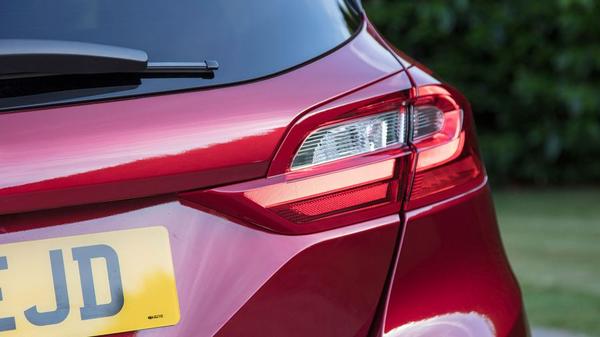 Safety for a Ford Fiesta
There's a whole raft of
safety
kit available for the latest Fiesta, although a lot of it is optional. This includes Active City Stop, which helps drivers avoid low-speed collisions. Other technologies available include road sign monitoring (to keep the driver up-to-date on speed limits) and active cruise control to maintain a set distance from the traffic ahead. Sensors that warn of vehicles approaching from the side when reversing out of a parking space are also available, as is a blind spot monitor. Standard safety kit on every model includes a bunch of airbags and lane-keeping assistance. Ford is unique in offering 'MyKey', a system that allows several keys to operate the car, but with various settings (such as the car's maximum speed, the volume of the stereo and so on) uniquely programmed to each key by the owner.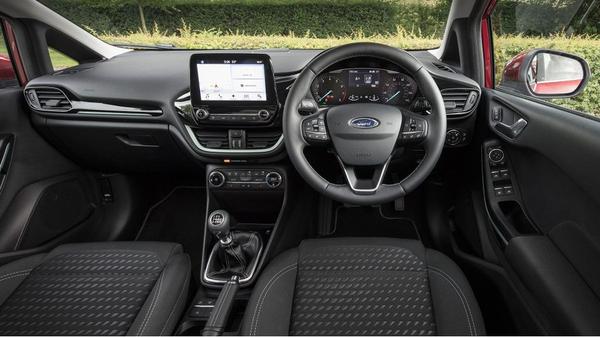 How comfortable is the Ford Fiesta
The Fiesta's dashboard looks much less cluttered than the previous car's, as there are far fewer buttons, while the instrumentation is easier on the eye thanks to its sharp graphics. The 'floating' iPad-style
touch-screen
, which is standard across the range, is quick to react, intuitive to use and it's easy to hit the various menus when you're driving, thanks to large icons. It also comes with Apple CarPlay and Android Auto, which allow you to sync your phone and control selected apps through the screen. The materials used in the cabin aren't all that tactile, especially when compared with those in the Fiesta's poshest rivals. They are, however, solid, smart and of a reasonable quality. The driving position has a wide range of steering wheel and seating adjustment, and pedals that are neatly aligned, so everyone from little old grannies to bean-sprouting teenagers will have no trouble adopting the perfect driving position. The one word of caution is that the seat adjusters are jammed low down between the seats and the doors, making it particularly tricky to reach the rotary controller and adjust your seatback angle. Apart from this, everything feels just right: the heater controls, lights and indicator stalks all operate with smooth, easy precision, the pedals are beautifully weighted and the steering wheel rim feels reassuringly complaint and chunky. It's reasonably practical, too. Rear seat space is identical no matter whether you go for the three-door or the five-door, but obviously, getting into the back of the car is a lot easier the more doors you have. The space itself is pretty average when compared with rivals; headroom is fine, but legroom is a little on the tight side, especially if your passengers are tall. Similarly, although the Fiesta's
boot
is deep and more than capable of coping with the weekly supermarket shop, it's rather narrow, which means you'll have to fold down one of the rear seat backs if you want to take a
baby buggy
with you. There have always been subtle variations in the way different Fiestas drive and, if anything, these differences are even more pronounced with this latest model. The three-cylinder petrol-engined cars strike the best compromise between comfort and agility, delivering a smooth ride, sharp, connected steering and impressive levels of grip. Go for one of the diesel versions, however, with their more compliant suspension, and the car feels less sharp to drive. If you're prepared to sacrifice a degree of comfort and accept a fraction of additional road noise, then the ST-Line cars are the ones that will probably ring your bell. Fitted with stiffer, lowered suspension and 18-inch alloy wheels shod with low-profile tyres, they provide sharp turn-in and excellent front-end bite in corners. At the other end of the scale, the Active models have a raised suspension that make them softer, waftier and more comfortable than your average Fiesta, but less sharp in the corners. It's still very capable though, and has the added bonus of being able to get up kerbs and down gravelly tracks with relative ease.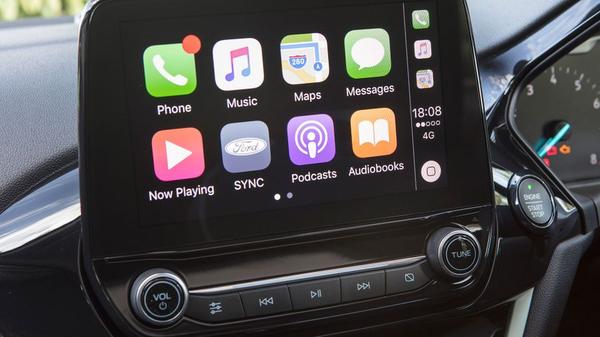 Features of the Ford Fiesta
All Fiestas come with a decent amount of kit. The entry-level model is the Trend, which gives you 16-inch silver and black alloy wheels and daytime running lights, plus a heated windscreen, which is brilliant on frosty mornings. Also included is an 8.0-inch touch-screen infotainment system, which features DAB, Apple CarPlay and Android Auto. Titanium has almost everything you could wish for, including rear LED lights, auto-dipping headlights, rain-sensing wipers, power-folding mirrors and cruise control. On top of this, keyless entry and start-up, dual-zone climate control and satellite-navigation round out the spec. Titanium X gets the B&O audio system as standard, as well as part-leather upholstery, heated front seats, a heated steering wheel and - on five-door models - electric rear windows. ST-Line models come with a flat-bottomed steering wheel and sports seats, while ST-Line X has cruise control, posher air-conditioning and more driver assistance features as standard, as well as red design elements inside for a flashier look. It's a similar situation for the even-racier ST-2 and ST-3 models. The 'Top Trumps' model is the Fiesta Vignale, distinguished by 17-inch alloy wheels and unique front bumper, grille and foglamps. There's also a full-length panoramic sunroof, heated, quilted-leather seats, a rear-view camera and parking sensors. We've been running one as a long-term test car -
click here to read more
. The Active models get three of their own bespoke trim levels, which are based loosely around the mid-range trim levels of the conventional Fiesta, but they do come with a couple of extra luxuries on top of the more rugged styling.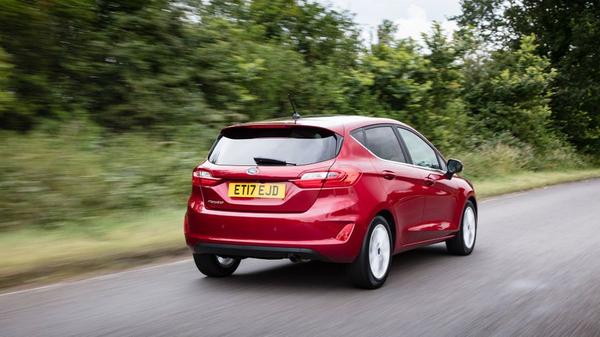 Power for a Ford Fiesta
The most popular engines in the Fiesta will the turbocharged 1.0-litre three-cylinder petrols, which are available with outputs of 100-, 125- or 140 horsepower. To be honest, the 100-horsepower version will be pokey enough for most people. Admittedly, it's not particularly strong at lower revs and it is prone to the odd stutter when coming on or off the throttle in heavy traffic, but get it spinning above 1,500rpm and it really starts to warm to its task, delivering eager - if not especially brisk - acceleration. The middle option is very similar in character and doesn't serve up a great deal more in terms of pace, but the extra urge does mean you won't have to change down a gear as often when trying to cope with the changing speeds of
motorway
traffic. The pokiest version could also do with more low-down urge, but it's an engine that simply begs to be revved hard and, when you go for it, it gives the Fiesta an impressive kick up the backside. It sounds pretty good, too, emitting a sporty warble that's further enhanced through the speakers, and you'll also love the sweet-shifting manual gearbox. You won't be quite as impressed by the optional a
automatic gearbox, though, because it's not that quick to respond or particularly smooth when swapping gears, but it's still fine if you can't be bothered to change gears yourself. There's also a 200-horsepower turbo engine in the sporty Fiesta ST, which you can read all about in our separate review. Other engine choices include a 95-horsepower 1.0-litre petrol engine and an 85-horsepower 1.5 diesel, neither of which we've tried yet.