Long Term Review
Living with a… Ford Fiesta Vignale Edition (Final report)
Ford thinks its Vignale trim can turn a humble Fiesta into a compact luxury car - we're living with one to find out if it really can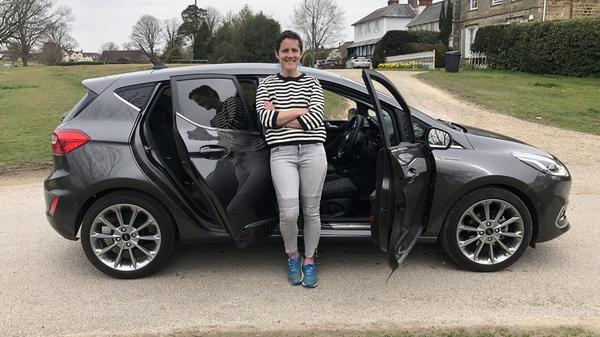 This is an interesting car. Ford has a theory - as do an increasing number of people - that drivers with plenty of money and who want a luxury car, don't necessarily want a big car. They want luxury in a small package. Various manufacturers have tried this in the past, be that the Aston Martin Cygnet sold to existing Aston customers, the Fiat 500 Riva, highly specified and personalised Minis, and so on. Ford says a considerable minority of customers are now buying the
Fiesta
- Britain's best-selling car since 1978 - in the top Vignale trim, and paying more than £20,000 for the privilege. In return, they get all the creature comforts of a £70,000 SUV, like a heated steering wheel, active cruise control, B&O premium audio, rear-view parking camera, heated seats and so on, but in a car that's easy to park, and less hassle to run. You can see the logic. Time to put it to the test.
Updates:
Month 1 – A Fiesta as a luxury car … really?
Month 2 – From long-haul to the school run
Month 3 – Proof of concept
Month 4 – Every silver cloud has a dark lining?
Month 5 – Good things come in small packages
Month 6 – Finale for the Vignale
What is it?
Model: Ford Fiesta
Version: 1.0 Ecoboost Mild Hybrid 155PS
Spec level: Vignale Edition
Options fitted: 'Magnetic' paint (£650), full LED headlamps (£700)
Cost as tested: £25,235
We like
Big feel in small car
Easy to park
Luxury features
We don't like
Sync 3 infotainment system bit ugly
Previous version looked better
Throttle/clutch partnership bit grouchy
Month 1 – A Fiesta as a luxury car … really?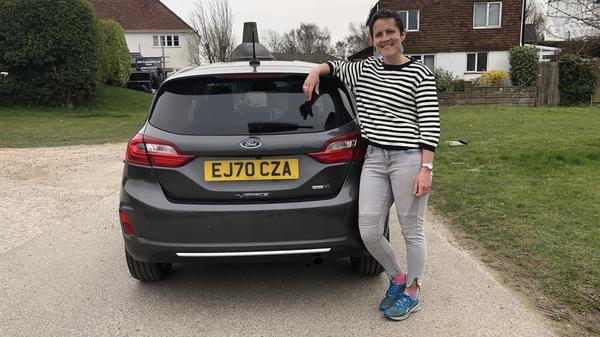 Mileage: 1,586
Fuel consumption: 42.7mpg You've read the pitch for why Ford thinks a luxury Fiesta is a thing. And so our test car has a price tag of £25,000, which would buy you a
VW Golf
or a family SUV. What do you get in return? All the aforementioned features, plus front fog lights and cornering LED headlights (a cost option), premium heated leather seats with a pretty pattern, front and rear parking sensors and a semi-automated parking function, rear privacy glass, rain-sensing wipers and auto-dimming mirror, Vignale tread plates and mats, folding door mirrors and puddle lamps, blind-spot warning system, cool door edge protectors that pop out when you swing the doors open to protect the edges from walls and other immovable objects (brilliant when you have kids), keyless lock/unlock with a button to start the engine, traffic-sign recognition,
CarPlay and Android Auto
, wireless charging pad, ambient lighting at night, lane-keep assist, rear centre headrest, hill-start assist (great in a manual to avoid embarrassing slippage), three drive modes (eco, normal and sport), tyre-pressure monitoring and an alarm. See what I mean? Not a lot they've missed out for £25K. Added to which possibly the greatest joy for those who love driving – that endangered species that is the manual gearbox, with six gates to drive the gearstick through. Hello, how I've missed you! I've even got a proper manual handbrake. All we're missing is a key in a fob to insert into a slot and turn to start the engine. Silly really, and I'm an electric convert after my previous experiences in the
Nissan Leaf
and
Honda E
. But now we know it's the end of the road for all this analogue, fossil-fuelled motoring, it brings a tear to the eye. My sons still argue every morning on the school run about whose turn it is to change gear in the Fiesta, and ask me fearfully if they'll get to take their driving tests in a manual car or will have to drive an automatic electric car from the word go. Aged 10 and eight, I fear they are on the cusp, but should get a couple of years of manual gearboxes, especially with the budgets they'll have to buy. It's also a relief to ditch the much-loved
seven-seat SUV
and nip into town in this little car without stressing about finding a parking space you can fit in. Ditto the joy of returning above 40mpg in an internal-combustion powered car for once.
Back to top
Month 2 – From long-haul to the school run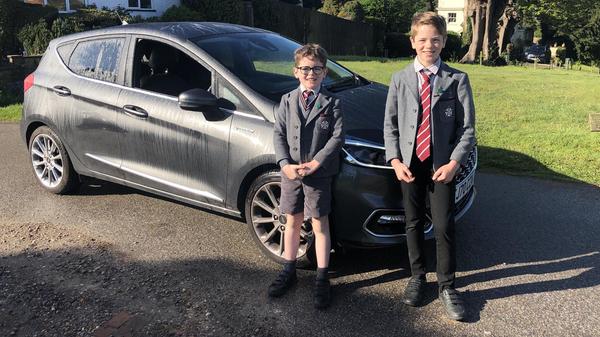 Mileage: 2,865
Eight weeks into our time with the new Ford Fiesta and it's already feeling like we're putting it through its paces, both around town and on longer motorway trips. We've taken it on a work trip from Kent to Doncaster which we were nervous about, to be frank. The thought of several motorway hours in a small car with a manual gearbox did not appeal but, not only is the Fiesta comfortable for two long-legged adults, it is also surprisingly quiet at motorway speeds. We just stuck it in sixth gear and cracked on. And, thanks to the easy-going engine and gearbox, the stop-start traffic on the A1 didn't leave us with a sore calf. The clutch pedal is light, biting point easy to play around with and the engine happy to pull smoothly at low revs. I've been using the Fiesta for the school run and my eight-year-old and 10-year-old sons are happy in the back with their bags. On a Monday, we have the addition of two sports bags, two swimming bags and one cricket bag, complete with bat and pads, all of which fits happily in the boot. The one obvious advantage to the Fiesta - its dinky on-road footprint - is a joy for parking. We're used to running big seven-seat SUVs and you have to psych yourself up for parking on the crammed side streets in our local town. But I don't think twice before jumping in the Fiesta and throwing it into a tight spot. We're cheating rather magnificently, it has to be said. Not only do we have parking cameras front and rear on the Vignale version of the Fiesta, plus a reversing camera, but we also have the parking assistance. Push the button, select whether you are reversing into a space or parallel parking, and let the car do its magic. I haven't used it yet - it seems ridiculous to have this on such a small car - but then I used to scoff at parking sensors on superminis like this, and now I love them. We're also appreciating the wireless charging pad for the phone. If, like us, you live in a busy household where charging leads are like gold dust, you'll appreciate not having to ransack your child's bedroom for one for the car before you fly out of the car every morning. Maybe we'll try the parking function next…
Back to top
Month 3 – Proof of concept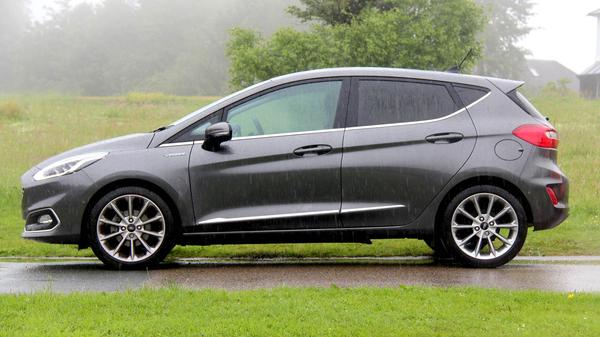 Mileage: 3,611 miles
I drove the Fiesta to Luton airport this month for a rare flight, even if it was 'only' an internal one to Inverness for work. It's the longest trip I've done in this car (70 miles) and I was slightly dreading motorway miles in a small car with a manual gearbox, but I was pleasantly surprised. The Fiesta is refined on the motorway, with little vibration, harshness or tyre noise encroaching inside the car. There's plenty of space to stretch a bit and relax, too. Also, if I'd thought about it, I'd have realised you just whack it into sixth gear and sit back with cruise control on, unless you get caught in stop/start traffic. We've seen a lot of Fiestas in the top-spec Vignale trim lately. You know how it is - when you live with a car you then see them everywhere. But, if Ford is to be believed, there is a real market for spending big to get as much luxury as possible in a small car. Not everyone needs space, but plenty want creature comforts like leather seats, a reversing camera, glass roof and heated steering wheel. It makes sense, especially for city dwellers where parking spaces are tight, for downsizers or those who live alone and who don't need large boots or rear legroom, and so on. The Fiesta is also a great choice for drivers who are looking for a small car but don't want to sacrifice driving pleasure. Fords have such a satisfying feel, with precise steering, and a smooth, chunky ride quality. It's a good sign that, no matter what else we have on test in any given week, taking the Fiesta never feels like the poor choice. In fact, it's normally a relief.
Back to top
Month 4 – Every silver cloud has a dark lining?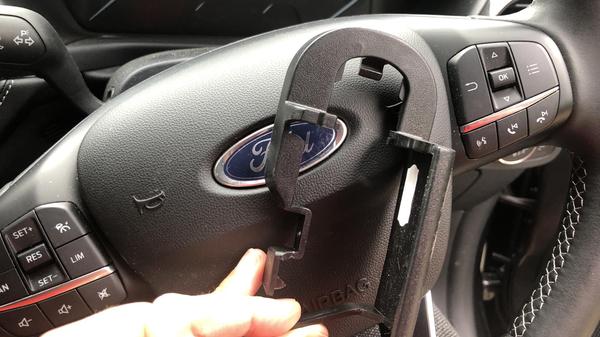 Mileage: 4,299
Fuel consumption: 45.7mpg A thing has fallen off the Fiesta. It's black and plastic, and that's about all I can say. Of course, someone looking at this picture will immediately recognise it as the cup holder surround/speaker mounting/bit from the door mechanism, and ask me how long I've been a motoring journalist, to which the answer is 15 years and, no, I still don't know what it is. I also thought the Fiesta was sounding a bit rattly on start up, but the hole I thought maybe meant a blown exhaust is in fact a drainage point in the pipe. I'm not doing very well so far. What I can confidently say is that it's such blessed relief after years of running heavy SUVs to be getting between 40mpg and 50mpg on every run, and about 400 miles from a tank. And that infotainment system, although still startlingly utilitarian in its design, has at least not glitched or gone wrong like most others - Apple CarPlay connects every time. On the other hand twice in the last month I've parked up on a hill, pulled the handbrake all the way up and the car has started to roll gently backwards, which is slightly alarming. I keep expecting to come back and see it nestling comfortably in the arms of the car behind. I now yank the lever up as far as I possibly can (then worry about being unable to release it) and put the car in first gear, grateful that in order to start the engine you have to depress the clutch pedal… The kids and I have done a few long motorway runs in it this month, and the comfort and lack of noise is supreme. Really the only thing that stops this being a long vacation kind of car is the small boot. But it has made me determined to buy something this size as our second car - the lack of stress about navigating round busy towns in it, hopping in and out of parking places, is just such an utter joy. I'm just not sure it would be the Fiesta, only because the interior, while comfy and easy to use, lacks a certain joy. It's all black plastics and black leathers and dull digital displays. Where's the creative flair, the warmth, the elegance, like Peugeot is now doing so well? I think consumers want more from their car interiors these days, and that demand will only heighten as we ditch all but one powertrain. Plus, I've become obsessed with cream, light styling inside and am slightly downhearted by the darkness of the Ford. Also, is it me, or is the previous generation of the Fiesta better looking?
Back to top
Month 5 - Good things come in small packages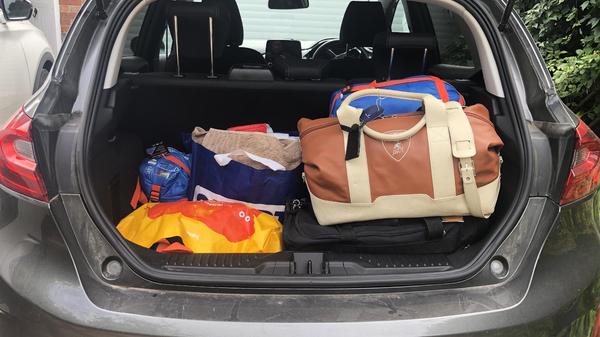 Fuel consumption: 46.9mpg
Having said in the previous update that "the only thing that stops this being a long vacation kind of car is the small boot", I obviously took it on our annual summer holiday from Kent to Cornwall a couple of weeks ago. A round trip of 630 miles. I'll be honest - I was not looking forward to it. My eight-year-old and 11-year-old sons took it in turns up front with me, with bags of clothes, food and drink, sleeping bags, wet suits and towels in the boot. I took the parcel shelf out, in the expectation I'd have to pile the boot up high with luggage but, whether it was my judicious packing or Ford's more judicious design, it all went in surprisingly easily. Up front it felt more cramped, with apples rolling around the gear stick, and phone charging leads draped across the handbrake. That lack of storage between driver and front seat passenger was really the only real annoyance and reminder we were in a small car. The other compromises you might have expected simply didn't materialise, though. There's enough sound deadening to cancel out rattles and fizz while the little EcoBoost petrol engine has more than enough oomph for hills, overtakes and motorways. An astonishing amount, actually, with more on hand just a simple downshift away if required. Best of all, we squeezed 47mpg out of the car without trying. In fact, I'd say we got good fuel economy despite stop-start traffic and being pretty heavy on the right foot. All of which might leave you wondering why you'd ever need more car. I have to say, the Cornwall trip really confounded me. Even after five months of living with the Fiesta I'd assumed it would be a hair-shirt experience but none of it, though a lot of the credit for this unexpected long-distance ability must go to the more powerful 155 horsepower engine. Add this to the expected benefits of a small car like easy parking, good economy and the fact fellow road users don't hate you and I'm starting to rethink my whole relationship with cars…
Back to top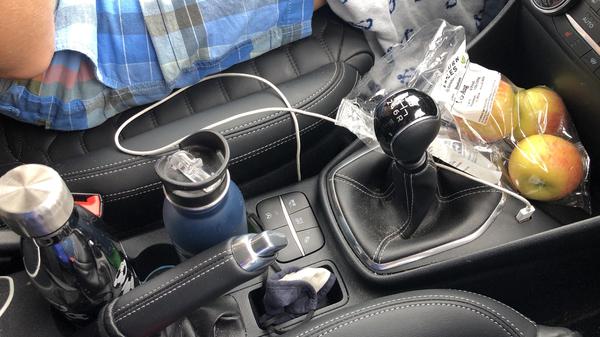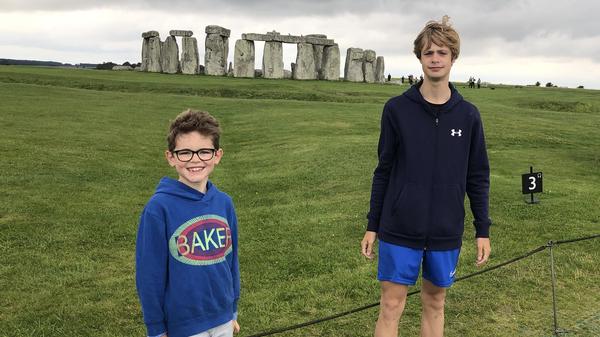 Month 6 - Finale for the Vignale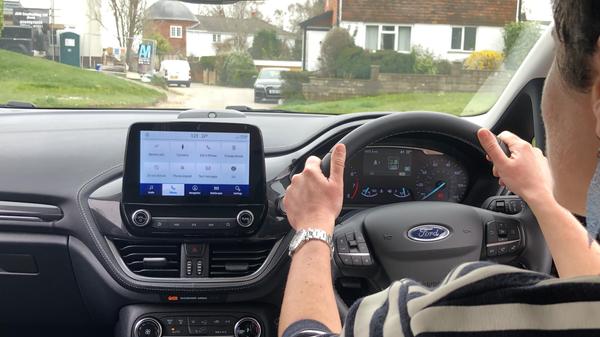 Mileage: 5,886
I'm absolutely gutted this car has now gone back. Truth be told I've been blown away by how much I love having a small car, and actually how much you can do with a Fiesta that I thought we'd need a bigger car for. The downsides first. I don't think it's very beautiful, inside or out. Literally everyone I've spoken to agrees that the previous generation Fiesta looks better, especially from behind, with the much sharper vertical tail lights. And inside it's just dull – plain black plastics, black displays, boring infotainment graphics and black leather seats, which are nicely stitched but dull. Ford should take some learnings from the
Honda E
and
Peugeot 208
which both really lead the way in small car interior design, and show that you don't have to spend mega bucks, or clad a car in leather and wood, to make it hugely desirable. Also we've had a couple of issues with the handbrake, which hasn't held the car on a hill when we've parked, and we've had to hurriedly hoist it up another click or two as we went to get out and it started to move. But that's it. In every other way this car has carried us everywhere in totally comfort, never lacking in power. We've taken it to from Kent to Cornwall with two kids in the back, and we've zipped to school and the shops in it, throwing it with positive abandon into spaces all the SUVs have had to drive straight past - oh so smug! We've driven it round the M25, from Kent to Oxfordshire, accelerating on the hills in the fast lane past other cars, never feeling like we didn't have enough power from the small Ecoboost engine with its mild hybrid assistance. And the kids have loved sitting in the front, changing gear. I've encouraged them to really understand and celebrate manual gearboxes, because we're coming to the end of them and I'll miss changing gear more than I will internal combustion engines. It feels like the end of motoring as we know it and, while I fully embrace the positives of electric propulsion, I am immensely sad that we have to say goodbye to the clutch. It's the best bit about driving - the incredible satisfaction of quick, smooth gear changes, the ability to control the engine's speed and the amount of power produced by the engine. It's been a really valuable lesson in just how comprehensive small city cars are now - if you need boot and leg space for a growing family, then it's probably not for you. But if you think you need a large hatchback like a
Ford Focus
,
VW Golf
or
Vauxhall Astra
, try the next size down first. You might be pleasantly surprised.
Back to top