Expert Review
BMW i8 Coupe (2018 - ) review
Read about the BMW i8, an innovative and boldly styled plug-in hybrid supercar combining petrol and electric power to stunning effect
The Auto Trader expert verdict:
The BMW i8 delivers all the performance, glamour and excitement of a conventional supercar but, with plug-in charging, it'll also deliver unbelievably low hybrid running costs. It's even pretty affordable to buy by supercar standards, and for the amount of technology you're getting, it looks like something of a bargain. If you're after a supercar with a conscience, this is it.
Reasons to buy:
Looks sensational inside and out
Incredible mix of performance and efficiency
Properly thrilling to drive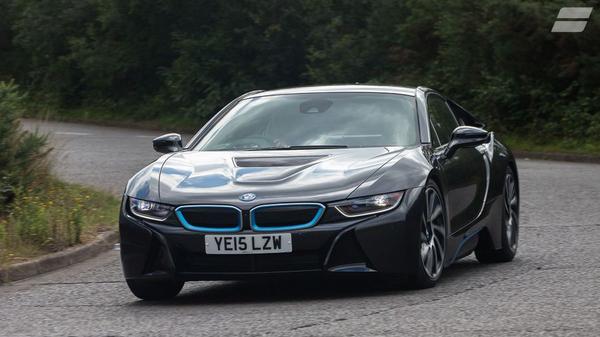 Running costs for a BMW i8
Exotic supercar looks with the running costs of a plug-in hybrid were the BMW i8's unique selling features when it launched in 2014 and remain distinctive to this day. With CO2 well under 50g/km and triple-digit mpg figures (at least by official scores) the i8 is the cake and eat it solution for driving a slinky sports car without any of the usual guilt. Updated in 2018 when the
the Roadster version
was introduced, the i8's efficiency has been improved to increase the all-electric range from just over 20 miles to something over 30, the power of the electric motors increased at the same time and letting it accelerate all the way to 65mph on battery power alone. Call upon the petrol engine on a regular basis, though, and you'll see your return plummet dramatically, and that's before you even start making the most of the i8's impressive performance. While fuel costs will still be a fraction of what you'd be paying in an equivalent
Porsche 911
or similar this remains an expensive car and you'll need deep pockets to buy, insure and maintain one.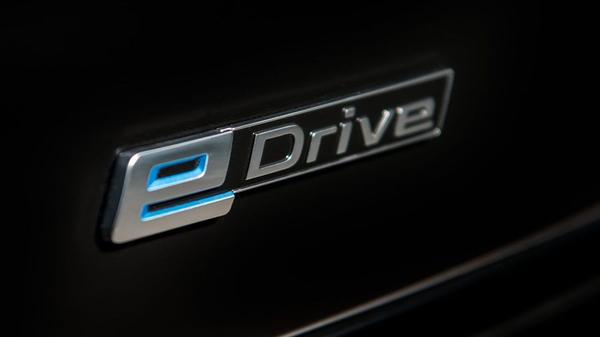 Reliability of a BMW i8
Examples of the i8 exist in such small numbers that there's very little useful reliability data available. True, there's a great deal of new and unproven technology on board, and BMW's reliability record isn't what it should be, according to Warranty Direct's manufacturer rankings, which place the firm quite a way down the table. However, the i8 does have a really well-engineered feel that demonstrates incredible attention to detail, so we hope that the it will prove as dependable as it should be.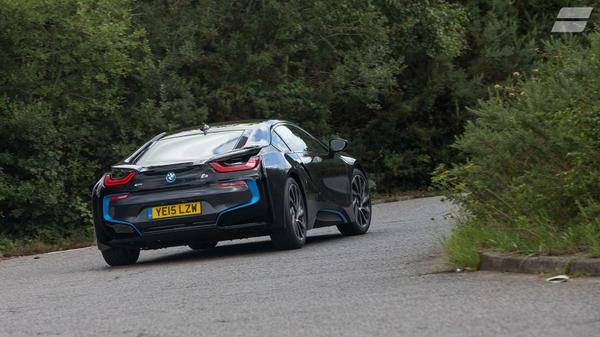 Safety for a BMW i8
The i8 has six airbags and a sophisticated stability control system, as you'd expect, but it also has a few other standard safety gadgets that you might not. The adaptive LED headlamps have a clever high-beam assist function, there's a speed-limit information system, and there's a forward collision warning that incorporates autonomous braking and pedestrian detection. A head-up display and tyre-pressure monitoring are also standard fit and there are two ISOFIX mounts in the rear should you be able to make space for childseats behind the driver and front passenger. A noise generator to warn pedestrians when cruising around town on silent electric power is, for some reason, a cost option, albeit a cheap one. Begging the question why it wasn't just included in the standard kit.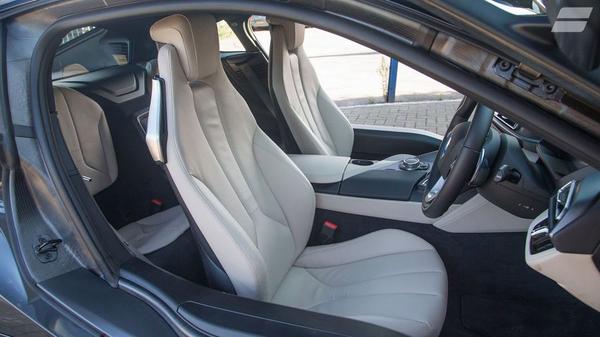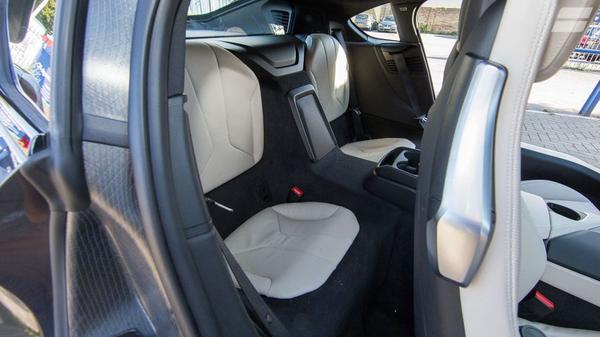 How comfortable is the BMW i8
The car's light weight makes it feel
super agile
and you have enormous grip and quick steering for plenty of feedback and precision. The standard adaptive suspension also gives you unshakeable body control when you have one of the sportier driving modes selected. Then, when you get to the end of your favourite back road, you can select one of the more relaxed ones and the suspension softens off to give a forgiving and comfortable ride. This makes the i8 a surprisingly relaxed car in which pootle round town or to trudge up and down motorways. The interior has all sorts of wacky textures and finishes to keep things interesting, and importantly for a car that costs this much, the cabin also feels as plush and as luxurious as it does futuristic. The front seats are wonderfully supportive and the driving position is spot-on but don't expect to use the two rear seats as much more than extra luggage space. This may come in handy because the boot is extremely small. Getting in and out of the i8 takes a fair amount of personal flexibility, too, due to the width of the sill you have to climb over. And, while those doors look very cool, they don't make life all that easy in tight parking spaces.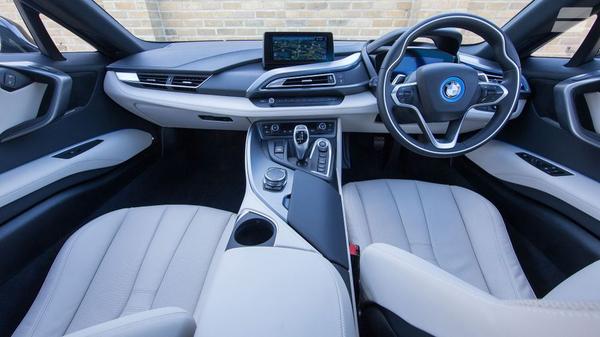 Features of the BMW i8
Many cars this expensive are rather disappointing when it comes to the amount of standard equipment you get for your money, but the BMW i8 is not one of those. Included in the price are items you'd expect, like electric windows, climate control, automatic lights and wipers, cruise control, a multifunction steering wheel and electrically-adjusting seats that are leather-bound and heated. The infotainment system also features DAB radio, Bluetooth and sat-nav, as you'd expect. However, you might not expect the 20GB hard drive, the head-up display or the all-round parking sensors and cameras, which also come as standard.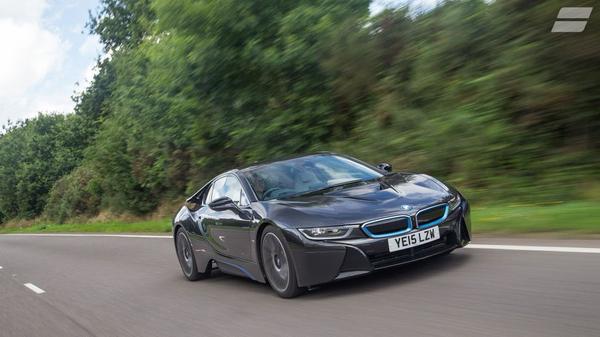 Power for a BMW i8
The i8's plug-in hybrid drivetrain combines an electric motor up front with a 1.5-litre three-cylinder petrol engine at the back, power cleverly distributed to all four wheels. Switch to the sportiest mode and both powertrains combine for a total of 374 horsepower, an increase from the 362 horsepower of the original version thanks to that improved battery. Granted, it doesn't have the same kind of organ-bashing acceleration you get in something like an
Audi R8
, but with a 0-62mph time of just 4.4 seconds, it's plenty fast enough. Switch to one of the more eco-focused modes, and you can trundle along in near-silence with the electric motor doing most, if not all, of the work. A full charge of the battery (which takes about four and a half hours from a domestic three-pin socket) will let you drive for over 30 miles on electric power alone at speeds up to 75mph.