Long Term Review
Living with a… Honda E (FINAL REPORT)
It's the coolest new electric car on the block but what's the Honda E like to live with?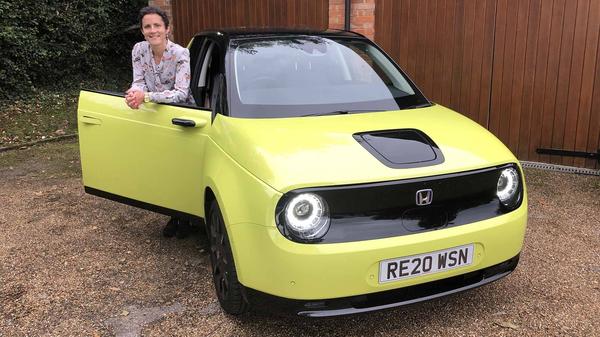 The Honda E is the first pure electric car from the Japanese brand, and boy, was it worth the wait. Forget everything you thought you knew about Honda - this is not a boring, expensive, uninspiring car for older customers to trundle to the golf course in. It is a highly covetable, innovative, exciting, sexy little gem for zipping around town and reasonably priced into the bargain.
Updates:
Month 1 - The Honda E is here, time to believe the hype?
Month 2 - Shock horror, the Honda isn't actually perfect!
Month 3 - 'Driver assistance' systems turn out to be anything but
Month 4 – Winter puts the chill on the Honda's range
Month 5 – Bye-bye Honda E, we're missing you already
What is it?
Model: Honda E
Spec level: Honda E Advance
Options fitted: none
Cost as tested: £29,160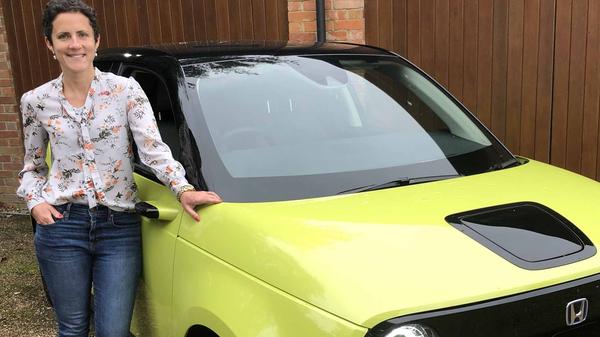 We like
Design
Technology
Easy to park
We don't like
Range of under 100 miles
Tech slow to load
Old-fashioned key fob
Month 1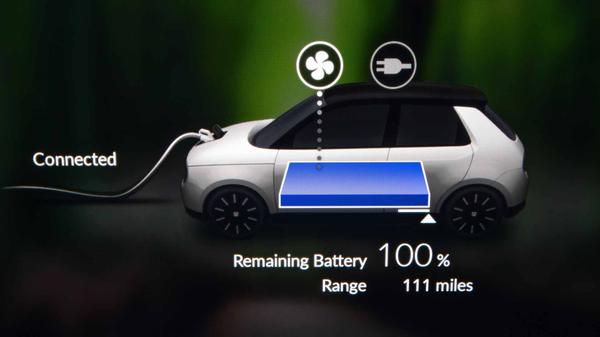 Mileage: 1,330
Fuel consumption: 3.3kW We love this car. Everything could fall off it, and we'd still love it, but nothing will fall off it because it's a Honda. Which is why they're normally expensive cars, with rock-solid residual values. But the
Honda E
starts at a little over £26,000 and finishes somewhere just north of £30,000, which is expensive for a small car but in the same ballpark as rivals like the
Peugeot e-208
,
Mini Electric
and
Vauxhall Corsa-e
. Anyway, you'll be paying for it on a monthly finance plan no doubt, where you'll find the little extra needed for this because it looks like a 60s cartoon car and it has an aquarium full of digital fish that swim across the dashboard. And who doesn't want that? Seriously though, our family has never had so many thumbs up, smiles and phone cameras pointed at us while driving, and we've had Lamborghinis, Ferraris, and Aston DB5s. All in the name of work, obviously - it's not like we've robbed a bank. The one person I thought might hate this car is my partner, a rugby-playing, beer-drinking alfa male whose spiritual home is a Land Rover Discovery. But he loves it, too. You honestly can't not. It's bright yellow (the kids say it's lime green but I've checked and it's called Charge Yellow - ha!), it's got golden brown seatbelts and a grey bench seat like a modernist sofa in the back. Up front, there are USB slots, an actual three-pin plug socket, a cup holder that pulls out courtesy of a tan leather strap and removable dividers in the central tray so you can personalise your storage solutions. There are, of course, no wing mirrors. Instead screens display camera images at each end of the dash, which itself is one long series of screens. We thought we'd get travel sick or a headache using them, but it's fine, and actually better at night where the camera image is sharper than a reflection. Plus, you don't have the extra exterior width of the car to contend with. The two screens across the dash can show whatever you want them to, and you can even switch the displays so the info you use most is on the screen closest to you. We're overly fond of the clock display - an analogue dial appears with a sunny blue sky and palm trees behind it - it has a weirdly uplifting effect in the murk of an English autumn. One gripe so far. All this whizz-bang tech takes a few seconds to load each morning, which negates the point of the car automatically starting when you get in with the key and shut the door. Personally, we'd rather start it ourselves using the starter button - we keep forgetting and pressing the button, which then turns the car off. Also, all this is preceded by a legal message about sharing your data, blah, every single time, which you have to agree to or go to settings before the screen will show what you want it to. The other huge drawback is the short range. It has a quoted maximum of 137 miles, or 125 miles if you have the larger 17-inch wheels. In reality, we have squeezed about 100 miles out of it per journey so far, but, like all electric cars, that plummets on the motorway where 80 or 90 miles is a more realistic figure. Which means this is a second, or even third car, for homes where adults each have to drive on motorways once or twice a week, as we do. The ultimate irony came in September, when I was invited to a demonstration of the electric cars available in the UK market, but couldn't get to the Bedfordshire venue because I'd have to stop to
charge
en route and didn't have the time. Honda makes no apologies. It has chosen this route to enable faster charging and says customers should think of it as an iPhone rather than a MacBook - charge frequently and quickly. So far, we've only charged it at home on our PodPoint charger, because we can't bear the mess that is the
public charging network
. None of this is Honda's fault though and, so far, we have happily used the car for school runs and local trips during the week and leaving it to charge overnight on an off-peak tariff. So far, so good. good.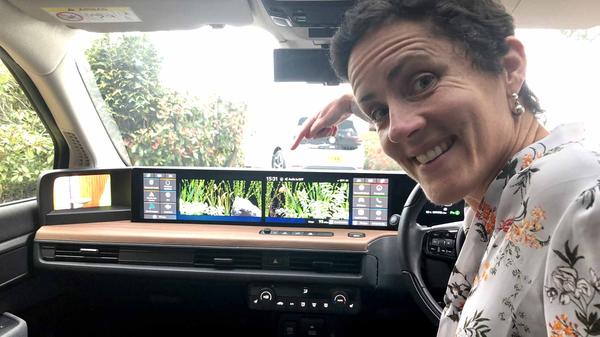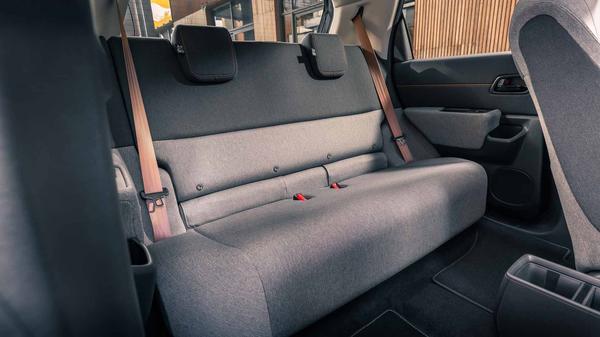 Month 2
Mileage: 1,625
The Honda E continues to delight us (and everyone who spots it on the road in our town), with a few minor frustrations kicking in. Like the fact that the parcel shelf flips off its mooring every time we put the kids' school bags in the back, which means you set off then realise you can't see out of the back as the shelf is blocking half the view. And the boot… it's not the width or length, which are reasonable for a car this size, but rather the depth. It's so shallow you can't put a bag of supermarket shopping in upright. Underneath the boot carpet is a polyester holding tray for the tyre-repair kit and under that what we assume is the battery cell pack. Also, the option for setting a charge timer is not user-friendly, but it's crucial for those drivers on an electric-car domestic electricity tariff at home with an off-peak rate. The menu states "charging wait time schedule", which, like it suggests, means you have to set the timer, not for the hours when you want it to charge, but the hours you want it to "wait". Our off-peak tariff runs from midnight to 5am, so I have to set the timer for 5am to midnight which just feels counterintuitive. The youngest has got his muddy football boots on the front seat, which I could have killed him for as this is meant to be mummy's beautiful run-around, with pristine lounge vibe fully intact, courtesy of those pale grey fabric seats. But the dried mud hasn't come off that easily; we've got a Volvo with a wool blend on the seats and that seems to be much more hardy. One other niggle: the driver display behind the steering wheel shows how much charge you have left as a percentage of a little battery symbol, with the actual mileage that charge represents on the main screen to the left. If, however, you change the central display to Apple CarPlay for satnav or something, the mileage disappears, leaving you with the percentage of charge as the only read out. Honda should have made the main driver range information the mileage, not the percentage, which on its own means nothing - to give you an idea, 40 per cent battery equates to about 36 miles. Small niggles in what remains a pitch-perfect, highly desirable little electric car.
Mileage: 1,765
Wow, I really hate some of the 'safety' systems on modern cars. Blind-spot warning systems, yes. Cross-traffic alert, yes please. But automatic emergency braking, when a car senses what it thinks is an imminent collision and slams on the anchors of its own accord? No thanks, not ever. In cars from several brands I've tested over the years it's put me in far more danger than it's avoided. The Honda E is merely the latest. Driving to a supermarket the other day at about 30mph a group of gangly teenagers loped across the road at a surly pace, mindful of approaching cars but determined, as all teenagers are, to make their point. I slowed to a trickle to let them across but the Honda thought I was about to run one of them over (wishful thinking) and slammed on the brakes in an emergency stop in the middle of an empty road, causing the car behind to very nearly rear-end me. If the driver had had marginally slower reactions, we'd have had an accident. The violence of the stop shocked me, upset my kids in the rear and shot the shopping across the boot. The car behind hooted its horn in anger. Drives me absolutely nuts.
 That aside, people continue to love the sight of this little yellow bubble, and three mums at the school gates have now put in their orders. There's a black one in the village which looks very cool.
 We've been religious about plugging the car in to charge overnight every other day, which you really need to do if you're using it daily. Lockdown means this month has been quieter so one charge gets us to school and back twice a day for the entire week. But as soon as we venture further afield and drive on the odd local dual carriageway at 60mph it's down to 40 per cent before we've realised it. The only way to avoid the odd "oh blimey" moment of range anxiety is to keep it topped up. 
 Also, because our off-peak electricity tariff runs from midnight until 5am if we plug in the car at, say, seven per cent, it won't actually have finished charging at 5am, when the timer switches off and the car stops charging. It comes as a rude shock to come down in the morning expecting a 100 per cent battery and the 80 to 100 miles that should be good for (depending on weather and driving conditions) only to find it on 70 per cent. Lesson learned - try not to leave it so depleted before recharging.
Month 4 - Winter puts the chill on the Honda's range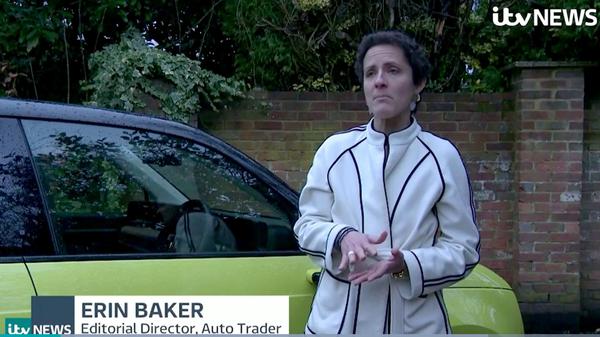 Mileage 2,243
Fuel consumption: 3.1kW The Honda E has had to fight the other electric cars I've had in on test for an overnight charge this month. Difficult when you've got one
home charging point
but more than one electric car, and only five hours of off-peak tariff each night to keep the cost low. We've got braver with the range and now regularly drive it to the supermarket with just 10 miles of range left - it's two miles each way so should be fine, but it's still scary to set off with so little left 'in the tank'. If you run out of charge, it's difficult to get the tow back home as the wheels tend to lock up, so you have to wait for a transporter. Range during the winter months has not been good, equating to maybe 80 miles between charges, making this a definite second car unless you never leave your town. How much of the depleted range is due to the battery in cold weather and how much of it is due to me putting the heater, lights and windscreen wipers on, I'm not sure. The car helpfully tells me I can recoup 10 miles of range by turning the heating off, but no thanks. Having last month criticised the Honda E's automatic braking system for being overly cautious about supposed pending collisions I have to say this month it probably saved me from a little prang. Reversing out of a driveway, I didn't spot a post which was in the blind spot of the car. The car slammed on the brakes and stopped a few centimetres shy of the post. I take back everything I ever said about the system being an annoying feature. The car and I appeared on the ITV News this week, to showcase the benefits of electric cars. Two friends contacted me afterwards to say they'd each bought one since lockdown, after seeing me do the school run in mine before Christmas. They've both gone for the same yellow/green colour as me. Don't like to tell them that I think the black looks cooler now.
Month 5 - Bye-bye Honda E, we're missing you already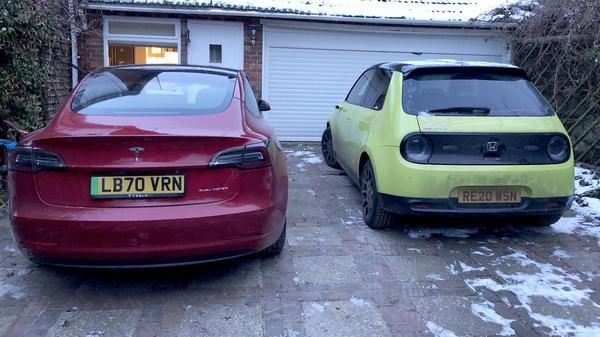 Mileage 2,290
Fuel consumption 3.1kW We've waved goodbye to the Honda E and are so sad - it feels like we've been forced to return the family puppy to its breeders. I even told Honda how I've been responsible for three sales of this car among my school-mum friends (true - all in the colour I've got) in the hope they'd let me hold on to it longer, but sadly it's had to go back. It just creates so much goodwill on the roads from other drivers and passers-by, who pause as they cross the road in front of you to smile. I've noticed those in their 20s and 30s have a special soft spot for this dinky electric car, with its big round headlight eyes, glossy black surfaces and punchy colours. There's so much I miss about it already, chiefly the peace of mind of popping into town in it for some essential shopping, and knowing you'll fit into almost all parking spaces, certainly with less to-ing and fro-ing than in our other test car,
the Volvo XC90
. Strangely, I also miss the interior. Not so much that gorgeous collection of screens but, rather, the laid-back grey fabric and brown seat belts. It was just a really calming, cool space to be in. What I don't miss is the constant disappointment as the small range (about 80 miles) disappeared in front of my eyes and it was time to charge again. Even more inconvenient (because you can, after all, just plug it in every night) for me was the shallow boot. It was too shallow to fit grocery bags in upright, which is ridiculous. In this past year all we've been allowed to use it for is grocery shopping, and you end up shoehorning bags in, cereal boxes getting flattened, shopping bags on their sides. So, as usual with cars, it comes down not to the headline consumer anxieties around electric range or charging. But shopping bags in boots.