Feature
Best Car for City Drivers 2019 – Toyota C-HR
Find out why the Toyota C-HR is the 2019 winner of our Best Car for City Drivers award.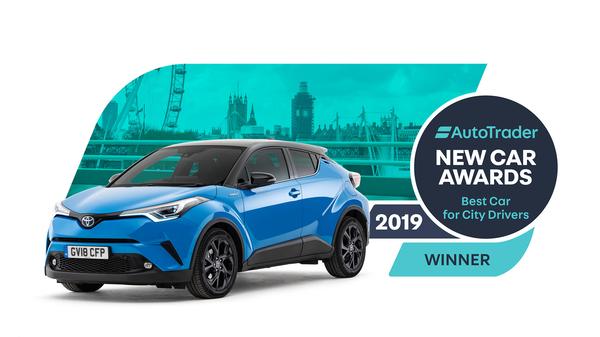 City driving is some of the most demanding driving there is, so if you live within the confines of the city limits, you need a car that feels right at home in the urban jungle. For that reason, many people think that a good city car has to be small, but the fact that our 2019 Best Car for City Driving award has been won by the
Toyota C-HR
proves that, for owners, that's not necessarily the case.
Like all our
awards
, this category was decided by feedback collated from a survey of more than 60,000 car owners, all of whom rated their car in 16 key areas. That means an Auto Trader New Car Award is a real stamp of approval from people that live with the car day-in, day-out, and it makes each winner a true consumer champion. Of all the cars rated by city drivers in our survey, the C-HR was rated top in the areas of reliability and safety, as well as second for durability and third for how easy it is to park. Here are just a few of the comments owners made about the C-HR…
"Quality interior, with a wonderful design that makes it great to own."
"It has the smoothness and comfort of a far more expensive car and the performance is great."
"It feels like a strong, robust car, but it's effortless to drive. Everything about it responds perfectly to the driver and my needs. I feel it takes care of me as I go, providing a safe and peaceful atmosphere, but still can be a lot of fun on driver's roads, and it loves a corner."
Our experts rate the C-HR pretty highly, too, as you can see from our
expert review
.
Commenting on the C-HR's victory in this category, Auto Trader's Road Test Editor, Ivan Aistrop, said: "Yes, the C-HR isn't a conventional city car in the eyes of the motoring industry, but what does that matter to owners? It still has plenty of virtues that make it a pleasure to use in the city. It has quirky, individual styling that'll satisfy any self-respecting urbanite, and it mixes decent practicality with reasonably compact dimensions. It's also great on build quality and reliability, and because most C-HRs are sold as hybrids, city drivers will be running around on electric-only power for much of the time, which is good for both the environment and your wallet." The question is, will the C-HR be able to retain its crown in 2020 or can one of this year's runners-up - the
Mini Hatch
and
Honda Civic
- go one better? Our
Best City Cars feature
will tell you what our experts think are the best city cars are, and can any of these challenge for honours this year? For instance, the
Volkswagen Up
has bags of style, quality and image, all for an affordable price, while the
Renault Zoe
offers buyers an affordable electric option and the
Smart ForTwo Cabrio
offers incredible manoeuvrability and open-top thrills. If you're a city dweller and you're looking for your next car, then you can
find or configure your brand new C-HR on Auto Trader
right now.