Expert Review
Volkswagen Up GTI hatchback (2018 - ) review
Being small, light and reasonably powerful, the Volkswagen Up GTI aims to recapture the spirit of the original 1970s Golf GTI. But, can a tarted-up city car really encapsulate the true essence of a hot hatch icon? You bet it can…
The Auto Trader expert verdict:
Available new from £13,545
The Up GTI has exactly the same strengths as every other Up – quality, sophistication, image, practicality, style and dynamic polish – but also builds on that with a cheekily raucous character thanks to its perky turbocharged engine and pointy handling. It's also affordable to buy and run and, overall, makes a very compelling financial proposition. If you're after a car that's small, fun and satisfies both your head and your heart, look no further.
Reasons to buy:
Fabulous to drive all round
Spacious, high-quality cabin
Compelling financial proposition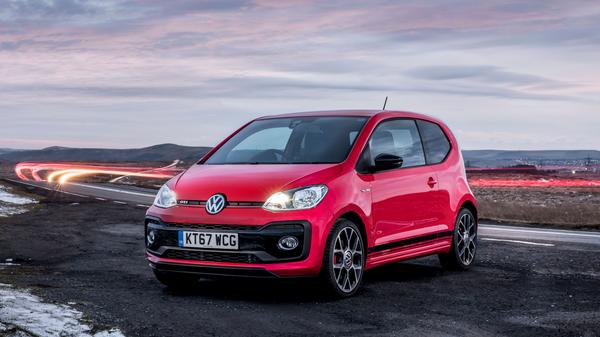 How good does it look?
The regular
VW
Up
is already a very handsome little car, combining cheekiness and sophistication in one stylish package, and the GTI's sportier visual treatment adds a fair bit more appeal on top. The funky 17-inch alloy wheels are unique to the GTI, as are the two stripes down the side of the car, and the rear roof spoiler to apply more downforce to the rear wheels. You'll also notice plenty of GTI badging, and you'll choose from four paint colours: white, red, silver and black. Tornado Red is included at no cost, but you'll have to pay extra for the others, or if you want the roof in a contrasting black roof.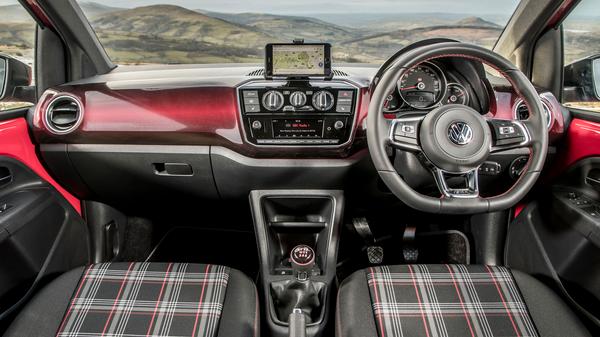 What's the interior like?
There are plenty of features you may recognise from the regular Up. The materials used inside look and feel decidedly posh for a city car, and with exposed body-coloured metal in the doors and colourful patterned panels on the dashboard, there's plenty of character to add to the sophistication. The GTI-specific interior adornments include tartan fabric sports seats (a classic GTI trademark) and a stitched leather steering wheel, not to mention even more GTI badging. The steering wheel adjusts for height, but not for reach, which might mean you can't quite get the ideal driving position. The seats don't adjust quite as low as we'd like for a sporty car, either. Everything works fairly simply, with the one exception of the infotainment system. It works via an app on your smartphone, which you mount on the dashboard, rather than through an integrated touch-screen. It's not particularly easy to find your way around the interface, and the small screen looks cluttered much of the time, especially if you don't have a large smartphone. You don't have to use the app - you could, for example, use a third party sat-nav app and stream audio content via Bluetooth or through the USB cable - but if you were hoping for the latest smartphone integration systems, like Apple CarPlay or Android Auto, you may well be underwhelmed.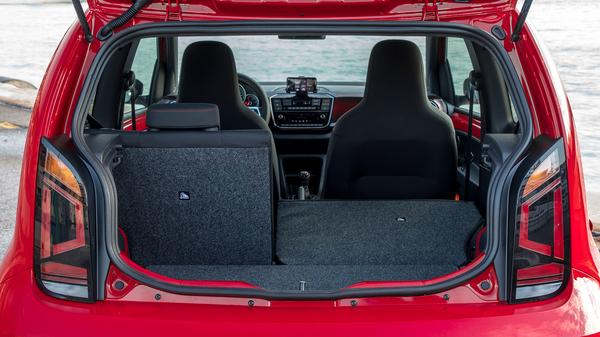 How practical is it?
The GTI is available in both three and five-door forms, and while both have the same amount of interior space, getting in and out of the five-door is way easier due to the tightness of the space you have to clamber through in the three-door, along with front seats that don't return to their original position after you've tipped them out of the way. However, the space you get is as good as any other car in the city car class, with adequate head- and legroom for four lofty adults. The 251-litre boot is also among the class best, and although there's a hefty lip you'll have to lug items over, the same is true of pretty much all the Up's rivals.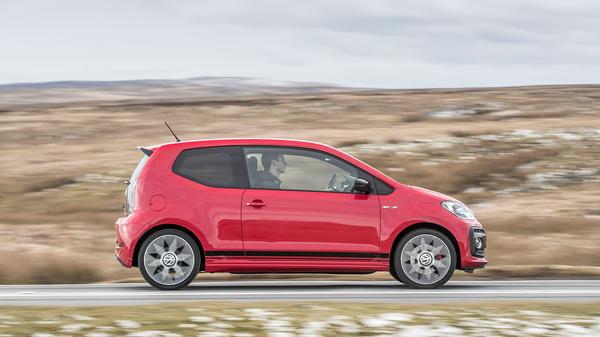 What's it like to drive?
Make no mistake, the Up is definitely a 'proper' GTI, but in an endearingly old-school sense. It's not one of those cars that's razor sharp and unerringly precise; the body rolls around a wee bit when you attack a corner, and while the grip is strong, it's not altogether infallible. But, it's all the better for it. This is a car you have to fling about mercilessly to get the best from it, giving it a charmingly raucous character. What it does have is a really pointy, darty feel, thanks partly to the quick steering – which is also very nicely weighted and gives you bags of feedback – and partly due to the improved balance of the car that comes courtesy of the revisions made to the suspension. Importantly, though, those revisions haven't scuppered the ride. The suspension is lower and a little stiffer, which on the worse UK B-roads results in a little more crashing and bashing than in the standard Up, but it's by no means a deal-breaker and is more than offset by the nippiness the changes give you.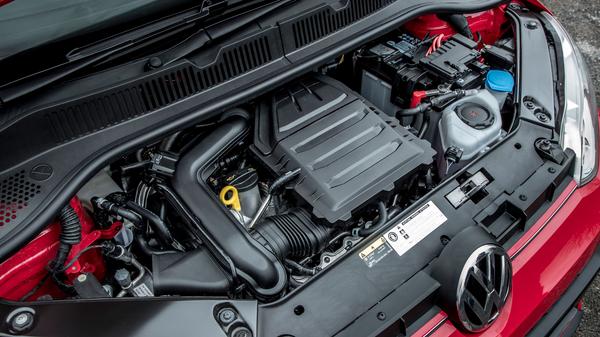 How powerful is it?
The GTI has the same turbocharged 1.0-litre three-cylinder petrol engine found in other high-end Ups (not to mention a shedload of other VW-Group products), but with the wick turned up to 115 horsepower. Compare it with bigger, brawnier hot hatches, and the pace isn't exactly blistering (0-62mph takes 8.8 seconds and the top speed is just 122mph), but the engine is really eager at the lower end of the rev range and it's also really hungry for revs, and this eggs you on to work it harder and harder. It makes a good noise as well, with a pleasant three-cylinder thrum that's made to sound fruitier with the help of an electronic sound actuator. The gearbox is a six-speed manual, which isn't awful, but isn't quite as sharp to use as you'd hope for in a GTI. Once you get used to the spacing between the slots, it's fine, but we'd like to see it tightened up a bit.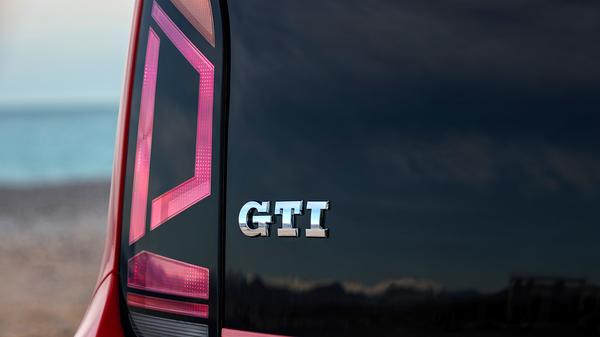 How much will it cost me?
Obviously, the GTI is one of the priciest versions of the Up, but because there are so few city car-based hot hatches on the market, it's still a really affordable way to get into a junior pocket-rocket. It's actually very similar in price to its main rival, the
Renaultsport
Twingo
GT, but much cheaper than the
Smart
Brabus. Fuel economy of 58.9mpg means it'll cost less at the pumps than your average hot hatch, too, and a correspondingly low CO2 figure of 110g/km means it won't break the bank on tax, either. What's more, the Up's resale values are as strong as anything else in the city car class, and the GTI's extra desirability is likely to strengthen this position even further, which is more good news for your whole-life costs.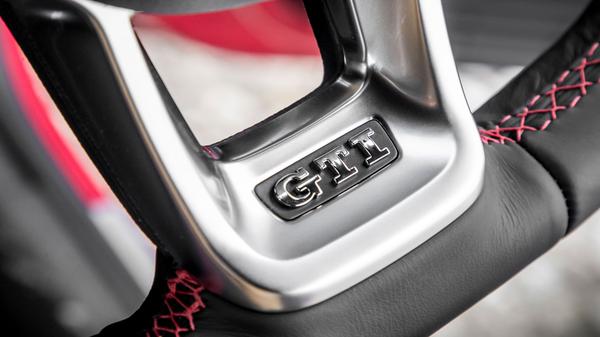 How reliable is it?
Look at the owner reviews on our site, and there are mixed reports about the Up's reliability. Most owners are very happy with their car's dependability, but a couple seem to have been lumbered with somewhat more troublesome examples. What's more, Volkswagen features in a surprisingly – and disappointingly – low position in the manufacturer standings of Warranty Direct's Reliability Index. Having said that, the 2017 JD Power Vehicle Dependability Study, which uses more up-to-date date, is kinder to VW, placing it above the industry average. The three-year/60,000-mile warranty is about par for the course, but a little mean compared with what's provided with some city car rivals.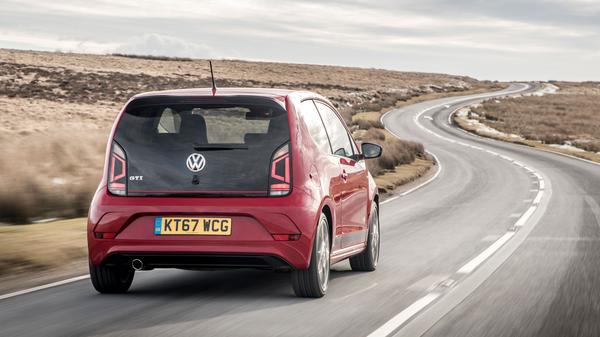 How safe is it?
The GTI comes with exactly the same safety spec as every other Up. That means just four airbags – twin front and side – but the side 'bags also extend upwards, so they also cover the same area that a curtain airbag would. Systems like tyre pressure monitoring, electronic stability control and anti-lock brakes are provided as standard across the range, but autonomous city braking is a cost option. Isofix child seat mounting points are standard in the back. The Up earned the full five-star rating in Euro NCAP crash tests back in 2011, but the tests have become a lot more demanding since then.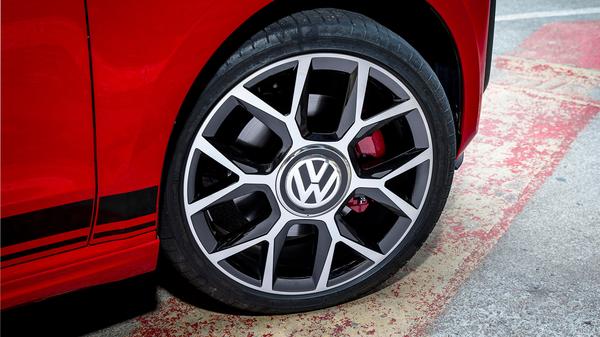 How much equipment do I get?
Standard equipment is generous, and includes manual air conditioning, heated seats and a six-speaker stereo system, which works with a small colour touch-screen alongside your smartphone.You'll also get electric windows and side mirros and the classic GTI tartan upholstery. Options include a panoramic sunroof, more adjustable seats and a fancier climate control system in place of the manual air conditioning. You can also spec a rear-view camera, and a pack that includes cruise control and parking sensors. There's also an upgraded Beats sound system.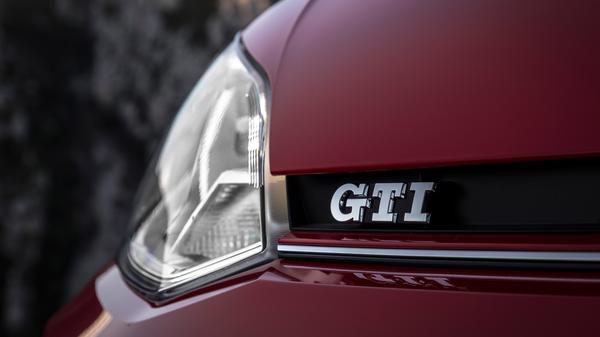 Why buy?
With limited power, the Up GTI isn't exactly the ultimate hot hatch weapon, but it's one of those cars you'll absolutely love behaving badly in. Rev the unmentionables off it, throw it around, and without even breaking the speed limit, we reckon you won't stop smiling. If you're looking for a laugh and you're on a tight budget, we can't think of a better place to put your money.