Expert Review
Volkswagen Tiguan Allspace SUV (2018 - ) review
The Volkswagen Tiguan Allspace is a seven-seat SUV competing with other stylish family cars like the Skoda Kodiaq, Kia Sorento, Hyundai Santa Fe and Land Rover Discovery Sport.
The Auto Trader expert verdict:
The Volkswagen Tiguan Allspace does pretty much everything a good family SUV should. It's stylish, high in quality, massively practical, and easy and relaxing to drive. The thing is, the closely related Skoda Kodiaq does the same but costs thousands less than the Allspace. So, make sure you really want the VW badge before signing on the dotted line.
Reasons to buy:
Really spacious and practical
Classy cabin with lots of tech
Pleasant and easy to drive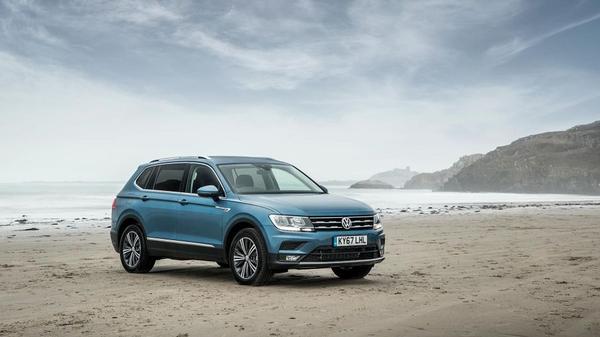 Running costs for a Volkswagen Tiguan Allspace
Compare the Allspace with most of its seven-seat SUV competitors on price – cars such as the
Hyundai Santa Fe
,
Kia Sorento
and
Land Rover Discovery Sport
– and it looks reasonably competitive considering the desirability of its badge. The one fly in the Allspace's ointment, though, comes from a very familiar source. The
Skoda Kodiaq
, which is mechanically very, very similar to the VW, costs thousands less to buy and, aside from the badge and a couple of pieces of slightly spanglier interior trim, it's very difficult to see what the extra money is giving you. The two are more closely matched on fuel economy and CO2 figures, though again, the Skoda generally has a marginal lead when compared version-for-version. Where we think the Allspace will have a trump card to play, though, is on resale values. Those of the Kodiaq are impressively high, and with the Allspace's desirable badge and image, we can see it being even stronger on that score.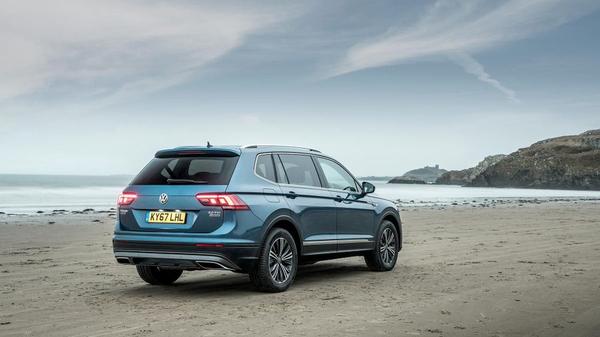 Reliability of a Volkswagen Tiguan Allspace
If you own the previous generation of Tiguan, Warranty Direct's Reliability Index makes for some pretty grim reading. The model scores rather poorly in the study, and Volkswagen doesn't figure particularly highly in the manufacturer standings either. We can only hope this version, based on VW's latest architecture, fares a bit better when it comes to mechanical dependability. Even the three-year/60,000-mile warranty isn't particularly generous compared with what some rival manufacturers are offering.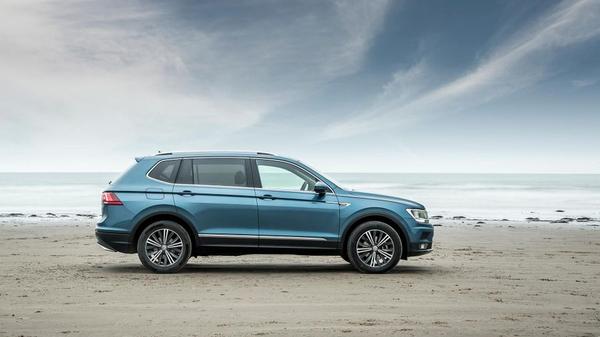 Safety for a Volkswagen Tiguan Allspace
We can't see any reason why the Allspace shouldn't match the five-star Euro NCAP score of its Tiguan brother, especially when all versions get pretty much the same amount of safety kit. The standard roster includes seven airbags, a variety of traction aids, automatic high-beam headlights, lane assist, adaptive cruise control and automatic emergency braking. You also get a system that urges you to take a break if it thinks you're getting too tired. The options list also includes more driver assistance systems, such as a head-up display, a self-parking function and a system that takes care of the steering when you're reversing with a trailer.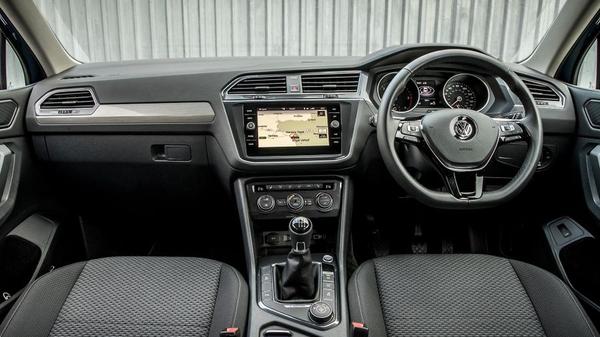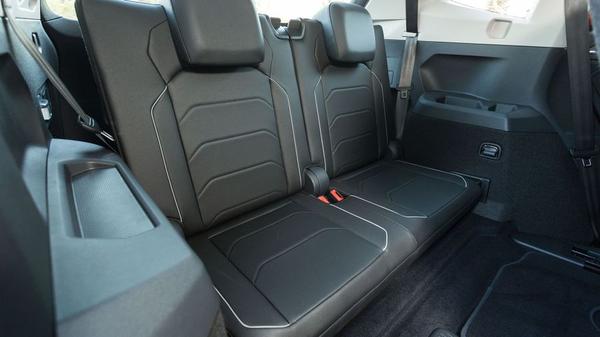 How comfortable is the Volkswagen Tiguan Allspace
Unsurprisingly the Allspace feels very similar to the regular Tiguan in ride comfort, which is to say generally plush but with a slightly firm edge on particularly rutted road surfaces. The handling is generally pretty tidy, too, with plenty of grip, decent body control and nicely weighted steering. Obviously, versions with four-wheel drive give you better on-road traction, and with a reasonably sophisticated set of off-roading aids thrown in, the Tiguan might also get you a bit further into the countryside than you might expect. We've also tried the car on the optional adaptive suspension, which alters its behaviour according to the driving mode you select. You can feel the subtle differences between the modes, but it never really changes the character of the car to any significant degree, certainly not by enough to justify the extra cash you pay. As its name suggests, the whole point of the Allspace is to provide more practicality than the regular Tiguan. With all the seats deployed, the rearmost chairs have just about enough space to accommodate adults, provided those in the middle row agree to shift their sliding bench forward a bit. Even then, though, you wouldn't want to stay in the third row for anything other than short journeys because headroom is rather tight, although kids should be fine. Used as a five-seater, the space you get is massive, with even more legroom than in the regular Tiguan, and a very impressive 700 litres of boot space. Folding any of the chairs in the second and third-rows is a complete doddle, too, and dropping the lot of them opens up a properly van-like cargo space. Towing, which is important to many SUV buyers, will be no problem in the Allspace, either, with the diesel 4x4 models able to haul up to 2.5 tonnes.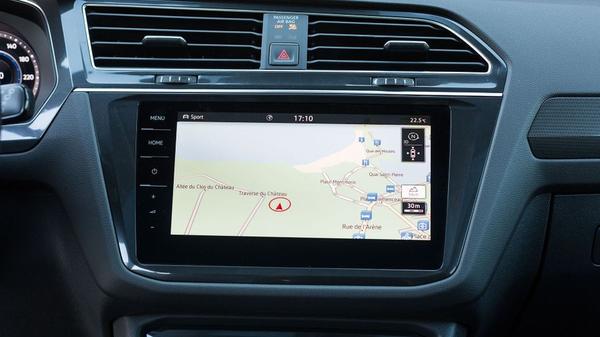 Features of the Volkswagen Tiguan Allspace
There are three trim levels available, the first of which gives you pretty much everything you'd want as standard. This includes automatic lights and wipers, three-zone climate control, a powered tailgate, sat-nav and a stereo fully integrated with DAB, USB ports, Bluetooth, Apple CarPlay and Android Auto. The next grade up earns VW's fancy digital instrument display, heated front seats and a few other goodies while the top trim introduces a slightly sportier look but not a lot else. Even here you have to pay extra for leather, which seems a little mean.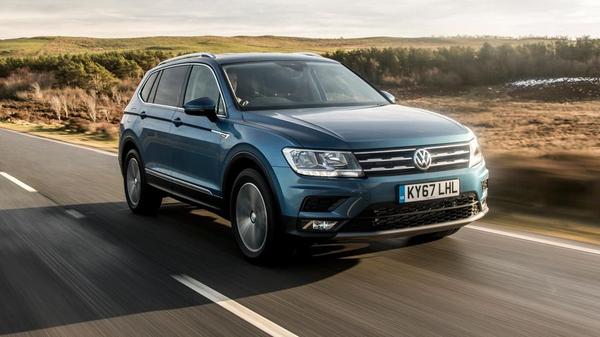 Power for a Volkswagen Tiguan Allspace
So far, we've only had the chance to try a couple of the several engines available. The first of these is the 150 horsepower 2.0-litre diesel that will undoubtedly be the biggest-seller. Despite the Tiguan's hefty body mass, the engine is more than capable of hauling the car around in a reasonably purposeful manner, although it doesn't quite feel as quick or as muscular as the power output would have you believe. You get a six-speed manual gearbox as standard, but we tried it with the optional seven-speed twin-clutch automatic. It's smooth enough, but the changes can occasionally feel a little slow and laboured. We've also tried the range-topping diesel, another 2.0-litre, but this time with 240 horsepower. It's a little smoother and quieter than the less powerful version, primarily due to the fact it doesn't have to work quite so hard to achieve equivalent performance. Ultimately, though, it doesn't feel all that much sprightlier, certainly not by as much as the power output would suggest. The entry level petrol copes better than you might expect, at least with just a couple of occupants on board. Load the car with people and luggage, though, and we suspect you'll be wishing you'd bought a diesel.