Expert Review
Toyota Yaris Hatchback (2020 - ) review
Toyota's all-new Yaris adopts hybrid only power, bolder styling and sharper handling in an effort to match strong rivals from Peugeot, Renault, Ford and more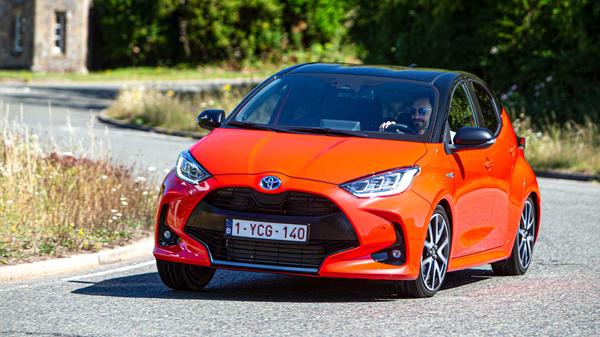 The Auto Trader expert verdict:
Available new from £21,080
Packing a hybrid powertrain into a supermini-sized car is no mean feat, Toyota's electrified expertise very much in evidence in this all-new Yaris. A new platform underneath, a greater emphasis on sharp handling and bold new styling all add up to an appealing package which is expensive to buy but should be entirely fuss-free to own and drive. For the high-performance GR Yaris version read our dedicated Expert Review here.
Reasons to buy:
Bold new styling
Fuss-free hybrid system
Fun to drive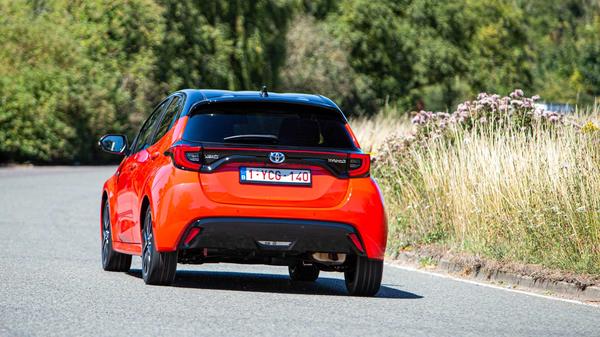 Running costs for a Toyota Yaris
It's not easy to make
hybrids
work in small cars like the new Yaris, either from a technical point of view or a financial one. But having demonstrated it could do so with the previous version Toyota has gone all-in with this all-new Yaris, launching with an all-hybrid range using the fourth generation of technology first pioneered in the original Prius and now featuring across the Toyota range. This doesn't come cheaply and the entry price to the Yaris range looks high when you compare it to very accomplished rivals like the
208
,
Renault Clio
and
Ford Fiesta
. But, for now, the hybrid powertrain is a stand-out feature, and means running costs could be considerably less. Toyota is claiming an improvement in fuel consumption of a fifth over the previous version and, even when driven somewhat unsympathetically, we were easily getting over 55mpg. Though the electric only range is limited compared with bigger plug-in hybrids Toyota says the new Yaris will run for longer without firing up the petrol engine and, if your driving is mainly urban or suburban, you could slash your fuel costs.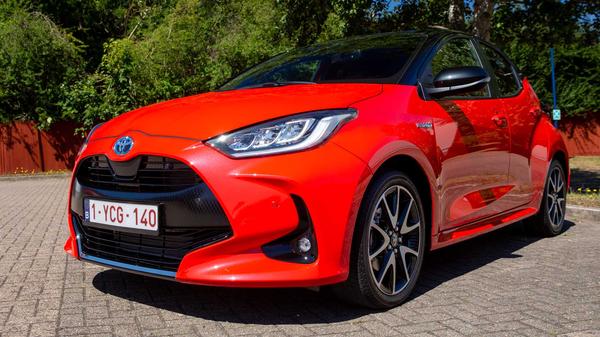 Reliability of a Toyota Yaris
Although it suffered a slight blip recently Toyota is a consistent high performer in reliability tables like the JD Power Vehicle Dependability Study and generally has an excellent reputation for building dependable cars. Although this is a new car and a new engine there is nothing to suggest any different in this Yaris, the reassurance of a five-year warranty demonstrating Toyota's faith in its products.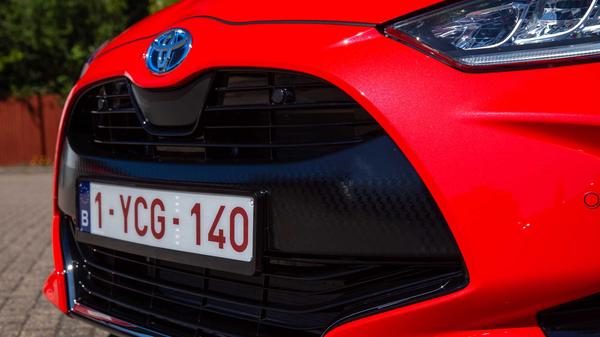 Safety for a Toyota Yaris
The
previous Yaris
was already impressive in terms of its safety kit and this new one simply builds on that. Unlike many rivals Toyota doesn't 'hide' safety tech on the options list and every new Yaris comes with the 'Safety Sense' package with automated emergency braking, lane-keeping assistance to nudge the steering if you're running wide, adaptive cruise control, sign reading cameras and automatic high beam for the headlights. Blind spot monitoring is the only significant safety system not included as standard, though it's optional on higher spec versions and standard with the top trim level.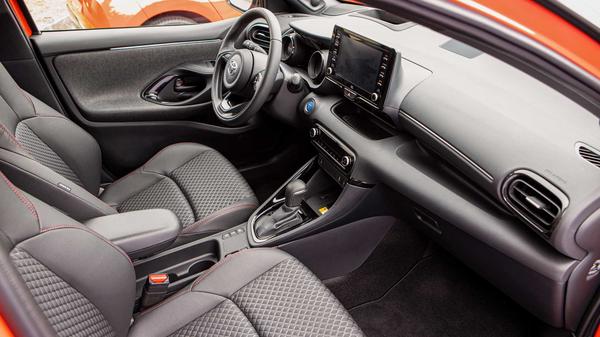 How comfortable is the Toyota Yaris
The new Yaris is a fraction shorter overall than its predecessor but longer between the wheels and wider too, meaning there's a touch more space between the front seats and less chance of rubbing shoulders with your front seat passenger. It's lower, though, and the sloping roofline does mean headroom for taller rear seat passengers is a little tight. The rear doors are quite short too, so access to the rear is a little restricted overall. The benefit of these new proportions is felt in the handling, the car's lower and wider stance giving it a bigger 'footprint' on the ground, meaning it feels more stable and, by extension, more fun to drive. We drove the higher trim level, which has the bigger 17-inch wheel option – this is good for grip and looks smart but the smaller wheels on lower spec models may well be a little more comfortable over the bumps. Overall, Toyota has clearly prioritised handling over comfort with the suspension settings for the new car, which will likely go down well with younger buyers and means it can hold its own against the latest rivals from Peugeot, Renault and Ford. The Yaris provides the basis for Toyota's title winning World Rally Championship car and, seemingly, it's keen to inject a little more of that sporting spirit into the road car. Indeed, a dedicated GR Yaris hot hatch version will join the range in due course and is eagerly awaited by enthusiasts.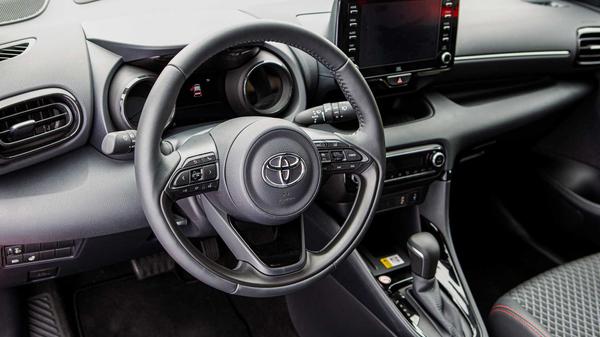 Features of the Toyota Yaris
The Yaris may be relatively expensive to buy but Toyota is generous with the equipment and rolls pretty much everything in as standard, meaning little need to hit the options list. The base model gets smartphone integration, meaning you can access your apps via the standard touch-screen interface in the centre of the dash. This is a good thing, given Toyota's built-in navigation and infotainment looks a little dated in comparison with some of the better systems out there. Air-conditioning and a reversing camera are also standard. The next model up gets a slightly bigger screen, a fancier 'binocular' instrument cluster and privacy glass in the rear. The top two trim levels get bigger wheels, part synthetic leather upholstery, upgraded JBL speakers and more. An optional Tech Pack on the top model even adds a head-up display projecting speed and navigation information onto the windscreen, which is impressive tech for a small hatchback of this type. While the seats are a little soft for longer journeys it all looks good and – some hard plastics aside – has been styled to look a little more interesting and quirky than the previous model. The Peugeot 208 still leads the class with its funky 3D instruments and sense of style but Toyota has clearly worked hard to close the gap.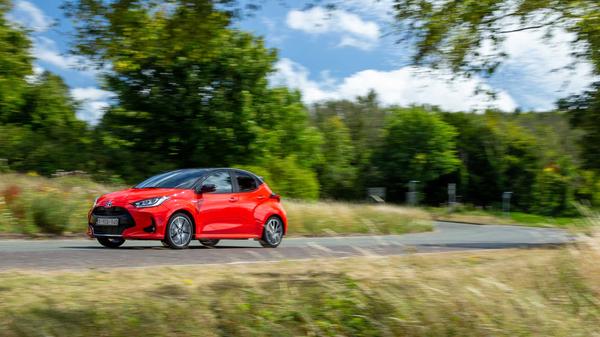 Power for a Toyota Yaris
Toyota has invested heavily in the new hybrid powertrain for the Yaris and it shows. The petrol motor is a three-cylinder, 1.5-litre version of the brand's newest engine and drives the front wheels with the assistance of an electric motor and through an electronically controlled 'CVT' style automatic gearbox. Thankfully it mainly avoids the unpleasant 'slipping clutch' feel often encountered with this type of transmission and makes the new Yaris an absolute breeze to drive. Toyota's hybrid system has a relatively small battery so you don't need to plug it in to charge. That limits how far you can go on purely electric power but you can get a respectable distance at town speeds without firing up the petrol engine. And on bigger roads with both petrol and electric power combined the Yaris has a respectable turn of speed and feels fun to drive, being perfectly capable of keeping up with bigger cars in the cut and thrust of motorway driving. The 261 horsepower GR Yaris is, meanwhile, a completely different animal and, basically, a roadgoing rally car for true enthusiasts. Read our
read our full Expert Review here
.