Expert Review
Porsche Panamera Hatchback (2020 - ) review
Mid-life updates to the Porsche Panamera unleash even more performance in the hybrid and new Turbo S model, paired with impressive style and luxury for a superlative driving experience
The Auto Trader expert verdict:
Available new from £72,820
Updated with a new range of engines and revised model line-up, the Porsche Panamera remains a masterclass in translating sports car values to a spacious, luxurious four-seater. The range includes high-performance plug-in hybrids and thunderous turbocharged V8s of increasingly ludicrous performance, with all models delivering an authentic sporting experience. Expensive, but you get what you pay for.
Reasons to buy:
Superlative handling and performance
Fabulous interior
Spacious and luxurious for all four occupants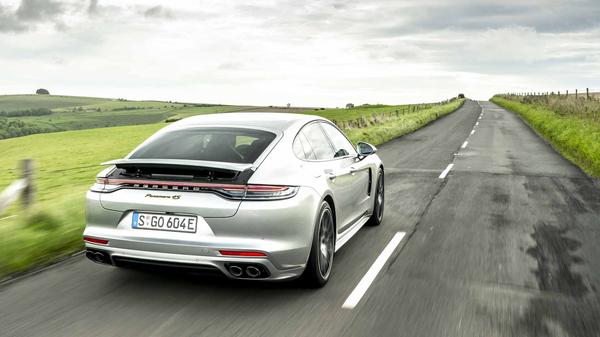 Running costs for a Porsche Panamera
If you cross the threshold of a Porsche dealership you're going to be spending a lot of money, but for many customers that's exactly the point. The brand's customers are smart with their cash, though, and the updated Panamera has options to suit a range of tastes, needs and budgets. Diesels are now a thing of the past, the base (all things relative) Panamera ideal for those buying with their own money as a tempting alternative to the
BMW 8 Series Gran Coupe
, AMG Mercedes or faster versions of the
Audi A7
. The new 4S E-Hybrid is significantly more expensive to buy but, if you're running it as a
company car
, could quickly recover those costs thanks to currently favourable
Benefit In Kind
and
VED
. If money is no object and you want the ultimate in performance the GTS and Turbo S are your picks. Don't kid yourself though – no Panamera is going to be a cheap car to run. The hybrid may skirt the worst the taxman can throw at you but, from insurance to fuel, you'll need deep pockets. Those looking for an all-electric alternative are, meanwhile, catered for by the comparably priced
Taycan
.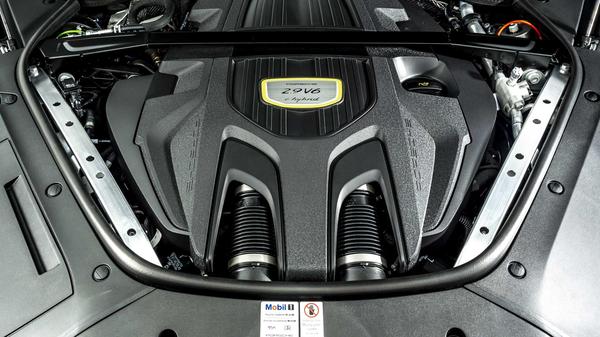 Reliability of a Porsche Panamera
Customers rightfully expect fuss-free ownership from a car as expensive as this but Porsche, like many premium brands, ranks surprisingly poorly in reliability surveys. The cost of repairs when they are required skews this and there's no escaping the fact any Panamera is going to be an expensive car to fix if it goes wrong. The standard three-year, unlimited mileage warranty does offer some peace of mind and this includes Europe-wide breakdown cover. If you're looking to keep hold of your Panamera for the long-term an extended warranty can be bought at any point within the first three years and will help maintain residual value.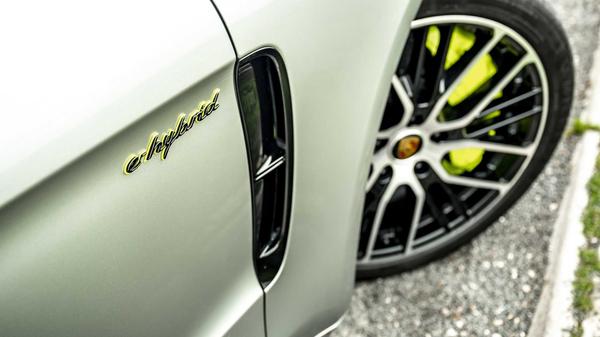 Safety for a Porsche Panamera
The Panamera is a very sturdy, high-tech car and comes with all the airbags and other safety kit you'd expect, including a pop-up bonnet to protect pedestrians, Isofix child seat mounts for the rear seats, parking sensors and reversing camera, LED headlights, cruise control and a lane keeping assistance function to nudge you back between the lines if you start drifting off. Porsche is a master at making its customers pay extra for the really desirable stuff, however, and depending on the model you may find tech like adaptive cruise control, head-up display, blind spot warnings and other kit are cost options.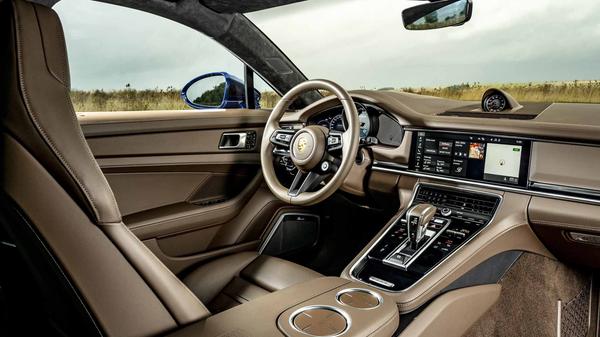 How comfortable is the Porsche Panamera
Although you can specify it with a '4+1' seating configuration if you want the Panamera is designed as a four-seater and, even with this option, the centre seat is really only for emergencies. For the four lucky occupants of the main seats, however, accommodation is as opulent and comfortable as you would hope. In keeping with its 'four-seater 911' vibe the Panamera feels very sporty, with a low-slung driving position and figure-hugging seats that grip you tightly. Which is something you and your passengers will appreciate if you explore the formidable cornering ability. Sophisticated air suspension is standard on the fancier models (and optional on the rest) and means you can adjust the ride quality according to the kind of driving you're doing. All the Panameras we tested had this system fitted and, frankly, it's an option worth choosing given you can go from wafty, bump smothering comfort to a drilled down sports car feel at the touch of a button. Even it its most mellow setting the Panamera errs to the latter and, at town speeds, it can feel a little firm. That makes sense when you start going faster, though, and the body control and sense of agility are frankly spooky given the size and weight of the car. Adjusting the settings is as easy as turning the dial on the steering wheel, though you can set the suspension independently or in a configurable Individual mode if you so wish. The only real downer is the excessive tyre roar we identified in our original review and Porsche has seemingly failed to address. It's a consequence of the fat tyres you need with performance of this level but is genuinely intrusive on bad surfaces and spoils the otherwise excellent refinement. Boot space is also quite limited and while you can carry four people you might not have room for all their luggage. The estate style
Sport Turismo
version has more space if you need it but don't kid yourself the Panamera is a car that puts practicality first.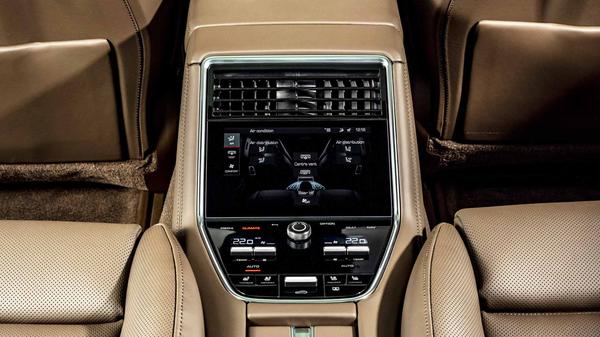 Features of the Porsche Panamera
On the face of it all Panameras look well-equipped, coming as standard with power-operated seats (heated in the front), part-leather upholstery, configurable high-resolution displays either side of the traditional central rev counter and online navigation via the giant screen in the centre of the dash. The quality of the materials is commendably solid and the Panamera feels incredibly well built and very stylish, the 'hidden' buttons on the flat surfaces maintaining a clean style and pleasing combination of traditional luxury and modern tech. It feels expensive and looks good. As standard the infotainment system includes connected navigation, Apple CarPlay compatibility, DAB and an integrated SIM card. You need to pay extra but subscription-based services like music streaming and WiFi are also available. This is all only half the story though, and once you start playing on the online configurator you'll be presented with a dizzying array of cost options, ranging from upgraded leathers and trims to all manner of additional tech and luxury items. Your friendly Porsche sales person will be only too happy to indulge you here and don't expect to leave the showroom without your wallet taking a beating.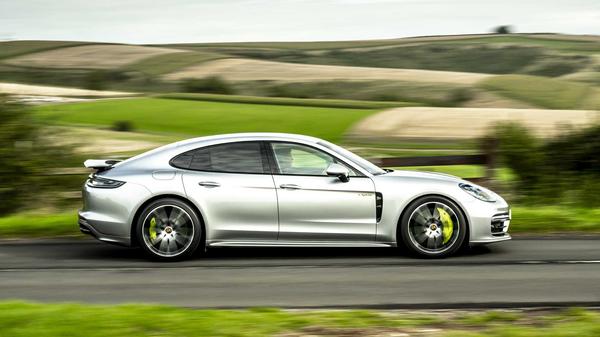 Power for a Porsche Panamera
Although it's effectively a mid-life update the changes to the Panamera range are most significant when it comes to the engine line-up. The fine details of this will only be appreciated by the full Porsche fanboys but the basic gist is the 2.9-litre V6 powering both the Panamera and Panamera 4 – and at the heart of the hybrid – is a big step up from the previous one. This is particularly so with the 4 S E-Hybrid, which now has a thumping 560 horsepower from its combined petrol-electric powertrain – more than the previous Turbo. The sophisticated control systems have been updated and the hybrid can use location and navigation data to figure out the best combination of power source by, for instance, using more electric energy in urban locations. It's seamless and very effective and, thanks to a bigger battery, the hybrid maintains more pure electric power than the official 34-mile range suggests. We also drove the new Turbo S, which effectively swaps places with the hybrid in the range hierarchy and uses a purely petrol powered V8 engine with a frankly ludicrous 630 horsepower. The hybrid is hardly slow but the Turbo S is another level entirely, the acceleration unrelenting from standstill and into numbers you'll only ever see on an unrestricted German Autobahn. It sounds brilliant too, the menacing rumble erupting into a thunderous roar as the speeds build. Four-seater or not, the Panamera Turbo S is a proper sporting Porsche. All Panameras use an automatic 'PDK' gearbox (Porsche jargon for its 'dual-clutch' technology), which in terms of response and smoothness is absolutely up there with the best in the business.