Porsche Taycan
New from £70,745
How long will it take to charge?
Results based on 79.20kWh Porsche Taycan battery
0

For a part charge (up to 0 miles)

0

For an 0% charge 0
You can charge this vehicle in 24 minutes at its fastest charging speed of 350 kW
* We have used data from the manufacturer to estimate these charging times, they are only a guide. Charging times for some speeds may not have been provided.
Is the Porsche Taycan Saloon a good car?
Read our expert review
"The mainstream industry has been slow to respond to Tesla's challenge but, in the case of the Porsche Taycan, it's arguably been worth the wait. Rather than electrify an existing SUV, saloon or coupe the Taycan is something new in its own right – a four-door, all-electric sports car that radically reinterprets Porsche's values for the electric age. Stylish, fast, fabulous to drive and hugely desirable, it's the EV to be seen in. The arrival of a new, rear-wheel drive entry-level model makes it – relatively – more attainable and even more attractive."
Read the review by category
Running costs for a Porsche Taycan
No surprises, Taycan is a very, very expensive car to buy. The new rear-wheel drive model starts at just over £70,000 and brings the price down a tad but it's in no way a cheap car. In the Porsche style you can upgrade the cheaper models with the bigger battery from the Turbo and Turbo S if you want, there being plenty of encouragement to swell the asking price via the extensive options list and futureproof your car with the extras required to maintain its residual value. Porsche also charges for cables and other equipment you may need so factor in some 'set-up costs' as well. With the painful part out of the way you can enjoy the fact running a Taycan is actually going to be relatively cheap. Porsche residual values are typically strong and demand will be high, meaning finance costs should be attractive. And the many tax incentives for electric vehicles include zero 'road tax' and (for now) Benefit In Kind for company users, meaning those owners could save thousands compared with regular luxury cars. The performance demands mean the battery will always be hungry for charge and it won't be free to 'fuel', though it'll be a lot cheaper than any internal combustion engined car with comparable performance. If, indeed, there are any.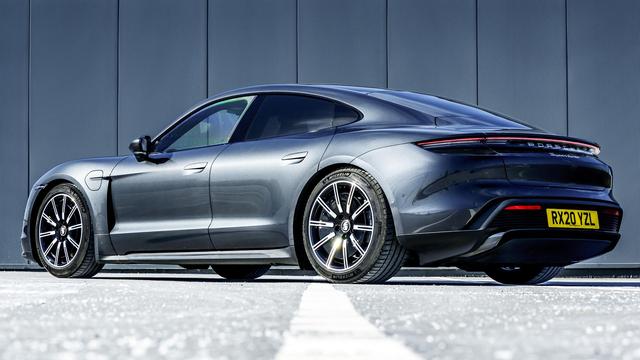 Reliability of a Porsche Taycan
The Taycan is a brand-new model so there's no reliability data yet and all the cars on the road will be well within their three-year, unlimited mileage warranty until at least 2023. All new Porsches are also covered by European-wide recovery for the same period. Both can be extended at further cost if you wish, this being easier within the first 12 months of ownership if you're planning to hold on to the car for the long haul. Generally speaking Porsche prides itself on taking care of its customers and building reliable cars, though costs for servicing, tyres and suchlike will be hefty and you need to stick diligently to official maintenance schedules to preserve the car's history and ongoing residual values.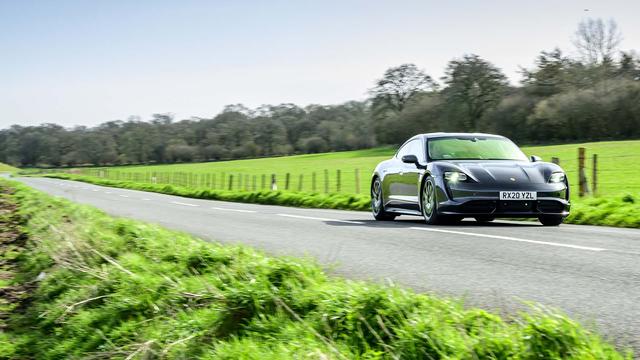 Safety for a Porsche Taycan
The Taycan is a sophisticated car with lots of safety systems included. As standard it comes with a pop-up bonnet to protect pedestrians, front, knee, side and curtain airbags, ISOFIX childseat mounts in the rear, steering interventions to stop you drifting out of lane, traffic sign recognition, automatic emergency braking and parking sensors front and rear. Inevitably you have to pay extra for many additional safety features, be that side airbags in the rear or the expanded assist systems included with the 'predictive' InnoDrive package. This adds more sophisticated lane-keeping, automatic speed control according to speed limits, emergency steering interventions to avoid obstacles and warnings if you're about to pull out from a junction into oncoming traffic. A futuristic sounding noise generator to warn pedestrians of your presence is a cost option on all but the Turbo S.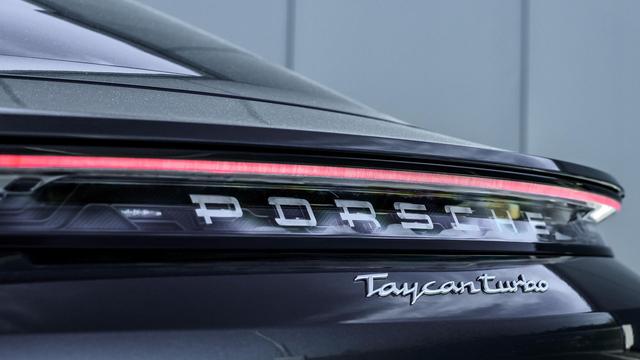 How comfortable is the Porsche Taycan
The Taycan is a low-slung and sporty car and feels more like a four-seat 911 than an electrified Panamera. The seating position is suitably sporty, with the seats nestled between a chunky centre console and a sensation of the bodywork wrapping snugly around you. It's not claustrophobic but it's clearly intended to feel more like a sports car than a saloon. The driving position is excellent, though, with snug, supportive seats and a myriad of options to upgrade the part leather upholstery to more luxurious options and specify various trim elements in wood, metal or carbon fibre. There's even a 'vegetarian' leather-free option if you'd like. The two sculpted rear seats are comfortable enough for six-foot adults to sit behind a driver and passenger of similar stature, though the sloping roofline means headroom will be tight if you're any taller. It is a viable four-seater, a cost-option '2+1' configuration adding an 'occasional' centre seat if you think you'll need it. Boot space is adequate rather than generous, with a fairly narrow opening but split-fold backrests for the seats if you want to carry larger items. The 4S gets a slightly bigger boot than the Turbo and Turbo S and all cars have a small locker in the front for additional storage. That sporting character continues to the handling and ride, standard steel-sprung suspension available on the base car but most buyers likely to opt for the sophisticated air suspension that adapts its ride height and stiffness according to which of the various settings you choose. Accordingly, it can waft like a luxury saloon or drill itself to the road like a true sports car, all with a twist of the mode switch on the steering wheel. Throw more money at it and you can have more gizmos like active anti-roll and four-wheel steering, this and the low-slung weight distribution meaning you can zip round corners at a frankly astonishing rate. With sharp, accurate steering it's an astonishingly satisfying car to fling down a twisty road and more than lives up to Porsche's sporting heritage. Whether your passengers will be so appreciative of you demonstrating this ability is another matter.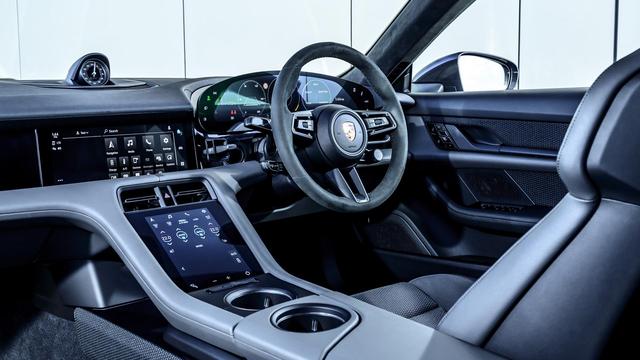 Features of the Porsche Taycan
The Taycan is a huge moment for Porsche and the embodiment of its high-tech, electrified future. No surprise this is reflected in the cabin, which combines futuristic touch-screens, materials and design with neat references to Porsche heritage. The sweeping instrument panel is a good example of this, the shape inspired by classic 911s but given a modern twist by having the digital instruments on a giant, curved pane rather than buried under a binnacle. It's configurable to show infotainment, navigation, charging and range information and everything else you might need, a secondary touch-screen in the middle of the dash controlled by a touchpad below. It all looks very slick but the total lack of physical switches for basics like volume control or heating controls may frustrate some drivers. If you're not self-conscious about starting every interaction with a cheery 'Hey Porsche!' you can use voice control instead but this won't be for everyone. Built-in navigation and phone interfaces are complemented with Apple CarPlay connectivity, there are plenty of charging ports and you get a fancy 10-speaker sound system as standard. From there the options list is your oyster, with opportunity to spend big on fancier speaker systems, heating, ventilation and massage functions for the seats, night vision and more. This being a car of the connected age you can also add functionality via digital services and apps through Porsche's online store, all fully integrated with your smartphone. This will come in especially handy when planning your route via charging stops and, the more you're willing to sign yourself over to the car, the more you'll get out of it.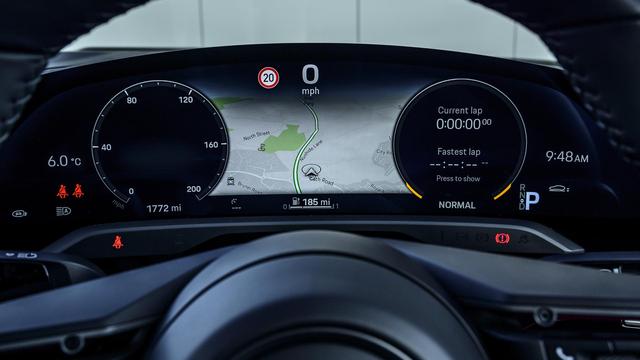 Power for a Porsche Taycan
In a word? Immense. Even the entry-level Taycan has over 400 horsepower on 'overboost', the bigger battery giving you more and making it as fast as a 911 by all the important yardsticks. To borrow terminology from its Tesla rival things only get more ludicrous as you go up the range, to the point where the Turbo S delivers 761 horsepower on overboost and will eat supercars for breakfast, all in total silence. The entry-level car uses a single motor powering the back wheels and has impressive traction while the faster ones get an extra one up front to power all four wheels for maximum performance in all conditions. A nifty computer controlled two-speed gearbox at the rear also means Porsche can tune the handling to make it as exciting to drive as its more traditional sports cars. With self-explanatory modes going from Range to Sport Plus you simply set the car up for the road ahead, plant your right foot and watch the world go blurry. When you back off there are three levels of regeneration to choose from, Porsche saying up to 90 per cent of the braking can be done this and help charge the battery on the move. Speaking of range and charging the Taycan is arguably a few steps ahead of the network required to support its sophisticated 800V powertrain. When suitable chargers come on stream you'll be able to add 60 miles of range in just five minutes, or go from 5-80% in just over 20 minutes. Before you get too excited even the fastest DC chargers you'll currently encounter need 90-plus minutes to do the latter and it'll take 13 hours to fully charge a Taycan from a regular domestic wallbox. The infrastructure will catch up but, suffice to say, that performance doesn't come 'free' and the Taycan has a hunger for charge that matches more conventional sports cars' appetite for unleaded. Range will vary a lot according to the model, how you drive, weather and many other variables but goes from a worst case of little over 200 miles to nearer to 300 if you take it easy. For reference in our hands an enthusiastically driven loop of both motorway and back roads in the middle of winter saw us cover nearly 180 miles, with 25 still 'in the tank' when we finished.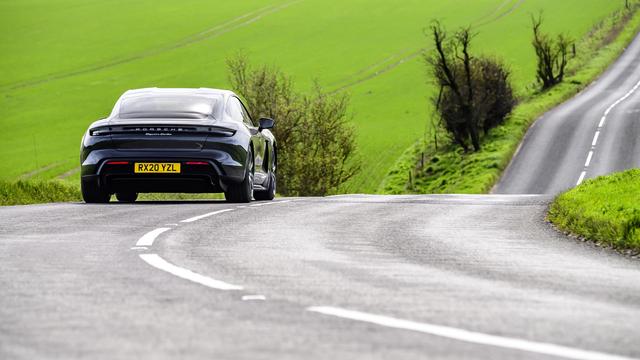 Standard equipment
Expect the following equipment on your Porsche Taycan Saloon. This may vary between trim levels.
Other vehicles in the Taycan family Related articles and reviews