Expert Review
Mercedes-Benz GLA Class SUV (2014 - 2017) X156 review
As a compact SUV with a prestige badge, the Mercedes GLA is a head-on rival for cars like the Audi Q3 and BMW X1. It'll appeal to buyers thanks to its generous equipment and classy interior, but it'll be those off-roader looks that really tickle the fancy of most buyers.
The Auto Trader expert verdict:
The Mercedes GLA is an entirely decent car, but its big problem is that it exists in a class of really very good ones. Both the Audi Q3 and BMW X1 are better to drive than the Mercedes, in terms of both comfort and fun, and the GLA also trails the best for practicality, ergonomics and affordability. There's no real reason not to buy it, but at the same time, there's more reason to buy one of its competitors.
Reasons to buy:
Fashionable image
High-quality interior
Pretty generous on equipment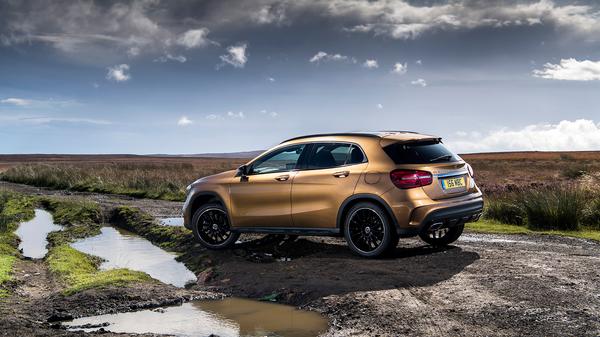 How good does it look?
As a compact SUV, the GLA is all about the style; these are about as fashionable as cars get, especially when there's a prestige badge on the nose. However, while rivals like the BMW X1 genuinely look like shrunken-down off-roaders, the GLA could be accused of looking more like a jacked-up hatchback. Only the raised ride height, chunkier bumpers, and roof rails set the GLA apart from the A-Class on which it's based, and for some buyers, the SUV touches will be too subtle to have the desired effect. Basic-level SE models have front foglamps, alloy wheels and privacy glass, while Sport changes the roof rails from black to silver and adds twin exhaust pipes. AMG Line gets a sportier bodykit, while the 45 AMG version has a bespoke treatment for the front grille and exhausts.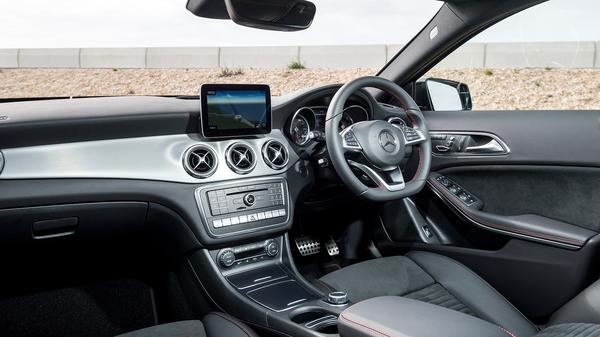 What's the interior like?
This is one area where the GLA impresses, and that's largely due to the quality of the cabin. The materials used feel dense and lustrous, and with numerous glossy trim pieces and metallic finishes injecting some further colour and tactility, it feels like a very classy environment. The way everything is assembled feels solid and dependable, too, and the slick way the switches work also gives you the sense the car has been built with precision and attention-to-detail. Unfortunately, the ergonomics are much less impressive. Most functions are operated by scrolling through on-screen menus with a dial controller – and this bit works pretty well – but despite that, the dashboard is still cluttered with a large collection of small, fiddly buttons. The electronic parking brake works in a very counter-intuitive way, too, and the rear visibility could also be considerably better. At least the driving position has plenty of adjustment, making it easy to get comfortable at the wheel.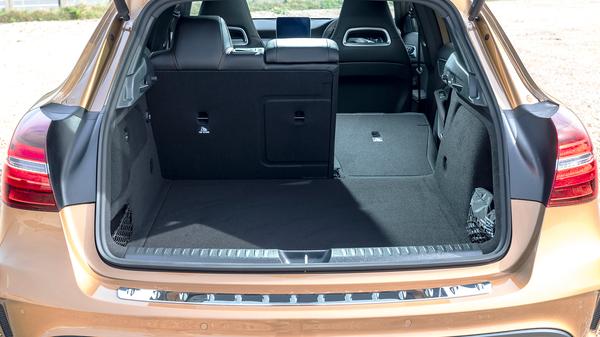 How practical is it?
There's enough space in the back of the GLA for a pair of six-foot adults to sit behind front-seat occupants of a similar size in reasonable comfort, but some rivals are more generous on rear space – particularly on leg-room – meaning occupants can stretch out more. A wide, high transmission tunnel and a narrow cabin also mean squeezing a third person in the back won't be a comfortable business for anyone. Again, the boot is a decent size without being particularly generous for the class, and although it's a good square shape, it is rather shallow. The split-folding rear seats fold down to give you a virtually flat loadbay – there are no steps and barely any slope – but you will have to lug heavy items over a sizeable boot lip to get them in and out.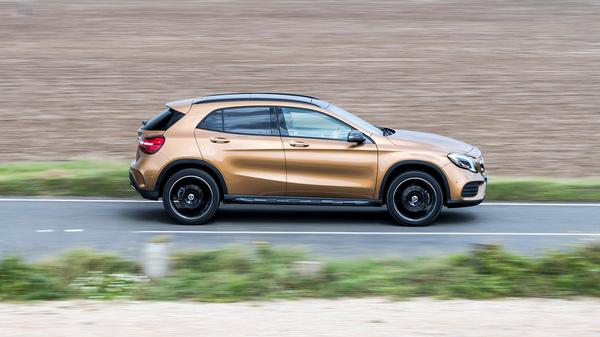 What's it like to drive?
This is a slightly grey area, as the only conventional facelifted cars we've driven were European-spec ones, and they came fitted with a suspension setup that isn't offered in the UK. However, we're reliably informed the GLA's facelift has changed nothing in terms of the mechanics that lay underneath, so – in theory at least – the car should behave in an identical manner to the pre-facelift car. In truth, even the cars we drove felt exceedingly similar. The ride feels ok some of the time, but some bumps and ripples in the surface cause the car to jitter and thud, and undulating roads can have the body bouncing around a shade too much. The car can also feel a little top-heavy in corners, which isn't awfully encouraging, but that aside, the handling feels grippy and secure. You'll like the steering, too: it doesn't dazzle you with feedback, but it feels meaty and reassuring without being too heavy for easy manoeuvring. We have, however, driven a 45 AMG version in UK spec, and it's a very different experience to the rest of the range; firmer, tauter and more focussed, much like a hot hatch. It's a slightly odd sensation because the taller body makes it feel more top-heavy – and as a result, a little less tidy - than your average hot hatch, but it's still fun in its own way.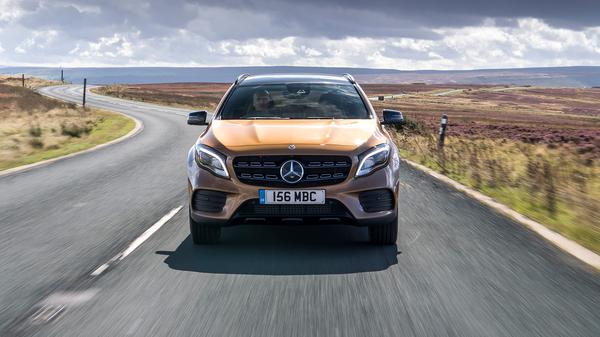 How powerful is it?
So far, we've only driven two mainstream versions of the car: the GLA 200, which has a 156 horsepower 1.6-litre petrol engine; and a GLA 220d, which has the same 177 horsepower 2.1-litre diesel found in the vast majority of Mercedes models. The 200 isn't particularly fast, but more importantly, it's flexible and eager enough to keep you moving with a decent amount of purpose, and it's impressively smooth and quiet. The 220d, meanwhile, is very different in character. It delivers a mighty slug of pull from low down in the rev range, which means you can build speed really easily no matter how many revs you apply, and you can get the car going pretty rapidly without trying all that hard. However, it's nowhere near as quiet as it should be, and you feel too many vibrations rattling through the main controls. You might also wish the seven-speed automatic gearbox that comes as standard on the 220d was a fraction sharper in the way it operates. We've also had a shot in the fruitiest GLA, the 45 AMG, which shares its engine with the brilliant A45 AMG hot hatch, and the performance is similarly devastating. Its 381 horsepower allows it to destroy the 0-62mph dash in just 4.4 seconds, and the pick-up is just as mighty when you're picking up speed on the move. Meanwhile, the exhaust spits and cracks to let everyone know you're coming. When you've selected the sportiest driving mode, that is; select one of the more sedate modes, and the car calms down into something that's docile and effortless in the way it gets around.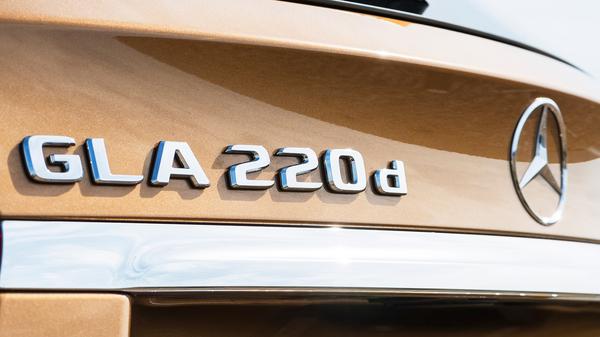 How much will it cost me?
Like with any prestige SUV, buying the GLA isn't a cheap business, but importantly, the GLA costs a similar amount to its rivals. Those rivals have every ounce of prestige appeal that the GLA does, too, so they'll also match the Merc on resale values. That said, the GLA's fuel economy is pretty competitive for the class. The cleanest version, the front-wheel drive 200d, will return more than 67mpg according to official figures, and the correspondingly low CO2 figures will also mean relatively light tax bills for company car drivers. Fit your diesel-powered car with four-wheel drive, and you'll be looking at around 56mpg, while the two mainstream petrols – the 156 horsepower 200 and 211 horsepower 250 – return around 50mpg and 43mpg, respectively. Go for the fire-breathing 45 AMG model, and you'll do very well to ever see the official figure of 38mpg. It also costs an absolute packet to buy.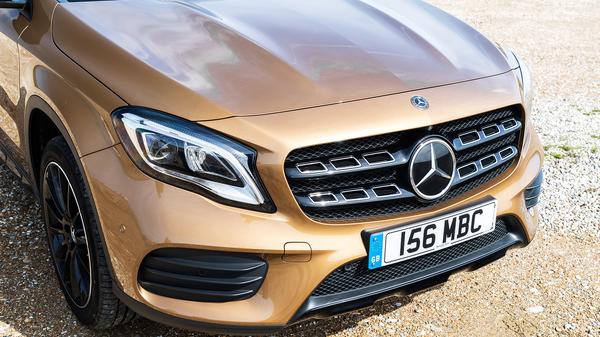 How reliable is it?
A look at the Warranty Direct Reliability Index may cause you some concern if you're considering a GLA, and that's because Mercedes sits disappointingly near the foot of the table in the manufacturer rankings. However, the GLA – along with the latest A-Class on which it's based – isn't included in the study, so it's the firm's other models that are responsible. By the same token, it doesn't really help you figure out how dependable the GLA itself will be. Our owner reviews report no horror stories, though.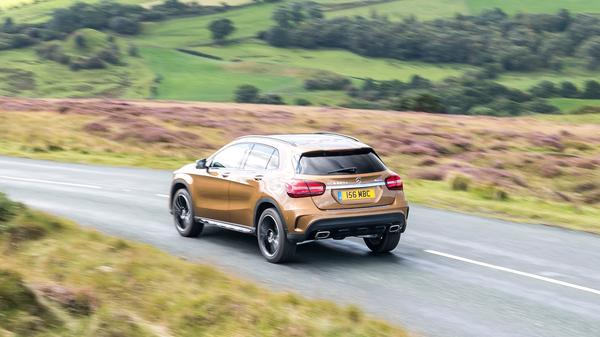 How safe is it?
The Mercedes GLA faced the Euro NCAP crash test back in 2014, and it achieved the full five-star rating. That's not entirely surprising when you consider the car comes with no less than seven airbags as standard, along with a system called Attention Assist, which detects driver fatigue and politely suggests they pull over for a breather. You also get a pop-up bonnet that provides better protection to pedestrians in an impact, along with autonomous emergency braking as standard on every model.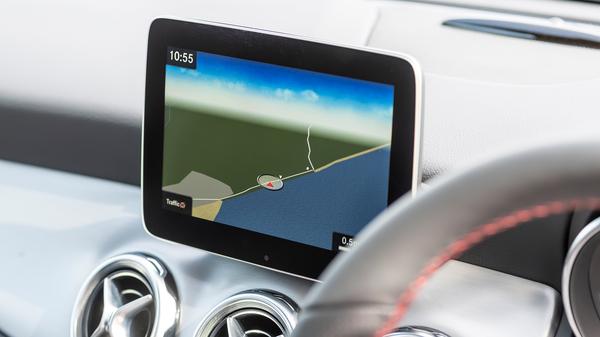 How much equipment do I get?
The range kicks off with SE trim, and even this one comes with a decent amount of kit provided as standard. That includes faux-leather upholstery, keyless go, air-conditioning, multifunction steering wheel, and an infotainment system that brings together (among other things) sat-nav, smartphone integration and a reversing camera. Sport trim upgrades the infotainment screen from seven inches to eight, and also provides climate control and rain-sensing wipers on top. AMG Line trim doesn't really add much in the way of luxury kit, it's more about delivering a sporty look inside and out, and the same largely goes for the 45 AMG, although you do also get a
DAB radio
and heated seats.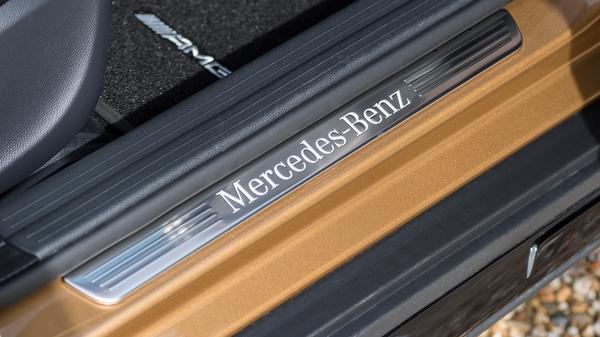 Why buy?
Because you like the image that comes with the SUV-like looks and the prestige badge. The high-quality interior and generous equipment levels will be appealing for buyers, too. The GLA may trail its compact SUV rivals in a number of other ways, but judged in isolation, there's no real reason to avoid it.