Expert Review
Honda CR-V SUV (2018 - ) review
The Honda CR-V is a quality product, with excellent comfort, reliability, practicality and driver assistance systems, though it competes in a crowded sector and faces some very talented rivals
The Auto Trader expert verdict:
Available new from £32,815
There are more spacious seven-seat crossovers than the CR-V but, in standard five-seat guise, it's a roomy and practical family car blessed with great reliability and a relaxing, refined character. It's also very safe, with an impressive package of driver assistance functions fitted as standard.
Reasons to buy:
Roomy five-seater cabin
Comfortable and quiet to drive
Likely to be faultlessly reliable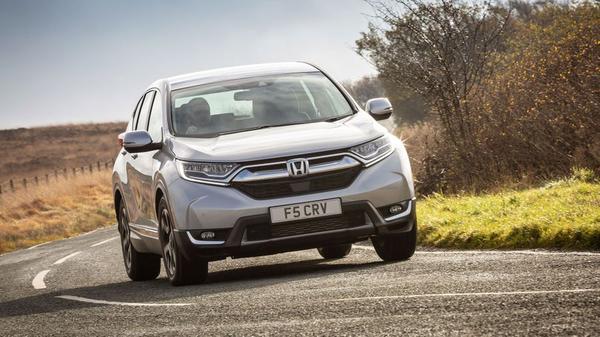 Running costs for a Honda CR-V
Hondas are traditionally a little more expensive to buy than their direct rivals when compared like-for-like and that rings true with the CR-V too. Opting for two-wheel drive instead of all-wheel drive helps save a little money too, both in purchase price and running costs though the difference on fuel and CO2 is not as dramatic as you might think. If these are priorities – and they will be if you're a company driver – you really need the hybrid version , though it's worth pointing out Honda's system isn't as impressive on the numbers as close rivals like the
Toyota C-HR
or plug-in options like the
Peugeot 3008
.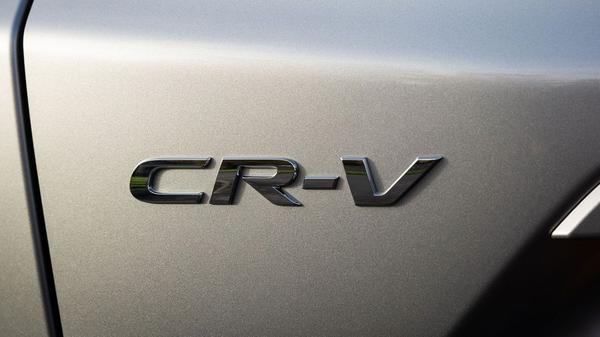 Reliability of a Honda CR-V
Honda has a peerless record in this area, and the Japanese manufacturer sits on or near the top of pretty much any reliability study going. That's certainly the case in Warranty Direct's Reliability Index, and although the CR-V doesn't do as well as some other Honda models in the rankings, it still sits comfortably in the study's Top 100 cars. Our
owner reviews
paint a similarly rosy picture of life with previous incarnations of the CR-V, so the signs are good that the latest one should prove to be dependable.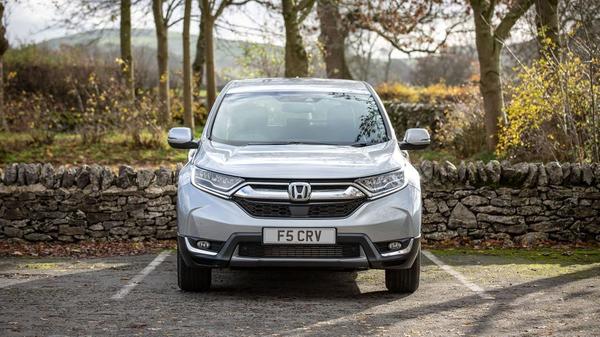 Safety for a Honda CR-V
The CR-V attracted a top score in independent crash tests and comes packed with all the airbags and suchlike you'd expect. But it's the standard-fit driver assist systems that really set it apart and give you peace of mind. These include forward collision warning with automatic emergency braking, and a lane departure warning that'll also steer the car back into the lane for you. Adaptive cruise control keeps you a safe distance from the car in front, and can even anticipate a car cutting into your lane in advance, and adjust your speed accordingly. The only system you have to pay extra for is an expanded blind-spot warning system and side sensors to warn you of vehicles crossing behind you when reversing out of a parking space.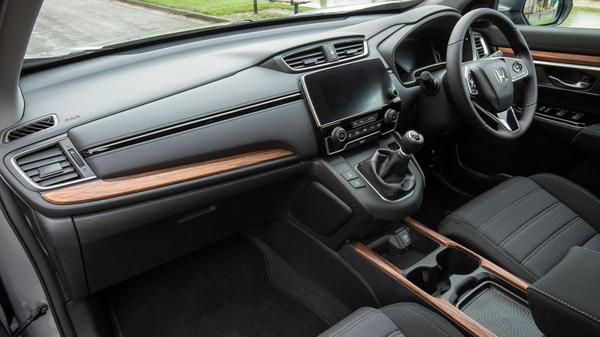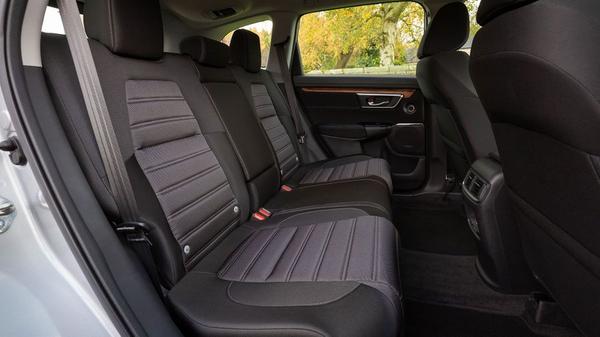 How comfortable is the Honda CR-V
The CR-V makes no attempt whatsoever to pretend it's a 'proper off-roader', or that it's in any way sporty, and it's all the better for it. It floats along serenely, mopping up all sorts of lumps and bumps in an impressively fuss-free way. The hybrid version isn't quite as wafty as its conventionally-engined counterpart, but it's still a very comfortable car. Most of the time, the CR-V is a quiet car, too. You don't hear a peep from the suspension as it deals with bumps, while wind noise is also really well contained. That'll be helped, in no small part, by the active noise cancellation system fitted as standard on all versions. Despite that, though, a fair amount of road noise does find its way into the cabin. You'd expect a high-end Honda to deliver a classy environment, and the CR-V doesn't disappoint, because most of the materials you see are dense, tactile and high in quality. The not-awfully-convincing wood-effect trim won't be to all tastes, but there are alternatives in the options packages. The dashboard layout is simple and uncluttered, which is good in one sense, but it also means most functions have to be operated via the touchscreen infotainment system instead. It's horribly awkward and unintuitive to use, while the graphics look dated and the screen transitions are slow and clunky. The driver's seat has lots of adjustment – electric on some versions – to help you get comfy, and there's a decent range of movement in the steering wheel as well. In practicality terms the five seater is nothing short of brilliant as a family car. There's absolutely bags of room in the back, especially when it comes to legroom while the wide middle seat and flat floor also means three people can comfortably sit in the back. The boot is massive too. Unfortunately, the CR-V is not nearly so impressive as a seven-seater. It's not so much a question of space, more that the fussy and complicated access system and narrow gap to squeeze through make the third row seats difficult to access. Boot space is restricted too, even when the extra seats are folded. Nor can you have the hybrid as a seven-seater.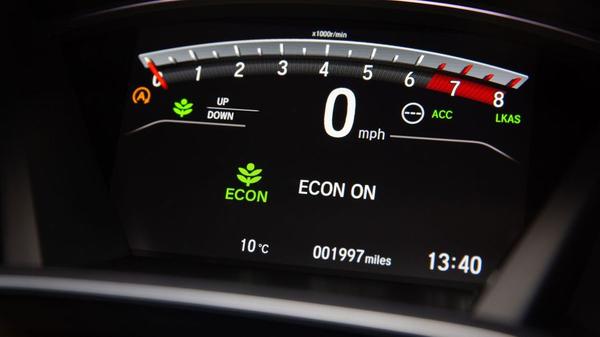 Features of the Honda CR-V
Equipment is pretty generous on the CR-V, including (for all but entry-level cars) a touchscreen navigation system (you can plug your smartphone in and use your apps instead via Apple CarPlay or Android Auto if you prefer), dual-zone climate control, rear-view camera and all the safety equipment listed above. Fancier models add privacy glass, leather, roof rails, heated seats front and back, head-up display and various other goodies while options packages let you bundle in the kit you need for your particular needs. It is worth noting, however, that the most basic version loses many of the useful standard features you get on other models, meaning no parking sensors, a basic Bluetooth-enabled infotainment in place of the touchscreen and fewer USB ports. It's a bit cheaper but the convenience of these features makes it worth going up at least one grade if you can.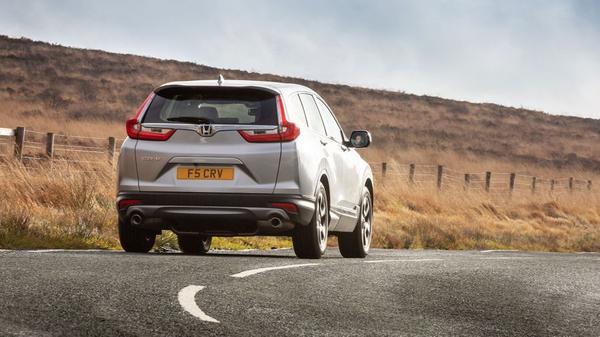 Power for a Honda CR-V
Engine choices for the CR-V are pretty simple, split between a turbocharged petrol available in front- or all-wheel drive versions and with the option of a manual or automatic gearbox. The latter gets a bit more power but none of these models are exactly fast and the engine needs revs to perform at its best. The automatic option is what's known as a CVT or continuously variable transmission and, in the style of these systems, can result in a mismatch between engine revs and forward progress. It's better than some but suits a more relaxed driving style. The hybrid version is mechanically much more complex but operates with commendable smoothness and refinement, switching between pure electric, combined petrol-electric and just internal combustion power according to need. Whatever the case, the hybrid's extra pulling power means it has quite a lot more urgency than the standard petrol. Most buyers are unlikely to bother using the Sport mode provided, but it does make quite a difference to how rapid the hybrid feels.