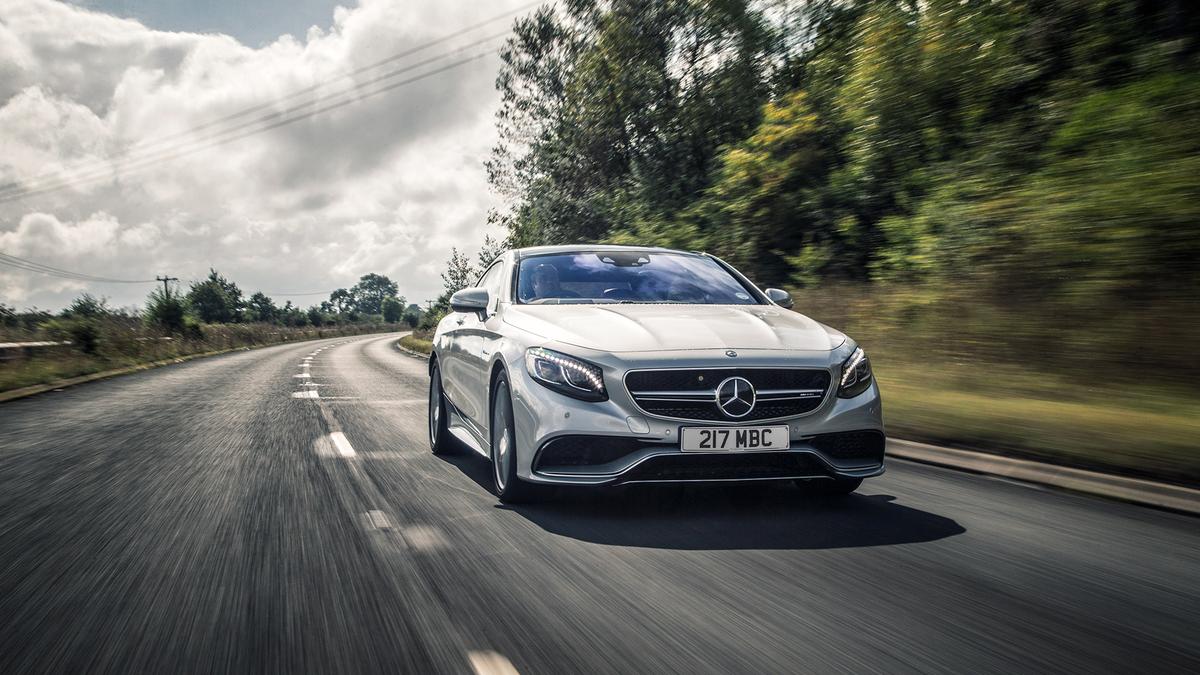 View gallery
The Auto Trader expert verdict: ★★★★★

★★★★★
4.4
A grand tourer in the truest sense, the S-Class Coupe provides effortless luxury, and unrivalled comfort and refinement, but we're not convinced that its head-turning looks justify the price-jump over the saloon.
Reasons to buy
Stunning looks

Incredible refinement

Prodigious engines
Pick of the range
Power and luxury in perfect harmony; one of the best GT cars on sale
Most economical
Sneaks in below 200g/km of CO2, and will return over 30mpg
Best avoided
Titanic power from its V12 engine, but needlessly expensive
How good does it look?
The only reason anyone buys the coupe version of a popular saloon is for its looks. These buyers want something a little different, and to make a bold statement with their car wherever they choose to go. The S-Class Coupe garners exactly this rarified level of attention; it is definitely a car that will get you noticed. Part of that is down to its sheer size, as at nearly five metres long and nearly two wide, it's difficult not to take notice. The fine detail on AMG versions includes massive alloy wheels, beefy side skirts and quad exhaust pipes, but the standard car is hardly a shrinking violet. There is also the option to fit the headlights with cut Swarovski crystals, if you really want to show off.

What's the interior like?
Make no mistake, rival cars from Bentley and Aston might look even more dramatic than the Mercedes on the outside, but it feels totally unbeatable from behind the wheel. Soft leather and polished wood are everywhere you look, but the dash is dominated by two huge screens that provide access to the infotainment systems, as well as replacing the traditional dials. Despite the amount of adjustments you can make and the information you can access, it's all very easy to operate, either by controls on the steering wheel or using a rotary controller on the central console. Fully electric adjustment and four-way lumbar support on the driver's seat, as well as electric adjustment on the steering wheel, mean it'll fit you just like a bespoke suit, but the narrow windows, long bonnet and thick C-pillars all restrict the outward visibility.
How practical is it?
For a coupe, there is a surprising amount of space for those in the back, but naturally access to those seats is limited, and a tall passenger will still struggle to sit comfortably. The front seats do slide forward and out of the way electrically, but you'll still need to be lithe to fold into the back with any sort of grace. The BMW M6 Gran Coupe, for instance, gets around this problem, but still manages to look svelte. The boot is decent, with a 400-litre capacity that is only about a fifth smaller than what you get in the saloon. However, there is a high loading lip, which limits what you can carry. The sheer size of the car is another factor; small parking spaces, narrow country lanes and width restrictors will all give you pause for thought, on a daily basis.
What's it like to drive?
Being a Grand Tourer, the S-Class Coupe needs to maintain the comfort and refinement of the saloon, but also improve the handling enough to competes with rivals such as the Bentley Continental GT and Aston Martin Vanquish. Mercedes has been largely successful. The S-Class Coupe rides over broken up, poor surfaces with more fluency and poise than either rival. That is mostly down to the clever air-suspension, which is adjustable, but feels really cosseting even in its firmest setting. It's also extremely quiet, with double glazed windows to keep all unwanted noises out, making this a superb long-distance cruiser. Tighten everything up, though, and it feels surprisingly taught, with the suspension controlling the body's movements extremely well. True, the car's sheer size means it prefers sweeping bends to tight turns, but this is still a car that is as enjoyable to drive as it is to be driven in. It uses a technology that adjusts to each corner and acts to eliminate body roll – which feels spooky at first, but means you can carry a lot of speed through corners without losing grip or composure.
How powerful is it?
"
The S63 erupts with a savage ferocity if you do decide to bury your right foot
"
There are three engines to choose from – but none are wanting in performance. If you are after a diesel, though, you'll need to look elsewhere. The 'entry' engine in the range is a 4.7-litre V8 with a mere 454bhp, which will crack the 0-62mph sprint in less than five seconds. Step up to the S63 AMG, and you get a 5.5-litre V8 with two turbochargers, producing an even more impressive 577bhp. Both are super smooth and very refined at low speed, but the S63 erupts with a savage ferocity if you do decide to bury your right foot deep into the plush carpets. The low growl from the exhausts sounds great, too. Top of the range is the S65 AMG. This comes with an enormous 6.0-litre V12 with 621bhp, but adds the cost of a Porsche Cayman S to the price tag. So, although we're yet to drive it, we reckon it's probably worth avoiding unless you simply must have 12 cylinders. Each car also has a different automatic gearbox, with the lesser V8 getting the latest nine-speed auto', while the AMG versions both use tougher seven-speed setups, with paddle shifters that are not quite as quick to change. However, they are very smooth in automatic mode, and rarely get caught out.
How much will it cost me?
While the S-Class saloon is aimed at company directors with one eye fixed on balancing the books, the coupe makes no such compromises to lower its carbon footprint, so there are no hybrids, diesels or plug-ins with dazzling mpg figures.
That being said, the Mercedes is still cleaner than its British V8 or V12 rivals, with combined economy figures ranging from low twenties to low thirties. On a longer drive, we averaged a decent 29mpg from the S63, but this figure drops rapidly in town. Like all cars of this price, heavy depreciation, costly servicing, insurance and maintenance are all grim realities of ownership, but if you can afford to buy a car this opulent, then you can probably afford to run it, too.
How reliable is it?
If previous coupe versions of the S-Class (known before at the CL) are anything to go by, there's no reason to expect anything other than excellent reliability from this car. Owners of previous-generation cars are almost uniform in their praise of their cars' unwavering reliability, and Mercedes has performed very well in recent customer satisfaction surveys. There is always a concern around buying a car this complex, with adaptive suspension and the electronic computing power of a space shuttle, but we'd back Mercedes to do a better job of bolting it together than any of its main competitors.
How safe is it?
"
Options include the Night View Assist Plus package, which makes it easier to spot pedestrians in the dark
"
The S-Class has not been tested by Euro NCAP, but Mercedes has one of the best records out there for safety, and we would expect it to score the full five stars. In terms of standard equipment, as well as the expected ABS, ESP and plethora of airbags, you also have Attention Assist, Collision Prevention Assist and the Pre-Safe anticipatory safety system. You also have the latest radar-guided cruise control system, a 360 degree set of cameras to give you a top down view for parking, and the S Class will even steer itself for short periods on the motorway. Pile onto that the Traffic Sign Assist and a tyre pressure loss warning system, and sci-fi options like the infrared Night View Assist Plus package, which makes it easier to spot pedestrians in the dark, via a display that appears in between the main dials.
How much equipment do I get?
As with the safety equipment, it's almost easier to list what you don't get on an S-Class, as all models are very well equipped. All the basics are standard: dual-zone climate control (with three airflow modes), electrically adjustable front seats, keyless-start, a DAB radio, Bluetooth and metallic paint. AMG models include heated rear seats, 19-inch wheels, a sports exhaust system and panoramic sunroof. As you would expect, the list of options is just as extensive, including a host of possible upgrades for the trim, improved seating and uprated stereo systems, as well as rear-seat entertainment packages. In short, you can have pretty much what you want, albeit at a lofty price in some cases. The one exception? A heated windscreen is an optional extra, despite being standard on small city cars costing less than a tenth of the price.
Why buy?
"
There are not many cars that can make you feel this special, whether you're driving at 20mph or 120mph
"
If you want a super coupe that looks stunning, can transport you hundreds of miles in total comfort and has all the latest gadgets, the S-Class coupe is your first and only choice. Its rivals from Bentley and Aston Martin might boast more theatre, and heritage, but the S-Class is thoroughly modern, more refined and more powerful than its competitors. There are not many cars that can make you feel this special, whether you're driving at 20mph or 120mph. Still, the saloon version is just a good, has more space, a wider engine range, and costs less, so unless you really love the looks, we'd be tempted by the four-door.