Expert Review
Audi Q5 SUV (2016 - ) review
The Audi Q5 is a prestige compact SUV that competes with cars like the BMW X3, Jaguar F-Pace, Porsche Macan and Mercedes GLC. Like most other Audi models, it competes mainly on its interior quality and its technology.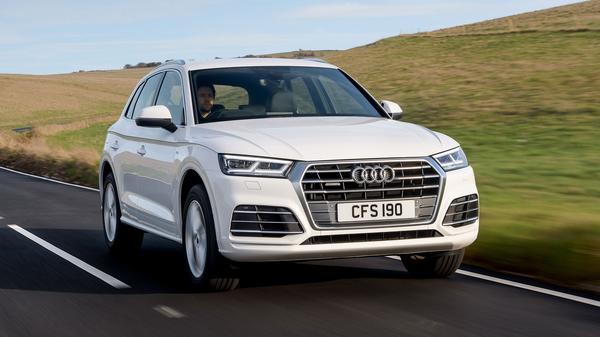 Words by: Ivan Aistrop

Additional words by: Phill Tromans
Last updated on 11 December 2019 | 0 min read
The Auto Trader expert verdict:
The Audi Q5 has no shortage of premium SUV competition, with Mercedes, Jaguar, Porsche and BMW all offering super-talented rivals. However, the Q5 definitely has what it takes to compete doing a great job in most areas, and an exceptional job in some of them. It's one of the most complete cars on sale.
Reasons to buy:
Wonderful interior quality
Good to drive on optional air suspension
Very quiet on the road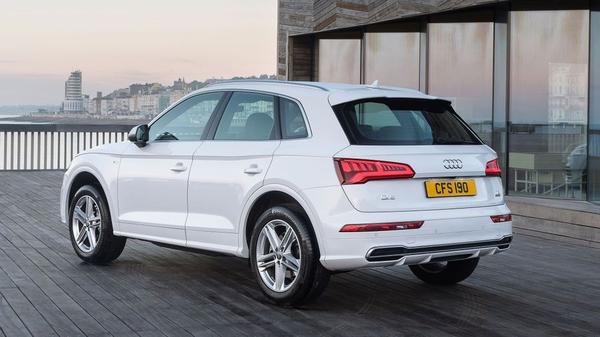 Running costs for a Audi Q5
The Audi Q5 is priced competitively against its rivals. It's not the cheapest premium SUV around, but it still undercuts the likes of the Jaguar F-Pace and Volvo XC60, but with cars like these, pricing isn't normally a deal-breaker: you don't pick the cheapest one, you pick the one you want. Fuel economy is very competitive on all the engines, helped by Audi's move to on-demand - rather than permanent - four-wheel drive, and CO2 outputs are competitive, too. The official efficiency figures look especially impressive on the plug-in hybrid versions, and although you'll do extremely well to match these in the real world, they do result in some very compelling tax breaks, most notably for company car drivers. Audi resale values are traditionally strong, which helps considerably with whole-life costs.
Expert rating: 4/5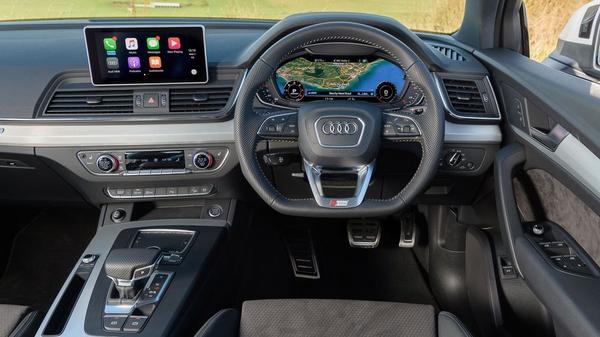 Reliability of a Audi Q5
Accurately predicting the reliability of a new car is tricky, but Audi might well be hoping that the new Q5 performs a bit better than the last one did. According to the Warranty Direct Reliability Index, the current Q5's score is about as low as it's possible to get, and Audi also rates pretty poorly in the manufacturer rankings. It's a similar story in JD Power's Vehicle Dependability Study too, with Audi in the bottom three for several years in a row. If something does go wrong, Audi offers a three-year/60,000-mile warranty
Expert rating: 2/5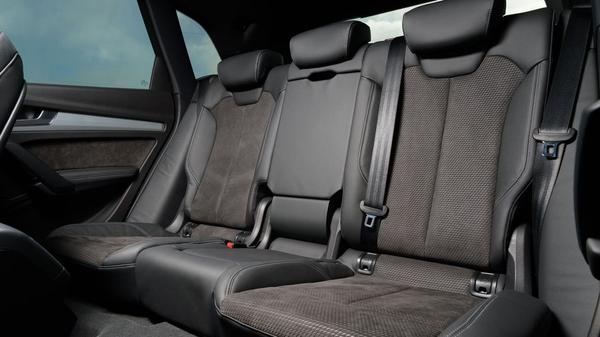 Safety for a Audi Q5
The Audi Q5 includes a good selection of safety systems as standard. Plenty of airbags, two Isofix and top tether child seat attachments in the back and an active bonnet to help protect pedestrians are all in every car, as is automatic emergency braking to stop inadvertent rear-ending of other cars. More kit is available on the options list, including rear side airbags, hill hold assist, traffic sign recognition and adaptive cruise control.
Expert rating: 4/5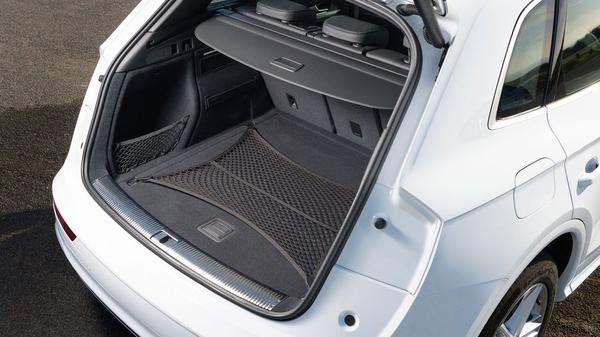 How comfortable is the Audi Q5
As always with an Audi, things get more desirable when you open the door and climb inside. The materials are dense and sophisticated, and everything is finished with flawless precision and attention to detail. As the Q5 isn't Audi's newest car, its infotainment system isn't Audi's latest, so you still have buttons and dials rather than all manner of digital screens. That will be a good thing for those who value ease-of-use over technology or drama, but it is true that it feels a little low-fi compared with the newer all-singing-all-dancing systems. All versions have plenty of adjustment for the driving position, which is suitably commanding, and you get a clear view out in all directions. The Q5 affords rear-seat passengers more generous legroom and there's plenty of headroom for all three as well. A sliding rear bench allows you to shift the space available into the boot rather than the passenger compartment, so it can be used for legs or luggage as needed. Even at its smallest, the boot can hold 550 litres of stuff, and the sliding seat can boost this to 610 litres without dropping any chairs. This compares well to the Volvo XC60 and Lexus NX, but some rivals like the Jaguar F-Pace and the relatively cavernous Land Rover Discovery Sport have more luggage room. If you do lower the second row of seats, you get an impressive 1,550 litres of space, but the load bay isn't completely flat as the folded seats lie at an angle. There's an adequate amount of cubby holes and cupholders dotted around the cabin, too, so all in all, the Q5 isn't the most practical car of its type, but it's still very competitive. Like with most Audis, the suspension you get depends on which grade of car you choose. Most models come with Comfort Dynamic suspension, which we've yet to try, while range-topping Vorsprung models come with an air suspension system that's available as an optional extra (rather a pricey one) on other versions. Importantly for a car that'll be used primarily as family transport, it delivers a lovely smooth ride that wafts you along luxuriously when you select the car's Comfort setting. Shift the setting to Dynamic, and you'll enjoy crisp body control that contributes to impressively sharp handling. No suspension set up will let the Q5 compete with the likes of a Porsche Macan or Jaguar F-Pace for fun or involvement, though. The steering, although it's weighty and consistent, doesn't have the same level of engagement. That said, there's no doubting how competent the Q5 is through a set of bends. Although most versions have abandoned permanent four-wheel drive – standard on all previous Q5s – for an on-demand system that disengages drive to the rear wheels under normal driving conditions to save fuel, you'll struggle to detect the difference in the traction delivered. That's true both on the tarmac and on looser surfaces.
Expert rating: 4/5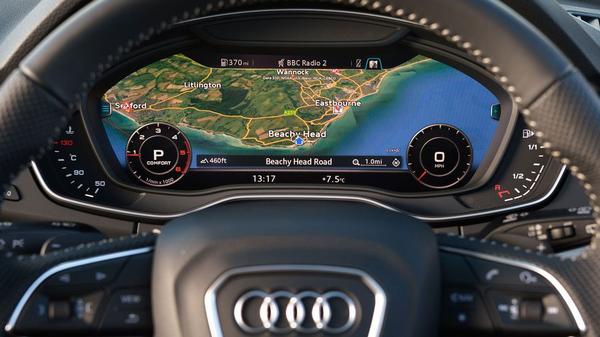 Features of the Audi Q5
On the outside, the more basic Audi Q5 models have Xenon headlights with LED running lights and tail lights as standard, while S line variants upwards get full LED headlights. Black Edition versions have lots of additional black styling elements for a moodier look, while and Vorsprung models give to running boards down the sides, grey elements in the bumpers and massive 21-inch wheels. There's a decent level of standard kit available in the Q5, but for much of the clever stuff you'll need you to delve further into your wallet. Sport models get leather upholstery and heated front sports seats, three-zone air-conditioning, keyless entry and a powered tailgate, as well as a DAB radio, navigation and Bluetooth. Go for S line, and you'll get privacy glass with some acoustic treatment to reduce cabin noise, leather and Alcantara upholstery with embossed S line logos and some shiny stainless steel pedals. The Black Edition adds various bits of black exterior and interior trim, while Vorsprung models give you a panoramic roof, heated rear seats, an upgraded infotainment and stereo system and a wireless phone charger.
Expert rating: 3/5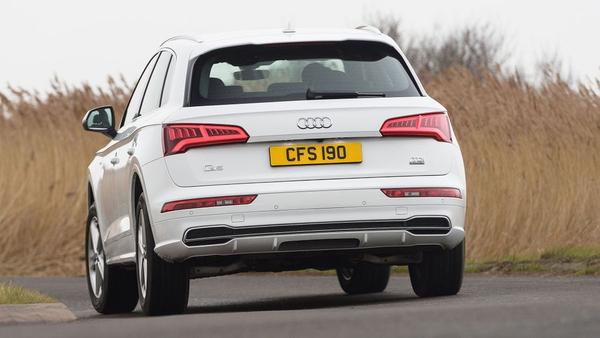 Power for a Audi Q5
You can choose between a couple of turbocharged 2.0-litre four-cylinder engines – a 45 TFSI petrol with 245 horsepower and a 40 TDI diesel with 190 horsepower – both of which come with a seven-speed twin-clutch gearbox as standard. The majority of buyers will plump for the diesel, so it's just as well that it's very pleasant, with a swell of power when it's needed. Work it hard and it'll make more noise and feel a bit wheezy, but for normal, everyday use it's absolutely fine. The petrol is pretty good, too, with a generous slice of easy-to-access torque for nice easy progress, even if it doesn't feel as brutishly quick as the power output suggests. It is, however, very smooth and quiet, which contributes to the car's very sophisticated on-road feel. We've also tried one of the two plug-in hybrids available, both of which use a 2.0-litre petrol engine and an electric motor to deliver either 299 horsepower in the 50 TFSIe or 367 horsepower in 55 TFSIe. We've tried the more powerful of the pair, and not only is it capable of some serious pace when you plant your foot, but it's also capable of an electric-only range of up to 26 miles (up to speeds of 84mph) when you don't.
Expert rating: 4/5