News
Hyundai reveals hot hatch and coupe versions of i30
Prices for both cars will be announced closer to their respective on-sale dates: the end of 2017, or start of 2018.
Two new variants of the i30
Hot hatch on sale end of 2017
Five-door coupe on sale start of 2018
Hyundai have revealed two new variants of the i30 – a five-door coupe, and a hot hatch – that will go on sale around the turn of the year.
The coupe will be known as the i30 Fastback, and it's set apart from other i30 models by its shapely lowered roof. The Fastback also has a unique grille design, a unique bumper and LED daytime running lights. At the back, meanwhile, the tapering roofline is finished off by an arched rear spoiler. The Fastback will be available in 12 paint colours, and it'll have a large suite of clever safety systems as standard, with more available as optional extras. The standard stuff includes Automatic Emergency Braking, Driver Attention Alert, High Beam Assist and Lane Keeping Assist, while you'll pay extra for a Blind Spot Monitor and Rear Cross Traffic Alert. Buyers will also be able to specify their car with an optional infotainment system that brings together all manner of connected services and wireless phone charging, along with Apple CarPlay and Android Auto. As well as having sharper looks than the i30 hatchback, the Fastback should be sharper to drive as well, because the suspension has been both lowered and stiffened. Initially, two turbocharged petrol engines will be available: a 1.0-litre with 120PS, and a 1.4 with 140PS. Later on, they will be joined by a pair of 1.6 diesels, one with 110PS, and one with 136PS.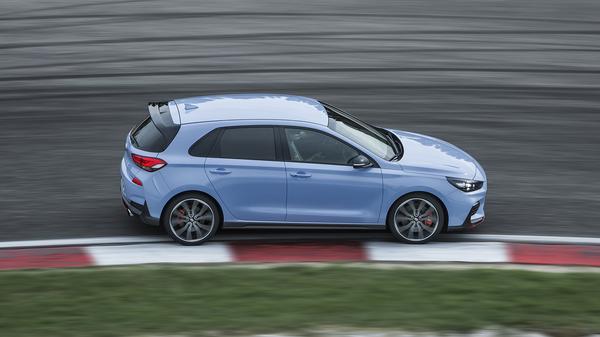 Hot hatch
There will be rather more horsepower served up by Hyundai's second new offering, the i30N. This is a hot hatch variant that's the first of several high-performance N cars Hyundai currently has in the pipeline. As the firm's new performance moniker, the N badge will mean to Hyundai what RS means to Ford, or what Type R means to Honda.
At the heart of the i30N lies a turbocharged 2.0-litre petrol engine that delivers 275PS to the front wheels through a six-speed manual gearbox. Hyundai claims a 0-62mph time of 6.2-seconds. The car also comes with a whole bunch of other trickery to enhance its dynamics, including an electronic limited slip differential to help maximise grip and traction, electronically controlled suspension with a variety of driving modes, a launch control function, an overboost function, automatic rev-matching for smoother gearshifts, and a lap timer. Prices for both cars will be announced closer to their respective on-sale dates. In the case of the N, that's the end of 2017, while the Fastback follows at the beginning of 2018.