Expert Review
Nissan Leaf Hatchback (2013 - ) MK 2 Electric review
The Nissan Leaf is one of the original mass-market electric cars, and it's also still one of the best
The Auto Trader expert verdict:
The Nissan Leaf offers outstanding value for money, minuscule running costs and all the green credentials you could dream of. With strong performance, excellent refinement and easy everyday usability, it's an electric car that demands very few compromises of its owners. Granted, rivals that use plug-in hybrid technology offer drivers a back-up plan and less range anxiety, but if you're confident your lifestyle will suit an all-electric car, the Leaf is one of the best.
Reasons to buy:
Zero tailpipe emissions
Running costs as low as 2p per mile
30 mins at a quick charger restores battery by 80%
How good does it look?
Whether it was a conscious decision to hide the Leaf's high-tech light under a bushel or simply an attempt to rein in design costs after blowing the budget on the power source, the Leaf is certainly no oil painting. In its defence, Nissan says the rather awkward lines are purely a by-product of aerodynamic efficiency. The duck-billed nose and those prominent headlamps are contoured in such a fashion to minimise drag, while a rear-mounted diffuser and flat undertray help reduce under-body turbulence. If the Leaf's silent running isn't enough to let people know you are driving a planet-friendly electric vehicle, then there are lots of Zero Emission badges to further advertise the fact.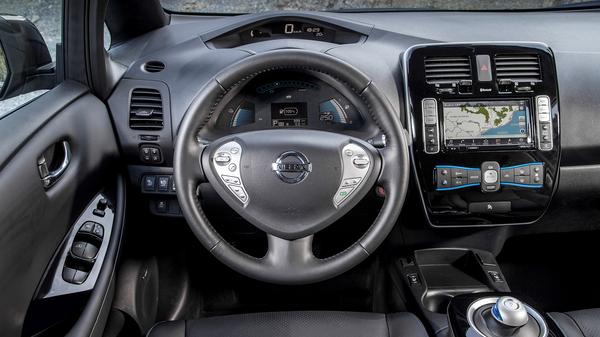 What's the interior like?
"

The interior surfaces look dated and feel rather cheap compared with the Volkswagen Golf

"
The Leaf's interior surfaces are no doubt robust, but they do look quite dated and feel rather cheap compared to what you'll find in premium European hatchbacks such as the Volkswagen Golf. The switchgear is quite intuitive to use, with the exception of the drive selector, which is more of a ball-shape device than a traditional lever, and it feels a bit clunky and imprecise to operate. Additionally, the drive icons that are located in the lower portion of the split-level dashboard binnacle are difficult to see, so you need to look down to ascertain whether you're in drive, neutral or reverse. The central console features a 7.0-inch touch-screen that lets you to zoom in and out of the sat-nav screen using smartphone-style pinch and swipe movements. In practice, it's a bit clunky, and no match for your phone or tablet
How practical is it?
Despite having to package its batteries under the floor, the Leaf still boasts decent interior space. You get a fair-sized 370-litre boot - that's on par with a Volkswagen Golf and Ford Focus - and 60/40 split-folding rear seats to help boost versatility. There's also plenty of room between the axles for four to travel in reasonable comfort. However, although there are five seat belts, a big, foot-space-robbing central tunnel means your kids will always associate sitting in the centre-rear pew with a spell on the naughty step. A nice convenience touch (available from Acenta trim upwards) is the Leaf's connectivity system that allows you to pre-condition the cabin temperature when the car is charging, or access information about the nearest charging points, via your mobile device.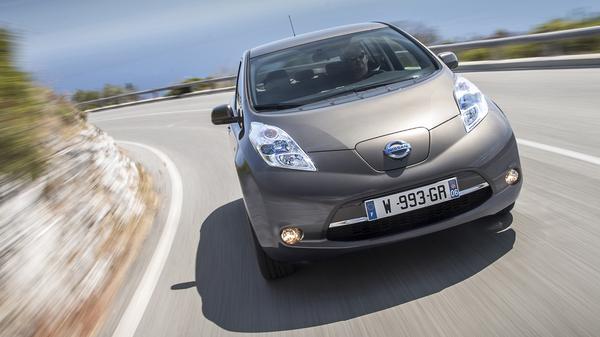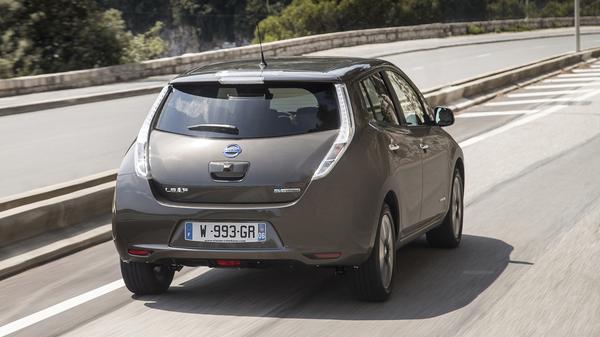 What's it like to drive?
As you might expect, the Leaf's steering is very light, to help you breeze around town and effortlessly slot into those tight city parking spaces. Surprisingly, though, the lock is quite limited, making three-point-turns a bit more stressful than they need to be. Badly repaired surfaces can catch the Leaf out with a bit of a jolt, and because the car is so quiet in every other respect, you're more aware of the associated suspension noise. Obviously, the Leaf is no hot hatch, but because the vast majority of its running gear is slung low-down, the handling is tidier than you might expect. Initial turn-in is quite laboured and body roll is fairly pronounced, but once settled, mid-bend reactions feel reassuringly stable and predictable. That said, any over-enthusiasm is ultimately limited by the relatively modest grip from the low-rolling resistance tyres.
How powerful is it?
Although a 0-62mph time of 11.5 sec isn't going to get any sparks flying, the Leaf always feels stronger than the bald figures suggest. This is because the electric motor delivers its maximum torque to the front wheels almost instantaneously when you press the accelerator. With none of the transmission lag associated with fossil-fuelled automatic-transmission vehicles, it's easy to think of the Leaf as a sprinter powering out of the blocks, rather than a middle distance runner setting off from a standing start. Once the initial 100-metre dash is dispensed with, the Leaf happily settles into a more leisurely Marathon-paced jog. Performance is identical regardless of which of the two versions you go for. The only difference is that the 24kWh car has a maximum range of 124 miles, while the 30kWh one can go for up to 155 miles. Of course, the actual range you get will depend on your driving style, the roads you drive on and the temperature. Recharging from a quick charger can replenish 80 per cent of the battery's capacity in about 30 minutes, but it's best to factor in an overnight charge when using a conventional home socket.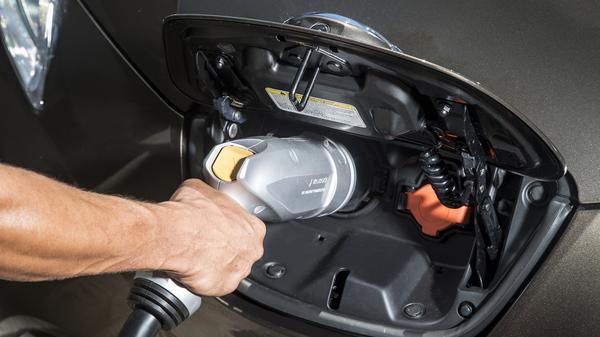 How much will it cost me?
"

The Leaf costs around 2p per mile to run using a night-time electricity tariff

"
The Leaf costs nothing you nothing in road tax (thanks to 0g/km of CO2 emissions), costs around 2p per mile using a night-time electricity tariff and is exempt from city-centre congestion charging. Run a Leaf as your company car, and you'll pay the minimum rate of Benefit-In-Kind tax. The other choice to make is how you buy your Leaf, because there are two ways. Nissan will sell you one outright, or you can pay a few grand less than the full list price and lease the battery instead. The leasing costs are dependent on the rental period and predicted mileage, but they're certainly not ruinous. And, to cap it all, a Leaf will cost less to maintain than the equivalent fossil-fuelled alternative.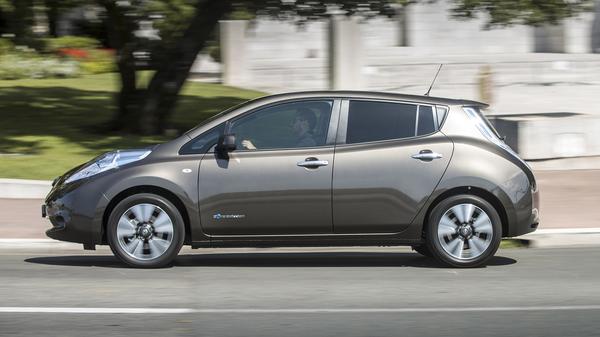 How reliable is it?
"

The Leaf's fundamental components should require very little (if any) maintenance

"
Although there's plenty of anecdotal evidence to suggest deep and crispy winter mornings bring about dramatic shortfalls in the Leaf's real-world range, this shouldn't be interpreted as a sign of mechanical weakness; cold weather afflicts all battery-powered cars to some extent. The Leaf's fundamental components of an electric motor and batteries, with no conventional gearbox, should require very little (if any) maintenance. Additionally, Nissan has an excellent reputation for reliability. It should be noted, though, that there's some strangeness where warranties are concerned. The EV-related parts - including the battery - are covered for eight years/100,000 miles on the 30kWh model, but only five years/60,000 miles on the 24kWh car. The rest of the car is covered by Nissan's standard three-year/60,000-mile warranty.
How safe is it?
The Leaf comes with six airbags and is fitted with the mandatory anti-lock braking and electronic stability programme. Euro NCAP last tested the Leaf back in 2012, when it achieved the maximum five-star rating, but the tests have become significantly harder since then. A tyre-pressure monitoring system is also standard across the board, and if you're worried about some scally unplugging your car while it's parked and charging, then don't: the charge cable locks into its socket. If you were wondering about the implications of silent running in an urban environment, the Leaf has a system that makes a sweeping high-low sound in front of the car at speeds below 17mph to alert pedestrians to its presence. It's barely audible inside the cabin, where a hum from the motor and tyres is all that can be heard.
How much equipment do I get?
The Leaf is available in a variety of trims. Entry-level Visia cars come with climate control, four powered windows, and a stereo system including USB inputs, Bluetooth and steering wheel-mounted controls, but you'll want to upgrade to Visia+ tirm at least for its alloys, privacy glass and sat-nav with reversing camera. Acenta trim (the entry-level trim for the more desirable 30kWh version) adds cruise control, suede-effect trim and automatic lights and wipers, along with a telematics system that provides a very handy suite of functions. Acenta+ trim adds bigger wheels and a higher-capacity charging cable, while Tekna cars have a Bose sound system, LED headlamps, leather upholstery and heating for both rows of seats and the steering wheel. You also get Nissan's Around View Monitor, which uses a network of cameras to display an overhead view of the car on the dash-mounted screen.
Why buy?
If you're in the market for an electric vehicle, then thanks to its low running costs and significant tax exemptions, the Leaf makes a truly compelling buying and owing proposition; and, that's for commuters and lower-mileage company car drivers, alike. It also looks an absolute bargain when you consider it undercuts the likes of BMW's i3 and Volkswagen's e-Golf by a significant margin. Factor in the excellent refinement, easy-driving character and everyday practicality, and you suddenly start running out of excuses not to buy a Leaf.