First Drive 2017 Volvo V90 Cross Country first drive review
A high-riding and more rugged-looking version of Volvo's biggest estate, the V90 Cross Country provides an effective halfway house between the regular V90 and XC90 SUV.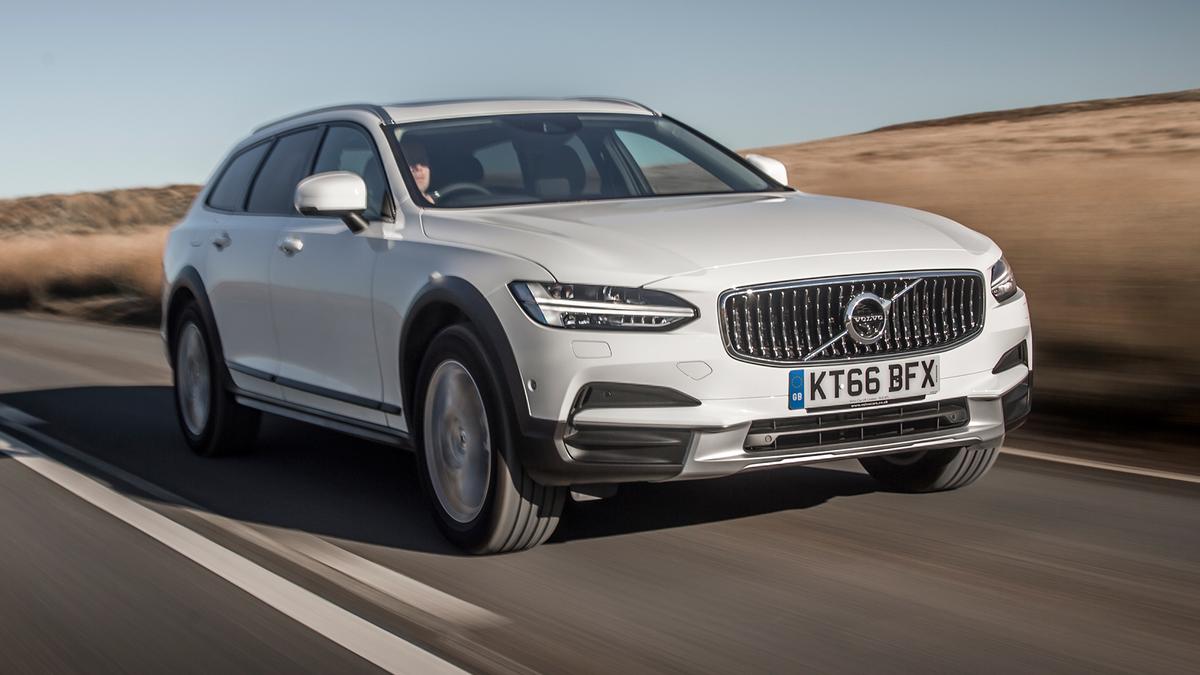 View gallery
First published: 9th February 2017
Auto Trader verdict:
The Cross Country has all the strengths of the standard V90 – its classy cabin, refined and smooth drive, and decent practicality, for a start – but it also has a wider range of abilities that justify the higher price tag.
Need to know:
More rugged version of Volvo's biggest estate

Has higher ride height and only comes with four-wheel drive

On sale now, priced from £39,785
What is it?
The Cross Country is the final piece in the jigsaw that is
the V90 range
. Its arrival means you can now choose your V90 in four distinctly different flavours: Momentum is the standard car; Inscription trim brings you even more luxury; and R-Design gives the car a mildly sporting makeover, in the way it looks and drives.
The Cross Country is a more rugged version: something along the lines of the Scout and Allroad models that Skoda and Audi, respectively, sell. However, with a 20-year history of producing these jacked-up estates, Volvo can justifiably claim to have a longer heritage in this area of the market.
From the outside, the differences between the new Cross Country and the regular V90 are immediately obvious. Not only does the Cross Country sit appreciably higher – to give it more ground clearance off-road – it also has loads of SUV-style trim to pump up its elegant body: extended wheelarches, extra mouldings along the side, and silver skid plates, for example.
Like other V90s, it's available with both the D4 and D5 diesel engines, and every Cross Country also comes with four-wheel drive and some extra driver assistance packages specifically geared towards improving its ability off-road.
For our first experience of the car, we tried it with the D5 engine, a combination that costs just over £1,600 more than the equivalent base level Momentum trim. However, buyers should note the difference in price between the entry-level, D4-engined V90 model, and the equivalent Cross Country, is much larger – almost £5,000, in fact – but that is because the Cross Country is the only D4 model to come with four-, rather than two-wheel drive.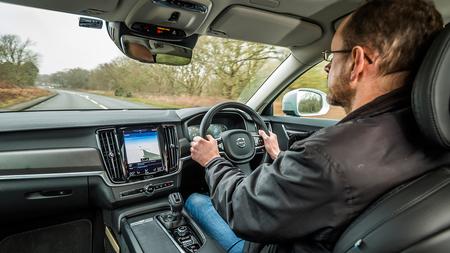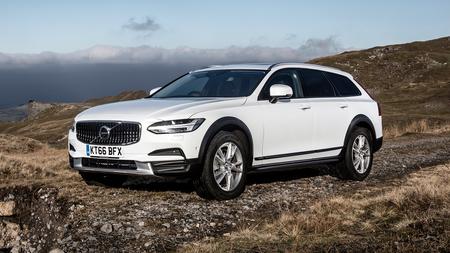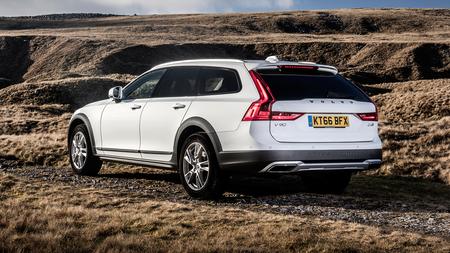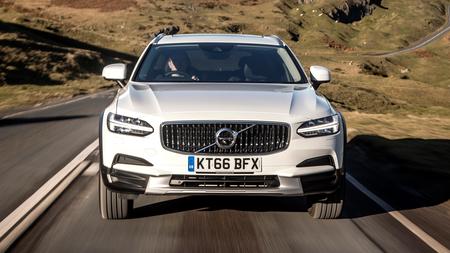 What's it like?
Excuse us being a little flippant, but the V90 Cross Country is very like the standard V90, particularly on the inside. Indeed, you'd have to be an absolute V90 geek to spot the only differences: black walnut trim on the dashboard, and unique stitching on the leather upholstery.

As far as we're concerned, that's no bad thing. The V90's cabin is a very classy environment, with excellent build quality and a minimalist, Scandinavian feel to it. This is thanks in no small part to the touch-screen infotainment system, which massively reduces the number of buttons and controls on the fascia.

There are no sacrifices in terms of space and practicality if you buy this rather than any other V90. It may be more rugged on the outside, but inside, the Cross Country is every bit as comfortable and accommodating as the rest of the range. That means wonderfully comfortable seats throughout, enough room for a couple of six-foot adults in the rear, and a boot that (while not class-leading), is adequate for most needs and comes with plenty of neat little touches that make it all the easier in everyday use.

As far as we could tell from a brief drive, there's no great price to pay for the V90's Cross Countrification on-road, either. It retains the standard V90's generally smooth ride (although it should be noted our test car was fitted with the optional adaptive dampers and electronic rear suspension), and has a tremendously sure-footed feel that inspires total confidence.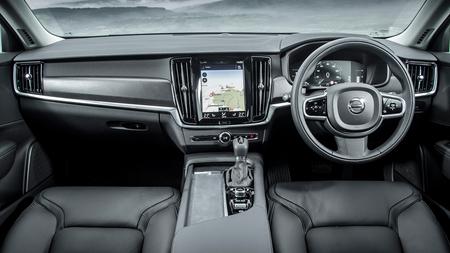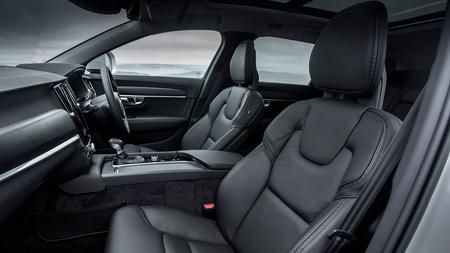 On paper, the Cross Country is slightly slower to accelerate than the standard V90, but there's no discernible loss of performance in everyday use. The D5 engine is strong, refined and responsive, meaning there are no heart-stopping moments pulling into fast-moving traffic or just keeping up with the general ebb and flow on the motorway. And, despite the extra bits and bobs on the body, this car's refinement seems every bit as good as the standard V90.

Also like the standard V90, the Cross Country is a soft and cultured thing that prefers to be coaxed down the road rather than blasted along it, but that's not a problem. On the contrary, it suits its role as the kind of family car that can combine the weekday commute with a more active weekend.

That's especially true when you consider how good the Cross Country is off-road. Okay, so this is not a full-on mud-plugger – besides, if that's what you want, your friendly local Volvo salesman will happily usher you towards an XC90 – but it will get you along slippery and deeply rutted tracks with ease.

The extra ground clearance, combined with the standard 'Off-road' drive mode and Hill Descent Control, mean you tackle tracks you wouldn't have thought possible. And, if you're perfectly happy to venture no further from Tarmac than a slipway or caravan site, you'll be impressed by its 2.5-tonne towing capacity, the highest of any V90.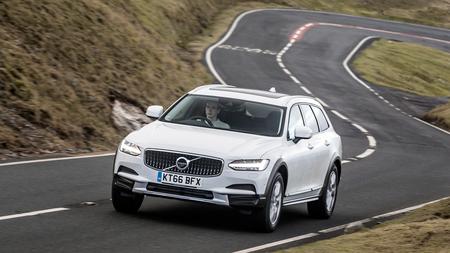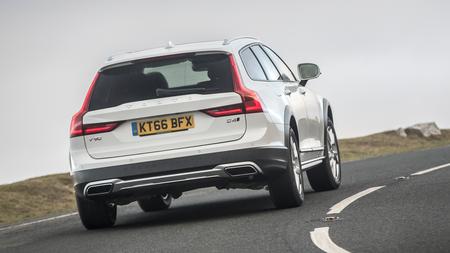 Should I buy one?
Well, we can certainly see a lot of arguments in favour of doing so, not least because the V90 Cross Country combines so many roles in one. Not only is it a refined, comfortable and practical family estate, it has a distinct look that sets it apart from other V90s, and is surprisingly capable off-road.

Perhaps the biggest question is whether you'd spend the extra money on this rather than a more basic Momentum model, which still comes with four-wheel drive. On the down side, the Cross Country will cost more to buy and run, as not only is its economy a little worse (53.3mpg on the combined cycle, compared with 57.6mpg in the Momentum), its higher CO2 emissions mean higher rates of BIK tax for company car drivers. However, you may well decide the Cross Country is sufficiently unique to justify the extra outlay.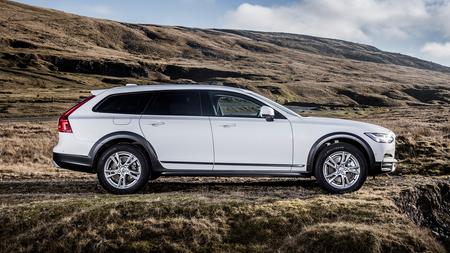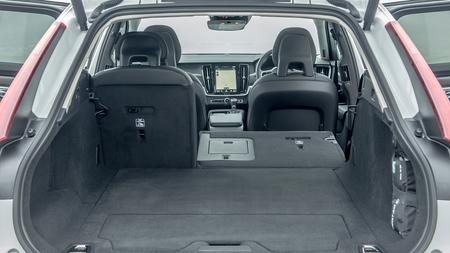 Key facts:
Model: Volvo V90 D5 Cross Country

Price: £43,585

Engine: 2.0-litre 4cyl turbodiesel, 8-spd automatic

Power: 231bhp / 354 lb/ft

0-62mph: 7.5 secs

Top Speed: 140mph

Economy: 53.3mpg

CO2/BIK tax liability: 139g/km / 27%

Boot space: 560/1526 litres
Also consider:
Audi A6 Allroad
The Allroad has enough added attractions – particularly its looks and extra off-road ability – to make it worth considering in its own right over the standard A6 Avant Quattro.
Mercedes E-Class All-Terrain
The E-Class All-Terrain is a very good all-rounder, with smart looks, a beautifully appointed interior and a good drive. We don't yet know how much it'll cost, but if Mercedes gets this bit right, the All-Terrain could be even more appealing.
Volkswagen Passat Alltrack
Smaller and cheaper than the more prestige-badged models above, but it follows the same principle of a being a more versatile version of a regular estate.
Interested in buying a Volvo V90?