First Drive 2017 Mercedes E-Class All-Terrain first drive review
The Mercedes E-Class All-Terrain is a very good all-rounder. It looks smart, has a beautifully appointed interior and is exceptionally practical. It's also very good to drive, with a cosseting ride, capable handling and decent refinement.
Auto Trader verdict:
The Mercedes E-Class All-Terrain is a very good all-rounder. It looks smart, has a beautifully appointed interior and is exceptionally practical. It's also very good to drive, with a cosseting ride, capable handling and decent refinement. We don't yet know how much it'll cost to buy and run, but if Mercedes gets this bit right, the All-Terrain could be even more appealing.
Need to know:
SUV-style version of Mercedes' E-Class Estate

Four-wheel drive, air suspension and 3.0-litre V6 diesel engine as standard

On sale next April for estimated priced of around £55,000
What is it?
Rather incredibly, a fifth version of the E-Class offered by Mercedes, alongside the saloon, estate, coupe and cabriolet. Much like the A6 Allroad punted out by arch-rivals Audi, the All-Terrain is based on the estate version, but fettled in a number of ways to give it a little more of an SUV flavour.

The aesthetic changes are obvious, with chunkier, scuff-plated bumpers front and rear, plastic-clad wheel arches, bigger wheels with higher profile tyres, and a jacked-up ride height. There are more changes under the skin, too. Four-wheel drive is provided, as is an extra 'All-Terrain' setting to the drive mode selector. This raises the suspension for extra ground clearance, optimises the transmission for off-road work, and also adjusts the thresholds of the electronic driver aids for best effect.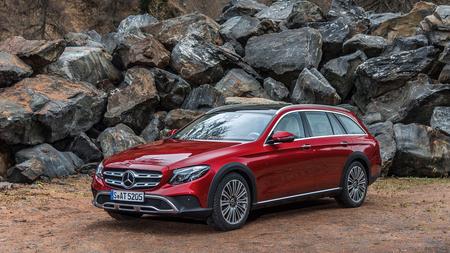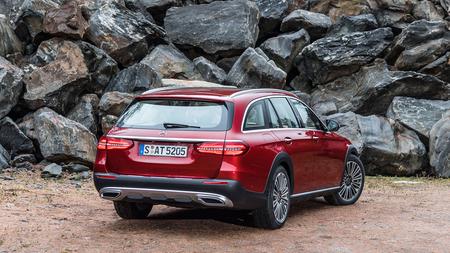 What is it like?
Really rather good. Because it's essentially an E-Class Estate, it's already one of the most practical family cars you can buy. There's loads of space for tall passengers in the cabin, and at 640 litres, the boot is the biggest in the premium estate class. The boxy shape and plenty of thoughtful touches also help make daily life a little easier.

Interior quality is another area in which the E-Class really impresses. The standard of the materials used is incredibly high, and the way they're put together is also pretty flawless. The cabin's sophisticated feel is improved even further by the vast amount of hi-tech gadgetry on display, which is fairly easy to use thanks to simple controls. You'll also like the highly adjustable driving position and clear all-round visibility.

By far the best thing about this car, though, is how comfortable it is, and much of that is down to the air suspension. It's an expensive option on all but the most expensive E-Class models, but it's standard fit on the All-Terrain. What's more, the All-Terrain also comes on higher-profile tyres than other E-Class models, which further isolate you from the road surface.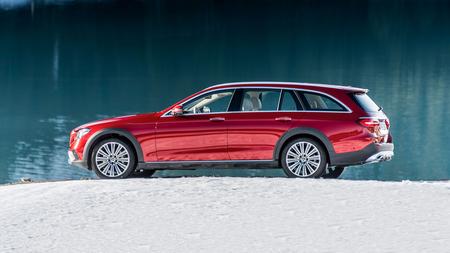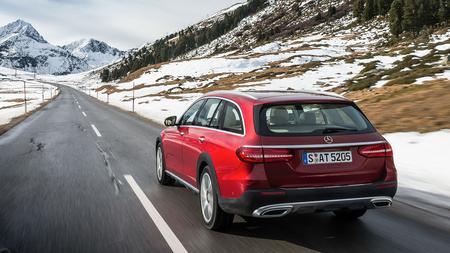 The result is that you're wafted along in total comfort and luxury, every bump and rut being dealt with thoroughly, effectively and completely without fuss. Select the sportiest mode, and you'll detect a fraction more tremble coming through to the cabin from the wheels, but even then, it's still an effortlessly smooth-riding car. The suspension also helps the handling significantly, because body lean is exceptionally well contained for a car that's so comfortable. The extra grip and traction you get from the four-wheel drive help sharpen things up, too, and while the steering isn't particularly feelsome, it is direct and consistent.

And while the All-Terrain doesn't have the off-roading ability of the hardiest 4x4s (mainly due to its more limited ground clearance), you might well be surprised how capable it is when heading off the beaten track. The four-wheel drive does a very efficient job in juggling the power around to optimise traction, so you'll make steady progress on loose or slippery surfaces.

At the moment, Mercedes only plans to offer the All-Terrain with one engine, the 3.0-litre V6 diesel with 255bhp. It's a strong performer, with plenty of urge available from low revs, and it works well with the nine-speed automatic gearbox that you get as standard. However, the engine is an ageing one, so it's not as quiet or as smooth as the best six-cylinder engines.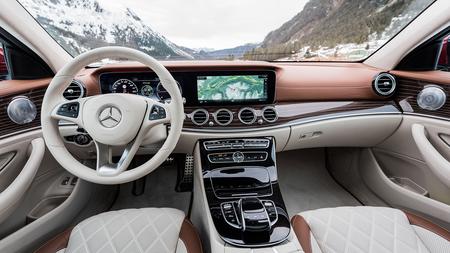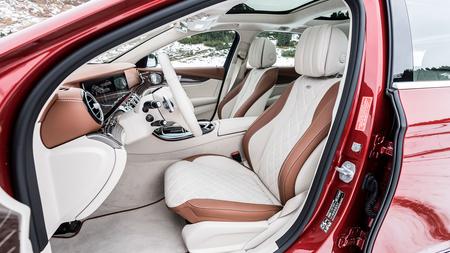 Should I get one?
There's no doubt that the All-Terrain is a very good car. Classy, practical and dynamically very polished, it's an excellent all-rounder.

However, there's still a lot we don't know about it; the price for one thing. Mercedes has indicated that it's likely to cost between £50,000 and £55,000, but we won't know for sure until much closer to the car's on-sale date next April. It's also too early for precise figures on fuel economy, CO2 output and resale values, so it's impossible to know how much it'll cost to own, as well as to buy.

Still, if it's likely that your next new car will be one of these prestige estate-cum-SUV cars, then the All-Terrain should be very near the top of your list.
Key facts:
Model: Mercedes E350d All-Terrain

Price: £55,000 (estimated)

Engine: 3.0-litre V6 diesel, nine-speed automatic

Power/torque: 255bhp / 457lb ft

0-62mph: TBC

Top speed: TBC

Economy: TBC

CO2 / BIK tax liability: TBC

Boot: 640-1820 litres
Interested in buying a Mercedes-Benz E Class?