First Drive 2016 Mazda MX-5 Icon Edition first drive review
The Mazda MX-5 has new competition from the Fiat 124 Spider, but this Icon Edition throw its simple, back-to-basics appeal into sharp focus.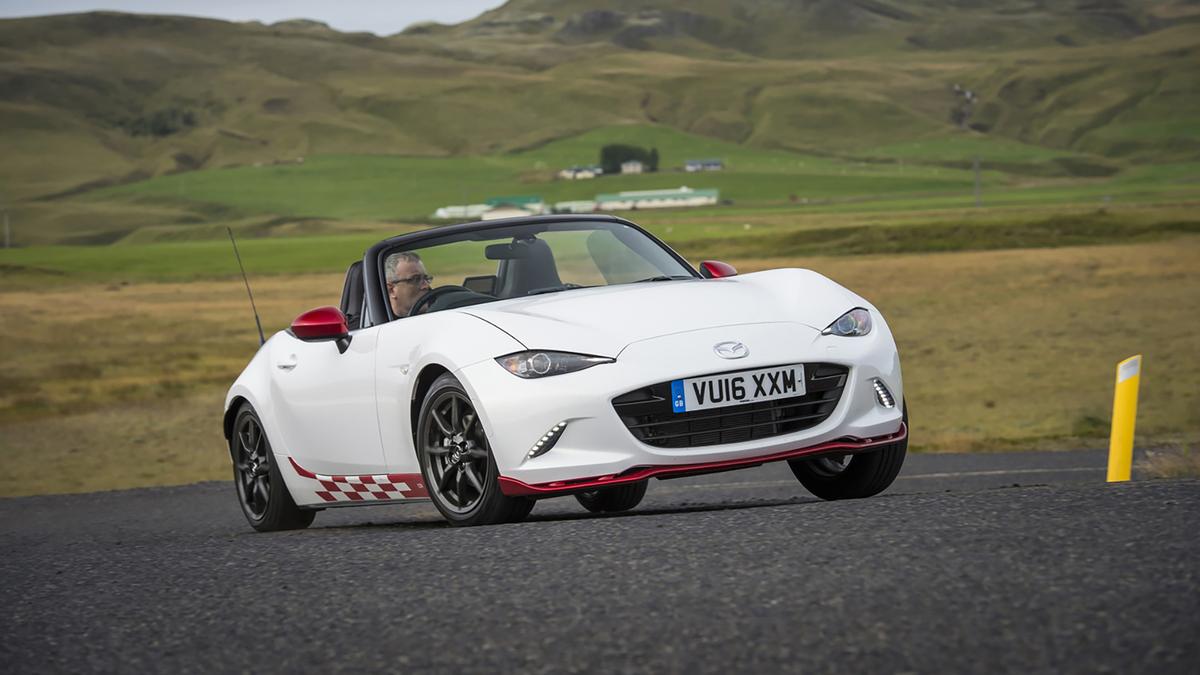 View gallery
First published: 23rd September 2016
Auto Trader verdict:
Few cars are as blessed with special editions as the MX-5, but the Icon is still well worth a look. The zippy, eager 1.5-litre engine will not be for everyone, but as far as we're concerned, it's the pick of the range. Being able to enjoy it with a sportier look and extra kit is a fine thing. Sports cars don't come simpler, or more fun than this.
Need to know:
Limited edition, high-spec version of 1.5-litre MX-5

Icon model features leather seats, styling upgrades

On sale now priced from £20,995, with 600 available
What is it?
Special editions of the MX-5 are part and parcel of the model's history – and with the latest version of this fun little roadster just barely a year old, the Icon Edition is already the second.

Limited to 600 models in the UK, the Icon is only available with the 1.5-litre, 129bhp engine, and is easily distinguished from its kin, thanks to a garish set of chequered decals down each flank, and a ruby red finish for the front bumper, wing mirrors, and boot spoiler.

As well as the exclusivity that comes with owning a limited-run model, you also get extra kit on-board for your extra outlay. In this case handy (if a bit unnecessary) stuff like leather upholstered seats, rear parking sensors, and automatic lights and wipers.

That little lot adds up to £800 more than the standard SE-L Nav trim on which the Icon is based, but does the wonderfully simple MX-5 recipe really need any of this extra garnish?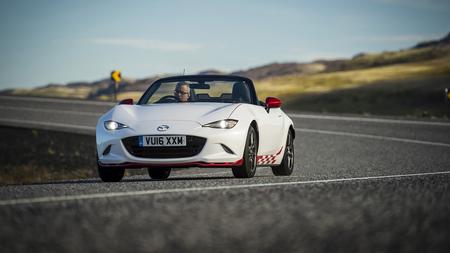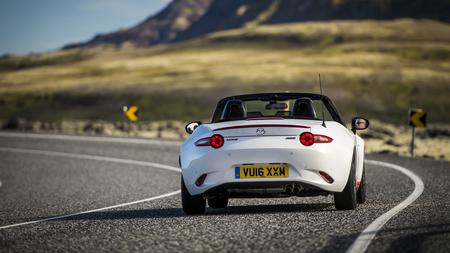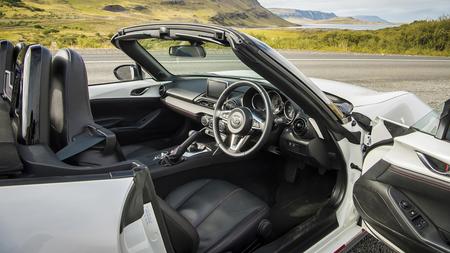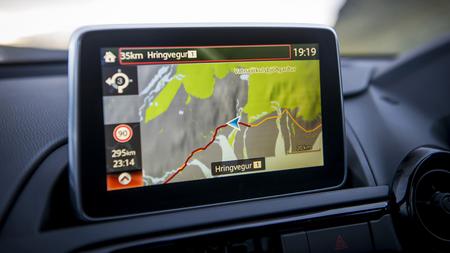 What's it like?
Leave any reservations you have about the styling at the door (for our money, the Meteor Grey model looks better than the Crystal White, matching those dark alloys), and approach the Icon simply as a high-spec 1.5, and it does make some sense.

The driving experience is the same enjoyable blend that has kept keen drivers coming back for more than a quarter of a century; so this is not a car for anyone who wants to be lazy behind the wheel.

With only a meagre 111lb ft of torque to be mustered from its little naturally-aspirated engine, you're forced to work the tightly-wound manual gearbox for every ounce of performance. A tiny gear knob that fits perfectly into the palm of your hand aids that effort, making each shift raise a smile, and there's a real satisfaction to wringing the engine for all it's worth. This is one of only a handful of modern sports cars where the top of third is (almost) below the speed limit.

Of course, you need the right road to really enjoy a car that needs to be stirred so vigorously to get it going, but because the MX-5 is now so small and light, pretty much every quiet lane becomes the right road – it always feels alive, engaging, and – crucially – fun.

However, fun doesn't necessarily mean precise as far as the handling is concerned. There's lots of body roll, and on a bumpy road the MX-5 hops and floats around, pogoing on its soft springs.
Honestly, you're unlikely to care, but if you harbour a deep-seeded urge to take it to a track, then the Icon is not the Mazda for you.

Yes, the more powerful, limited-slip differential-toting, 2.0-litre is only the price of a decent meal more, but the latest MX-5 was always designed as a 1.5, so the Icon is the car Mazda intended.

While the upgraded kit roster is generous, it does not transform the cabin into a luxurious cocoon from the elements. It has enough space for two people (just – the tall might disagree), two beverages, and not much else, and the 130-litre boot requires light packing, even on a day trip.

It's fit for purpose though. The sat-nav and infotainment system is decent, and the heater vents blow hotter than a desert wind when you need them to – important if you are planning trips outside of the three-day window of warm weather known as the 'British summer'.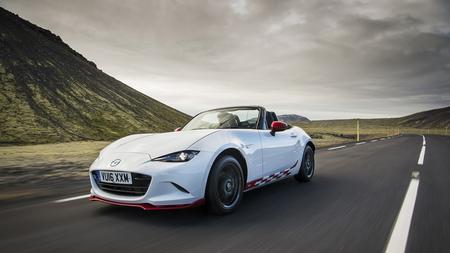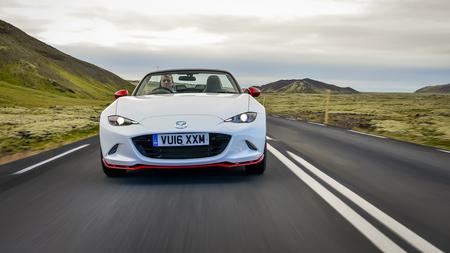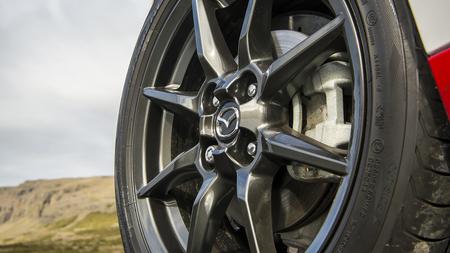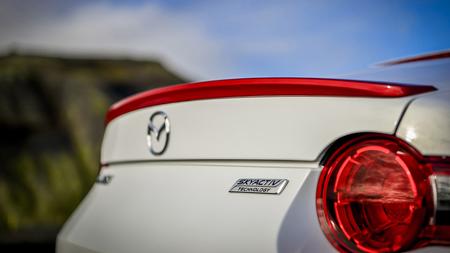 Should I buy one?
Try buying a
Mini Convertible
or Fiat 124 Spider with the same level of kit, and you'll be at least another £1,000 out of pocket compared with the Mazda, so it's still good value.
As long as you like the looks, then we say go for it. The 1.5 version of the MX-5 offers a driving experience that is becoming rarer each year, and is brilliant fun. Its minor flaws are never a barrier to your enjoyment, as long as you don't mind being overtaken by the odd hatch. It's a car that feels alive, and it'll make you feel that way too.
Model: Mazda MX-5 Icon Edition 1.5

Price: £20,995

Engine: 1.5-litre four-cylinder, six-speed manual

Power/Torque: 129bhp, 111lb ft

0-62mph: 8.3 secs

Top speed: 127mph

Economy: 47.1mpg

CO2/BIK tax liability: 139g/km / 23%

Boot space: 130 litres
Also consider:
Mini Convertible
Feels quicker, and it comes with two extra seats and a bigger boot, but drives more like an unruly hot-hatch than a pointy sports car.
Fiat 124 Spider
The biggest difference between this and the MX-5 is looks, so if you prefer the Fiat's styling then you'll feel right at home driving it.
Toyota GT-86
A lightweight, pretty coupe that's exclusive, more rewarding to drive, and quicker, with sharper body control, pricier though.
Interested in buying a Mazda MX-5?