Feature
New Car of the Year 2019 – Peugeot 3008
Find out why the Peugeot 3008 is the overall winner of our 2019 New Car of the Year award.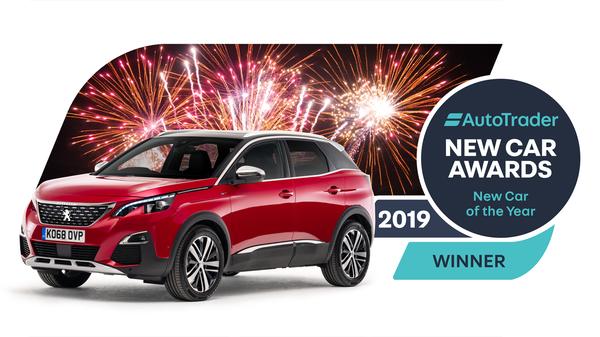 The overall New Car of the Year is our most coveted
award
, and like all them, it's decided by feedback collated from a survey of more than 60,000 car owners, all of whom rated their car in 16 key areas. We totted up all the scores for every model featured in the survey, to calculate an overall score. This told us which model car buyers had found most satisfying to own.
Both the
Hyundai Ioniq
and the
Skoda Octavia
came incredibly close to victory, but in the end, our winner is the
Peugeot 3008
. Owners rated the car as being the absolute best for the quality of its interior, and it also ranked second out of all models for how comfortable it is to drive and the quality of its features and accessories. Here are just a few of the comments that owners made about the 3008…
"I love how it looks, both inside and outside. It stands out in a crowd."
"The dash is amazing, having a screen as the console is brilliant."
"This is the first Peugeot I've owned. I'm so impressed by the build quality and the driving experience. I especially like the standard features that were only an option on my previous car."
Our experts rate the 3008 as highly as the people that own it, too, as you can see in our
expert review
. What's more, the car has also made our shortlist for
best family car
.
Commenting on the 3008's victory, Auto Trader's road test editor, Ivan Aistrop, said: "It's easy to see why Britain's car owners have voted the Peugeot 3008 as their overall New Car of the Year. People love its style – both on the inside and the outside - and it's seriously impressive for interior quality, safety and equipment. It's also good to drive, roomy and practical." Trouble is, it'll be even harder for the 3008 to retain its title next year than it was to win it in the first place. Not only does it have to beat the same cars that it did this year, but there will be a wide variety of all-new models that it has to beat in addition. Will one of those have what it takes to win the 2020 crown? Or will one of this year's runners up – the
Hyundai Ioniq
and
Skoda Octavia
– have what it takes to go one better? If you're looking for your next set of wheels and you fancy the most satisfying car it's possible to own, according to more than 60,000 owners, you can
find or configure your brand new Peugeot 3008 on Auto Trader
right now.