Feature
Best Car for New Drivers 2019: VW Golf
Find out why the Volkswagen Golf is the 2019 winner of our Best Car for New Drivers award.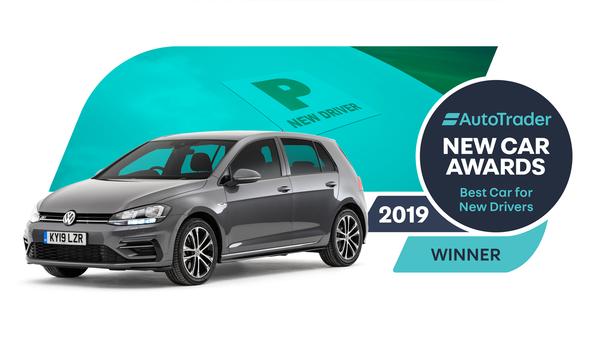 New drivers really do have a lot on their plate, trying to remember what they've recently been taught and getting to know the rules of the road. That means they need their car to make their life as easy as possible, so they can fully concentrate on the business of driving. That's why the
Volkswagen Golf
– one of the most user-friendly cars money can buy – has been voted as the 2019 winner of our Best Car for New Drivers award.
Like all our
awards
, this category was decided by feedback collated from a survey of more than 60,000 car owners, all of whom rated their car in 16 key areas. That means an Auto Trader New Car Award is a real stamp of approval from people that live with the car day-in, day-out, and it makes each winner a true consumer champion. Impressively, the Golf was rated number one in no fewer than six areas, areas that are all of critical importance to new drivers. The looks of the car, the reliability, the comfort and how easy it is to park were among them, as were how safe it feels on the road and the quality of its features and accessories. Here are just a few of the comments owners made about the Golf…
"The style, the standard features and how it drives all make for a nice experience. The sound system is really good, too."
"I absolutely love the eco functions. Adaptive cruise control is excellent for getting the most out of my fuel and it makes me feel so much safer when driving it on the motorway. I also love the stop/start function as I know I'm conserving fuel and saving money. Technology was so important to me and the Golf was simply the best choice for what it came with as standard. The infotainment system is so clear and quick to use, and each function works perfectly."
"It has excellent phone connectivity and a very intuitive infotainment and sat-nav system."
Commenting on the Golf's win in this category, Auto Trader's road test editor, Ivan Aistrop, said: "There's a wide variety of factors that make the Golf such a user-friendly car. The simple dashboard layout and intuitive touchscreen interface make it a doddle to use the car's various functions, while the clear visibility in all directions make it easy to keep an eye on what's going on around you. The car's easy-going driving experience – which comes courtesy of its comfortable ride, eager engines and slick, responsive controls – also help make life easy for the fledgling driver."
Our experts also consider the Golf to be a fabulous car in a number of areas, as you can see in our
expert review
. That said, the Golf didn't manage to make the shortlist in our
Best First Cars feature
. Will one of those that did, or one of this year's runners-up – the
Ford Fiesta
and
Seat Ibiza
– be able to out the Golf in 2020? If you're a novice driver and you're looking for your first car, you can
find or configure your brand new Volkswagen Golf on Auto Trader
right now.